One of the event organizers "said she just found out that her house burned down in Australia and she's very upset," the insider continued. "She was crying as she walked into the red carpet." The star, who was wearing jeans and a metallic coat with her hair tied back, went into the event wearing sunglasses. "She was very poised, taking photos and talking with Joey King and Josh Dallas. She had a whole crowd around her and no one knew what she had just experienced. It was sad to watch but also showed how professional she is to still show up and do what is required of her," the eyewitness added. Kidman left the event after 15 minutes.
Nicole Kidman's house in Los Angeles is said to be their main home. In 2008 they purchased a Hollywood Hills home for $4.7 million. They have some incredibly famous neighbors too. Adele, Ashton Kutcher and Mila Kunis, Jennifer Lawrence, Katy Perry, and Cameron Diaz.
The bushfires currently affecting Australia have burned more than 12 million acres. Celebrities, including Pink and Celeste Barber, are pledging to help those affected by the wildfires. At least 23 people have died in Australia wildfires and in the state of New South Wales alone, more than 1,300 houses have been destroyed. Everyone on the planet should be working toward fighting global warming. If they don't, things can only deteriorate.
THE ASHES - CBS NEWS 3 JANUARY 2020 - Australian wildfires may have killed half a billion animals and plants

As apocalyptic wildfires continue to rage across Australia, the loss of life in the region is reaching staggering numbers. Ecologists at the University of Sydney now estimate that nearly half a billion animals and plants have been wiped out since the fires began several months ago. The "mega blaze" has destroyed homes and sent thousands of people fleeing to the shoreline from New South Wales and Victoria. About 12.35 million acres of land have burned nationwide over the past few months. At least 17 people have been killed, The Associated Press reports.

Approximately 480 million mammals, birds and reptiles have been lost since the fires intensified in September, the university said in a statement, but the actual number is likely to be substantially higher. Devastating images and videos from the area show kangaroos trying to flee burning forests and charred bodies of koalas lying on the ground. Koalas, which were already under threat due to significant habitat loss, have been hit particularly hard. Ecologists said nearly 8,000 koalas —about one-third of the population in their primary habitat — are believed to have died since the fires began.

"Up to 30% of their habitat has been destroyed," Australia's environment minister, Sussan Ley, told the Australian Broadcasting Corporation. "We'll know more when the fires are calmed down and a proper assessment can be made."
While animal hospitals are taking in as many animals as possible to treat burns and nurse them back to health, services have overall struggled to keep up with the amount of care needed. And the animals that have survived will have trouble finding food and shelter among the ongoing flames.

"We're getting a lot of lessons out of this and it's just showing how unprepared we are," Science for Wildlife executive director Dr. Kellie Leigh told parliament during an urgent December hearing regarding the koala population, News Corp Australia reports. "There's no procedures or protocols in place — even wildlife carers don't have protocols for when they can go in after fire. "The fires have burned so hot and so fast that there has been significant mortality of animals in the trees, but there is such a big area now that is still on fire and still burning that we will probably never find the bodies," Nature Conservation Council ecologist Mark Graham said during the hearing.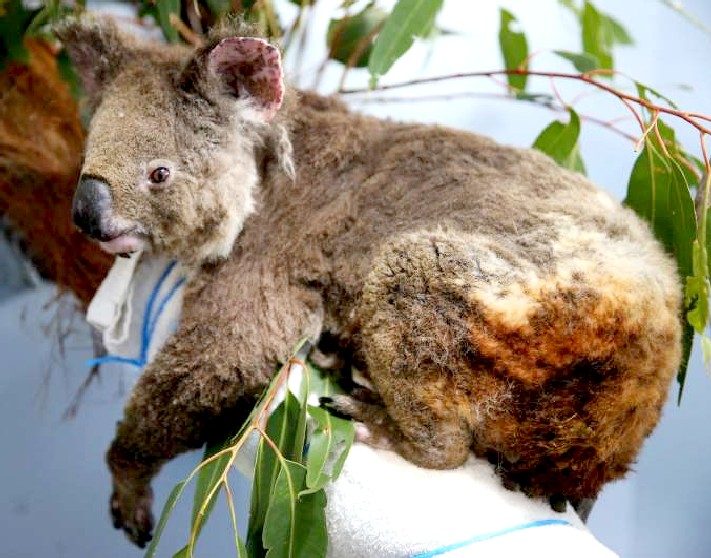 Koalas "really have no capacity to move fast enough to get away" from the flames, he said. Associate Professor Dieter Hochuli from the University of Sydney said it isn't just the well-known species, such as kangaroos and koalas, that are at risk. Insects that are key to services like pollination and nutrient cycling also suffered massive losses, and it is not clear how those populations and ecosystems will recover. Additionally, many rare plant species are feared to have disappeared completely.

"Fire is a natural part of Australian ecosystems and many of our plants and animals are adapted to it," Hochuli said. "However, changes to the frequency and intensity of fires can have a massive impact on wildlife. We know that risk of extinction increases exponentially as populations decline to low numbers so this raises significant concerns for their future."
Wildlife Information, Rescue and Education Services told Reuters that services typically advise against feeding wild animals. However, the inferno has prompted them to change their advice. They're now encouraging people to provide wildlife with much-needed food and water.

Australia on Wednesday deployed military ships and aircraft to help stranded communities, bringing water, food and fuel to towns with depleted supplies and roads that were cut off by the fires. Australia's wildfire season may already be the worst on record, with record-breaking heatwaves and intense smoke, which doctors have deemed a "public health emergency." Many residents are protesting conservative Prime Minister Scott Morrison's lack of sufficient action against climate change after he reportedly rejected calls last month to downsize Australia's lucrative coal industry.

"The compelling issue here is climate change," said Sydney Mayor Clover Moore. "Yes, Australia is burning and national parks and our native animals are being decimated and our communities are being devastated. People have lost homes. People have died. Firefighters have been killed defending communities, most recently last night."

"As the driest continent on Earth, we're at the forefront of accelerating global warming," she continued. "What is happening is a wake-up call for our governments to start making effective contributions to reducing global emissions... It's our national governments that are failing us."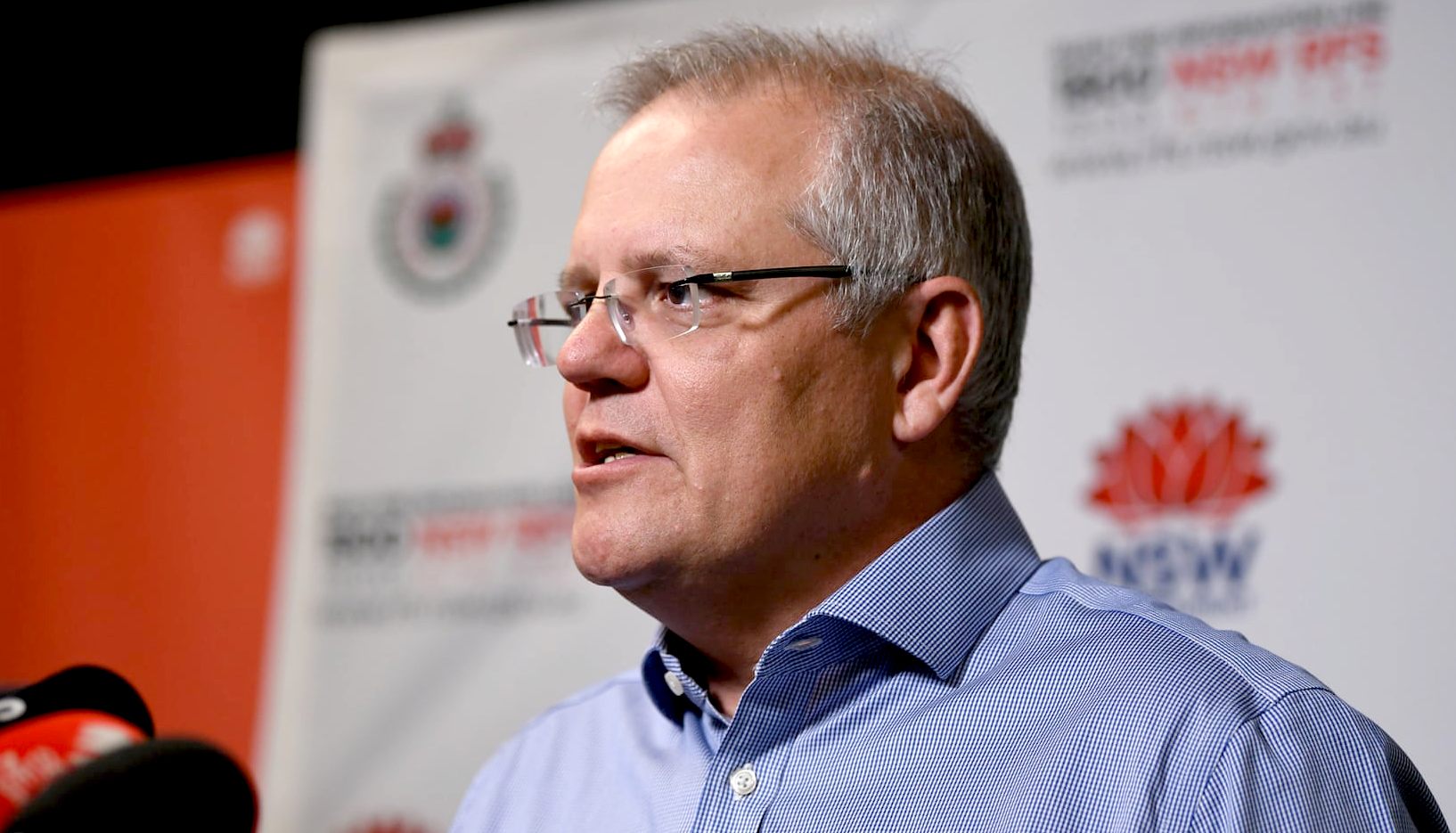 CLIMATE CRIMINAL? THE GUARDIAN 22 DECEMBER 2019 - Scott Morrison has signaled the Australian government will not increase its efforts to combat climate change despite an extended bushfire crisis and a record-breaking heat wave.
Returning to work on Sunday after a controversial family holiday in Hawaii, the Australian prime minister apologised for his absence on top of the mea culpa he offered on Friday while still overseas. At a press conference after a visit to the New South Wales Rural Fire Service headquarters in Sydney, Morrison called on Australians to "be kind to each other" and reject division – but then accused those who want more action against global heating of political point-scoring. Morrison acknowledged that his absence – leaving deputy prime minister Michael McCormack in charge since Monday – had caused "great anxiety" and said if he had his time over he "would make different decisions". SA premier says 72 homes destroyed in Cudlee Creek fire as NSW blazes rage on.

Morrison asked Australians to be "fair-minded", arguing he went on holiday to keep a promise to his children, and put a positive spin on the widespread community backlash at his absence.
"I am comforted by the fact that Australians would like me to be here simply so I can be here alongside them as they go through this terrible time," he said. "And so to those Australians who ... I had caused upset to I apologise for that." Morrison then sought to turn the page on the episode by unilaterally declaring "the time for that discussion is over".
Morrison said there was "no argument" about the links "between broader issues of global climate change and weather events around the world" but it was "not a credible suggestion" to make a direct connection to any single fire event. Global heating is leading to longer, hotter, drier summers which experts agree increases bushfires' frequency and severity. But Morrison said it was "one of many factors", listing others including back burning, vegetation management, building codes, carelessness, arson and lightning strikes. On Saturday, McCormack said he "absolutely" agreed that "further action" to combat climate change is needed. Morrison appeared to snuff out hope his government will improve its policies, which have caused Australia to be rated worst out of 57 countries for its handling of climate change by a group of think tanks.
PM QUOTE - "I do not accept the suggestion that Australia is not carrying its weight."
Morrison claimed that McCormack was "making exactly the point I'm making" – citing existing commitments in the Paris agreement to decrease Australia's emissions by 26% by 2030 – although he also suggested there may be room for "further refinement" before 2030. Australia needs to cut emissions by 695m tonnes cumulatively across the next decade to meet its 2030 target. The Morrison government has said more than half of that cut, 367m tonnes, will come from accounting – using carryover credits from meeting earlier Kyoto targets – and not from practical emissions reduction.
The centrepiece of Australia's policy is a $2.55bn fund to pay polluters to reduce emissions, after the Liberal-National government abolished Australia's carbon price in 2014. Asked about the use of carryover credits, Morrison replied that "people can expect my government to do what it promised to do, what it took to the last election".
"I know there are some who tried to make political points and score points over these issues in the midst of these disasters and that is disappointing."
Morrison said the government would not act in a "knee-jerk, crisis or panicked mode" – likening his refusal to increase ambition on climate change with the steady professionalism of those managing the bushfire emergency.
"A panic approach and response to anything does not help. It puts people at risk. "Not just their livelihoods but, I mean, if you walk out there into the control room you will not see people panicking, you will see people be very professional, very focused on the job they have, talking to each other in a very professional way and getting the job done. Government's the same thing."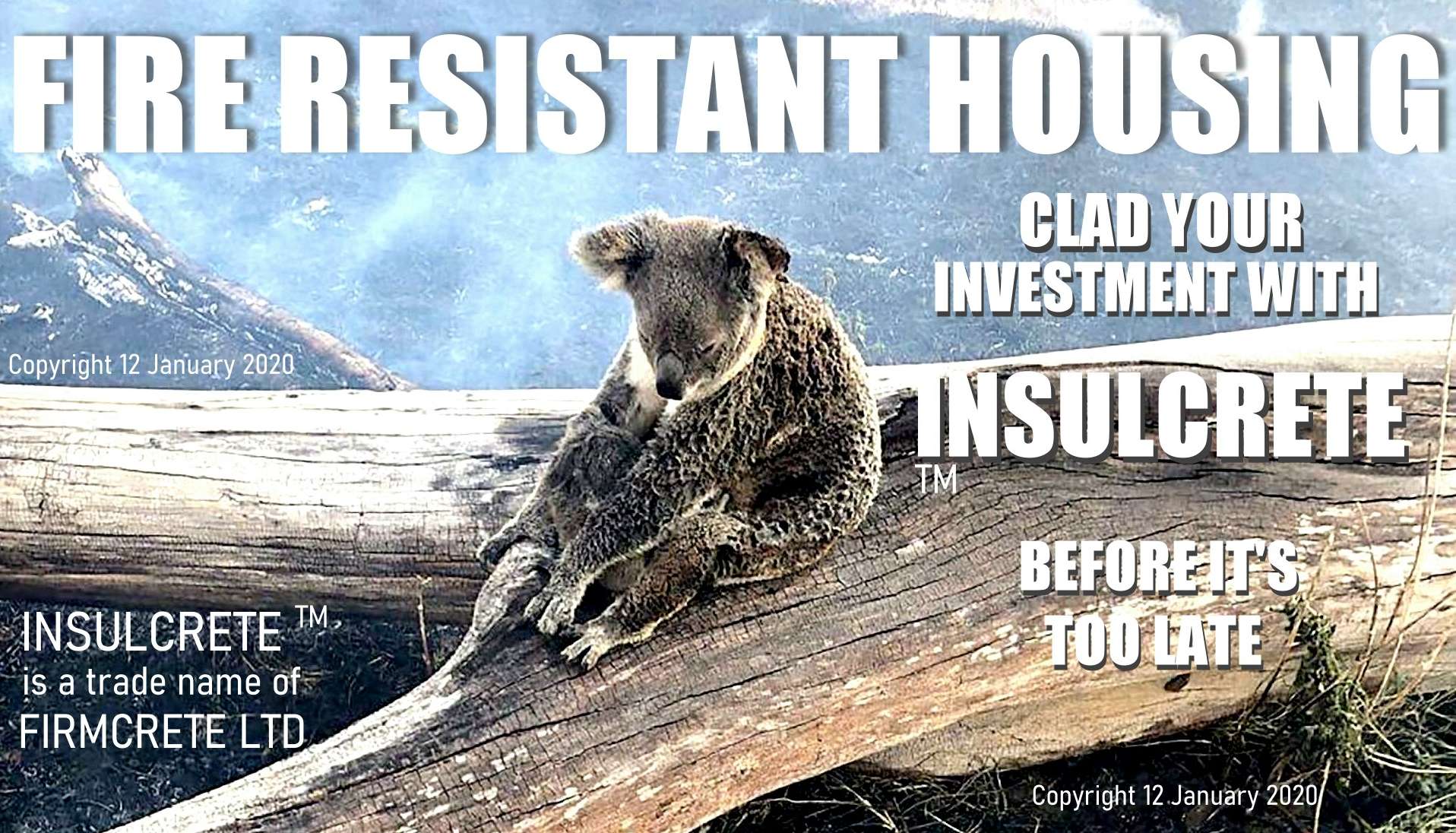 Minutes after calling for an end to division, arguing, partisanship and point scoring, Morrison said the Coalition is reducing emissions without the "reckless job-destroying and economy-crunching targets that others are seeking to force upon us". The government's own projections show Australia is on course for 50% renewables by 2030 – a target which Morrison labelled as reckless and economy-wrecking in the May election campaign. Morrison flagged that he will discuss resourcing for future emergency management with states and territories at a meeting in March. Morrison said the government is considering calls to pay volunteer firefighters, but noted that is "in the first instance" a matter for state governments.
Morrison later visited the families of Geoff Keaton and Andrew O'Dwyer, two volunteer firefighters killed late on Thursday near the town of Buxton, and conveyed his sympathies. Labor leader Anthony Albanese told reporters in Sydney it was a "good thing" Morrison is back but there was "no change" in the prime minister's approach to the bushfires or climate change. "The deputy prime minister yesterday said [that] new measures were needed … and today, going from the acting prime minister to the real prime minister, we have a dismissal of the need for any action on climate change," he said.
Albanese said Morrison's holiday was "a matter for his judgement". "He chose to leave. He chose also to do it in a way that I think created a major issue of secrecy." Earlier, the NSW premier Gladys Berejiklian and federal emergency management minister David Littleproud announced an additional $3.5m of disaster recovery funding to the Wingecarribee and Wollondilly local government areas. The commitment brings the total federal-state recovery fund to more than $63m.
DAILY MAIL 22 DECEMBER 2019 - Australia fires: NSW devastation laid bare as 72 homes destroyed in SA bushfires

Australian PM Scott Morrison says government won't change its climate change policy as New South Wales premier says 'not much left' of town of Balmoral.

The devastation from Australia's bushfire crisis became clearer on Sunday, as the South Australian premier said 72 homes had been destroyed and his New South Wales counterpart revealed there was "not much left" of the town of Balmoral, south-west of Sydney.
It is feared the figures for homes lost may get much worse as authorities continue to assess the damage from Saturday, and with dozens of fires still active. Conditions eased in NSW, Victoria and South Australia on Sunday, allowing fire-threatened areas some respite.
But the NSW Rural Fire Service commissioner, Shane Fitzsimmons, said an estimated 100 buildings could have been lost in Balmoral, where Gladys Berejiklian said there was "not much left". "The toll is significant," Fitzsimmons said.

The Green Wattle Creek fire tore through the town on Saturday for the second time in three days. Residents have not been allowed to return to see if their homes are still standing, with expert teams on the ground assessing whether it was safe to do so.
A man who was reported missing during the Grose Valley fire in the NSW Blue Mountains was found safe in an evacuation centre, but another elderly man from Bell near the town of Lithgow was missing as of Sunday afternoon. The area was engulfed in flames on Saturday.

By Sunday evening there were only two fires in NSW at watch and act level: Gospers Mountain and Grose Valley. Fitzsimmons said the "relentless nature" of this fire season was taking a toll on firefighters. Despite the easing conditions, Fitzsimmons warned that didn't mean the situation would improve considerably without substantial rainfall. "We've got to keep in mind that we're not expecting any rainfall to make any meaningful difference to these fires until January [or] February," he said. "That's still a way to go. We're still talking four to six weeks at best before we start to see a meaningful reprieve in the weather."

Conditions also eased in South Australia, but the premier, Steven Marshall, confirmed 72 homes had been destroyed in the Cudlee Creek fire in the Adelaide Hills, up from 15 reported on Saturday. A total of 404 outbuildings and 227 vehicles were destroyed in that fire. The smoke from the Adelaide Hills reduced the city's air quality rating to poor. In Victoria, conditions for the fires in Victoria's East Gippsland eased, with watch and act warnings in place for a fire in Tambo Crossing, Wattle Creek and Stirling, and another at Marthavale-Barmouth Spur.
The prime minister, Scott Morrison, returned to Australia from his holiday in Hawaii on Saturday night.
Morrison spent Sunday touring the RFS headquarters in NSW, before visiting an evacuation centre in Picton and an emergency fire control centre in Wollondilly. The prime minister met the widows of the two firefighters, Geoff Keaton and Andrew O'Dwyer, who died in a truck rollover last week.

At a press conference on Sunday morning, Morrison apologised to people who were upset for him going on holiday during the bushfire crisis. He said the secrecy surrounding the trip was because it was family leave, and tried to draw a line under the criticism of his decision to take the trip.
"The time for that discussion is over. We need to focus on what is going out there today. Let me finish by saying this … it is time to be kind to each other. This is not a time for division, it is not a time for argument, it is not a time for partisanship, it is not a time for point scoring," he said.

The prime minister acknowledging that climate change was having an impact on weather events, but indicated there would be no change to government policy, including Australia's controversial policy of using carryover credits for meeting targets in the Paris agreement. Morrison said a council of Australian governments meeting would be convened in March to discuss the response to the fires and how to plan more effectively.
The opposition leader, Anthony Albanese, praised emergency management minister David Littleproud for providing updates to him about the bushfires, but said he had not been able to secure a tour of the RFS headquarters Morrison visited in the morning, despite requests.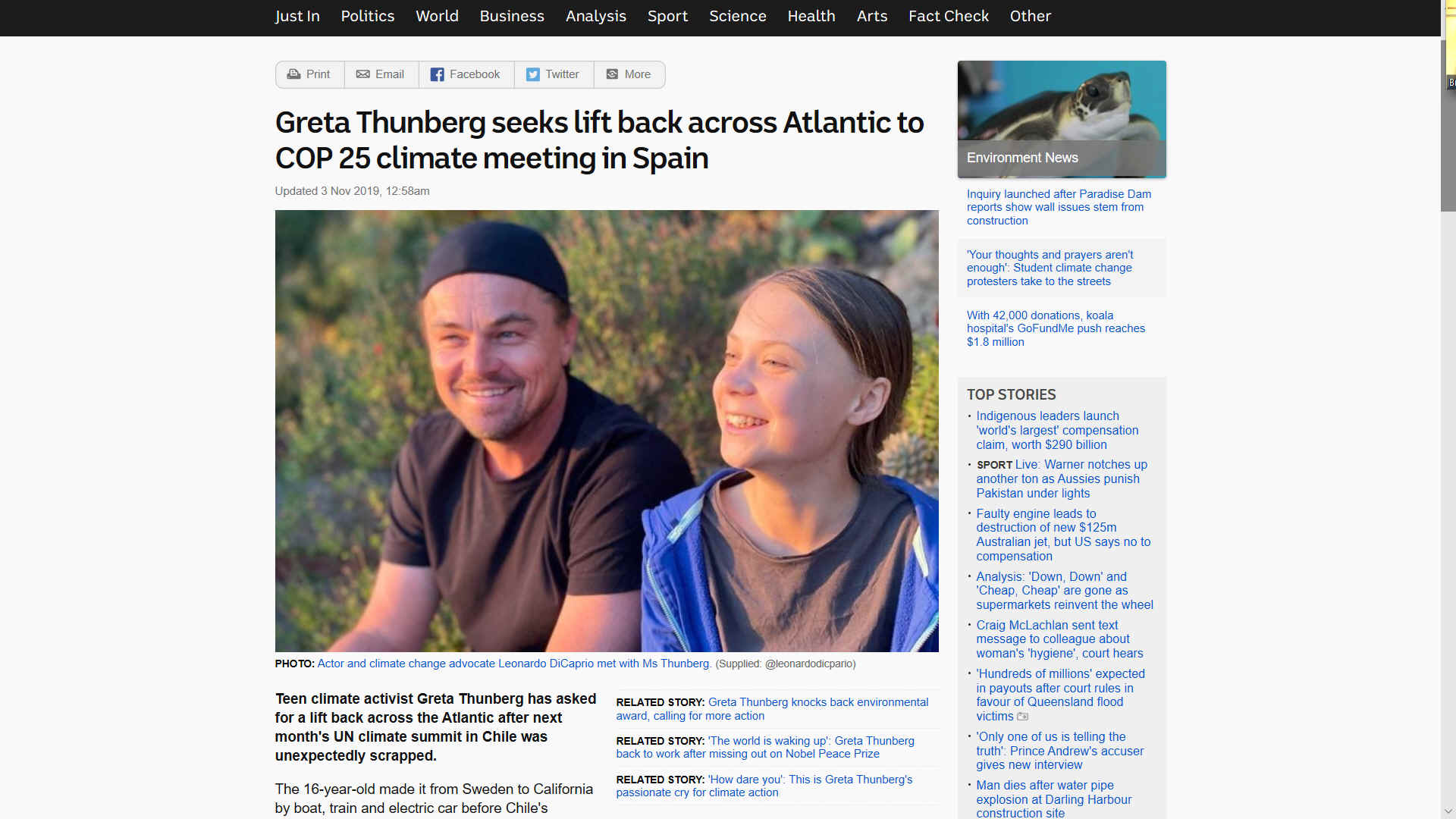 MAIL ONLINE 14 NOV 2019 - Leonardo DiCaprio has weighed in on Australia's bushfire crisis and called for a 'radical overhaul' of the country's conservation efforts. The Hollywood star-cum-environmentalist took to Instagram on Thursday to share photos of the devastation brought on by raging wildfires across NSW and Queensland. The post, a 'regram' from wildlife sanctuary account Aussie Ark, called for Australians to take action, pointing out the country's 'worst on Earth' mammal extinction rate and the country's top seven ranking in the world for biodiversity loss.

'Australian conservation efforts need a radical overhaul. Mitigating the intensity of these fires, mostly set by humans and their activities, can be achieved by restoring our native ecosystem engineers, such as bandicoots, bettongs and potoroos,' the post read.
'Our hearts go out to the victims of the current fires, which we know have been exacerbated by the decline of native biodiversity.'

DiCaprio has been a longtime fighter of climate change, having founded his namesake charity in 1998 to protect the 'wellbeing of all Earth's inhabitants.' Earlier this month, the Oscar-winning actor met with fellow activist Greta Thunberg, calling the 16-year-old 'a leader of our time' and revealing the two campaigners have 'made a commitment to support one another'.

The 45-year-old shared a second post later on Thursday, warning of the 'terrifying weather phenomenon' caused by Australia's bushfires. More than 70 fires are now burning across Queensland and NSW since the current crisis erupted a week ago. So far, three people have died. On Wednesday, residents and holidaymakers had to pile onto boats to escape a large out of control bushfire whipped up by gusty winds on Queensland's Sunshine Coast.
NEW YORK TIMES 5 DECEMBER 2019 - Australian Firefighters Worry About Wildfires Approaching Sydney

Firefighters battled to contain nearly 150 fires burning in New South Wales state on Friday as strong winds fanned the flames and again shrouded Sydney, Australia's biggest city, in hazardous smoke.

Bushfires have killed at least four people and destroyed more than 680 homes since the start of November. Fires are still burning in New South Wales, Victoria, South Australia and Queensland states.

While nearly 150 blazes were alight across Australia's east coast, New South Wales Rural Fire Service Commissioner Shane Fitzsimmons said authorities were particularly concerned about eight fires now at emergency levels around Sydney, the state capital where about 5 million people live.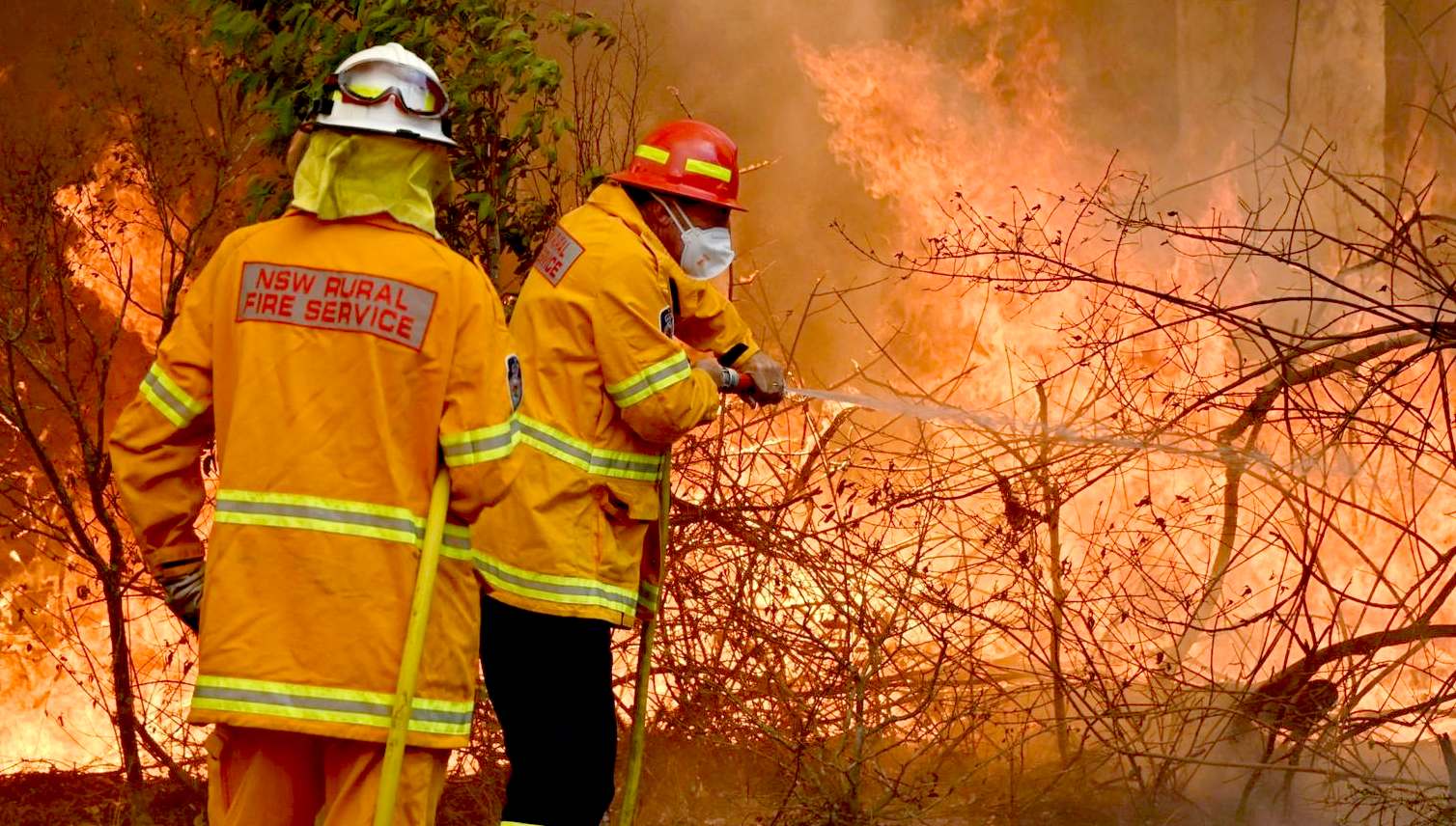 "They have the potential or are expected to spread further east, which unfortunately is getting into more populated areas, villages, communities, isolated rural areas, and other farming practices and businesses throughout the region," Fitzsimmons told reporters in Sydney.

Several fires to the northwest of the city had joined together to create one massive blaze, spreading with hot, dry winds, he said.

Bushfires are common in Australia, but this year's fire season has begun much earlier than usual, with temperatures soaring regularly above 40 degrees C (104°F) before the start of the southern summer and high winds scouring the drought-parched landscape.

Australia's worst bushfires on record destroyed thousands of homes in Victoria in February 2009, killing 173 people and injuring 414 more. by Colin Packham and Lincoln Feast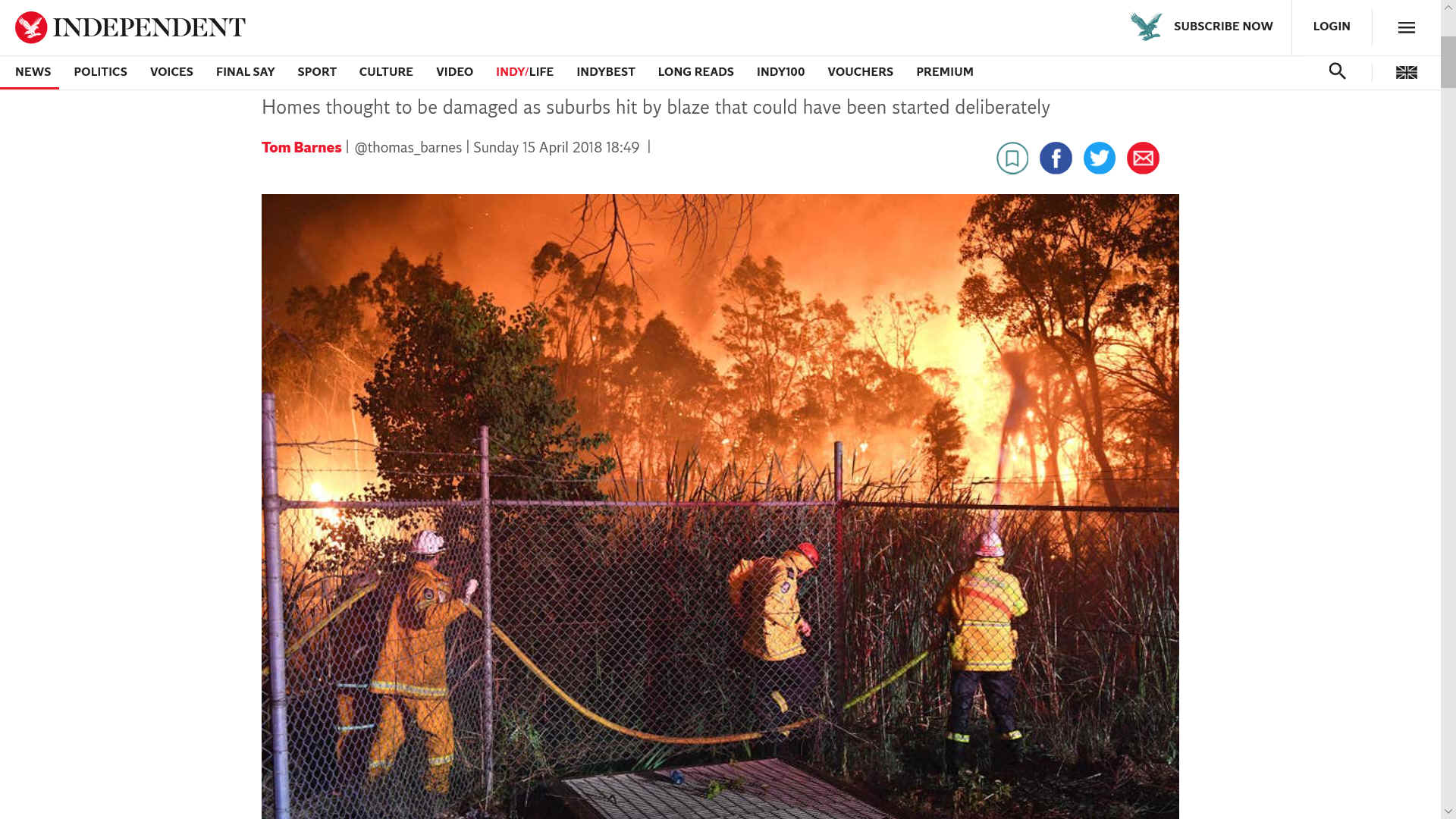 SYDNEY APRIL 15 2018
Hundreds of Australian firefighters are battling a large bush fire on the outskirts of Sydney, as police designated the key area a crime scene.
The public have been warned to stay vigilant while the blaze spreads, amid reports that homes have been damaged.

The fire, which broke out yesterday afternoon in Holsworthy in the southwest of the city, remains out of control.
High winds have pushed the flames towards residential areas and authorities said they had received several reports of damage being caused to homes.

New South Wales police said the site of the fire has been designated as a "crime scene" and forensic officers were set to conduct an investigation to establish a cause. They warned that penalties, including prison sentences, could be enforced if it was determined an individual was responsible.

Around 2,500 hectares of land have been burnt and more than 500 firefighters are tackling the outbreak, according to the New South Wales Rural Fire Service (RFS).

No one is thought to have been injured.
The fire has spread through the Moorebank, Wattle Gtove, Menai and Heathcote neighbourhoods but RFS spokesman Greg Allan told AAP it was too early for emergency crews to assess the fire's impact.

"We have had reports of impact on properties in west Menai and Barden Ridge but our crews at the moment are solely focused on fighting the fire," he said.
After being briefed at a fire-control centre on Sunday, Australian prime minister Malcolm Turnbull praised the courage of the emergency services staff and volunteers.

Mr Turnbull said the area had been experiencing "unseasonably hot" weather.
"That is a matter of obviously of great concern but we have to deal with the worst that mother nature can throw at us and the worst Australians are presented with," Mr Turnbull said, ABC News reported.
The bush fire has now been downgraded to "watch and act", replacing the emergency warning first issued by the RFS.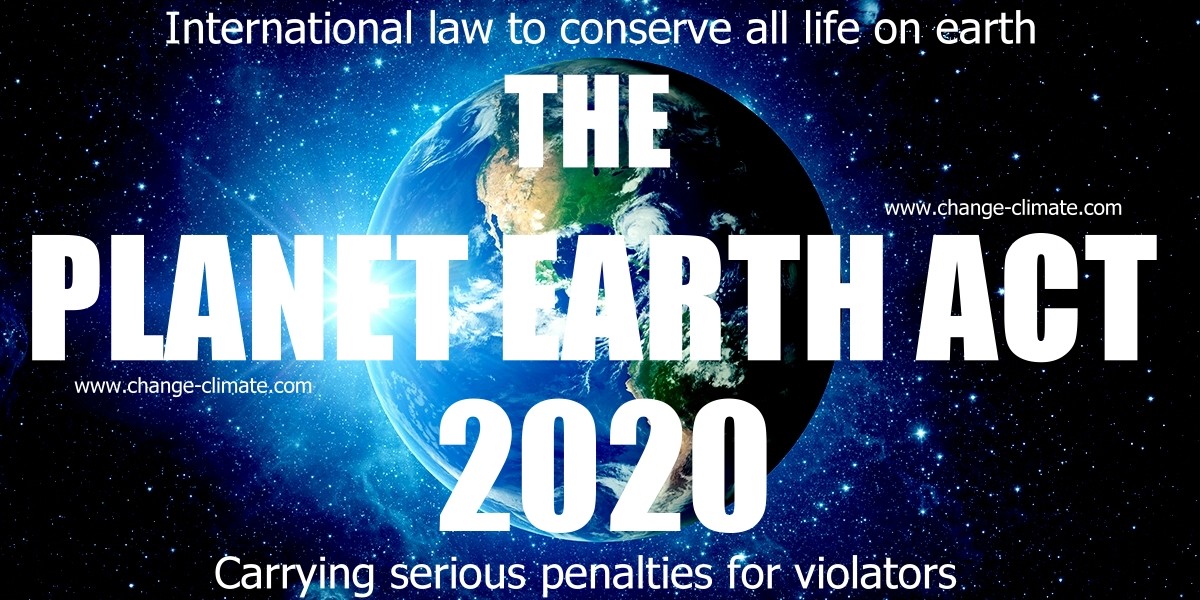 HISTORY
Forest wildfires in Australia are on the increase. They have accounted for over 800 deaths in Australia since 1851 and the total accumulated cost is estimated at $1.6 billion.
Bushfires are frequent events during the warmer months of the year, due to Australia's mostly hot, dry climate. Each year, such fires impact extensive areas. On one hand, they can cause property damage and loss of human life. Certain native flora in Australia have evolved to rely on bushfires as a means of reproduction, and fire events are an interwoven and an essential part of the ecology of the continent. For thousands of years, Indigenous Australians have used fire to foster grasslands for hunting and to clear tracks through dense vegetation.

Major firestorms that result in severe loss of life are often named based on the day on which they occur, such as Ash Wednesday and Black Saturday. Some of the most intense, extensive and deadly bushfires commonly occur during droughts and heat waves, such as the 2009 southeastern Australia heat wave, which precipitated the conditions during the 2009 Black Saturday bushfires in which 173 people lost their lives. Other major conflagrations include the 1983 Ash Wednesday bushfires, the 2003 Eastern Victorian alpine bushfires and the 2006 December Bushfires.

In 2013 the non-profit Climate Council reported that Global warming is increasing the frequency and severity of bushfires.

In southeast Australia, bushfires tend to be most common and most severe during summer and autumn (December–March), in drought years, and particularly severe in El Niño years. Southeast Australia is fire-prone, and warm and dry conditions intensify the probability of fire. In northern Australia, bushfires usually occur during the dry season (April to September), and fire severity tends to be more associated with seasonal weather patterns. In the southwest, similarly, bushfires occur in the summer dry season and severity is usually related to seasonal growth. Fire frequency in the north is difficult to assess, as the vast majority of fires are caused by human activity, however lightning strikes are as common a cause as human-ignited fires and arson.

Climate change

Australia's climate has been trending toward more bushfire weather over the last 30 years. The Climate Commission found that "The intensity and seasonality of large bushfires in south-east Australia appears to be changing, with climate change a possible contributing factor."

A 2006 report by the Bushfire CRC acknowledges the complexity of climate predictions pointing out "Much of [Australia's] vegetation has a complex evolutionary and dependent relationship with fire. Fire has been part of these environments for tens of thousands of years and much native flora and fauna remains dependent on it in various ways."

In 2007, a study by the CSIRO (the national government body for scientific research in Australia), found evidence that climate change will lead to increases in very high and extreme fire danger rating days and earlier onset of the fire season. Other studies investigating the historical record identify significant changes in Australia's bushfire season as a result of human activity.
Australia
- Black Thursday bushfires of 1851 (Victoria)
- Black Friday bushfires of 1939 (Victoria)
- Black Sunday bushfires of 1955 (South Australia)
- 1961 Western Australian bushfires
- Black Tuesday bushfires of 1967 (Tasmania)
- Ash Wednesday bushfires of 1980 and 1983 (Victoria and South Australia)
- 1994 Eastern seaboard fires
- Black Christmas bushfires 2001–2002
- Canberra bushfires of 2003
- Black Tuesday bushfire of 2005 (Eyre Peninsula South Australia)
- Mount Lubra bushfire of 2006
- Black Saturday bushfires of 2009 (Victoria)
- 2015 Sampson Flat bushfires of 2015 (South Australia)
- 2015 Pinery bushfire of 2015 (South Australia)

New Zealand

- Raetihi Forest Fire (Manawatu)
- 2017 Port Hills fires (Canterbury)
- 2019 Nelson fires
FOREST FIRE A TO Z
Arctic
Bolivian
British Columbian
Canadian - Saskatchewan
Chilean
Croatian
Ecuador
Europe - Heatwave 17 July 2022
France
Greece
Malaysian
Mongolian
Portugal
Spain
Sweden
USA - California, Yosemite
- Montana
- Georgia
- Sacramento
UK - Saddleworth Moor
- Moray
- Dartmoor
......
WOOD IS GOOD x 10 PLEASE
Timber grown for wood is only good if part of a replanting scheme, with at least 2 trees planted for every one felled, though we would suggest up to 10 trees should be planted to offset the loss of carbon absorption during growth.
We need to plant more trees - a whole lot more trees, not clear them, and especially not waste timber that is a vital renewable resource for zero carbon house building. Forest fires that cause deforestation are raising the temperature of Planet Earth and there is no Planet B.
HEATWAVES A TO Z
Australia
Brazil & Amazon rainforest
British Columbia on the 1st of July 2021
London had a similar experience in July 2022
Tokyo & Osaka, Japan June 2022
USA
DESERTIFICATION COP HISTORY
| | |
| --- | --- |
| COP 1: Rome, Italy, 29 Sept to 10 Oct 1997 | COP 9: Buenos Aires, Argentina, 21 Sept to 2 Oct 2009 |
| COP 2: Dakar, Senegal, 30 Nov to 11 Dec 1998 | COP 10: Changwon, South Korea, 10 to 20 Oct 2011 |
| COP 3: Recife, Brazil, 15 to 26 Nov 1999 | COP 11: Windhoek, Namibia, 16 to 27 Sept 2013 |
| COP 4: Bonn, Germany, 11 to 22 Dec 2000 | COP 12: Ankara, Turkey, 12 to 23 Oct 2015 |
| COP 5: Geneva, Switzerland, 1 to 12 Oct 2001 | COP 13: Ordos City, China, 6 to 16 Sept 2017 |
| COP 6: Havana, Cuba, 25 August to 5 Sept 2003 | COP 14: New Delhi, India, 2 to 13 Sept 2019 |
| COP 7: Nairobi, Kenya, 17 to 28 Oct 2005 | COP 15: 2020 |
| COP 8: Madrid, Spain, 3 to 14 Sept 2007 | COP 16: 2021 |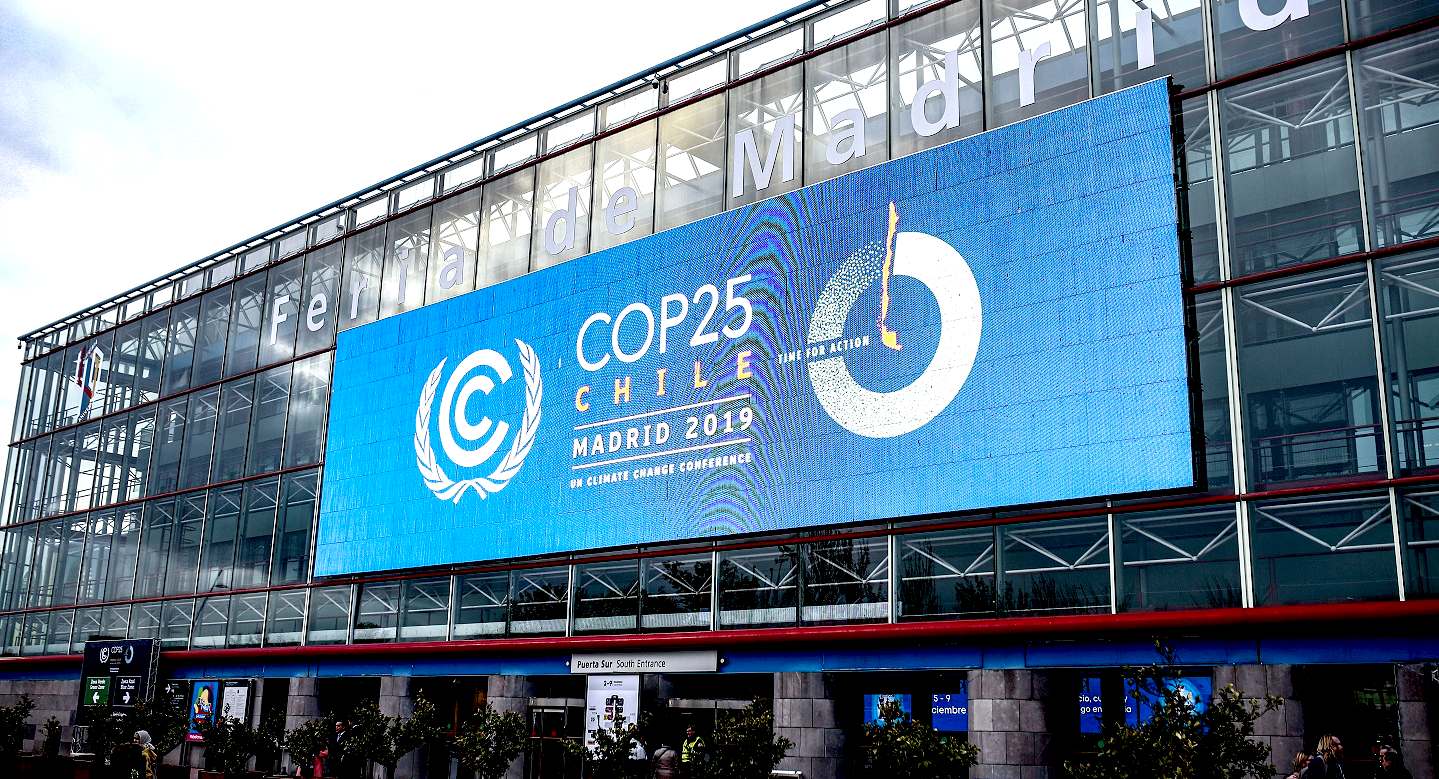 CLIMATE CHANGE COP HISTORY
1995 COP 1, BERLIN, GERMANY
1996 COP 2, GENEVA, SWITZERLAND
1997 COP 3, KYOTO, JAPAN
1998 COP 4, BUENOS AIRES, ARGENTINA
1999 COP 5, BONN, GERMANY
2000:COP 6, THE HAGUE, NETHERLANDS
2001 COP 7, MARRAKECH, MOROCCO
2002 COP 8, NEW DELHI, INDIA
2003 COP 9, MILAN, ITALY
2004 COP 10, BUENOS AIRES, ARGENTINA
2005 COP 11/CMP 1, MONTREAL, CANADA
2006 COP 12/CMP 2, NAIROBI, KENYA
2007 COP 13/CMP 3, BALI, INDONESIA

2008 COP 14/CMP 4, POZNAN, POLAND
2009 COP 15/CMP 5, COPENHAGEN, DENMARK
2010 COP 16/CMP 6, CANCUN, MEXICO
2011 COP 17/CMP 7, DURBAN, SOUTH AFRICA
2012 COP 18/CMP 8, DOHA, QATAR
2013 COP 19/CMP 9, WARSAW, POLAND
2014 COP 20/CMP 10, LIMA, PERU
2015 COP 21/CMP 11, Paris, France
2016 COP 22/CMP 12/CMA 1, Marrakech, Morocco
2017 COP 23/CMP 13/CMA 2, Bonn, Germany
2018 COP 24/CMP 14/CMA 3, Katowice, Poland
2019 COP 25/CMP 15/CMA 4, Madrid, Spain

2020 COP 26/CMP 16/CMA 5, to be announced
BIODIVERSITY COP HISTORY
| | |
| --- | --- |
| COP 1: 1994 Nassau, Bahamas, Nov & Dec | COP 8: 2006 Curitiba, Brazil, 8 Mar |
| COP 2: 1995 Jakarta, Indonesia, Nov | COP 9: 2008 Bonn, Germany, May |
| COP 3: 1996 Buenos Aires, Argentina, Nov | COP 10: 2010 Nagoya, Japan, Oct |
| COP 4: 1998 Bratislava, Slovakia, May | COP 11: 2012 Hyderabad, India |
| EXCOP: 1999 Cartagena, Colombia, Feb | COP 12: 2014 Pyeongchang, Republic of Korea, Oct |
| COP 5: 2000 Nairobi, Kenya, May | COP 13: 2016 Cancun, Mexico, 2 to 17 Dec |
| COP 6: 2002 The Hague, Netherlands, April | COP 14: 2018 Sharm El-Sheikh, Egypt, 17 to 29 Nov |
| COP 7: 2004 Kuala Lumpur, Malaysia, Feb | COP 15: 2020 Kunming, Yunnan, China |
OUR (SUGGESTED) SIX STEPS TOWARD A COOLER PLANET
1. TRANSPORT: Phase out polluting vehicles. Governments aim to end the sale of new petrol, and diesel vehicles by 2040 but have no infrastructure plan to support such ambition. Such infrastructure should exceed the performance of fossil fuel filling stations, prolong EV battery life and provide power grids with a measure of load leveling. Any such system should seek to obviate the provision of millions of fast charge points where implementation could prove to be a logistical nightmare and an inefficient energy delivery system. This may involve international agreement as to energy storage format and statute to steer car makers to collaborate (in part) in a world of competition.
Marine transport can be carbon neutral given the right policies, with phased transition in specific stages such as not to unduly penalize present investment in LNG shipping and other recent MARPOL compliant IC powered vessels. Future cargo vessel should be at least in part powered by renewable energy, on the road to zero carbon via the development of shorter distance ferries and the like, making allowances for technology catch-up from 2030 with scrappage trade in on outdated ships and marine taxes on internal combustion engines.
Air travel powered by kerosene should attract hefty mitigation offset, where low carbon alternatives should be encouraged.
2. RENEWABLES: Renewable energy should replace carbon-based fuels (coal, oil and gas) in our electricity for homes, factories, heating and transport. Coal and nuclear power plants should be phased out.
3. HOUSING: On site micro or macro generation is the best option, starting with new build homes that are both affordable and sustainable by design to replace crumbling housing stocks. Encourage building in timber to provide carbon lock from a renewable natural resource. Make sustainable housing a permitted development. Taking out the need to apply for planning permission, will cut out council blockers from the decision making process, to stamp out empire building agendas.
4. AGRICULTURE: We need to grow more trees to absorb carbon emissions from a growing population, air travel, and to build new homes. We should promote reductions in food waste and eating of foods that use less energy to produce. Educating children on these matters in schools and via campaigns such as no meat Mondays, should be part of ordinary study.
5. INDUSTRY: Factories should be aiming for solar heating and onsite renewable energy generation. EV parking and even service facilities should be part of new industrial estates as part of any building permissions.
6. POLITICS: - National governing bodies need to adopt rules to eliminate administrative wastages, to include scaling down spending on war machines, increasing spend on educating the public and supporting sustainable social policies that mesh with other cultures. This includes fostering policies and making funds available to close links in the technology chain to make up for lost time. Kleptocratic empire building must cease in the search for natural equilibrium.
...
LINKS & REFERENCE
https://edition.cnn.com/2020/01/04/us/pink-australia-fires-donation-trnd/index.html
https://people.com/music/pink-donates-australian-fire-relief/
https://www.msn.com/en-gb/news/world/australian-wildfires-may-have-killed-half-a-billion-animals-and-plants/ar-BBYzehQ
www.theguardian.com/australia-news/2019/dec/22/scott-morrison-returns-holiday-signals-no-change-climate-policy-despite-bushfires-crisis
https://www.theguardian.com/australia-news/2019/dec/22/australian-bushfires-nsw-devastation-laid-bare-as-72-homes-destroyed-in-sa
https://www.dailymail.co.uk/news/article-7685659/Leonardo-DiCaprio-weighs-Australian-bushfires-Instagram-post.html
https://www.nytimes.com/reuters/2019/12/05/world/asia/05reuters-australia-bushfires.html
https://www.theguardian.com/australia-news/2019/nov/12/australia-fires-rage-out-of-control-catastrophic-day
https://www.independent.co.uk/news/world/australasia/australia-bushfire-sydney-fire-holsworthy-forests-firefighters-a8305916.html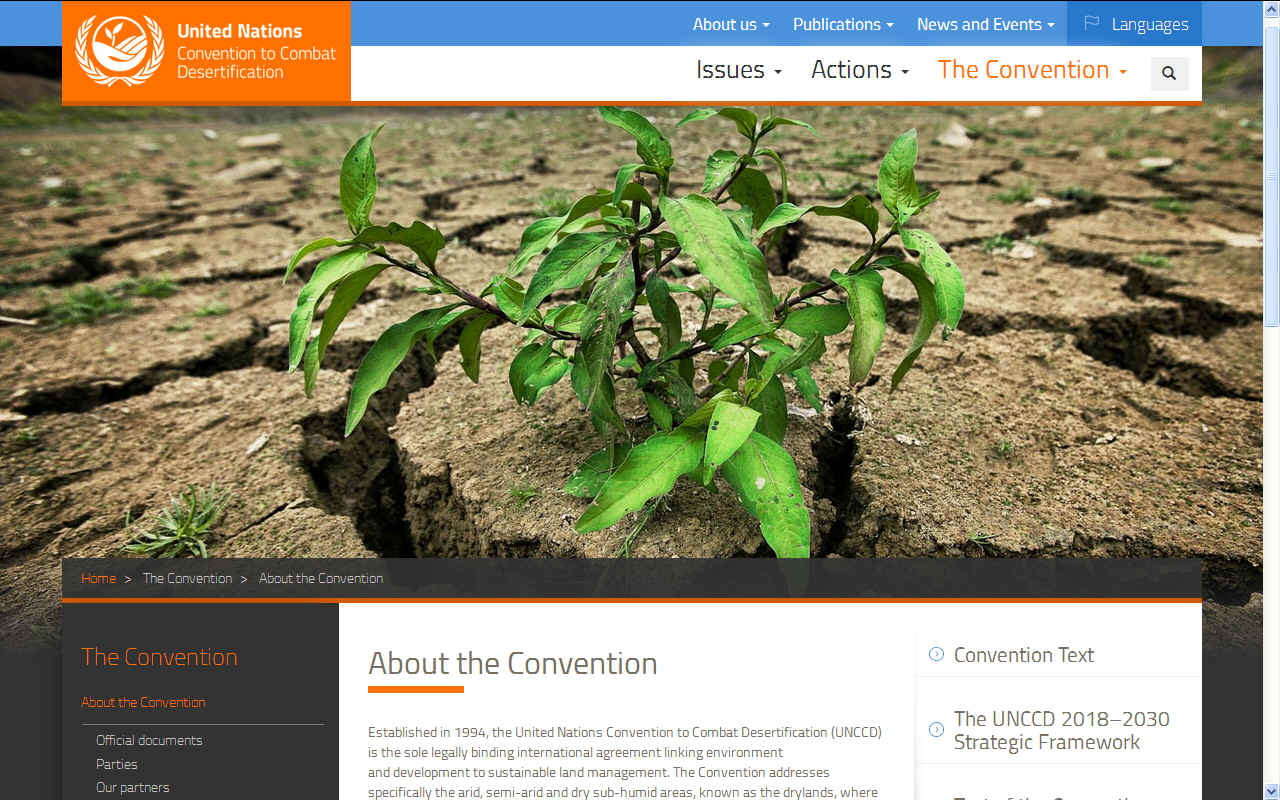 SOIL EROSION - The more land that we lose to grow crops the greater the food security issue. As the ice caps melt, desertification spreads to make Earth more uninhabitable.
Please use our A-Z INDEX to navigate this site or see HOME