From a point in time where electric or hybrid vessels may be ordered from shipyards (C.2030) vessels may be built to replace the current fleet of cargo ships, as the older transports reach the end of their 20 year useful working lives.
In order to accelerate such ideal, or to soften the need to change technology, a marine scrappage scheme might be introduced by international agreement, where older bunker fuelled vessels with internal combustion engines are traded in for an allowance against an order for a Zero Carbon ship.
The rate of inducement could be set such that from one favoured country of registration to another the percentage allowance worked out roughly the same.
The scrappage scheme could be part paid for by the introduction of a marine fuel tax on vessels using internal combustion engines, with an even higher tax of coal fired steam engines. Except for historic vessels that would be tax exempt.
CLIMATE CHANGE CHALLENGE - "SUNSHINE" ROUTE
| | | | | |
| --- | --- | --- | --- | --- |
| LEG | NAUTICAL MILES | TIME IN PORT | WAYPOINT | SUNSHINE DAYS |
| - | - | - | - | - |
| | - | - | | 0.00 |
| 1 | 784 | 2 | | 4.67 |
| 2 | 729 | 2 | | 4.34 |
| 3 | 3,154 | 2 | | 18.77 |
| 4 | 1,182 | 2 | | 7.04 |
| 5 | 970 | 2 | | 5.77 |
| 6 | 3,640 | 2 | | 21.67 |
| 7 | 1,423 | 2 | | 8.47 |
| 8 | 410 | 2 | | 2.44 |
| 9 | 1,886 | 2 | | 11.23 |
| 10 | 340 | 2 | | 2.02 |
| 11 | 724 | 2 | | 4.31 |
| 12 | 1,572 | 2 | | 9.36 |
| 13 | 1,881 | 2 | | 11.20 |
| 14 | 2,109 | 2 | | 12.55 |
| 15 | 698 | 2 | | 4.15 |
| 16 | 670 | 2 | | 3.99 |
| 17 | 1,111 | 2 | | 6.61 |
| 18 | 170 | 2 | | 1.01 |
| 19 | 393 | | | 2.34 |
| - | - | - | - | - |
| - | 23,846 | 36 | RUNTIME DAYS @ 7kts | 141.94 |
| - | - | - | - | - |
| + 10% service | = 156.13 Days | - | 7 KNOTS AVE INC PORT & % | 192.13 |
| & maintenance | - | - | AT 6 KNOTS AVE | 224.16 |
| - | - | - | AT 5 KNOTS AVE | 268.99 |
CLIMATE CHANGE CHALLENGE - The above table illustrates one of the most likely ocean awareness expedition routes, known as the 'Sunshine Route,' showing the time elapsed in days for 7 knots average cruising speed, including times for 5 and 6 knot averages - allowing for 10% downtime and 36 days in ports. Hence, although the objective is to reduce the current solar circumnavigation record from 584 days, the event in not an outright non-stop yacht competition in the offshore racing sense. It remains to be seen how accurate such a prediction might be. In this table we only allowed 36 days for provisioning and PR but added a 10% contingency for servicing, that could be used for additional time in ports. As a Climate Changing event, performance is one of the main criteria, especially concerning the possibilities for a transition to low carbon shipping and the contribution this might make in combating global warming. UK project team.
AUTOMOBILE SCRAPPAGE SCHEMES
A scrappage program is a government budget programme to promote the replacement of old vehicles with modern vehicles. Scrappage programmes generally have the dual aim of stimulating the automobile industry and removing inefficient, more polluting vehicles from the road.
Many European countries have introduced large-scale scrappage programmes as an economic stimulus to increase market demand in the industrial sector during the global recession that began in 2008.

Scrappage programmes were touted with different names, mostly referring to an environmental benefit. The Vehicle Efficiency Incentive in Canada was based on fuel efficiency of cars. In Romania, this program is called " Rabla " (the wreck), and was launched by Dacia in 2000. In Germany, the economic stimulus program was called "Umweltprämie" (environmental premium) and in Austria "Ökoprämie" (eco-premium) while most of the public referred to it simply as "Abwrackprämie" (scrappage premium).
Other countries have not tried to connect the program title with an environment aspect - still the Italian "Incentivi alla rottamazione" (scrappage incentives) and French "Prime à la conversion [fr]" (scrappage premium) require the new car to meet modern emission standards.
The German scrappage incentive scheme and the British scrappage scheme do not have such requirements, and the UK scheme was openly sketched on the target to provide financial support to the struggling motor industry.
Similarly, the United States Congress devised a scrappage scheme, commonly referred to as "cash for clunkers," as part of a general Automotive Stimulus package series; however, the voucher is only given when the newer car has a better fuel efficiency compared to the old car.

In the 1990s, many countries had introduced tax rebate programs for new cars that meet a modern emission standard, but, with the Kyoto Protocol; some countries made the public offer dependent on the scrappage of old cars.

Other programs with the same goal of stimulating industry and increasing efficiency include the Cash for Caulkers plan to promote replacing old refrigerators, air conditioners, etc. with newer, more efficient appliances.
BY COUNTRY

Austria

The scrappage scheme in Austria was introduced on 1 April 2009, and it allowed customers a grant in cash of €1,500 if the car was older than thirteen years and the new car would meet the Euro-4 emission criteria. There was a limit of 30,000 cars up until December 2009.

Canada

The Retire Your Ride program, administered by the Canadian Government, allows Canadian residents to trade in a vehicle manufactured in 1995 or earlier for a wide range of rewards, such as: a public transit pass or C$300.

China

In June 2009, a nationwide scrappage programme was implemented, which offered rebates of $450-$900 for trading in older, heavy polluting cars and trucks for new ones until 31 May 2010. The program was expected to substitute 2,700,000 more polluting vehicles from the roads.

Eligible vehicles included: used minivans, small and mid-size trucks and other mid-size passenger cars that no longer meet the emissions standards set by the Chinese Government. In addition, the Shanghai local government offered similar incentives of $450 to $1,100 per vehicle to its residents who traded in older vehicles; allowing the total subsidy to be as much as $2,000.

After meeting with little success in the first few months, the government raised the compensation to 5,000-18,000 Yuan, or about US$732-US$2,632, for each qualified vehicle at the end of 2009. In June 2010, it was announced that the program would be extended until the end of 2010.

France

The scrappage scheme in France was introduced on January 19, 2009, where the old car would need to be older than ten years and the new car would have needed to meet a particular CO2 emission standard - it started with €1,000 for a car with less than 160 g/km. This was added up for even better emission standards (€5,000 for cars with less than 60 g/km - effectively one electric vehicle) and a "super-bonus" for the scrappage of the old car.

French car manufacturers are availing of this scheme for new car purchases in Ireland as well, so Irish customers that purchase new French cars can avail of a grant from both the French Government and Irish Governments.

The program was replaced by a new program called « Prime à la conversion [fr] » in 2017 which broaden grant eligibility to used cars. It requires cars to emit less that 130g/km of CO².

Germany

The scrappage scheme of Germany has been the largest so far. Every owner of a car being older than nine years was entitled for a scrappage premium of €2,500 when buying a new car. When launched on 13 January 2009, the program was limited to at most 600,000 cars and a budget of €1,500,000,000. However, the car market boomed with an unexpected increase of 40% (March 2009 compared to March 2008) in sales making the program too short running to offer more than a short-term stimulus - estimates showed that the program fund would be depleted by May. On March 25, 2009, the German Government decided to continue the scrappage scheme until the end of year. A German think tank estimated that the net impact of the program on the German budget will be €2,500,000,000.

The impact on automakers has been varied. Ford has benefited from high sales of the Ka, Fiesta, and Fusion—together up 56% in April 2009 from a year before. However, luxury German automakers like BMW, Mercedes-Benz, and Porsche have had little benefit from the program and may have customers who have opted for cheaper, smaller cars instead.

German authorities discovered an illicit scheme through which an estimated 50,000 supposedly scrapped vehicles had been exported to Africa and Eastern Europe. In contrast with the U.S. Cash for Clunkers Program which requires dealers to destroy old engines by draining the motor oil and injecting instead sodium silicate, the German program only required the scrapped vehicles to be sent to junkyards, thus allowing illegal exports.

Italy

In Italy there was a scrappage scheme from 1 January 2007 to 31 December 2008, that allowed for €700 plus a tax rebate. A new scrappage scheme was put in place in 2009. New cars must comply at minimum with Euro 4 + emit a maximum of 130 g/km (diesel) or 140 g/km (other fuels) of CO2. The Scrapping incentive for cars was €1,500 but could be combined with purchase incentive of €1,500 for a new car running on CNG, electricity or hydrogen (increased to €3,000 if it emits exactly 120 g/km and to €3,500 if it emitted less than 120 g/km). The purchase incentive for a new car running on LPG is €1,500, increased to €2,000 if the car emits less than 120 g/km. This could also be combined with the scrapping incentive. The scrappage program ended in December 2009 with delivery of vehicles completed by March 2010.

Ireland

The Republic of Ireland introduced a scrappage scheme for a second time on 10 December 2009 which offered €1,500 for cars ten years or older. The discount was on the Vehicle Registration Tax and could only be used on cars that had emissions that did not exceed 140g/km. In 2010, the scheme value was reduced to €1,250 per scrapped car and the end date for the scheme was set for 30 June 2011. The first-ever scrappage scheme ran in the early-1990s.

Japan

Japan introduced a program from 1 April 2009 until March 31, 2010 (or until the budget was exhausted), which offered up to JP¥250,000 (~US$2,500) to trade in vehicles thirteen years of age or older for newer, more environmentally friendly cars; according to environmental performance criteria established by the Japanese Government. The purchasing rebate was JP¥125,000 (~US$1,250) if trading for a mini or kei car, which already receives preferential tax treatment, built to specifications defined by law in Japan that place limits on size engine displacement and power. The Japanese government also included a tax break on gasoline-electric hybrid vehicles and other low emission cars and trucks, allocating $3,700,000,000 for the program.

Luxembourg

In Luxembourg, a scrappage scheme was introduced in January 2009 that allowed for a premium if the old car was older than ten years and the new car to meet CO2 < 150 g/km (€1,500) or CO2 < 120 g/km (€2,500).

The Netherlands

The Dutch Government provides a premium of €750 or €1,000 in association with the car industry. The city of Amsterdam provides an additional premium of between €250 and €1,000.
Norway

In Norway a "Vehicle Scrap Deposit Tax" for all motor vehicles was introduced in 1978. When purchasing or registering a new vehicle, a standard €190 tax (as per 2010) is paid to the Norwegian Customs and Excise Authorities. This tax is refunded when scrapping the vehicle.

Portugal

Portugal has increased a scrappage scheme allowing €1,000 for a car being older than ten years and €1,500 for a car being older fifteen years if the car is being recycled and the new car has an emission standard of CO2 < 140 g/km. In January 2010, Portuguese Government made a proposal to limit CO2 emissions of the new car to 130 g/km. This proposal was be voted in the beginning of March.

Romania

In Romania, a scrappage scheme was introduced in 2000 by Dacia itself after being bought by Renault, and later, in 2005 by most if all car dealers with the help of the government, and it allows customers a 3,800 lei (1 euro = 4.2 lei) discount if the car was older than ten years. There is no emission restriction of the new car to be bought. Since 2010, one person can scrap up to three cars and/or use the same amount of vouchers in exchange for a new one, but in 2012 this was dropped. In 2014, the value of the voucher was raised to 6,500 lei and the age of the car reduced to eight years.

Russia

A car scrappage scheme was in effect in Russia between 2010-11. This allowed owners of light cars older than ten years (that owned the car for at least one year) to receive a subsidy of 50,000 roubles ($1,751) if they purchased a new car built in Russia.

The scheme was re-launched in 2014, now offering incentives of at least 40,000 roubles (€825) for cars that were at least six years old. A total of 500,000 certificates were issued during its first initial run, and 170,000 when it was relaunched three years later in 2014.
Slovakia

In Slovakia, a scrappage scheme was introduced that allows for €2,000 (originally €2,500) if the old car was older than ten years of age and the new car was below €25,000 in value.
Spain

In Spain, there is a scrappage scheme (Plan 2000E) with a special credit scheme for a new car (category M vehicle) to reach a level of less than 120 g/km and trucks (category M vehicle) 160 g/km and if the old vehicle was more than ten years or 250,000 km.

United Kingdom

The United Kingdom introduced a scrappage incentive scheme in the 2009 budget. Scrapping a car which was at least ten years old (registered on or before 31 July 1999) allowed for a £2,000 cash incentive - the money burden was shared, with £1,000 funded by the UK Government and £1,000 funded by the automotive industry. The Government's investment was initially limited to £300,000,000 allowing for approximately 300,000 customers to benefit. Many dealers taking part in the scheme offered more than the recommended £1,000, many as high as £2,000 or even £3,000.

The scrappage scheme was intended to provide financial support to the motor industry, after the recession had caused new car sales to drop. It is largely assumed that newer cars include environmental benefits, however Economist Willem Buiter questioned environmental benefits of the programme.

On 28 September 2009, it was confirmed that a further investment from the Government was to be introduced extending the scheme further. It would now cover cars registered as late as 29 February 2000.

The scheme closed on 31 March 2010.

Competitively priced cars from traditional "budget" brands sold particularly well in the United Kingdom while the scrappage scheme was in force. These included the Korean models: Hyundai i10 and Kia Picanto.

United States

The Car Allowance Rebate System (CARS) was a $3,000,000,000 US federal program that helps US citizens to purchase a new, more fuel efficient vehicle when trading in an older, more polluting vehicle.
The program officially started on 1 July 2009 and claims began to be processed until 24 July, and ended on 24 August 2009; as the appropriated resources were exhausted.

The initial $1,000,000,000 for the system was exhausted by July 30, 2009, well before the anticipated end date of November 1, 2009, due to very high demand. In response, Congress approved an additional $2 billion for the program.

On August 26 the DoT reported that the program resulted in 690,114 dealer transactions submitted requesting a total of $2.877 billion in rebates. At the end of the program Toyota accounted for 19.4% of sales, followed by General Motors with 17.6%, Ford with 14.4%, Honda with 13.0%, and Nissan with 8.7%. The Toyota Corolla ranked as the program's top seller and the Ford Explorer 4WD was the most traded-in vehicle.

The Department of Transportation also reported that the average fuel efficiency of trade-ins was 15.8 mpg, compared to 24.9 mpg for the new cars purchased to replace them, translating to a 58% fuel efficiency improvement.

However, a study by researchers at the University of Michigan evaluated the effects of the program on the average fuel economy considering a baseline without the existence of the program, since there was already a trend for buying vehicles with higher fuel economy due to the high gasoline prices of 2007 and 2008, and the economic crisis of 2008.
The study found that the program improved the average fuel economy of all vehicles purchased by 0.6 mpg in July 2009 and by 0.7 mpg in August 2009
CONTACTS
Cleaner Ocean Foundation &
Bluebird Marine Systems Ltd
Solar Studios
BN271RF
United Kingdom
growth@blue-growth.org

LINKS & REFERENCES
http://www.blue-growth.org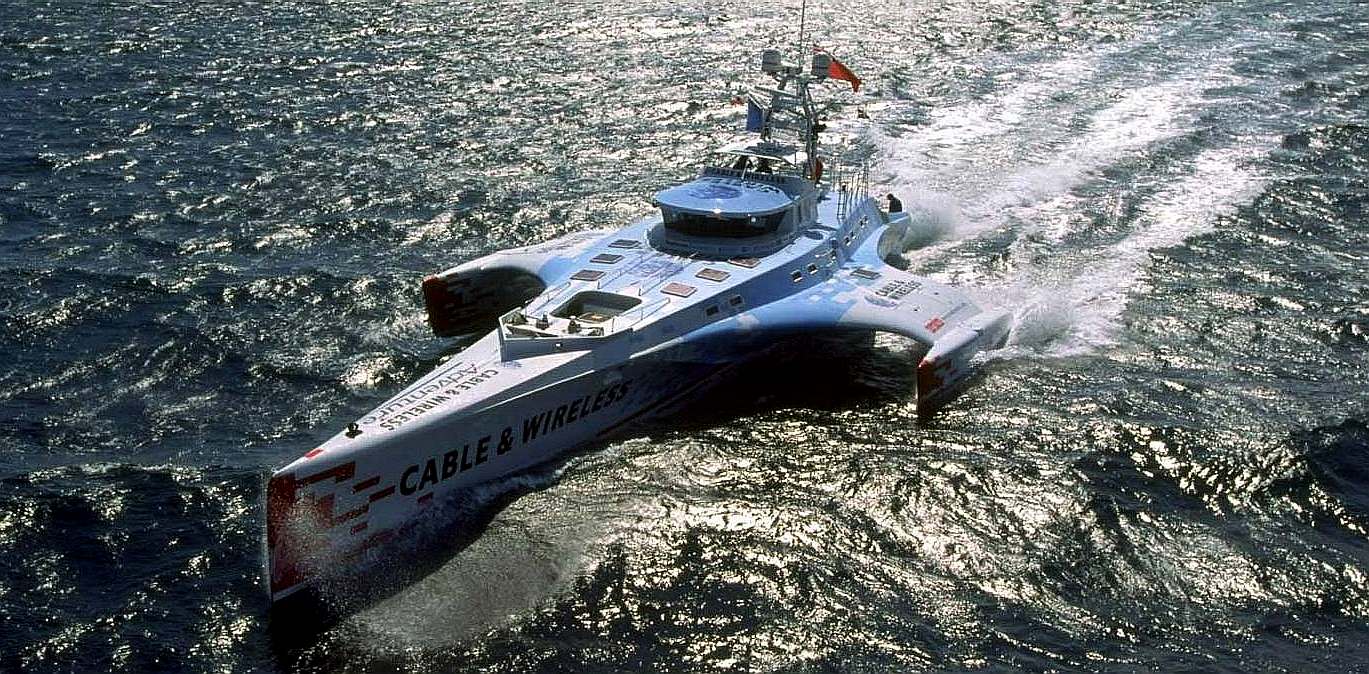 STABILIZED MONOHULL - The diesel powered Cable and Wireless Adventurer was built for the purpose of circumnavigating the world in less than 80 days. This was successfully accomplished in July 1998 in 74 days, 20 hours, 58 minutes, traveling more than 22,600 nautical miles (26,000 miles or 41,855 km). This achievement set a new Guinness World Record for a diesel powered vessel. The nautical mile or knot, is a unit of speed equal to approximately 1.15078 miles per hour on land (1.852 km).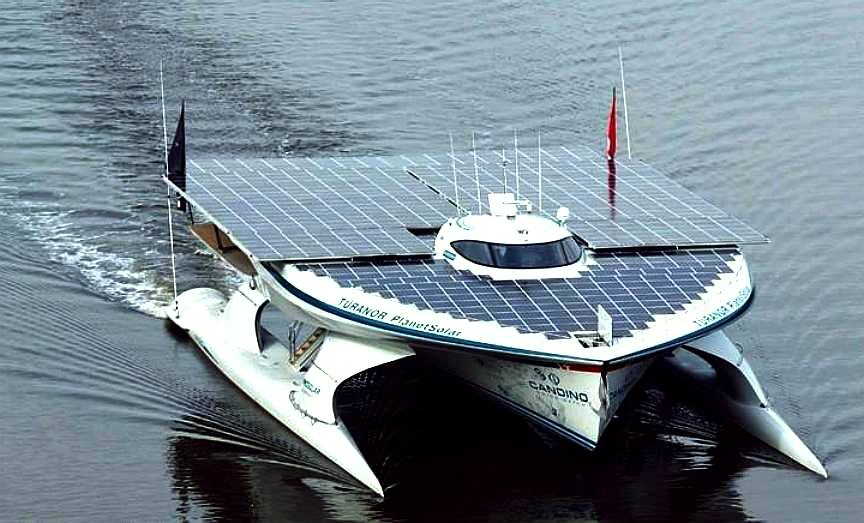 GUINNESS BOOK OF RECORDS - MS Turanor PlanetSolar (Switzerland) navigated the world in a westward direction from Monaco in 1 year 7 months and 7 days from 27 September 2010 to 4 May 2012. We wonder why nobody has attempted to improve on this design, to challenge the record in the intervening seven years.
Please use our A-Z INDEX to navigate this site