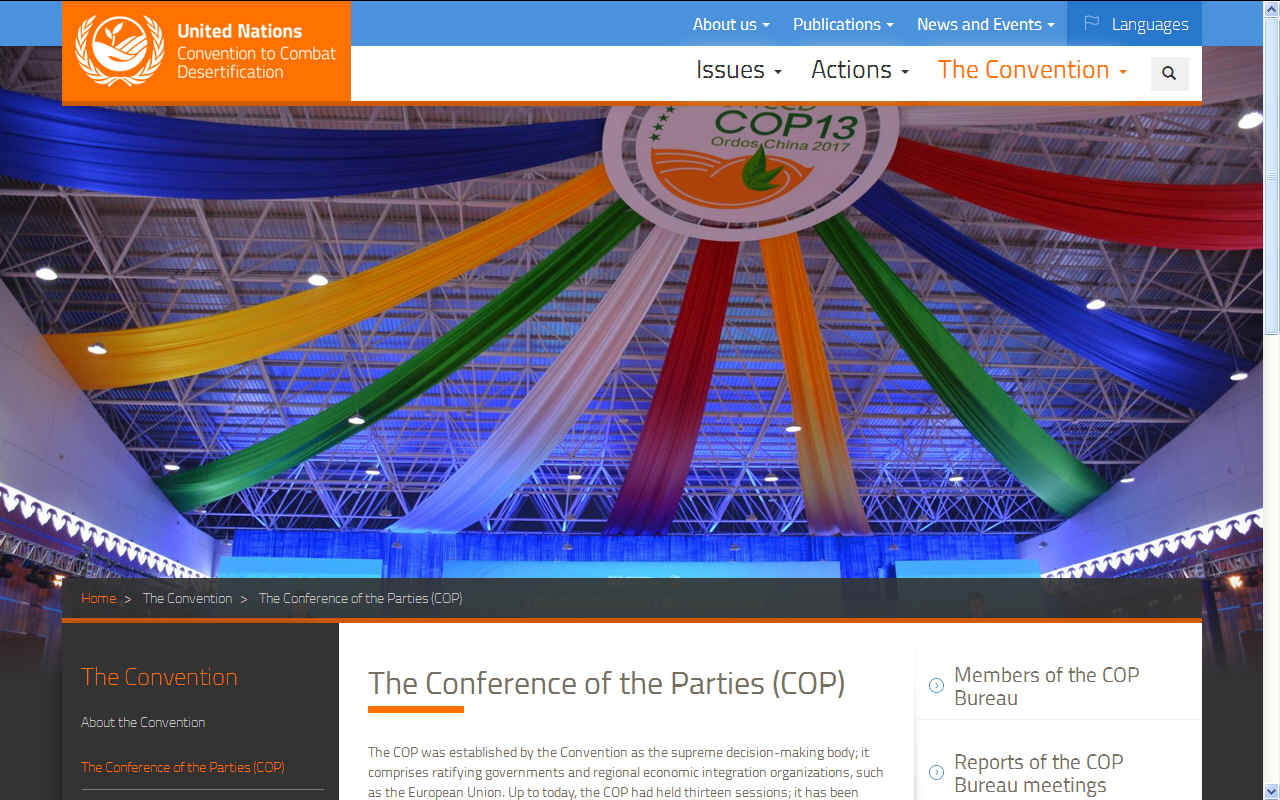 CHINA 2017 - In 2017 the Conference of the Parties (COP) was held in China. This Conference witnessed the birth of the first global private sector fund dedicated to implementing the SDGs, known as the Land Degradation Neutrality Fund. China is one of the biggest users of coal, oil, diesel and petroleum fossil fuels. It is the burning of these fuels that creates greenhouse gases such as carbon dioxide and nitrous oxide, the accumulation of which are causing global warming that is changing our climate to makes deserts of land that was previously arable.
The first UN Conference of the Parties to combat desertification was held in Rome, Italy from the 29th of September to the 10th of October 1997.
The United Nations Convention to Combat Desertification in Those Countries Experiencing Serious Drought and/or Desertification, Particularly in Africa (UNCCD) is a Convention to combat soil degradation that makes deserts of previously fertile land. The aim being to mitigate the effects of drought through national action programs that incorporate long-term strategies supported by international cooperation and partnership arrangements.

197 PARTIES
The Convention's 197 parties work together to improve the living conditions for people in drylands, to maintain and restore land and soil productivity, and to mitigate the effects of drought. The UNCCD secretariat facilitates cooperation between developed and developing countries, particularly around knowledge and technology transfer for sustainable land management.

As the dynamics of land, climate and biodiversity are intimately connected, the UNCCD collaborates closely with the other two Rio Conventions; the Convention on Biological Diversity (CBD) and the United Nations Framework Convention on Climate Change (UNFCCC), to meet these complex challenges with an integrated approach and the best possible use of natural resources.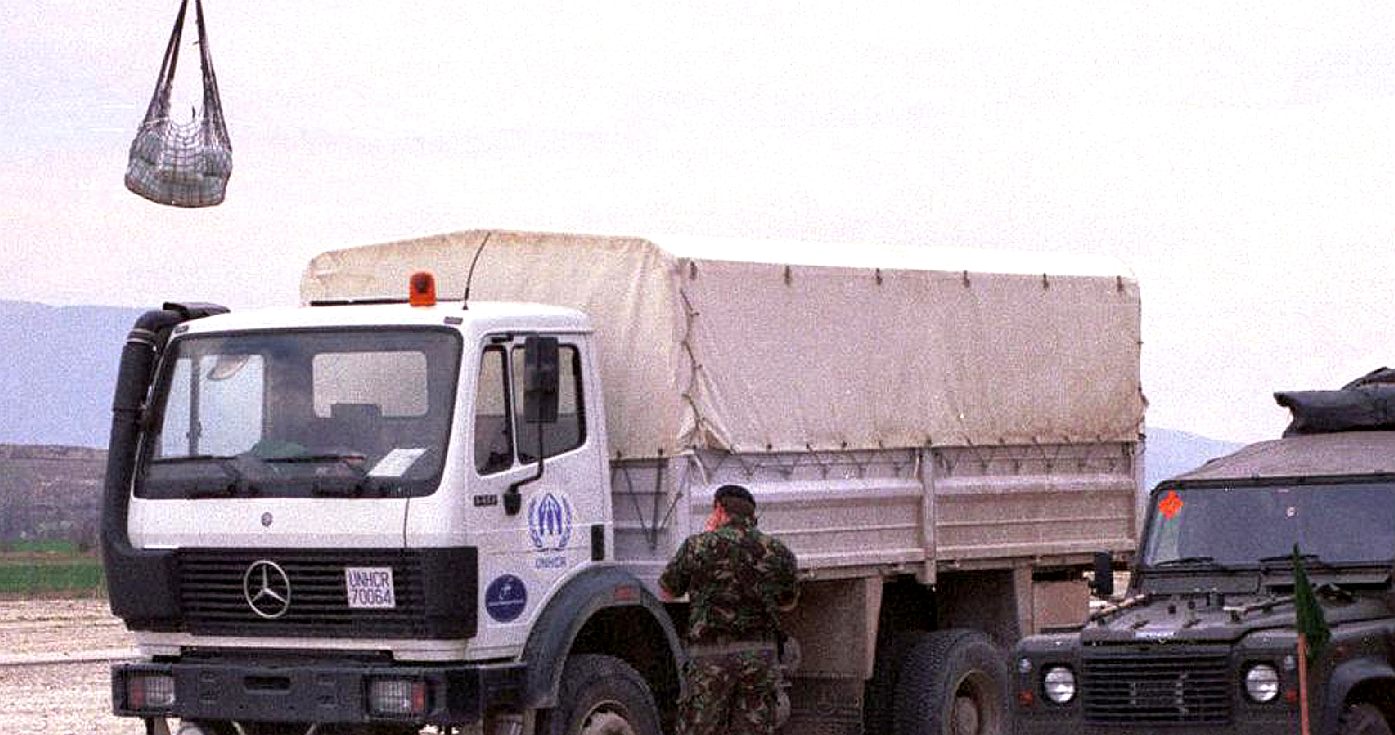 FOOD AID - Desertification gives rise to mass human migration as climate change causes soil degradation, creating refugees who will need feeding as a result of the fossil fuel excesses of the developed world.
THE REGIONS
Five world regions – Africa, Asia, Latin America and the Caribbean (LAC), Northern Mediterranean, Central and Eastern Europe - have the important job of deciding how to implement the United Nations Convention to Combat Desertification (UNCCD). The Convention Text includes five annexes, which each concern one of these world regions.
The implementation of the UNCCD is organized around these five regional implementation annexes. The annexes specify how the Convention will be implemented for each region and set the focus and content of regional and subregional action programmes. These action programmes provide a framework for regional coordination and collaboration. Though the country Parties of the regions define together how the UNCCD will be implemented, most action takes place at the national level.
DESERTIFICATION COP HISTORY
| | |
| --- | --- |
| COP 1: Rome, Italy, 29 Sept to 10 Oct 1997 | COP 9: Buenos Aires, Argentina, 21 Sept to 2 Oct 2009 |
| COP 2: Dakar, Senegal, 30 Nov to 11 Dec 1998 | COP 10: Changwon, South Korea, 10 to 20 Oct 2011 |
| COP 3: Recife, Brazil, 15 to 26 Nov 1999 | COP 11: Windhoek, Namibia, 16 to 27 Sept 2013 |
| COP 4: Bonn, Germany, 11 to 22 Dec 2000 | COP 12: Ankara, Turkey, 12 to 23 Oct 2015 |
| COP 5: Geneva, Switzerland, 1 to 12 Oct 2001 | COP 13: Ordos City, China, 6 to 16 Sept 2017 |
| COP 6: Havana, Cuba, 25 August to 5 Sept 2003 | COP 14: New Delhi, India, 2 to 13 Sept 2019 |
| COP 7: Nairobi, Kenya, 17 to 28 Oct 2005 | COP 15: 2020 |
| COP 8: Madrid, Spain, 3 to 14 Sept 2007 | COP 16: 2021 |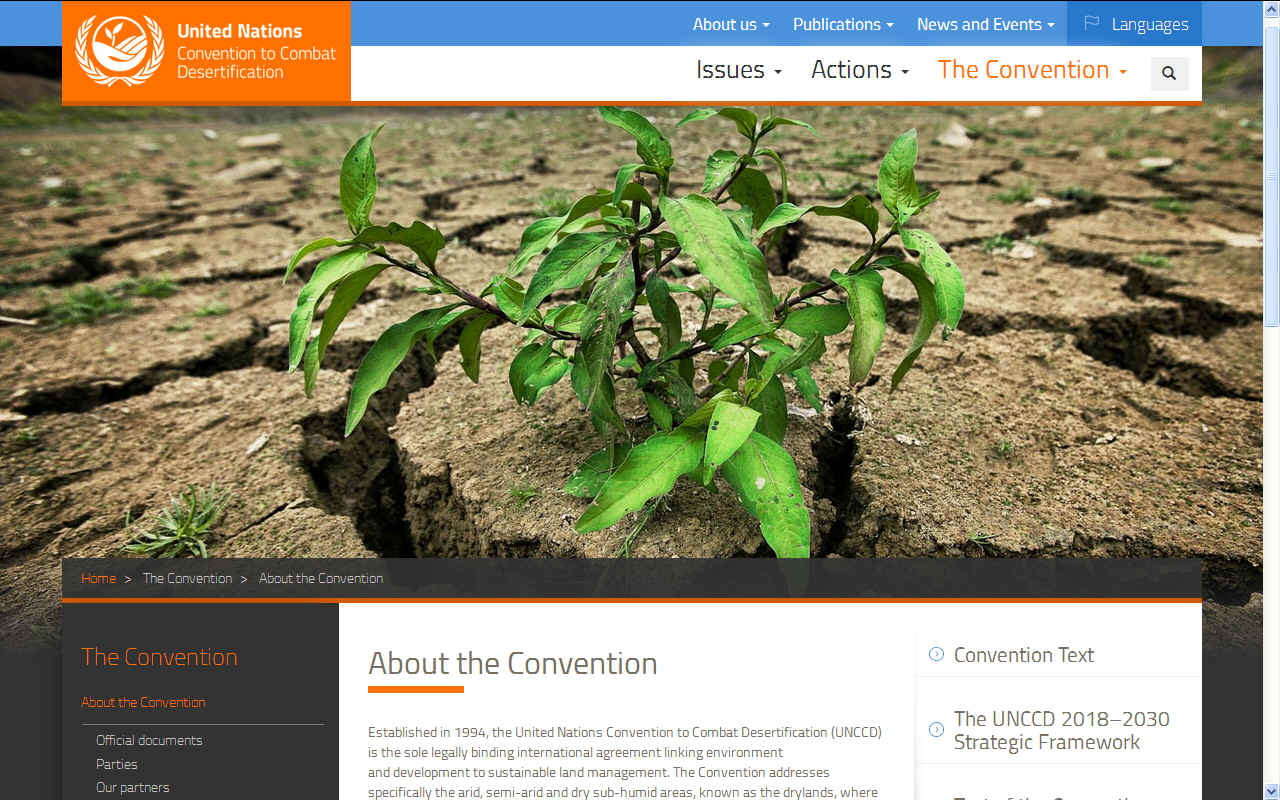 SOIL EROSION - The more land that we lose for to grow crops the greater the food security issue. The more ice that melts from global warming, the more our sea level rises, again, reducing land area. World politics is not working or we would not have these problems. We need to change policies urgently to make politics work for the planet. If that means electing new representatives and executive officers free from conflicts of interest, who understand the urgency of sustainable agriculture, low carbon houses, renewable energy and transport, the electorate should give consideration to voting out the old and voting in new blood for change.
CLIMATE CHANGE COP HISTORY
| | |
| --- | --- |
| 1995 COP 1, BERLIN, GERMANY | 2008 COP 14/CMP 4, POZNAN, POLAND |
| 1996 COP 2, GENEVA, SWITZERLAND | 2009 COP 15/CMP 5, COPENHAGEN, DENMARK |
| 1997 COP 3, KYOTO, JAPAN | 2010 COP 16/CMP 6, CANCUN, MEXICO |
| 1998 COP 4, BUENOS AIRES, ARGENTINA | 2011 COP 17/CMP 7, DURBAN, SOUTH AFRICA |
| 1999 COP 5, BONN, GERMANY | 2012 COP 18/CMP 8, DOHA, QATAR |
| 2000:COP 6, THE HAGUE, NETHERLANDS | 2013 COP 19/CMP 9, WARSAW, POLAND |
| 2001 COP 7, MARRAKECH, MOROCCO | 2014 COP 20/CMP 10, LIMA, PERU |
| 2002 COP 8, NEW DELHI, INDIA | 2015 COP 21/CMP 11, Paris, France |
| 2003 COP 9, MILAN, ITALY | 2016 COP 22/CMP 12/CMA 1, Marrakech, Morocco |
| 2004 COP 10, BUENOS AIRES, ARGENTINA | 2017 COP 23/CMP 13/CMA 2, Bonn, Germany |
| 2005 COP 11/CMP 1, MONTREAL, CANADA | 2018 COP 24/CMP 14/CMA 3, Katowice, Poland |
| 2006 COP 12/CMP 2, NAIROBI, KENYA | 2019 COP 25/CMP 15/CMA 4, Santiago, Chile |
| 2007 COP 13/CMP 3, BALI, INDONESIA | 2020 COP 26/CMP 16/CMA 5, to be announced |
BIODIVERSITY COP HISTORY
| | |
| --- | --- |
| COP 1: 1994 Nassau, Bahamas, Nov & Dec | COP 8: 2006 Curitiba, Brazil, 8 Mar |
| COP 2: 1995 Jakarta, Indonesia, Nov | COP 9: 2008 Bonn, Germany, May |
| COP 3: 1996 Buenos Aires, Argentina, Nov | COP 10: 2010 Nagoya, Japan, Oct |
| COP 4: 1998 Bratislava, Slovakia, May | COP 11: 2012 Hyderabad, India |
| EXCOP: 1999 Cartagena, Colombia, Feb | COP 12: 2014 Pyeongchang, Republic of Korea, Oct |
| COP 5: 2000 Nairobi, Kenya, May | COP 13: 2016 Cancun, Mexico, 2 to 17 Dec |
| COP 6: 2002 The Hague, Netherlands, April | COP 14: 2018 Sharm El-Sheikh, Egypt, 17 to 29 Nov |
| COP 7: 2004 Kuala Lumpur, Malaysia, Feb | COP 15: 2020 Kunming, Yunnan, China |
UNCCD CONTACTS
Postal Address
UNITED NATIONS
Convention to Combat Desertification
UNCCD Secretariat
P.O. Box 260129
D-53153 Bonn, Germany
Switchboard

Tel: +49-228 / 815-2800
Fax: +49-228 / 815-2898/99
Email: secretariat@unccd.int

Office

UNCCD
Platz der Vereinten Nationen 1
D-53113 Bonn, Germany
CSO Contact

Marcos Montoiro
NGO and Civil Society Liaison Officer
FCMI - Facilitation, Capacity Building and Monitoring of Implementation unit
United Nations Convention to Combat Desertification Secretariat

e-mail : CSO@unccd.int

T +49-228 / 815-2806
F +49-228 / 815-2898/99

CST contact

Co-ordinator STI Unit
T +49-228 / 815-2834
F +49-228 / 815-2898/99
E kmst@unccd.int

Press Office

T +49-228 / 815-2820
F +49-228 / 815-2898/99
E press@unccd.int

Librarian

Ms Katya Arapnakova
T +49-228 / 815-2864
F +49-228 / 815-2898/99
E library@unccd.int
LINKS & REFERENCE
https://sustainabledevelopment.un.org/post2015/transformingourworld
https://www.unccd.int/
https://www.unccd.int/convention/about-convention
https://www.un.org/
Please use our A-Z INDEX to navigate this site