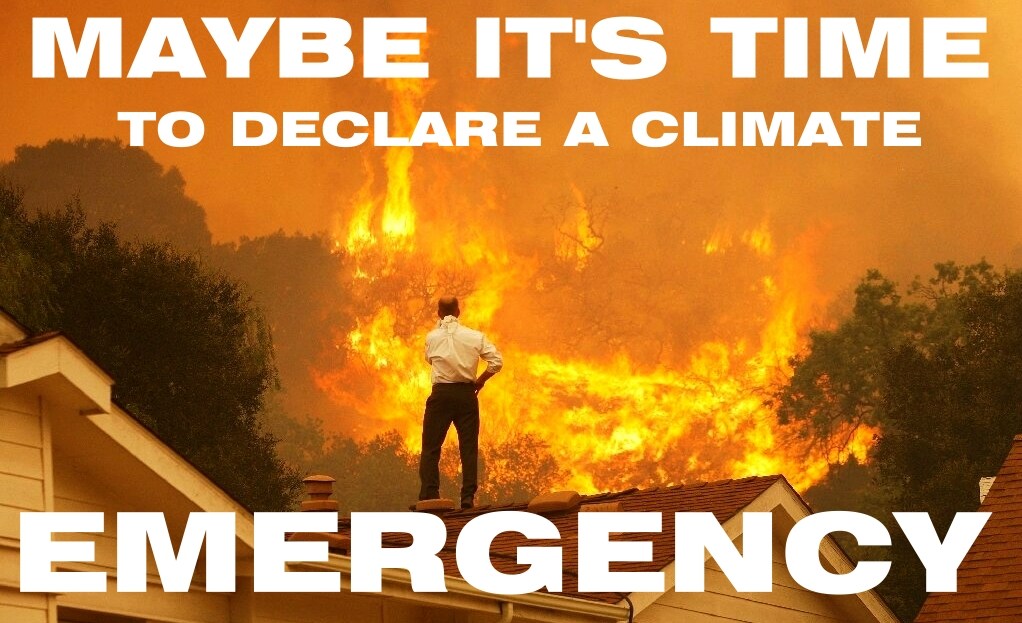 "Mmmm. Those crazy hippies might have a point. It is getting a little warmer than I'd Like."
We need to plant more trees - a whole lot more trees, not clear them, and especially not waste timber that is a vital renewable resource for zero carbon house building. Forest fires that cause deforestation are raising the temperature of Planet Earth and there is no Planet B. In science fiction this is called terraforming, where humans condition other planets to make their atmosphere hospitable for life as we know it (Jim).
It's getting to that stage here on Earth.
CHOKING - What fools cut all the trees down? We are an intelligent species, but are we smart enough to know when enough is enough - because we naturally exploit everything to make money - a fairy tale invention, where paper and digital savings are taken as wealth. When money will be an illusion when you can no longer breathe. Wealth, is a healthy planet, a balanced economy, food and energy security and the knowledge to keep us all safe.
HOW MANY TREES SHOULD WE PLANT ?
Assuming that it takes 6 trees to provide the oxygen for each person on earth to breathe, then with the population likely to rise from 7.7 to 9.7 billion people in the next 30 years, that means we would need to plant an additional 12 billion trees, or 400,000,000 million trees per year - just for people to breath. That is over a million trees a day - or roughly 5,000 trees per country per day. It is possible, but would require significant effort and planning.
The real question is though: would we have enough space on land to plant all those trees, where only 30% of the Earth is land? With competing pressure on land for agriculture, houses and industrial buildings, that is the burning question.
That's the bad news. Now the really bad news.
Algae and kelp in the oceans also generate oxygen but we cannot mass plant seaweed and we are polluting our oceans, hence seaweeds are reducing in numbers - almost in proportion to human population growth (just a thought, not a fact).
Marine species produce as much as 70-80 percent of the oxygen in the atmosphere of the Earth.
This means that land-dwelling species alone would not be able to supply the quantity of oxygen that life on Earth requires.
Without the oxygen produced by marine species, mainly seaweeds, life would not be possible on our planet, which makes algae (and seaweeds) crucial contributors and facilitators of all existence on Earth.

Scientists estimate that algae produce an astonishing 330 billion tons of oxygen a year. Three cheers for algae. Don't you just love the little blighters!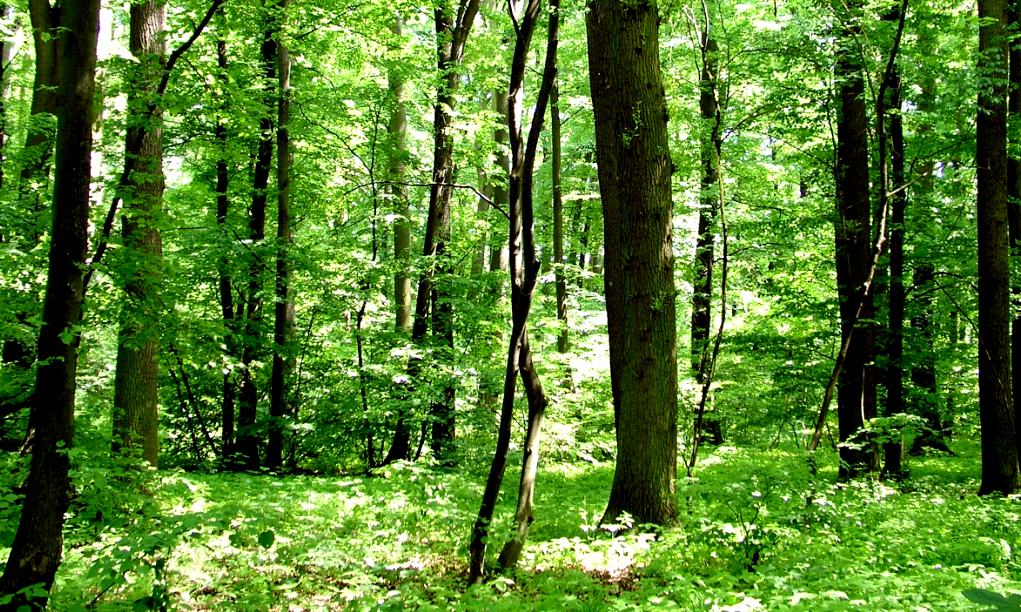 SPACE - The final frontier. Do we have enough land area to plant sufficient trees to make the oxygen for humans to breathe. Or, do we need another planet? Answers on a postcard, or better still, save your energy, you are going to need it.
IRRESPONSIBLE AGRICULTURE
The deliberate setting of forest fires aimed at clearing land for agriculture or building should be made an international criminal offence by the United Nations.
Irresponsible logging should also be made an international criminal offence. Timber should be harvested sustainably, with approved replanting schemes as part of a Circular Economy. No tree should be cut, except for diseased and dying trees, without a replanting plan. A local Arboriculturist or Arboricultural Consultant should certify any reason for removal of a tree, such as a dangerous situation on an incline, close to a building.
Log and coal fires should be restricted in use, with climate offset mitigation measures in place for limited recreational and residential use.
To make this work, we'd need to make it easy for lumber companies and timber growers to carry on with legitimate business, without burdening them with red-tape. Civil servants and policy makers often overlook the difficulties of running a legal enterprise, without making these essential entrepreneurs feel like criminals, or not appreciated for what they are doing.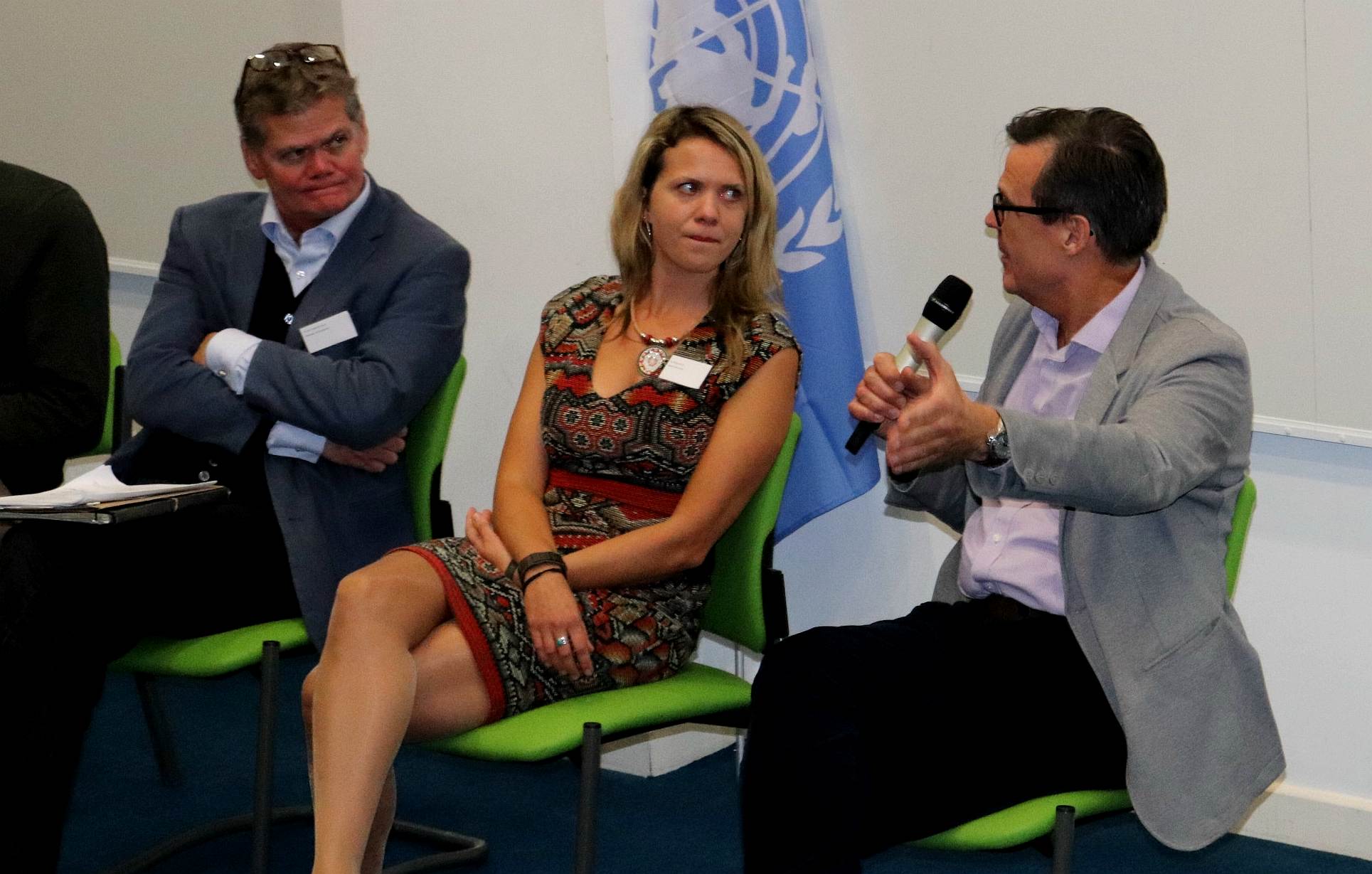 CLIMATE PANELISTS - During a conference on climate change at Brighton University in October 2019, Stephen Lloyd MP, Dr Adriana Ford and Professor Andrew Church answered questions as to the problems and potential solutions, one of which was planting more trees. Dr Ford (centre) is the Centre Manager, Leverhulme Centre for Wildfires, Environment and Society, Imperial College London/King's College London.
FOREST FIRE A TO Z
Arctic
Bolivian
British Columbian
Canadian - Saskatchewan
Chilean
Croatian
Ecuador
Europe - Heatwave 17 July 2022
Germany
Greece
Malaysian
Mongolian
Portugal
Sweden
USA - California, Yosemite
- Montana
- Georgia
- Sacramento
UK - Saddleworth Moor
- Moray
- Dartmoor
China

1987 – The Black Dragon Fire burnt a total of 72,884 square kilometres (28,141 sq mi) of forest along the Amur river, with three million acres (4687.5 square miles) destroyed on the Chinese side.

Hong Kong

1996 – Pat Sin Leng wildfire, Tai Po, Hong Kong; 5 hikers killed (3 pupils and 2 teachers) on February 10.

Indonesia

During the 1997 Indonesian forest fires 97,000 km2 (37,000 sq mi) of forest were destroyed, more than 2.6 gigatonnes of CO2 was released to the atmosphere. There are other forest fires in Java and Sulawesi on the same year.

Huge forest fires that officials deemed as "too furious for human intervention" burned 52,000 hectares of land in Sumatra and 138,000 hectares in Kalimantan. The haze covered countries such as Indonesia, Malaysia, Thailand, Singapore, Brunei, Burma, Philippines and also Vietnam.
In Singapore, some of the 2015 FINA Swimming World Cup's events on 3 October 2015 were cancelled as the PSI was in the 'Unhealthy' range. In Thailand, the haze from Sumatra had turned most parts of southern Thailand such as Narathiwat, Pattani, Phuket, Satun, Songkhla, Surat Thani, Trang and Yala provinces unsightly, even reaching hazardous levels on 7 October. In Vietnam, Ho Chi Minh City and other provinces in Southern Vietnam had been enveloped in fog since 4 December

Israel

1989 Mount Carmel forest fire

1995 Jerusalem forest fire

The 2010 Mount Carmel forest fire in Israel, Started on 2 December 2010 and burned 41 km2 of forest, killing as many as 44 people, most of them Israel Prison Service officer cadets, when a bus evacuating them was trapped in flames.

22 November 2016 Haifa, Zikhron Ya'akov, Gilon wildfires

South Korea

April 2000, Gangwon-do Gangneung the whole area is 2000 Gangwon Wildfire.

March 2013, Gyeongsangbukdo Pohang is Wildfire.

April 2019, Gangwon Province wildfire. The wildfire only occurred for three days. This massive wildfire burned 1,307 acres and destroyed over 2,000 buildings. Around thirty people were injured and resulted in two deaths.

India

2019 Bandipur forest fires

2016 Uttarakhand forest fires

Arctic

According to WTO in June 2019 arctic wildfires emitted 50 megatonnes of CO2. This was more than between 2010-2018 combined. Most release was from Alaska and Siberia, but including also big fire e.g. in Alberta. In Siberia temperature was about 10C higher in June 2019 than in average. In Alaska 4 July 2019 temperature was 32C (80F).

Europe

July 2000: Fires in Southern Europe consumed forests and buildings in southern France, parts of Iberia, Corsica, and much of Italy including the southern part: caused by the heatwave dominating southern Europe, with 40 to 45 °C temperatures

2009 Mediterranean wildfires in France, Greece, Italy, Spain, and Turkey in July 2009

Croatia

2007 Croatian coast fires, burning 1,590 km2 (610 sq mi)

Summer 2017: Croatian wildfires, a series of wildfires burning in Istria all the way down to Dalmatia. One wildfire also entered eastern suburbs of Split. The fire also affected islands of Vir, Pag and some other islands.

Germany

In the fire on the Lüneburg Heath in Lower Saxony in August 1975, 74.18 km2 (28.64 sq mi) of heathland burned, killing five firefighters.

Greece

2000 forest fires in Greece, a series of forest fires affected Greece including Agioi Theodoroi and eastern Corinthia at the beginning of July 2000

2005 East Attica Fire in Greece – Forest fires ravaged East Attica on 28 July 2005 from Agia Triada Rafinas to west of Rafina. The fires began at around 11:00 (EET/UTC+3) consuming 70 square kilometers of forests, properties and farmlands. The fire spread quickly after a few hours with winds of up to 55 to 70 km/h and spread near the suburban housings of Athens near Rafina causing dense smoke. The fire reached Kallitechnio and the settlements by around 3:30 (EET) and devastated homes leaving some people homeless and evacuated people in areas around Agia Triada Rafinas, Agia Kyriaki Rafinas, Kallitechnio, Loutsa, Neos Vourtzas and the Rafina area mostly on the hillside areas. Pine trees were devastated. Firefighters didn't put out the blaze until the winds calmed down around 5:00 (EET). It took hundreds of fire trucks, firefighters, planes, 65 firefighting helicopters from all over the surrounding areas and most of Greece to put out the blaze. A stretch of Marathonos Avenue became closed.

29 July 2005 – a day after the enormous Attica fire, another series of fires occurred throughout Greece, entirely in Preveza including Monolithi consuming properties and a campground, Ioannina and Xiromeni of Aetolia-Acarnania.

Poland

1992: Kuźnia Raciborska fire in Poland burned 90.62 km² of forest and killed two firefighters on 26 August 1992. A third casualty is often mentioned, but she did not die in the fire; she was involved in a collision with a fire engine that skidded.

1992: Puscza nad notecią fire in Poland burned 6 k HA of forest on 10 August 1992. This wildfire damaged 6.k HA of forest in 10 hours.

Portugal

August 2003 Wildfires, destroying 10% of Portuguese forests and killing 18 people

June 2017 Portugal wildfires and October 2017 Portugal wildfires, catastrophic series of fires that trapped and killed more than 100 people

2018 - wildfires near the city of Portimao

Russia

1921 Mari wildfires

August 1935 – Kursha-2 settlement was burned out with 1200 victims.

2003 Russian wildfires - more than 200,000 km2 (77,000 sq mi), primarily Boreal forest, were burned in southern Siberia from 14 March-8 August. Direct carbon emissions were around 400-640 TgC.

June – August 2010 – Drought and the hottest summer since records began in 1890 caused many devastating forest fires in European Russia.

April 2015 – A series of wildfires in Southern Siberia killed 26 people and left thousands homeless.

July- August 2019 Wildfires in Siberia: 27,000 km2 (2.7 Million hectares) were burning as of August,2, 2019 according to Russia's Federal Forestry Agency (3.3 Million hectares according to Greenpeace).

Sweden

August 2014 – Västmanland province, Sweden, a 191 km2 forest fire with 1 verified death.

United Kingdom

May 2011 – Swinley Forest fire, Berkshire, England. Fire appliances from 12 counties attended over several days due to the large area of the fire. The fire service incident log for the call is over 500 pages long.

2018 United Kingdom wildfires e.g. Saddleworth Moor fire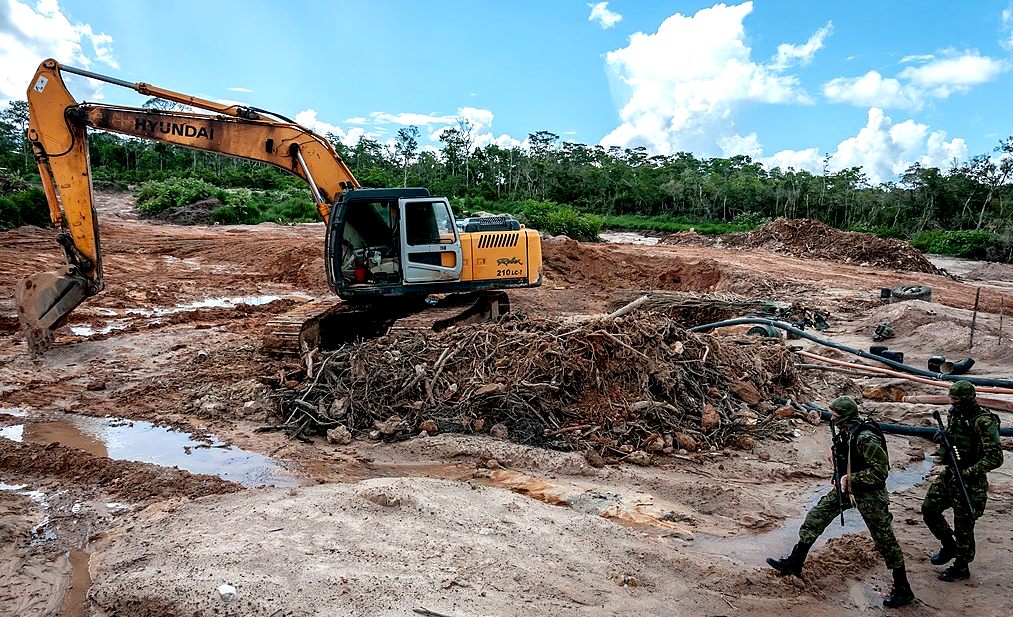 BRAZIL - Soldiers investigate illegal clearing of the Amazonian forest. There are new ways of tracking illegal clearing using mobile phones to listen for chainsaws. Satellites also play a part in monitoring unauthorized activity.
BIODIVERSITY
Deforestation on a human scale results in decline in biodiversity, and on a natural global scale is known to cause the extinction of many species. The removal or destruction of areas of forest cover has resulted in a degraded environment with reduced biodiversity. Forests support biodiversity, providing habitat for wildlife; moreover, forests foster medicinal conservation. With forest biotopes being irreplaceable source of new drugs (such as taxol), deforestation can destroy genetic variations (such as crop resistance) irretrievably.

Since the tropical rainforests are the most diverse ecosystems on Earth and about 80% of the world's known biodiversity could be found in tropical rainforests, removal or destruction of significant areas of forest cover has resulted in a degraded environment with reduced biodiversity. A study in Rondōnia, Brazil, has shown that deforestation also removes the microbial community which is involved in the recycling of nutrients, the production of clean water and the removal of pollutants.

It has been estimated that we are losing 137 plant, animal and insect species every single day due to rainforest deforestation, which equates to 50,000 species a year. Others state that tropical rainforest deforestation is contributing to the ongoing Holocene mass extinction. The known extinction rates from deforestation rates are very low, approximately 1 species per year from mammals and birds which extrapolates to approximately 23,000 species per year for all species. Predictions have been made that more than 40% of the animal and plant species in Southeast Asia could be wiped out in the 21st century. Such predictions were called into question by 1995 data that show that within regions of Southeast Asia much of the original forest has been converted to monospecific plantations, but that potentially endangered species are few and tree flora remains widespread and stable.

Scientific understanding of the process of extinction is insufficient to accurately make predictions about the impact of deforestation on biodiversity. Most predictions of forestry related biodiversity loss are based on species-area models, with an underlying assumption that as the forest declines species diversity will decline similarly. However, many such models have been proven to be wrong and loss of habitat does not necessarily lead to large scale loss of species. Species-area models are known to overpredict the number of species known to be threatened in areas where actual deforestation is ongoing, and greatly overpredict the number of threatened species that are widespread.

A recent study of the Brazilian Amazon predicts that despite a lack of extinctions thus far, up to 90 percent of predicted extinctions will finally occur in the next 40 years.
CATTLE RANCHING
Deforestation in Brazil increased by 88% for the month of June 2019, as compared with the previous year. Some 80% of the deforestation of the Amazon can be attributed to cattle ranching, as Brazil is the largest exporter of beef in the world. The Amazon region has become one of the largest cattle ranching territories in the world.
CLIMATE CHANGE
In terms of climate change, cutting trees both adds carbon dioxide to the air and removes the ability to absorb existing carbon dioxide. If tropical deforestation were a country, according to the World Resources Institute, it would rank third in carbon dioxide-equivalent emissions, behind China and the U.S.
Twenty-three percent 23% of tree cover losses result from wildfires and climate change increase their frequency and power. The rising temperatures cause massive wildfires especially in the Boreal forests. One possible effect is the change of the forest composition.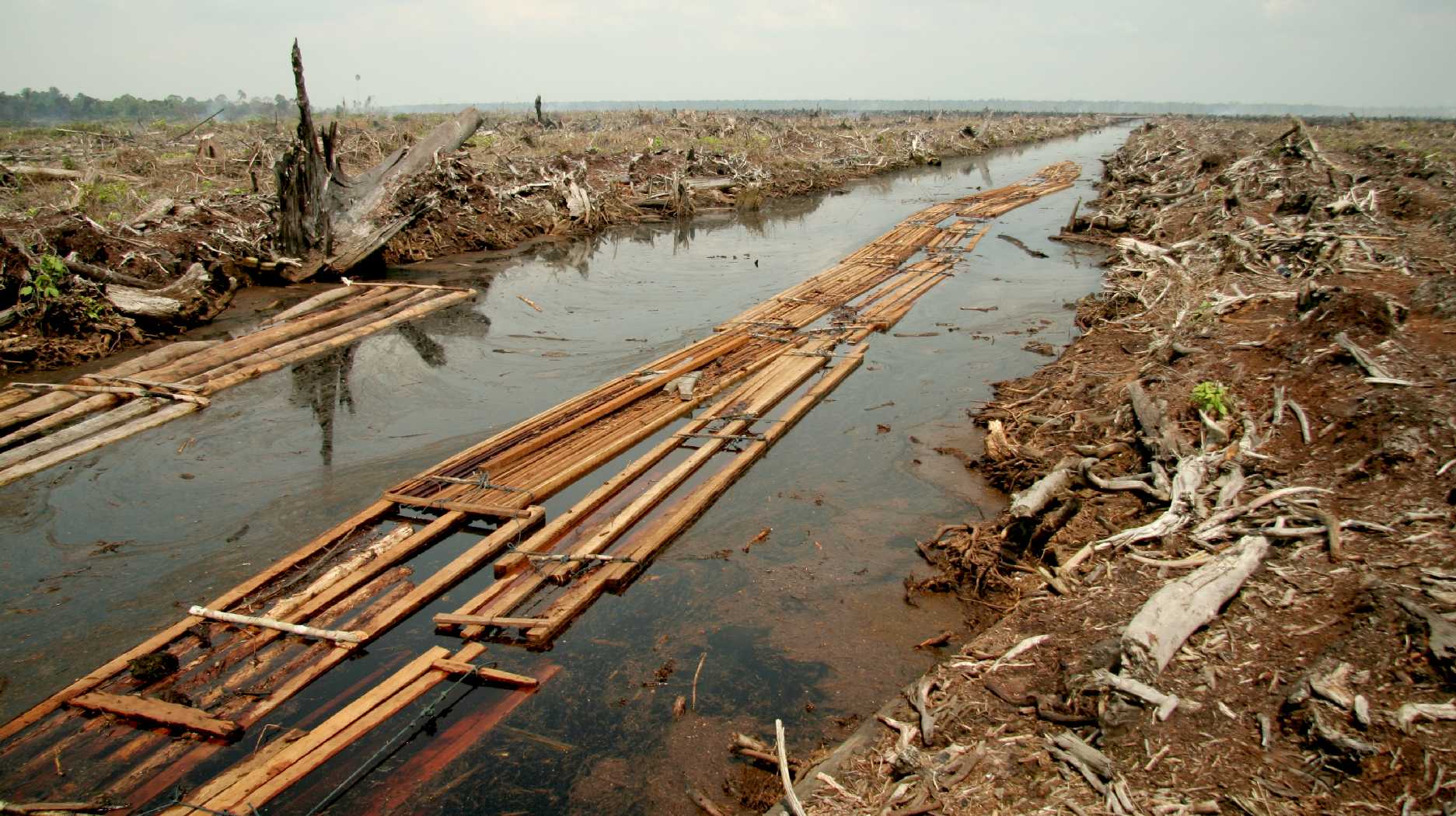 DEFORESTATION
Deforestation occurs around the world, though tropical rainforests are particularly targeted. If current deforestation levels proceed, the world's rainforests may completely vanish in as little as 100 years, according to National Geographic. Countries with significant deforestation in 2016 included Brazil, Indonesia, Thailand, the Democratic Republic of Congo and other parts of Africa, and parts of Eastern Europe, according to GRID-Arendal, a United Nations Environment Program collaborating center. The country with the most deforestation is Indonesia. Since the last century, Indonesia has lost at least 39 million acres (15.79 million hectares) of forest land, according to a study by the University of Maryland and the World Resource Institute.
Deforestation is the permanent destruction of forests in order to make the land available for other uses. An estimated 18 million acres (7.3 million hectares) of forest, which is roughly the size of the country of Panama, are lost each year, according to the United Nations' Food and Agriculture Organization (FAO).
Deforestation is considered to be one of the contributing factors to global climate change. According to Michael Daley, an associate professor of environmental science at Lasell College in Newton, Massachusetts, the No. 1 problem caused by deforestation is the impact on the global carbon cycle. Gas molecules that absorb thermal infrared radiation are called greenhouse gases. If greenhouse gases are in large enough quantity, they can force climate change, according to Daley.
While oxygen (O2) is the second most abundant gas in our atmosphere, it does not absorb thermal infrared radiation, as greenhouse gases do. Carbon dioxide (CO2) is the most prevalent greenhouse gas.
DEFORESTATION STATISTICS:

- About half of the world's tropical forests have been cleared, according to the FAO.
- Forests currently cover about 30 percent of the world's landmass, according to National Geographic.
- The Earth loses 18.7 million acres of forests per year, which is equal to 27 soccer fields every minute, according to the World Wildlife Fund (WWF).
- It is estimated that 15 percent of all greenhouse gas emissions come from deforestation, according to the WWF.
- In 2016, global tree cover loss reached a record of 73.4 million acres (29.7 million hectares), according to the University of Maryland.
- CO2 accounts for about 82.2 percent of all U.S. greenhouse gas, according to the Environmental Protection Agency (EPA). Trees can help, though. About 300 billion tons of carbon, 40 times the annual greenhouse gas emissions from fossil fuels, is stored in trees, according to Greenpeace.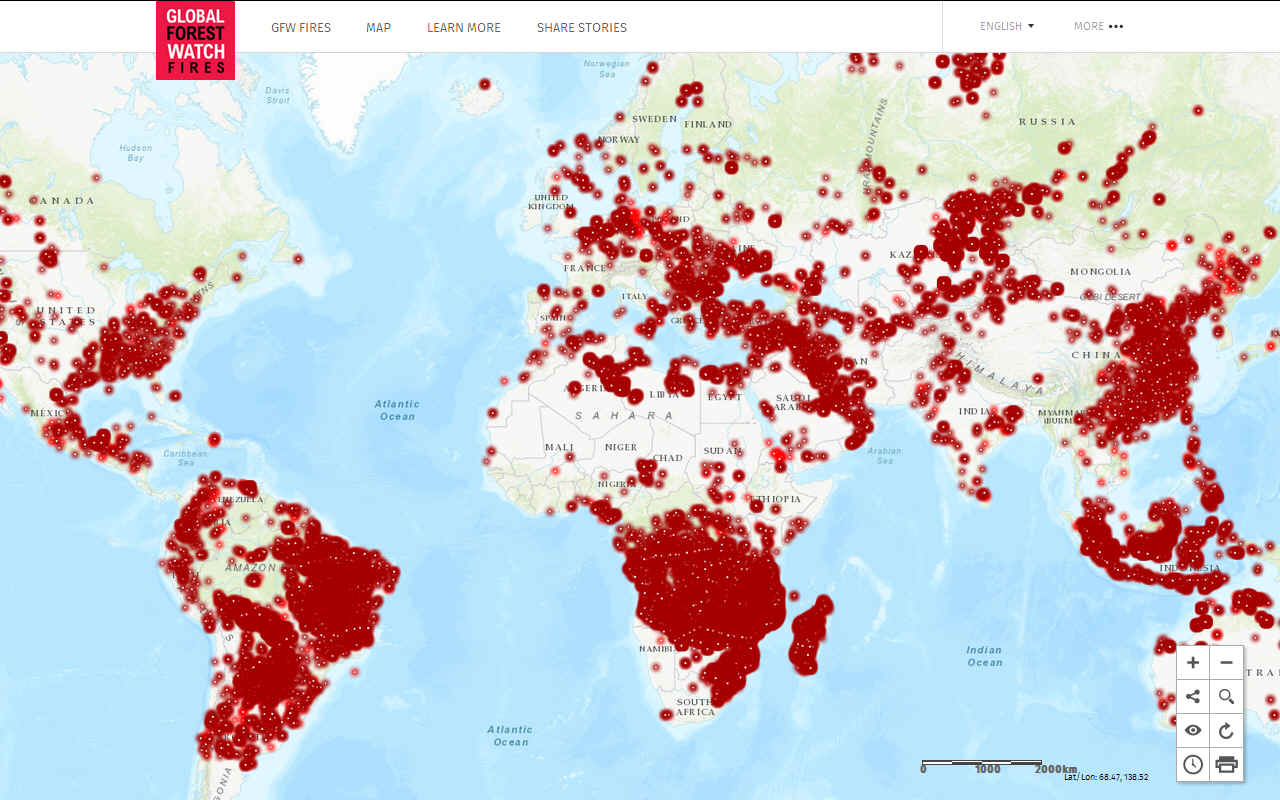 GFWF - Global Forest Watch Fires is an online platform for monitoring and responding to forest and land fires using near real-time information. GFW Fires can empower people to better combat harmful fires before they burn out of control and hold accountable those who may have burned forests illegally.
GFW Fires combines real-time satellite data from NASA's Active Fires system, high resolution satellite imagery, detailed maps of land cover and concessions for key commodities such as palm oil and wood pulp, weather conditions and air quality data to track fire activity and related impacts in the South East Asia region. GFW Fires also offers on-the-fly analysis to show where fires occur, and help understand who might be responsible.
By working with national and local governments, NGOs, corporations, and individuals, GFW Fires is working to quicken fire response time, ramp up enforcement against illegal fires, help ensure those who are illegally burning are held accountable, and coordinate relationships between government agencies.
ECONOMICS
Damage to forests and other aspects of nature could halve living standards for the world's poor and reduce global GDP by about 7% by 2050, a report concluded at the Convention on Biological Diversity (CBD) meeting in Bonn in 2008. Historically, utilization of forest products, including timber and fuel wood, has played a key role in human societies, comparable to the roles of water and cultivable land. Today, developed countries continue to utilize timber for building houses, and wood pulp for paper. In developing countries, almost three billion people rely on wood for heating and cooking.

As human population grows, new homes, communities, and expansions of cities will occur. Connecting all of the new expansions will be roads, a very important part in our daily life. Rural roads promote economic development but also facilitate deforestation. About 90% of the deforestation has occurred within 100 km of roads in most parts of the Amazon.

The European Union is one of the largest importer of products made from illegal deforestation.
GOOD FOOD GUIDE
For consumers, it makes sense to examine the products and meats you buy, looking for sustainably produced sources when you can. Nonprofit groups such as the Forest Stewardship Council and the Rainforest Alliance certify products they consider sustainable, while the World Wildlife Fund has a palm oil scorecard for consumer brands.
PALM OIL
The social and environmental impacts of oil palm cultivation is a highly controversial topic. Oil palm is a valuable economic crop and provides a major source of employment. It allows many small landholders to participate in the cash economy and often results in the upgrade of the infrastructure (schools, roads, telecommunications) within that area. However, there are cases where native customary lands have been appropriated by oil palm plantations without any form of consultation or compensation, leading to social conflict between the plantations and local residents. In some cases, oil palm plantations are dependent on imported labour or illegal immigrants, with some concerns about the employment conditions and social impacts of these practices.

Biodiversity loss (including the potential extinction of charismatic species) is one of the most serious negative effects of oil palm cultivation. Large areas of already threatened tropical rainforest are often cleared to make way for palm oil plantations, especially in Southeast Asia, where enforcement of forest protection laws is lacking. In some states where oil palm is established, lax enforcement of environmental legislation leads to encroachment of plantations into protected areas, encroachment into riparian strips, open burning of plantation wastes, and release of palm mill pollutants such as palm oil mill effluent (POME) in the environment. Some of these states have recognised the need for increased environmental protection, resulting in more environment-friendly practices. Among those approaches is anaerobic treatment of POME, which can be a good source for biogas (methane) production and electricity generation. Anaerobic treatment of POME has been practiced in Malaysia and Indonesia. Like most wastewater sludge, anaerobic treatment of POME results in dominance of Methanosaeta concilii. It plays an important role in methane production from acetate, and the optimum condition for its growth should be considered to harvest biogas as renewable fuel.

Demand for palm oil has increased in recent years due to its use as a biofuel, but recognition that this increases the environmental impact of cultivation, as well as causing a food vs fuel issue, has forced some developed nations to reconsider their policies on biofuel to improve standards and ensure sustainability. However, critics point out that even companies signed up to the Roundtable on Sustainable Palm Oil continue to engage in environmentally damaging practices and that using palm oil as biofuel is perverse because it encourages the conversion of natural habitats such as forests and peatlands, releasing large quantities of greenhouse gases.
Oil palm production has been documented as a cause of substantial and often irreversible damage to the natural environment. Its impacts include deforestation, habitat loss of critically endangered species, and a significant increase in greenhouse gas emissions.

The pollution is exacerbated because many rainforests in Indonesia and Malaysia lie atop peat bogs that store great quantities of carbon, which are released when the forests are cut down and the bogs are drained to make way for the plantations.

Environmental groups, such as Greenpeace, claim the deforestation caused by making way for oil palm plantations is far more damaging for the climate than the benefits gained by switching to biofuel. Fresh land clearances, especially in Borneo, are contentious for their environmental impact. Despite thousands of square kilometres of land standing unplanted in Indonesia, tropical hardwood forests are being cleared for palm oil plantations. Furthermore, as the remaining unprotected lowland forest dwindles, developers are looking to plant peat swamp land, using drainage that begins an oxidation process of the peat which can release 5,000 to 10,000 years worth of stored carbon. Drained peat is also at very high risk of forest fire.
There is a clear record of fire being used to clear vegetation for oil palm development in Indonesia, where in recent years drought and man-made clearances have led to massive uncontrolled forest fires, covering parts of Southeast Asia in haze and leading to an international crisis with Malaysia. These fires have been blamed on a government with little ability to enforce its own laws, while impoverished small farmers and large plantation owners illegally burn and clear forests and peat lands to develop the land rather than reap the environmental benefits it could offer.

Many of the major companies in the vegetable oil economy participate in the Roundtable on Sustainable Palm Oil, which is trying to address this problem. For example, in 2008, Unilever, a member of the group, committed to use only palm oil which is certified as sustainable, by ensuring the large companies and smallholders that supply it convert to sustainable production by 2015.

Meanwhile, much of the recent investment in new palm plantations for biofuel has been funded through carbon credit projects through the Clean Development Mechanism; however, the reputational risk associated with the unsustainable palm plantations in Indonesia has now made many funds wary of such investment.
RATE OF LOSS
Global deforestation sharply accelerated around 1852. It has been estimated that about half of the Earth's mature tropical forests - between 7.5 million and 8 million km2 (2.9 million to 3 million sq mi) of the original 15 million to 16 million km2 (5.8 million to 6.2 million sq mi) that until 1947 covered the planet - have now been destroyed. Some scientists have predicted that unless significant measures (such as seeking out and protecting old growth forests that have not been disturbed) are taken on a worldwide basis, by 2030 there will only be 10% remaining, with another 10% in a degraded condition. 80% will have been lost, and with them hundreds of thousands of irreplaceable species.

There is agreement that destruction of rainforests remains a significant environmental problem. Up to 90% of West Africa's coastal rainforests have disappeared since 1900. In South Asia, about 88% of the rainforests have been lost. Much of what remains of the world's rainforests is in the Amazon basin, where the Amazon Rainforest covers approximately 4 million square kilometres. The regions with the highest tropical deforestation rate between 2000 and 2005 were Central America - which lost 1.3% of its forests each year - and tropical Asia. In Central America, two-thirds of lowland tropical forests have been turned into pasture since 1950 and 40% of all the rainforests have been lost in the last 40 years. Brazil has lost 90–95% of its Mata Atlāntica forest. Paraguay was losing its natural semi humid forests in the country's western regions at a rate of 15.000 hectares at a randomly studied 2-month period in 2010, Paraguay's parliament refused in 2009 to pass a law that would have stopped cutting of natural forests altogether.

Madagascar has lost 90% of its eastern rainforests. As of 2007, less than 50% of Haiti's forests remained. Mexico, India, the Philippines, Indonesia, Thailand, Burma, Malaysia, Bangladesh, China, Sri Lanka, Laos, Nigeria, the Democratic Republic of the Congo, Liberia, Guinea, Ghana and the Ivory Coast, have lost large areas of their rainforest. Several countries, notably Brazil, have declared their deforestation a national emergency. The World Wildlife Fund's ecoregion project catalogues habitat types throughout the world, including habitat loss such as deforestation, showing for example that even in the rich forests of parts of Canada such as the Mid-Continental Canadian forests of the prairie provinces half of the forest cover has been lost or altered.
SLASH AND BURN
Burning can be done quickly, in vast swaths of land, or more slowly with the slash-and-burn technique. Slash and burn agriculture entails cutting down a patch of trees, burning them and growing crops on the land. The ash from the burned trees provides some nourishment for the plants and the land is weed-free from the burning. When the soil becomes less nourishing and weeds begin to reappear over years of use, the farmers move on to a new patch of land and begin the process again.
The degradation of forest ecosystems has also been traced to economic incentives that make forest conversion appear more profitable than forest conservation. Many important forest functions have no markets, and hence, no economic value that is readily apparent to the forests' owners or the communities that rely on forests for their well-being. From the perspective of the developing world, the benefits of forest as carbon sinks or biodiversity reserves go primarily to richer developed nations and there is insufficient compensation for these services.
Developing countries feel that some countries in the developed world, such as the United States of America, cut down their forests centuries ago and benefited economically from this deforestation, and that it is hypocritical to deny developing countries the same opportunities, i.e. that the poor shouldn't have to bear the cost of preservation when the rich created the problem.
TREE PRESERVATION ORDERS (TPOs)
In the UK they have TPOs. These orders are to protect trees that are considered to be of special beauty or specimen interest, such as to benefit the local community. The United Kingdom Parliament has declared a Climate Emergency with more than 200 local authorities following the lead of central Government.
WOOD IS GOOD x 10 PLEASE
Timber grown for wood is only good if part of a replanting scheme, with at least 2 trees planted for every one felled, though we would suggest up to 10 trees should be planted to offset the loss of carbon absorption during growth.
DESERTIFICATION COP HISTORY
| | |
| --- | --- |
| COP 1: Rome, Italy, 29 Sept to 10 Oct 1997 | COP 9: Buenos Aires, Argentina, 21 Sept to 2 Oct 2009 |
| COP 2: Dakar, Senegal, 30 Nov to 11 Dec 1998 | COP 10: Changwon, South Korea, 10 to 20 Oct 2011 |
| COP 3: Recife, Brazil, 15 to 26 Nov 1999 | COP 11: Windhoek, Namibia, 16 to 27 Sept 2013 |
| COP 4: Bonn, Germany, 11 to 22 Dec 2000 | COP 12: Ankara, Turkey, 12 to 23 Oct 2015 |
| COP 5: Geneva, Switzerland, 1 to 12 Oct 2001 | COP 13: Ordos City, China, 6 to 16 Sept 2017 |
| COP 6: Havana, Cuba, 25 August to 5 Sept 2003 | COP 14: New Delhi, India, 2 to 13 Sept 2019 |
| COP 7: Nairobi, Kenya, 17 to 28 Oct 2005 | COP 15: 2020 |
| COP 8: Madrid, Spain, 3 to 14 Sept 2007 | COP 16: 2021 |
CLIMATE CHANGE COP HISTORY
1995 COP 1, BERLIN, GERMANY
1996 COP 2, GENEVA, SWITZERLAND
1997 COP 3, KYOTO, JAPAN
1998 COP 4, BUENOS AIRES, ARGENTINA
1999 COP 5, BONN, GERMANY
2000:COP 6, THE HAGUE, NETHERLANDS
2001 COP 7, MARRAKECH, MOROCCO
2002 COP 8, NEW DELHI, INDIA
2003 COP 9, MILAN, ITALY
2004 COP 10, BUENOS AIRES, ARGENTINA
2005 COP 11/CMP 1, MONTREAL, CANADA
2006 COP 12/CMP 2, NAIROBI, KENYA
2007 COP 13/CMP 3, BALI, INDONESIA

2008 COP 14/CMP 4, POZNAN, POLAND
2009 COP 15/CMP 5, COPENHAGEN, DENMARK
2010 COP 16/CMP 6, CANCUN, MEXICO
2011 COP 17/CMP 7, DURBAN, SOUTH AFRICA
2012 COP 18/CMP 8, DOHA, QATAR
2013 COP 19/CMP 9, WARSAW, POLAND
2014 COP 20/CMP 10, LIMA, PERU
2015 COP 21/CMP 11, Paris, France
2016 COP 22/CMP 12/CMA 1, Marrakech, Morocco
2017 COP 23/CMP 13/CMA 2, Bonn, Germany
2018 COP 24/CMP 14/CMA 3, Katowice, Poland
2019 COP 25/CMP 15/CMA 4, Santiago, Chile

2020 COP 26/CMP 16/CMA 5, to be announced
BIODIVERSITY COP HISTORY
| | |
| --- | --- |
| COP 1: 1994 Nassau, Bahamas, Nov & Dec | COP 8: 2006 Curitiba, Brazil, 8 Mar |
| COP 2: 1995 Jakarta, Indonesia, Nov | COP 9: 2008 Bonn, Germany, May |
| COP 3: 1996 Buenos Aires, Argentina, Nov | COP 10: 2010 Nagoya, Japan, Oct |
| COP 4: 1998 Bratislava, Slovakia, May | COP 11: 2012 Hyderabad, India |
| EXCOP: 1999 Cartagena, Colombia, Feb | COP 12: 2014 Pyeongchang, Republic of Korea, Oct |
| COP 5: 2000 Nairobi, Kenya, May | COP 13: 2016 Cancun, Mexico, 2 to 17 Dec |
| COP 6: 2002 The Hague, Netherlands, April | COP 14: 2018 Sharm El-Sheikh, Egypt, 17 to 29 Nov |
| COP 7: 2004 Kuala Lumpur, Malaysia, Feb | COP 15: 2020 Kunming, Yunnan, China |
OUR (SUGGESTED) SIX STEPS TOWARD A COOLER PLANET
1. TRANSPORT: Phase out polluting vehicles. Governments aim to end the sale of new petrol, and diesel vehicles by 2040 but have no infrastructure plan to support such ambition. Such infrastructure should exceed the performance of fossil fuel filling stations, prolong EV battery life and provide power grids with a measure of load leveling. Any such system should seek to obviate the provision of millions of fast charge points where implementation could prove to be a logistical nightmare and an inefficient energy delivery system. This may involve international agreement as to energy storage format and statute to steer car makers to collaborate (in part) in a world of competition.
Marine transport can be carbon neutral given the right policies, with phased transition in specific stages such as not to unduly penalize present investment in LNG shipping and other recent MARPOL compliant IC powered vessels. Future cargo vessel should be at least in part powered by renewable energy, on the road to zero carbon via the development of shorter distance ferries and the like, making allowances for technology catch-up from 2030 with scrappage trade in on outdated ships and marine taxes on internal combustion engines.
Air travel powered by kerosene should attract hefty mitigation offset, where low carbon alternatives should be encouraged.
2. RENEWABLES: Renewable energy should replace carbon-based fuels (coal, oil and gas) in our electricity for homes, factories, heating and transport. Coal and nuclear power plants should be phased out.
3. HOUSING: On site micro or macro generation is the best option, starting with new build homes that are both affordable and sustainable by design to replace crumbling housing stocks. Encourage building in timber to provide carbon lock from a renewable natural resource. Make sustainable housing a permitted development. Taking out the need to apply for planning permission, will cut out council blockers from the decision making process, to stamp out empire building agendas.
4. AGRICULTURE: We need to grow more trees to absorb carbon emissions from a growing population, air travel, and to build new homes. We should promote reductions in food waste and eating of foods that use less energy to produce. Educating children on these matters in schools and via campaigns such as no meat Mondays, should be part of ordinary study.
5. INDUSTRY: Factories should be aiming for solar heating and onsite renewable energy generation. EV parking and even service facilities should be part of new industrial estates as part of any building permissions.
6. POLITICS: - National governing bodies need to adopt rules to eliminate administrative wastages, to include scaling down spending on war machines, increasing spend on educating the public and supporting sustainable social policies that mesh with other cultures. This includes fostering policies and making funds available to close links in the technology chain to make up for lost time. Kleptocratic empire building must cease in the search for natural equilibrium.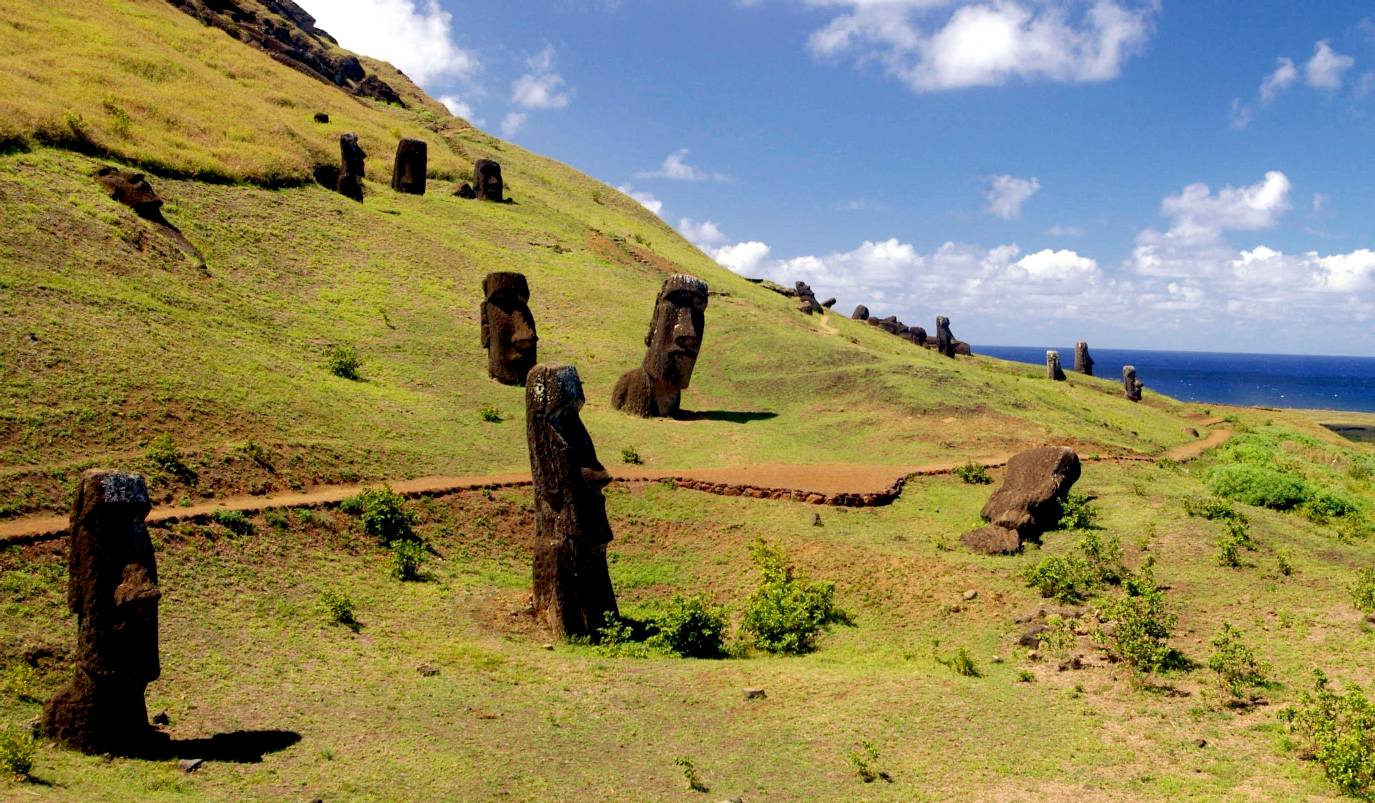 EASTER ISLAND - Was once well populated by trees, but they went too far, just like the Egyptians when they destabilized the banks of the Nile by burning trees to make plaster.
WILDFIRES
Wildfires can burn millions of acres of land at rapid speeds and can consume everything in their paths: trees, homes, even humans as part of the fauna quotient. These rolling flames travel up to 14 miles an hour, which converts to about a four-minute mile pace, and can overtake the average human in minutes.
Though they are classified by the Environmental Protection Agency as natural disasters, only ten to 15 percent of wildfires occur on their own in nature. The other 85 to 90 percent result from human causes, including unattended camp and debris fires, discarded cigarettes, and arson.

Naturally occurring wildfires can spark during dry weather and droughts. In these conditions, normally green vegetation can convert into bone-dry, flammable fuel; strong winds spread fire quickly; and warm temperatures encourage combustion. With these ingredients, the only thing missing is a spark - in the form of lightning, arson, a downed power line, or a burning campfire or cigarette - to ignite an inferno.

Natural or man-made, three conditions must be present for a wildfire to burn: fuel, oxygen, and a heat source. Firefighters call these three elements the fire triangle.

1. Fuel is any flammable material surrounding a fire, including trees, grasses, brush, even homes. The greater an area's fuel load, the more intense the fire is likely to be. The most wildfire-prone state is California, which lost 1,823,153 acres of land to 8,054 wildfires in 2018.

2. Air supplies the oxygen a fire needs to burn. California wildfires are often made worse by the hot, dry Santa Ana winds, which can carry a spark for miles.

3. Heat sources help spark the wildfire and bring fuel to temperatures hot enough to ignite. Lightning, burning campfires or cigarettes, and even the sun can all provide sufficient heat to spark a wildfire.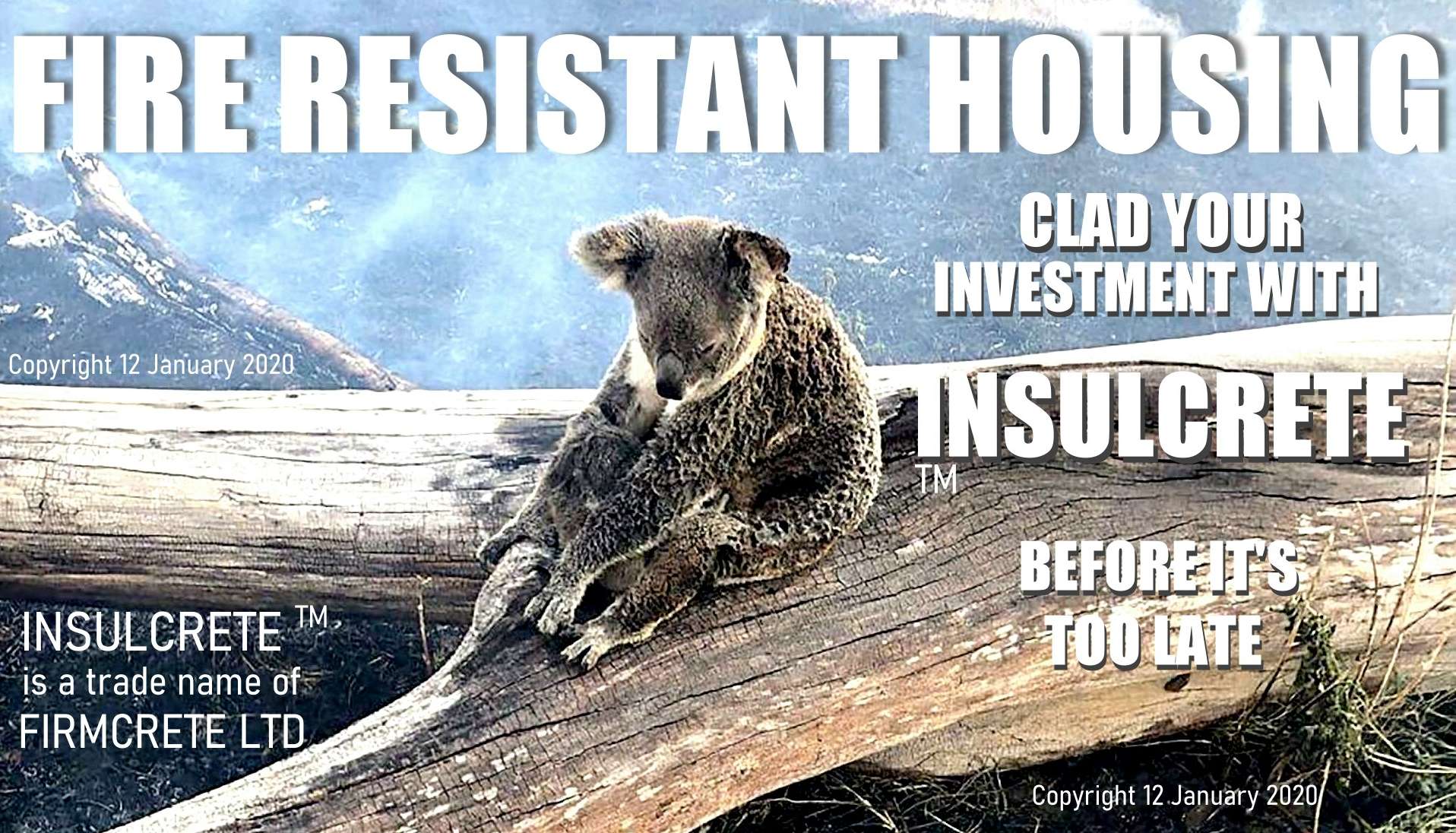 It makes no sense building conventional houses in areas that are going to get hotter and be subject to more wild bush fires. Low cost fire resistant houses were built in England in the 1970s using Insulcrete. Unfortunately, that factory went to the wall because of Margaret Thatcher, but there is nothing stopping any entrepreneur from producing a similar material and building system for fire prone areas of Californian and Australia.
HOW TO STOP A WILD FIRE

Firefighters battle blazes by depriving them of one or more of the fire triangle fundamentals. Traditional methods include:

- Water dousing and spraying fire retardants to extinguish existing fires.

- Working in teams, often called hotshots, to clear vegetation to contain and eventually starve the fire of its fuel. The results are called firebreaks.

- Controlled burning, or creating backfires, is another process firefighters may employ to stop a wildfire. Literally, this method involves fighting fire with fire. Prescribed, controlled, fires remove undergrowth, brush, and litter from a forest, depriving an otherwise raging wildfire of fuel.
WHAT TO DO IN A WILD FOREST FIRE

Before:

- If you know a wildfire is traveling towards your area, the best thing to do is leave. Immediately.
- If you live in a fire-prone area, its best to prepare for that course of action ahead of time.
- Have an evacuation plan in mind and a "go bag" with emergency supplies already packed during fire season.
- Keep brush, weeds, and other potential fuels trimmed back on your property, especially around your home.
- Put away grills, propane tanks, or other flammable materials that may be in your yard.
- Close all doors and windows, fill sinks, tubs, and as many other containers as you may have with water to discourage fire.
- Shut off natural gas, propane, or fuel oil supplies.
- When you purchase a home in a wildfire-prone area, try to avoid neighborhoods on steep slopes or barren of vegetation, suggests the California Chaparral Institute.
- Although some people fear that houses near shrubs are more likely to burn, that's not necessarily the case, the institute says. Rather, a landscape without vegetation can be the perfect runway for winds to bring embers, which are one of the biggest threats to homes during a wildfire.
- Wetting your roof may help reduce the risk of airborne embers catching, says the California Chaparral Institute. In fact, some people in fire-prone areas even install rooftop sprinklers for that purpose.
- If you cannot leave as a fire approaches, dial 911. Put on a face mask, or if you have one, an N95 respirator to help reduce smoke and particle inhalation.

During:

- If you can still leave, leave.
- Listen for emergency alerts.
- If you cannot leave, stay inside. Go to the safest building or room, with the lowest smoke levels. Stay low for the best air. If you don't have a mask breathe through a wet cloth.
- If you are caught outside, try to find a body of water to crouch in. If you can't, find a depression with the least vegetation and lie low, covering yourself with wet blankets, clothes, or soil if possible.

After:

- Do not return until instructed to do so.
- Listen to authorities before drinking water from the area.
- Avoid items that are hot, smoky, or charred.
- Text friends and family, but don't call. Lines may be busy.
- Wear a dust mask and document property damage.
- Beware of the risk of flooding, since trees and protective vegetation might have been removed, exposing loose soil.
LINKS & REFERENCE
https://centreforwildfires.org/
https://fires.globalforestwatch.org/
https://www.azquotes.com/quotes/topics/forest-fires.html
https://www.nationalgeographic.com/environment/natural-disasters/wildfires/
https://www.epa.gov/ghgemissions/overview-greenhouse-gases
http://www.greenpeace.org/international/en/campaigns/forests/
https://www.livescience.com/27692-deforestation.html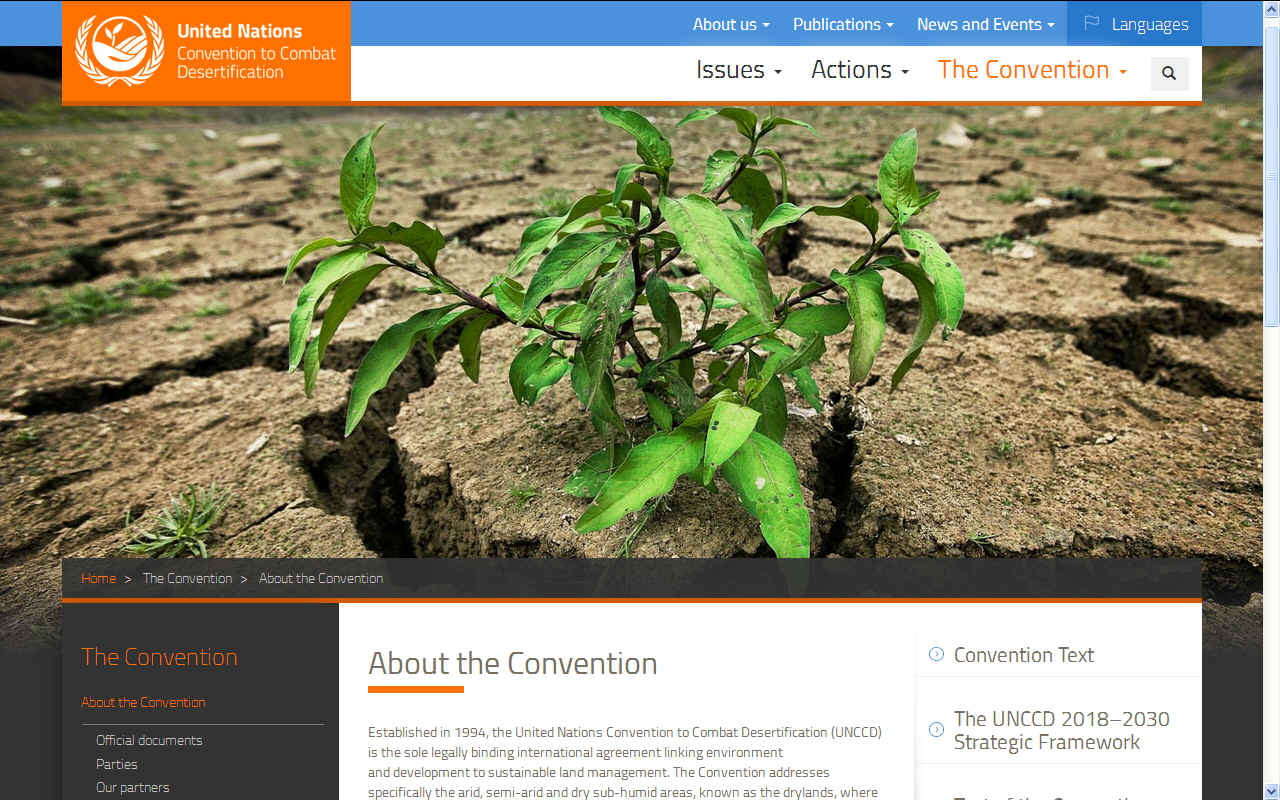 SOIL EROSION - The more land that we lose to grow crops the greater the food security issue. As the ice caps melt, desertification spreads to make Earth more uninhabitable.
THE DIRTIEST DOZEN - WORLD'S TOP HUMAN RIGHTS ABUSERS
Chinese President

Xi Jinping

US President

Joe Biden

EU President

Ursula von der Leyen

Indian PM

Narendra Modi

Vladimir Putin (Russian Adolf Hitler)

Russian PM

Japanese PM

Fumio Kishida

Kim Boo-kuym

South Korean PM

Mohammed bin Salman

Saudi Arabian Ruler

Justin Trudeau

Canadian PM

Jair Bolsonaro

Brazilian PM

Joko Widodo

Indonesian PM

Scott Morrison

Australian PM
HEATWAVES A TO Z
Australia
Brazil & Amazon rainforest
British Columbia on the 1st of July 2021
London had a similar experience in July 2022
Tokyo & Osaka, Japan June 2022
USA
Please use our A-Z INDEX to navigate this site