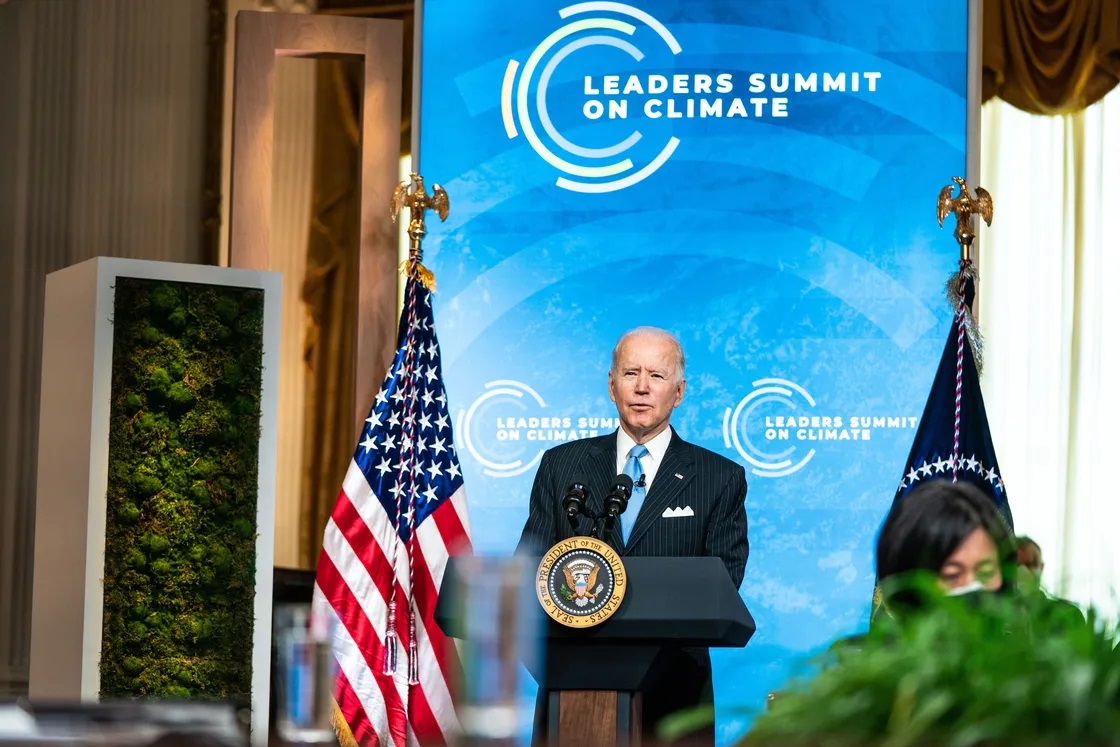 BUILD BACK BETTER - If the President's plan comes off, and the infrastructure is put in place, former US President, George Bush's plan for a sustainable economy, may actually see the light of day. Though the US will need more than just electricity if they want long haul trucks to be clean, they will need hydrogen as well.
There were some 8 million deaths globally in 2018 from cancer caused by air pollution. It is worse than Covid19 at 5,078,234 so far in two years (@ November 2021). Thus air pollution from diesel and petrol vehicle exhausts is 3 times more dangerous than Covid19. But the particulate and smog problems are not receiving the attention it deserves. Yet, Jair Bolsonaro stands accused of crimes against humanity for failing to deal with the pandemic. But then if cancer is a bigger killer, surely failing to deal with air pollution, is also a crime against humanity. As per the UN's Articles 3 and 5 of the Universal Declaration of Human Rights: the right to life and prohibition of inhumane treatment (or torture). We would argue that any form of anthropogenic-ally induced cancer constitutes torture. And that makes any world leader who fails to adequately seek prevention - a climate criminal.
ON REJOINING THE PARIS AGREEMENT - WHY BOTHER?

As a candidate, Joe Biden built up the world's hopes when he committed the US to rejoining the Paris agreement, confronting the climate denialism of his opponent and signalling that he was ready to treat the climate crisis as a strategic priority. So far, that hope has become certainty – and relief for those of us who are striving to find structural and global solutions to the crisis.

For the Brazilian government, presided over by the climate change sceptic Jair Bolsonaro, the promise to rejoin the Paris accords sounded like a threat, even more so because it was followed by a promise made during one of the debates to mobilise $20bn (£14bn) in international funds for tropical rainforests – including for Brazil – to stop the deforestation of the Amazon. Bolsonaro reacted by calling the plans "coward threats".

Last year, Biden may not have been fully aware of the extent to which the current Brazilian government has transformed Brazil into an environmental pariah, the world's greatest destroyer of tropical forests and the foremost threat to the planet's already precarious climate equilibrium. By now, as Biden's climate summit gets under way, he will have been fully informed and repeatedly warned of the risk of making deals that could strengthen Bolsonaro's government and allow it to further advance its destructive policies.

Still, the Biden administration, along with ministers from Britain and Europe, has in recent weeks been negotiating a deal with the Brazilian government. For all the talk of cowardly threats, Bolsonaro's environment minister, Ricardo Salles, is asking for a yearly installment of $1bn – in return for which, he says, Brazil's forest clearance would be reduced by between 30% and 40%. There are concerns that some of these funds could be channeled to the very land-grabbers who are behind the destruction of the Amazon.

Our warning is based on the following fact: deforestation in the Brazilian Amazon is not the result of a lack of money, but a consequence of the government's deliberate failure of care.

Receiving international funds to implement protective measures and the sustainable use of the forest is a normal and necessary transaction. The Amazon Fund is the most celebrated example: it operated with German and Norwegian resources until recently when, to the horror of the world, it was deactivated by the Brazilian environment ministry. The government made the decision to discontinue the fund, which still had about $500m in future donations, because it wanted to restrict how the money was used.
Countries that thumb their noses at climate change, such as to increase harmful pollution, might have to face criminal prosecution via the International Criminal Court, and the tenets of the Rome Statute of 1998. Whereby it is a criminal offence to cause hurt to another human, from your actions or failure to act to prevent harm.
Reducing greenhouse gas emissions has never been a priority for the Brazilian government. Take its own climate fund, from which about $100,000 was channelled into sanitation measures rather than the mitigation of national carbon emissions. Of course, sanitation is essential to health and wellbeing in our cities, but it is far from a significant source of emissions. The government also slashed the budget of the Institute of the Environment and Renewable Natural Resources (Ibama), the department within the environment ministry responsible for monitoring deforestation. In the first half of 2019, £2.2m was allocated for inspections; last year, the figure was £700,000.

What the government is missing is not cash, but a commitment to the truth. It denied the existence of fires in the Amazon as the flames were burning. Brazilian news is saturated with scandals that show persistent government action to weaken environmental bodies, roll back legislation, and ignore international agreements. Two years ago, it dismissed the head of the INPE – the National Institute of Space Research – for the simple fact that the institution had compiled data on the rise of deforestation. Last week, it dismissed the head of the office of the federal police, who had led the largest investigation into the illegal extraction of wood in the history of the Amazon. It has replaced experienced civil servants with individuals without any forestry expertise in several departments, and it intends to effectively shut down ICMBio, Brazil's foremost institution dedicated to the protection of natural reserves.

To reach a billion-dollar agreement with Bolsonaro's government at this crucial moment will only strengthen its resolve: it will be a boon for the farmers and land-grabbers who have illegally occupied public forests and indigenous land and send the precisely opposite message to that which is needed in this crucial year for the climate.

Marina Silva and Rubens Ricupero are former Brazilian environment ministers. Marina Silva served as Brazil's minister for the environment, 2003-8. Rubens Ricupero served as minister for the environment, 1993-4.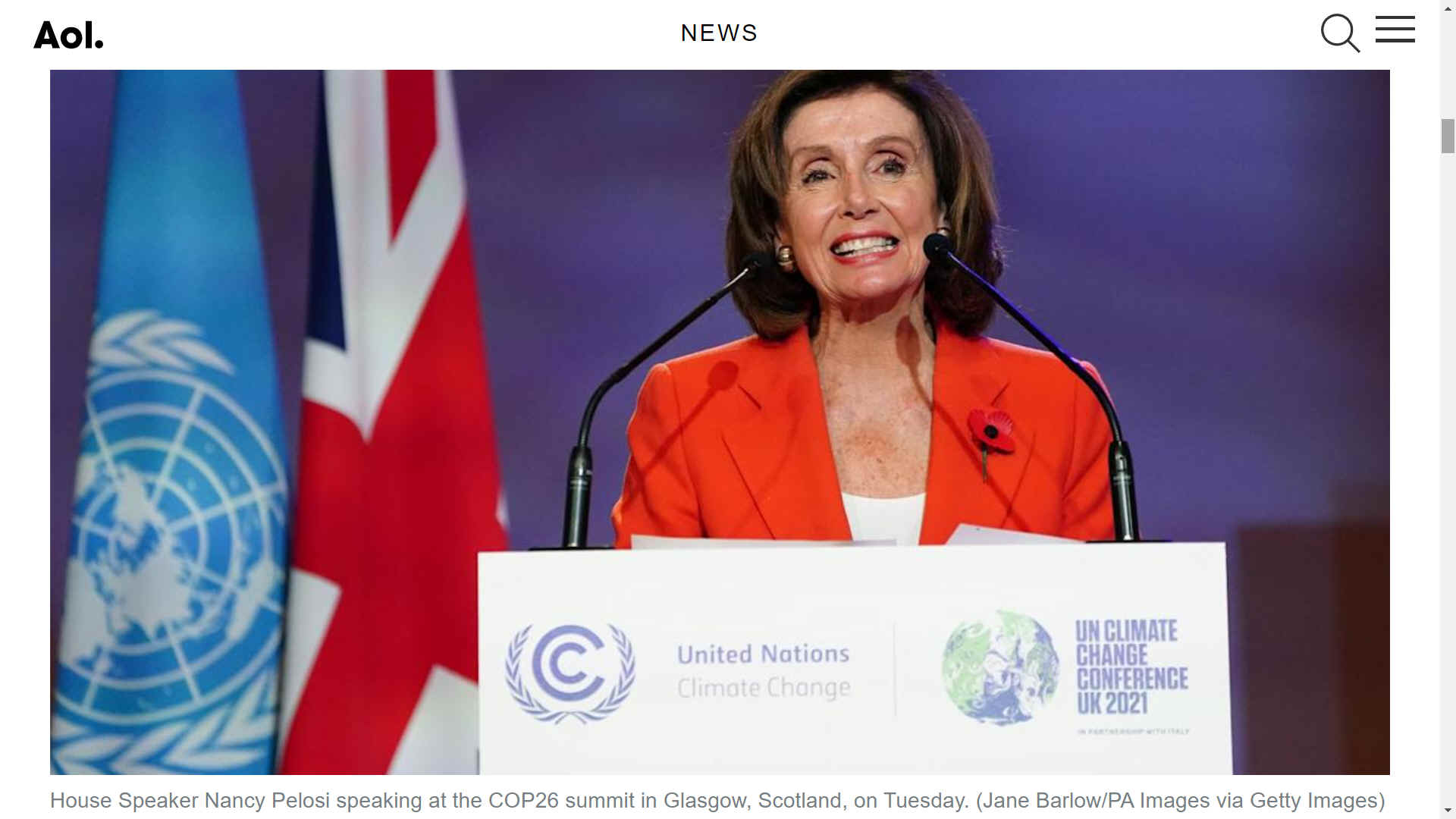 HOUSE SPEAKER COP 26 - Nancy Pelosi set out the plans for the US enthusiastically, but presuming a good deal. We do though have our fingers crossed for her and President Biden. The US has got a lot of ground to catch up after Donald Trump - and not a lot of time to do it. The good news is that they do appear to be giving it a good go. Unlike China, India and Australia stick in the mud's over coal. So, nice one Nancy!
NANCY PELOSI - BUILD BACK BETTER 'A DONE DEAL' - AOL 9 NOVEMBER 2021l

GLASGOW, Scotland — In a visit to the United Nations Climate Change Conference, House Speaker Nancy Pelosi and 20 other congressional Democrats touted the climate change provisions of the Build Back Better bill that passed their chamber but remains stuck in the Senate.

"We come here equipped, ready, to take on the challenge, to meet the moment," Pelosi said.

"[The] congressional delegation comes here fresh from advancing legislation to Build Back Better, which represents the most ambitious and consequential climate and clean energy legislation of all time," she boasted. "Our legislation is far-reaching, ensuring that [the] future economy is greener and cleaner."

She then summarized the bill's measures to reduce the greenhouse gas emissions that cause global warming and to adapt to the impacts of climate change, which include hundreds of billions of dollars' worth of tax credits for renewable energy, investments in electric vehicle deployment, manufacturing clean energy infrastructure and modernizing the electricity grid.

"That is our plan, to pass the bill the week of Nov. 15," Pelosi said in response to a question about whether Congress will ever have the votes to pass strong action to combat climate change.

Previously, the plan was to pass it before the end of October, in time to bolster U.S. leadership at the climate change conference, also known as COP26.

Whether it will meet the new deadline remains unknown. Nevertheless, Biden administration officials and congressional Democrats have made it the centerpiece of their events in Glasgow.

From these comments, one might think the bill's ultimate enactment is a mere formality. But according to Senate Majority Whip Dick Durbin, the fate of Build Back Better in his chamber of Congress remains in doubt.

"I don't know the answer to that," Durbin, the second-ranking Democrat in the Senate, told Yahoo News on Saturday when asked if the Senate would pass the legislation. "First, we have to get it through the parliamentarian's office and through 50 Democratic senators."

Other House members present were only slightly more circumspect than Pelosi.

"America is back, and we are ready to lead on solving the climate crisis," said Kathy Castor of Florida, chair of the House Select Committee on the Climate Crisis. "And thanks to Speaker Pelosi and House Democrats, the United States Congress is poised to pass the largest investment in clean energy and climate solutions in the history of America."

"You may have been following a little bit of the drama in Washington, D.C." she conceded, ruefully, to the assembled reporters. "But it was just a few days ago that the House passed the Infrastructure Investment and Jobs Act and took the first step towards passage of the Build Back Better Act."

The infrastructure bill, which had already been passed in the Senate, will invest in reducing emissions through building mass transit, intercity rail and electric vehicle infrastructure and grid upgrades. But it also contains fossil-fuel-friendly provisions that some progressives and environmental activists found objectionable.

"This is historic," Castor said. "We're now on the pathway to meeting the scientific imperative and the goal President Biden set out that we need to reduce our greenhouse gas pollution by 50-52 percent by 2030."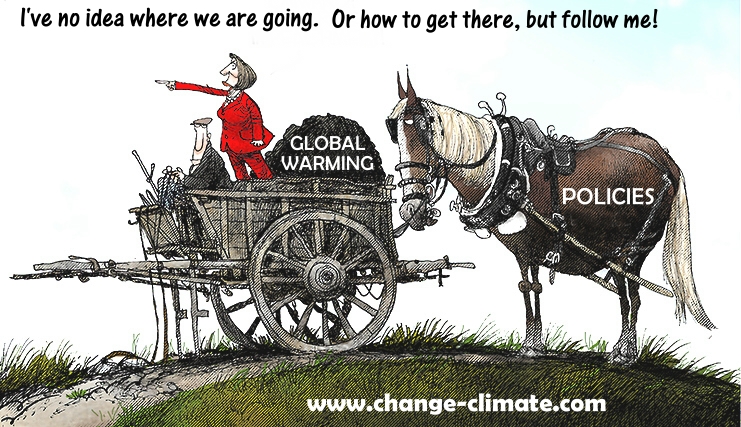 It's unclear if that goal can be met if Build Back Better doesn't pass.

"Once we pass this historic package, it will help keep 1.5 alive," Castor said, referring to the hope — articulated in the 2015 Paris Agreement, to which the outcome in Glasgow will be the successor — of holding global warming to 1.5 degrees Celsius.

"The leadership of Speaker [Pelosi] took a huge step of breaking that cycle and inaction that unfortunately for the last four years has been the hallmark of United States Congress," Raúl Grijalva, D-Ariz., said, presumably referring to the just-passed infrastructure bill.

"Now we have another huge opportunity to make a huge down payment, with the Build Back Better agenda, for the future: a commitment to fighting climate change in an inclusive, equal and fair manner," he continued.

Two Senate Democrats in particular, Joe Manchin of West Virginia and Kyrsten Sinema of Arizona, have refused to state publicly that they will vote for any version of Build Back Better, which has already been pared down significantly to meet their demands.

In Glasgow, their Democratic congressional colleagues seem to be conflating their hopes with actual certainty that the two senators will eventually back Biden's agenda.

Nazi concentration 'death camp' executions
A Nazi war criminal is a person who kills an unarmed human being or gives the order to kill another human being outside the normal rules of engagement in times of war.
In peacetime, a Climate Change Criminal, is a politician, industrialist or other entity that conducts themselves and/or their policies such as to (in effect) murder another human being from starvation or poisoning resulting from action or inaction on their part, and including dumping plastic in the sea to make fish toxic.
This philosophy extends to causing hardship and mental stress (torture), contrary to Articles 2 and 3 of the EU's Human Rights Convention and Articles 3 and 5 of the Universal Declaration of Human Rights.
The American president, Joe Biden is charged with failing to protect life on earth, as crimes against humanity and our ecology.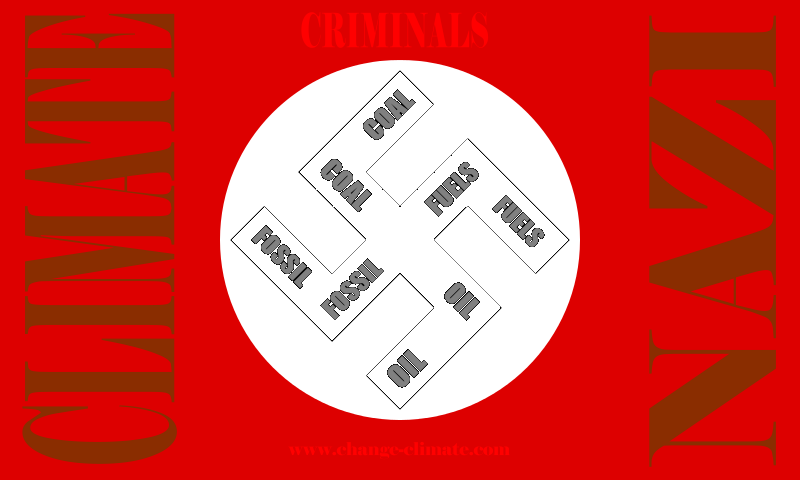 THE DIRTIEST DOZEN - WORLD'S TOP HUMAN RIGHTS ABUSERS
Chinese President

Xi Jinping

US President

Joe Biden

EU President

Ursula von der Leyen

Indian PM

Narendra Modi

Vladimir Putin

Russian PM

Japanese PM

Fumio Kishida

Kim Boo-kuym

South Korean PM

Mohammed bin Salman

Saudi Arabian Ruler

Justin Trudeau

Canadian PM

Jair Bolsonaro

Brazilian PM

Joko Widodo

Indonesian PM

Scott Morrison

Australian PM
G20 abusers will say they had no choice. They needed to keep burning coal, gas and oil for their economies - just like the camp guards at the many concentration camps, they were forced into business as usual. In the case of the camp guards, they argued they were just following orders. But that is not true. We all have choices. There are clean alternatives, such as solar and wind power. There is no need to keep building coal fired electricity generating stations, and no need to drive carcinogenic petrol or diesel vehicles that contribute to lung cancer. We have hydrogen fuel cells, electrolyzers and zero emission electric vehicles.
If you are going to increase electricity capacity, it makes sense to invest in renewable energy, unless it is that the fossil fuel giants are lubricating the works with party donations. If that is the case, we say that such contributions should be transparently declared, that the public is informed as to what is guiding policy decisions.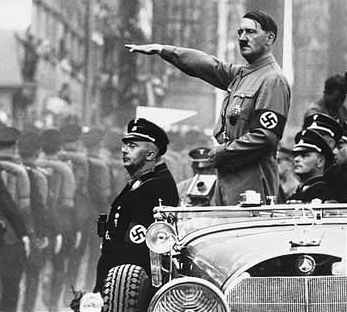 Adolf Hitler and chum Heinrich Himmler [Allegedly, Adolf Hitler did not die in that bunker incident C.1949. Apparently, he was fired into England, strapped to a V1 rocket, leaving behind his false teeth. He parachuted into Wealden that night hoping to meet some deviants, who'd arranged a new identity for their fallen comrade. Apparently, he landed in Crowborough, shaved off his moustache and was mistaken for a council official, whereupon he infiltrated the ranks of the local council and trained them how to use his terror tactics to control the peasant civilians.
Not the dirtiest, but in the top two ...
LINKS
https://www.theguardian.com/commentisfree/2021/apr/22/joe-biden-brazil-amazon-rainforest-jair-bolsonaro-deforestation
NAZI LINKS & REFERENCE
Adolf Hitler

German Chancellor

Herman Goring

Reichsmarschall Luftwaffe

Heinrich Himmler

Reichsführer Schutzstaffel

Joseph Goebbels

Reich Minister Propaganda

Philipp Bouhler SS

NSDAP Aktion T4

Dr Josef Mengele

Physician Auschwitz

Martin Borman

Schutzstaffel

Adolph Eichmann

Holocaust Architect

Erwin Rommel

The Desert Fox

Rudolf Hess

Auschwitz Commandant

Karl Donitz

Submarine Commander

Albert Speer

Nazi Architect