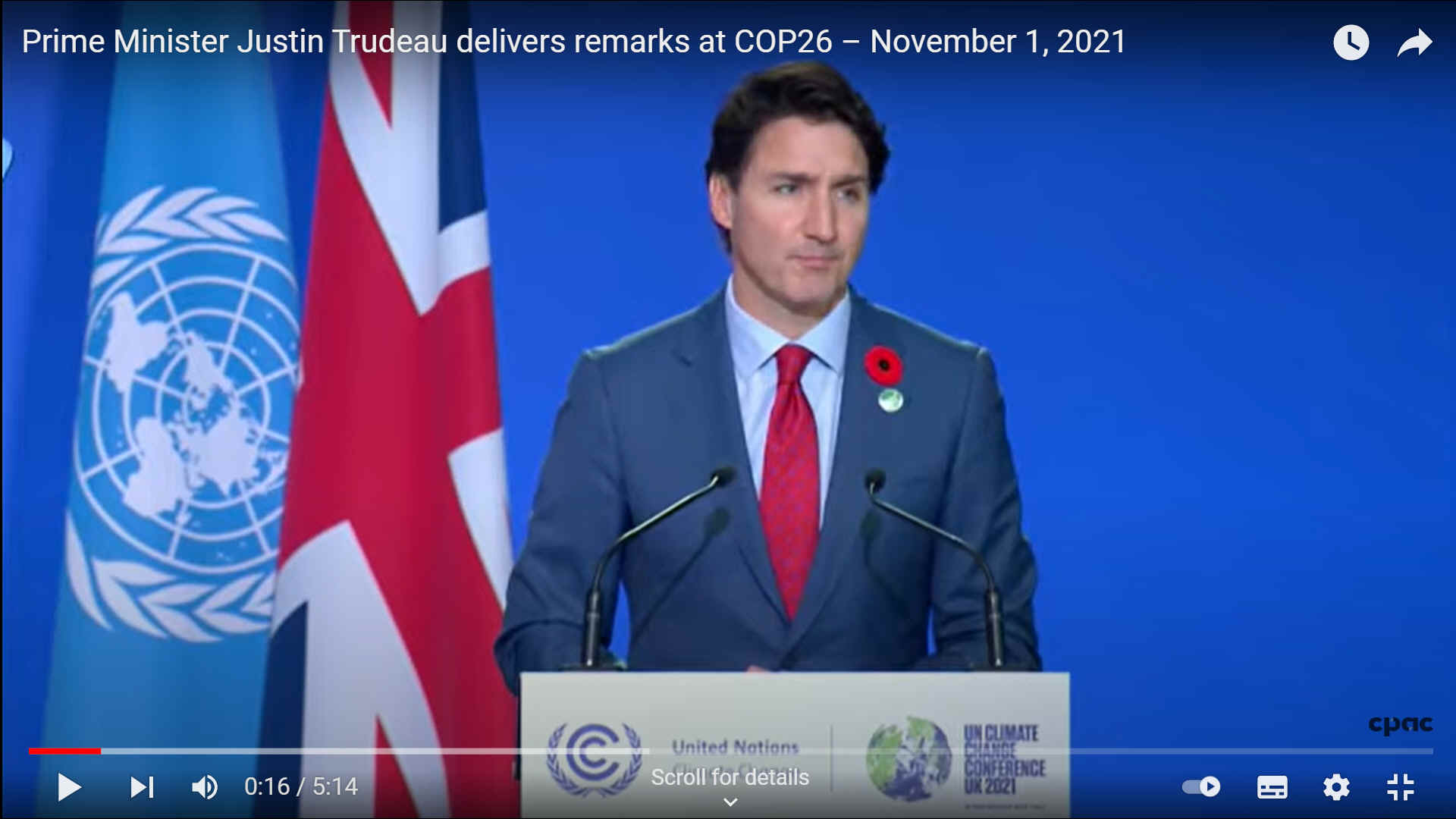 Canada under Justin Trudeau, almost does not deserve to be in the Dirty Dozen, where he clearly cares about the rising temperatures in his country, and certainly has a handle on the subject. But he is included at the moment because of the CO2 volume the country produces, and oil exports to the USA - now to be capped!
There are good signs that the Canadian Prime Minister is not only making all the right noises, but also acting to ensure that citizens of his country can hold their heads high on the world cleanup stage. Mr Trudeau is already an ocean conservation champion with his protections, with a slight blip in that some whaling may still be on their radar.
But pushing for carbon taxing, transparency and pledging significant sums for the much needed transition, really puts Mr Trudeau right up there as a Climate Champion. If only the other 11, would follow his example. Well done Prime Minister. Well done Canada : )
THE DIRTIEST DOZEN CO2, METHANE & DEFORESTATION NATIONS
Chinese President

Xi Jinping

US President

Joe Biden

EU President

Ursula von der Leyen

Indian PM

Narendra Modi

Vladimir Putin

Russian PM

Japanese PM

Fumio Kishida

Kim Boo-kuym

South Korean PM

Mohammed bin Salman

Saudi Arabian Ruler

Justin Trudeau

Canadian PM

Jair Bolsonaro

Brazilian PM

Joko Widodo

Indonesian PM

Scott Morrison

Australian PM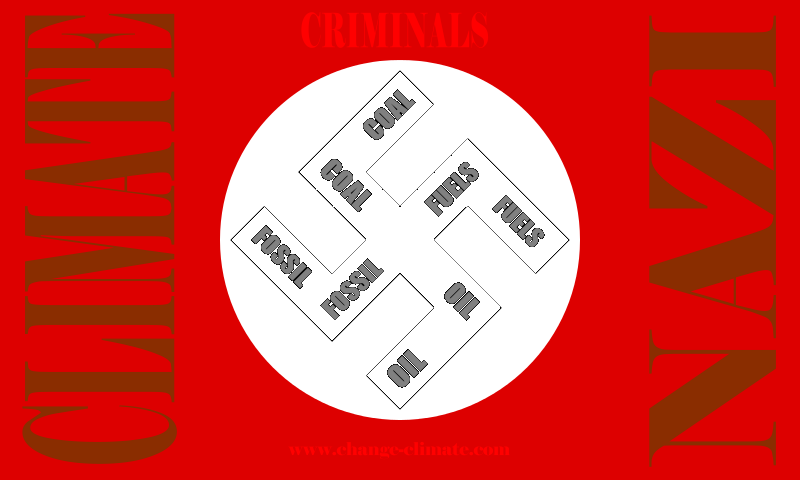 G20 abusers will say they had no choice. They needed to keep burning coal, gas and oil for their economies - just like the camp guards at the many concentration camps, they were forced into business as usual. In the case of the camp guards, they argued they were just following orders. But that is not true. We all have choices. There are clean alternatives, such as solar and wind power. There is no need to keep building coal fired electricity generating stations, and no need to drive carcinogenic petrol or diesel vehicles that contribute to lung cancer. We have hydrogen fuel cells, electrolyzers and zero emission electric vehicles.
Countries that thumb their noses at climate change, such as to increase harmful pollution, might have to face criminal prosecution via the International Criminal Court, and the tenets of the Rome Statute of 1998. Whereby it is a criminal offence to cause hurt to another human, from your actions or failure to act to prevent harm.
If you are going to increase electricity capacity, it makes sense to invest in renewable energy, unless it is that the fossil fuel giants are lubricating the works with party donations. If that is the case, we say that such contributions should be transparently declared, that the public is informed as to what is guiding policy decisions. Clearly, this does not apply to Canada or Mr Trudeau.

COP 26 was not a cop-out or a flop as far as Canada and Justin Trudeau are concerned. Indeed, the reverse is true. Canadians should be proud to be leading the charge against global warming. Fingers crossed that all their hard work during transition is not wasted, as other world leaders fail to rise to the challenge.
Canada will put a cap on oil and gas sector emissions, Trudeau tells COP26 summit.

'That's no small task for a major oil and gas producing country. It's a big step,' PM says in speech.

Canada will impose a hard cap on emissions from the oil and gas sector, Prime Minister Justin Trudeau announced Monday at the COP26 summit in Glasgow.

Calling the promise "a major commitment" that should inspire other resource-rich countries to dramatically curb their own emissions, Trudeau said Canada is prepared to limit the growth of one of the country's largest industries to help the world hold the global average temperature increase to 1.5 degrees Celsius.

"We'll cap oil and gas sector emissions today and ensure they decrease tomorrow at a pace and scale needed to reach net-zero by 2050," Trudeau said during his two-minute speech in front of other world leaders gathered in Scotland.

"That's no small task for a major oil and gas producing country. It's a big step that's absolutely necessary."

In 2019, Canada's oil and gas sector accounted for 191 megatonnes of greenhouse gas emissions — 26 per cent of the country's total emissions. The country's second largest source of emissions is the transport sector, which emitted 186 megatonnes.

Since 1990, emissions from the oil and gas sector have nearly doubled — an increase largely attributed to a dramatic expansion of the oilsands industry.

The Canadian Association of Petroleum Producers (CAPP), the lobby group that represents oil and gas interests, has argued that Canada accounts for less than 1.5 per cent of the world's GHG emissions and global climate change efforts should be directed at coal, which still accounts for half of all emissions.

"Natural gas and oil are Canada's largest export products and a foundational pillar of Canada's economy and innovation capacity, supporting approximately 500,000 jobs and representing about $30 billion in annual economic investment," CAPP president and CEO Tim McMillan said in a media statement issued Monday.

"To achieve the ambitions of the Paris Agreement the world will need increased access to lower emission natural gas and oil. Canada, under the right policy environment, can position ourselves as a preferred global supplier, creating jobs and prosperity for Canadians and helping to lower global greenhouse gas emissions."

In a letter to the government's net-zero advisory board, Environment Minister Steven Guilbeault and Natural Resources Minister Jonathan Wilkinson say they need the board's help to craft the new sector emission cap.

"Specifically, we seek your advice on key guiding principles to inform the development of quantitative five-year targets," the ministers wrote in a letter sent Monday.

"It is essential that as we move to a net-zero emissions economy, Canadian workers and communities continue to prosper. Our goal is a future in which the energy workers and communities that helped build this country have even greater opportunities than they do today, through a responsible transition to the low-carbon economy."

Speaking with reporters Monday in Glasgow, Guilbeault said he didn't have any details yet on what would happen to a company that goes beyond the cap.

"We will need to be developing this, and that's exactly what we will be doing in the coming months," he said.

Guilbeault said the proposal has received praise from other countries and that John Kerry, the United States special presidential envoy for climate, had expressed interest in the idea.

"So I think that what we're bringing to the table is clearly getting very positive attention," he said.

Catherine Abreu is the executive director of Destination Zero and a member of the net-zero advisory panel. She said she was expecting more from the Canadian delegation at this summit — which has been billed as the "last, best chance" to commit the world to aggressive emissions cuts.

"We didn't get any commitment to Canada thinking through an economic transition and diversification strategy that means we're going to stop exporting a huge amount of emissions to the rest of the world," Abreu told CBC News.

"I was really hoping that we would hear more from Canada when it comes to the level of ambition that's needed in our energy transition."

Dale Marshall is the national climate program manager at Environmental Defence. He said the emissions cap doesn't go far enough.

"The biggest challenge we have is oil and gas production. Unfortunately, the solution he came up with focused on emissions and not production. And what that allows is for oil and gas companies to continue to put forward false solutions and net zero plans that are far into the future," he said.

Green Party Parliamentary Leader Elizabeth May said what Canada needs is a moratorium on development.

"We need to continue to press for real action, which is uncomfortable for many politicians, including Justin Trudeau," she said. "But between being politically uncomfortable and saying to our children, 'We can't guarantee you a livable world,' I don't think we have any choice."

When asked why the government is capping oil and gas emissions but not production, Guilbeault said the federal government is prevented from doing so by law because natural resources fall under provincial jurisdiction.

"Constitutionally, we can't do that," he said.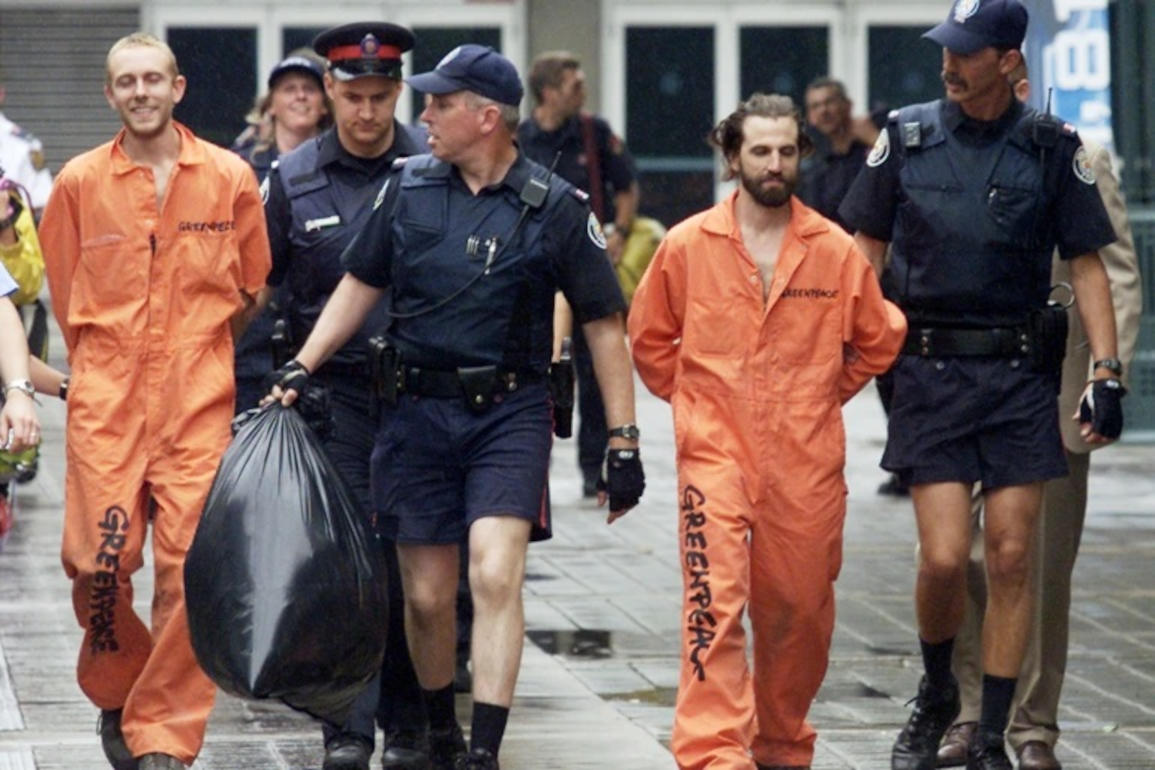 CLIMATE HEROES - Men of action, not words. These Greenpeace activists scaled Toronto's tallest building to make a point. Now Steven Guilbeault can make his mark from behind a desk, having proved his mettle in the field.
WE MUST DO MORE FASTER

Speaking at the COP26 plenary, Trudeau also floated the idea of establishing a minimum global price on emissions to level the playing field for countries like Canada that have levied taxes on emissions-intensive fuel sources to shift consumers to cleaner energy.

He said Canada pushed through a carbon price "despite stiff political opposition" and a year-long battle in the courts because "the science is clear — we must do more, faster."

That tax is expected to increase dramatically to $170 a tonne by the end of the decade, which will make it one of the world's highest carbon prices. It's part of the federal plan to meet and surpass Canada's goal of reducing greenhouse gas (GHG) emissions by at least 40 per cent below 2005 levels by 2030.

"This is a meaningful price on pollution designed to not just make life cleaner, but also make life more affordable for Canadians," Trudeau said, citing the government's program of rebating most of the money collected through the carbon levy at tax time.

The tax hike will, however, result in higher costs for consumers when they buy gasoline. The price at the pump will increase by 37.57 cents a litre by 2030 as a result of the $170 a tonne tax, and the cost of light fuel oil for home heating, natural gas and propane will rise as well.

"I call on other countries to do the same. Just as globally we've agreed to a minimum corporate tax, we must work together to ensure it's no longer free to pollute anywhere around the world. That means establishing a shared minimum standard for pricing pollution," Trudeau said.

Guilbeault said the conference may prove to be a pivotal moment in the quest for a global emissions price, adding there's "growing interest" in the idea.

"Is it a done deal? Absolutely not. Could Glasgow be the moment that we actually start working on developing something like that? I think it has the potential to do that," he said.

To help with the global green transition, the United Nations Framework Convention on Climate Change (UNFCCC) created something called the "Adaptation Fund" more than 10 years ago.

The fund pays for adaptation projects in developing countries that are vulnerable to the adverse effects of climate change. The fund has helped farmers in Argentina with low-cost insurance plans, funded "coastal management" initiatives in Cuba and trained 6,000 Fijians in "climate risk reduction actions and strategies." Trudeau announced Canada's first contribution to the fund today.

Trudeau also committed $1 billion for the Accelerating Coal Transition (ACT) Investment Program, which helps poorer countries with the "coal-to-clean" transition, ensuring more countries shift from coal-fired power plants to solar and wind generation.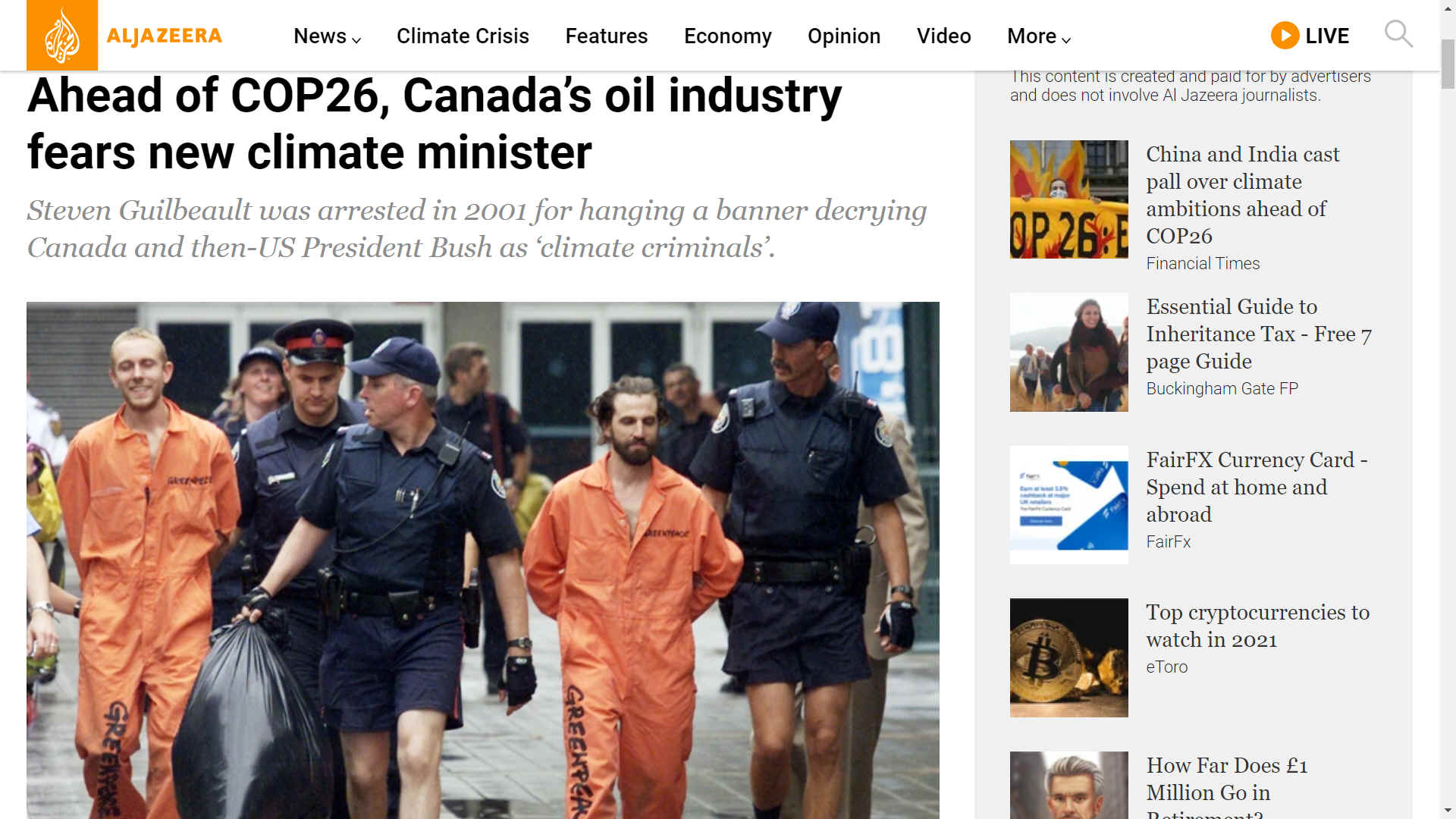 COP 26 - AL JAZEERA 30 OCTOBER 2021 - Ahead of COP26, Canada's oil industry fears new climate minister

The man spearheading Canada's environmental policy is a former Greenpeace activist who once scaled Toronto's tallest building to hang a banner denouncing his country and then-US President George W Bush as "climate criminals" – and his appointment is sparking hope from some environmentalists and fear in the oil patch days before the United Nations talks on global warming.

Steven Guilbeault was named the environment minister of Canada, home to the world's third-largest oil reserves, this week.

Canadian Prime Minister Justin Trudeau has branded his Liberal government as climate champions. But he has presided over the highest rise in climate-changing carbon dioxide emissions among G7 nations over the past five years, according to a study from the Canadian Centre for Policy Alternatives (CCPA) published in June.

With environmentalists demanding concrete emissions reductions before COP26 negotiations in Glasgow starting on Sunday, lawmakers in Alberta, the heartland of Canada's oil industry, are worried.

"It's a cause for concern," Alberta's Energy Minister Sonya Savage told Al Jazeera, speaking of Guilbeault's appointment.

"He has opposed every pipeline in Canada, every oil sands project, everything we need to do in Alberta to get our product to market," she said. "We are seeing a global crisis where prices are skyrocketing for oil and gas and a lot of that is because of green agendas."

Top oil exporter to US

Producing more than five million barrels of crude per day, Canada is the largest foreign oil exporter to the US, according to government data. About 80 percent of that crude comes from Alberta, sometimes dubbed "Canada's Texas" due to its conservative political culture.

The UN Environment Programme (UNEP) said this week that current global commitments to cut greenhouse gas emissions mean the planet is on track for a "catastrophic" average 2.7-degree Celsius (4.9F) temperature rise this century.

This means countries, particularly in the global south, will be looking for far sharper emissions targets and reductions from wealthy nations when COP26 negotiations begin.

Canada's government is aiming for net-zero emissions by 2050, although analysts are dubious about how that goal can be met on current trajectories.

"Canada has a long history of making big promises and not delivering," Keith Stewart, a climate campaigner with Greenpeace and longtime friend of the new environment minister, told Al Jazeera.

"I know from my conversations with Guilbeault he is keen on changing that … He will be under relentless pressure from the oil lobby in this country and we hope he can stand up to the heat."

The oil and gas sector alone will cause Canada to exceed its previous climate target, set as part of the Paris Agreement, to reduce emissions by at least 40 percent below 2005 levels in the next nine years, the CCPA reported.

Canadian oil is some of the world's worst when it comes to greenhouse gas emissions, according to a 2018 study from Stanford University researchers.

They compared the climate effects of oil from different countries and found that Canadian oil had the world's fourth-highest emissions intensity, about 70 percent higher than the global average.

Minister Savage and other backers of the Canadian industry say its climate effects have been reduced through technology. And keeping Alberta's crude in the ground only benefits petrol-rich dictatorships with poor human rights records, who will simply increase exports to make up for reductions in Canadian output with no ensuing benefits for the world's climate, Savage said.

Much of Alberta's oil is mined from massive open-air pits known as the tar sands, rather than pumped through traditional methods, requiring more energy and water to extract each barrel.

The tar sands alone account for about 12 percent of Canada's total greenhouse gas emissions, according to government data, and headlines in the business press have called it "one of the world's dirtiest oil sources", raising particular ire from Alberta's government.

"Calling Alberta's oil some of the dirtiest in the world is blatantly false," Savage said. The province has been investing heavily in green technology, she said, and it's reducing emissions of methane, a by-product of oil extraction which is up to 80 times more powerful than carbon dioxide in trapping heat in Earth's atmosphere, according to a study published in the journal Nature this year.

Methane, however, is responsible for only a small portion of global heating – carbon dioxide levels in the atmosphere are more than 200 times higher, the Nature paper notes.
New cabinet focus

Guilbert's appointment is not the only signal Trudeau's government sent on climate with its new cabinet appointments this week, said Laurie Adkin, a professor of political science at the University of Alberta.

Canada's former environment minister, Jonathan Wilkinson, was named the new minister of natural resources. That role had previously been held by a Seamus O'Regan who championed fossil fuel interests, she added.

"He [O'Regan] was a disaster in my view," Adkin told Al Jazeera. "He was the inside man for the oil and gas industry in cabinet and had been holding back progress on the environment."

Lacking an obvious champion in the cabinet, Canadian oil industry representatives say recent price spikes — contributing to fears of a long cold winter in the UK, mass protests in Ecuador and global worries about inflation, are a result of underinvestment in oil and unrealistic green goals.

"As we watch nations around the world today struggling with an energy crisis and failing to provide responsible energy to their citizens, Canada must step up and offer a safe haven for natural gas and oil investment," the Canadian Association of Petroleum Producers, an industry association, told Al Jazeera in response to written questions.

'Bumps in the road'

To environmentalists, in contrast, decreased investment in oil extraction is a victory and a sign Canada and other leading producers need to speed up transitions to renewable energy.

"Canadians and people around the world expect action on climate change, [especially] after the summer we had to deal with here," Simon Dyer, deputy executive director from the Pembina Institute, an Alberta-based energy research group, told Al Jazeera.

Canada recorded its highest temperature on record this summer, he said, 49.6C (121.3F) in British Columbia. This contributed to ravaging wildfires which destroyed an entire town and a host of other climate-related disasters, underscoring the need to rapidly reduce oil extraction, even if doing so comes at a short-term cost.

"There are going to be bumps in the road with the energy transition."
Nazi concentration 'death camp' executions
A Nazi war criminal is a person who kills an unarmed human being or gives the order to kill another human being outside the normal rules of engagement in times of war.
In peacetime, a Climate Change Criminal, is a politician, industrialist or other entity that conducts themselves and/or their policies such as to (in effect) murder another human being from starvation or poisoning resulting from action or inaction on their part, and including dumping plastic in the sea to make fish toxic.
This philosophy extends to causing hardship and mental stress (torture), contrary to Articles 2 and 3 of the EU's Human Rights Convention and Articles 3 and 5 of the Universal Declaration of Human Rights.
The Canadian prime minister, Justin Trudeau, is charged with failing to protect life on earth, as crimes against humanity and our ecology. In his case, this would be a reduced allegation, more to do with the time it has taken to reach the present and new sense of urgency. We hope he understands that reporting needs to be fair and balanced against the perceived lack of action till now.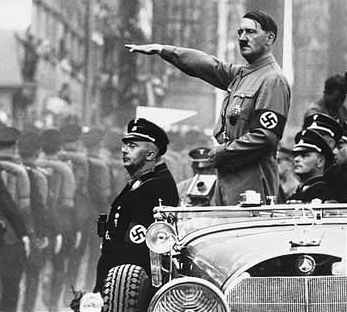 Adolf Hitler and chum Heinrich Himmler [Allegedly, Adolf Hitler did not die in that bunker incident C.1949. Apparently, he was fired into England, strapped to a V1 rocket, leaving behind his false teeth. He parachuted into Wealden that night hoping to meet some deviants, who'd arranged a new identity for their fallen comrade. Apparently, he landed in Crowborough, shaved off his moustache and was mistaken for a council official, whereupon he infiltrated the ranks of the local council and trained them how to use his terror tactics to control the peasant civilians.
Not the dirtiest, but in the top ten because of carbon dioxide and other greenhouse gas emissions, but also for supplying oil to America. We have high hopes for Justin Trudeau. Canada just needs a breakthrough in technology - and to source electric cars and their hydrogen and/or batteries locally, or from a country with similar climate objectives.
NAZI LINKS & REFERENCE
Adolf Hitler

German Chancellor

Herman Goring

Reichsmarschall Luftwaffe

Heinrich Himmler

Reichsführer Schutzstaffel

Joseph Goebbels

Reich Minister Propaganda

Philipp Bouhler SS

NSDAP Aktion T4

Dr Josef Mengele

Physician Auschwitz

Martin Borman

Schutzstaffel

Adolph Eichmann

Holocaust Architect

Erwin Rommel

The Desert Fox

Rudolf Hess

Auschwitz Commandant

Karl Donitz

Submarine Commander

Albert Speer

Nazi Architect