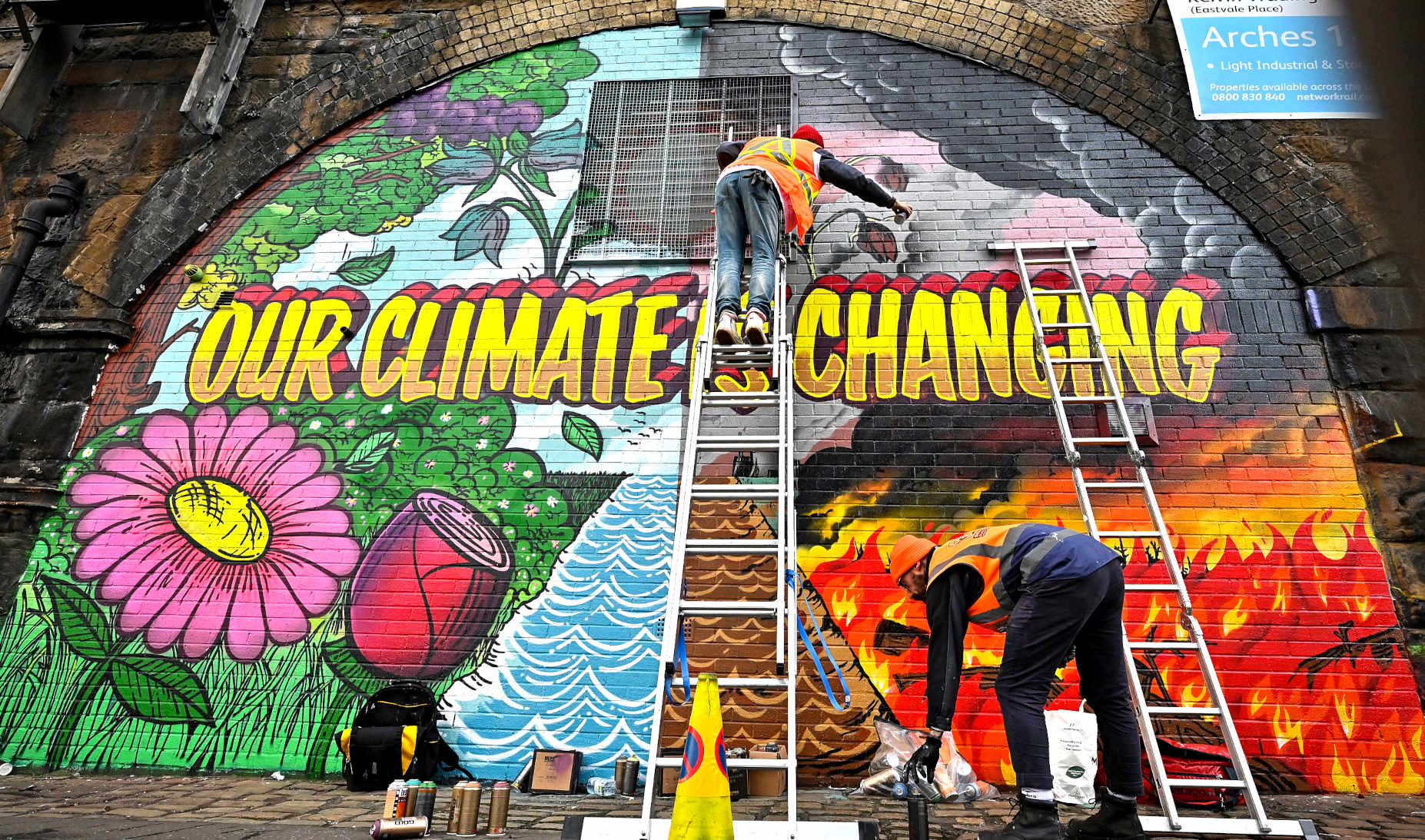 COAL POWERED CHEAP IMPORTS - It's no longer a bowl of rice a day in China, they want western luxury, executive cars instead of cycles and rickshaws - and worst of all - military might. We agree that poorer members of society should be able to aspire to a comfortable lifestyle, benefiting from food and energy security as per the UN's SDGs. We don't agree with military aspirations.
Set against this developing scenario, why are so many big players having goods Made in China? Imports are not cheap if you are pushing out masses of CO2 into the atmosphere, because of the cost to our environment. Goods from China that can be certified made using renewable electricity, and zero emission transport - now that's a whole new ballgame. Xi Jinping will not attend COP26, where he will be told off by Greta Thunberg for burning coal instead of changing to renewable energy.
Deliberately engaging in climate denial spin, such as to endanger human lives or cause suffering, should be a new crime on the statute books of every country, or at the very least a prosecutable offence at the International Criminal Court, as per the Rome Statute of 1998. About which we respectfully submit that the deliberate spread of misinformation as to climate change, or harm to health from inhalation of fossil fuel fumes, should be recognised as Postericide.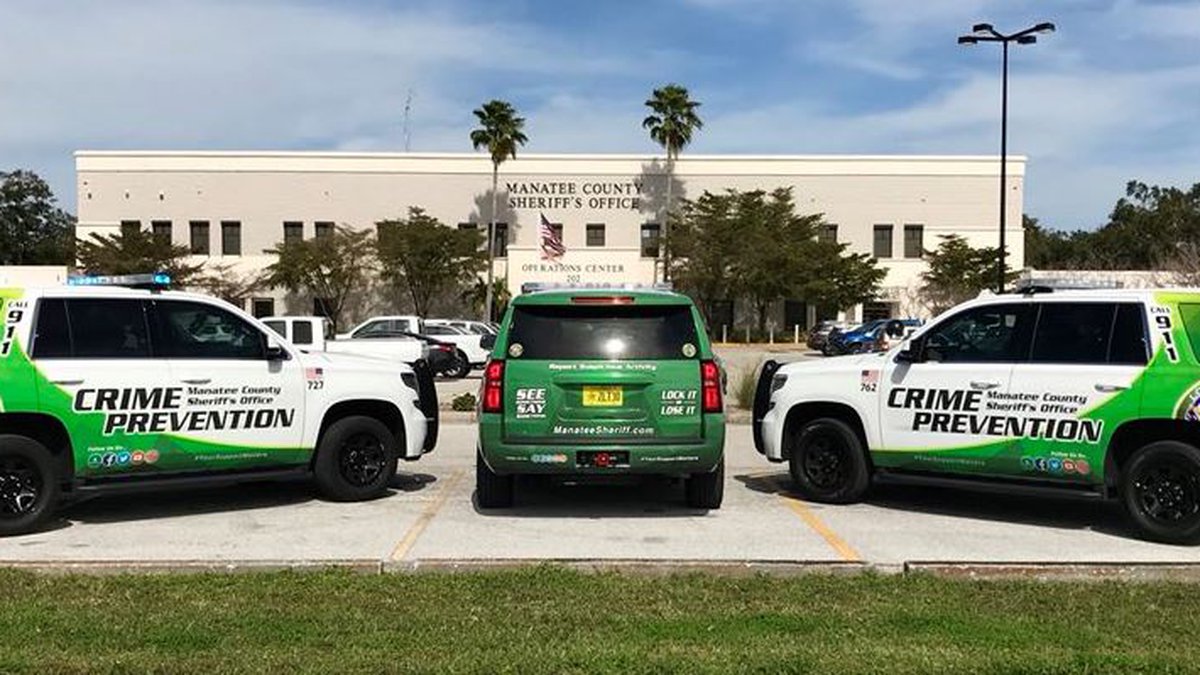 LAST STAND - We need Arnold Schwarzenegger, the sheriff in the movie "Last Stand" to take an interest in arresting and prosecuting climate deniers. The Crime Prevention units above seem perfect for the job. Nice one Manatee County!
THE GUARDIAN 21 JULY 2022 - REVEALED: OIL SECTORS STAGGERING $3bn A DAY PROFITS FOR LAST 50 YEARS

The oil and gas industry has delivered $2.8bn a day in pure profit for the last 50 years, a new analysis has revealed.

The vast total captured by petrostates and fossil fuel companies since 1970 is $52tn, providing the power to "buy every politician, every system" and delay action on the climate crisis, says Prof Aviel Verbruggen, the author of the analysis. The huge profits were inflated by cartels of countries artificially restricting supply.

The analysis, based on World Bank data, assesses the "rent" secured by global oil and gas sales, which is the economic term for the unearned profit produced after the total cost of production has been deducted.

The study has yet to be published in an academic journal but three experts at University College London, the London School of Economics and the thinktank Carbon Tracker confirmed the analysis as accurate, with one calling the total a "staggering number". It appears to be the first long-term assessment of the sector's total profits, with oil rents providing 86% of the total.

Emissions from the burning of fossil fuels have driven the climate crisis and contributed to worsening extreme weather, including the current heatwaves hitting the UK and many other Northern hemisphere countries. Oil companies have known for decades that carbon emissions were dangerously heating the planet.

"I was really surprised by such high numbers – they are enormous," said Verbruggen, an energy and environmental economist at the University of Antwerp, Belgium, and a former lead author of an Intergovernmental Panel on Climate Change report.

"It's a huge amount of money," he said. "You can buy every politician, every system with all this money, and I think this happened. It protects [producers] from political interference that may limit their activities."

The rents captured by exploiting the natural resources are unearned, Verbruggen said: "It's real, pure profit. They captured 1% of all the wealth in the world without doing anything for it." The average annual profit from 1970-2020 was $1tn but he said he expected this to be twice as high in 2022.

The profit-grabbing is holding back the world's action on the climate emergency, he said: "It's really stripping money from the alternatives. In every country, people have so much difficulty just to pay the gas and electricity bills and oil [petrol] bill, that we don't have money left over to invest in renewables."

Some of the rents go to governments as royalties, says Prof Paul Ekins, at University College London: "But the fact remains that, over the last 50 years, companies have made a huge amount of money by producing fossil fuels, the burning of which is the major cause of climate change. This is already causing untold misery round the world and is a major threat to future human civilisation.

"At the very least these companies should be investing a far greater share of their profits in moving to low-carbon energy than is currently the case. Until they do so their claims of being part of the low-carbon energy transition are among the most egregious examples of greenwashing."

Mark Campanale, at Carbon Tracker, said: "Not only is the scale of these rents eye-watering, but it is salient to note that, in the midst of a cost of living crisis caused by record oil and gas prices, this flow of money to a relatively small number of petrostates and energy companies is set to double this year. Shifting to a carbon-neutral energy system based on renewables is the only way to end this madness."

The Guardian revealed in May that the world's biggest fossil fuel firms are planning scores of "carbon bomb" oil and gas projects that would drive the climate past internationally agreed temperature limits with catastrophic global impacts. The fossil fuel industry also benefits from subsidies of $16bn a day, according to the International Monetary Fund.

Verbruggen's analysis used the World Bank's oil rent and gas rent data, which the bank compiles country-by-country and is expressed as percentage of global GDP. He then multiplied this by the World Bank's global GDP data and adjusted for inflation to put all the figures in 2020 US dollars.

Verbruggen said oil-rich nations, such as Russia and those in the OPEC cartel, including Saudi Arabia, kept rents high by restricting supply: "They change the fundamentals of the markets." Military action, such as the US-led invasion of Iraq in 2003, and political action, such as the embargo on oil exports from Iran, had also increased the rents, he said. If all available oil and gas could be freely supplied to the market, the price of conventional oil would be $20-30 a barrel, Verbruggen said, compared with about $100 today.

There is far more oil, gas and coal in existing reserves than can be burned if the world is to limit global heating to 1.5C, the target agreed by nations in the Paris climate agreement in 2015. Campanale said: "To keep to 1.5C, this means [international oil companies alone] forgoing around $100 trillion of potential revenues. You can see why oil oligarchs and nations controlled by political elites want to keep their fossil fuel rents, the source of their power."

May Boeve, the head of campaign group 350.org, said: "These profits have enabled the fossil fuel industry to combat all efforts to switch our energy systems. We have to dismantle such rent-seeking systems and build our future based on accessible and distributed renewable energy that is more sustainable and democratic in every way."

NATION OF CHANGE
According to Nation of Change, a total of 11 climate science deniers had secured passes to the UN's FLOP26 climate summit taking place in Glasgow, Scotland, including:

Myron Ebell, the head of former U.S. President Donald Trump's transition team at the Environmental Protection Agency.

The president of the notorious Heartland Institute, which recently held a rival conference in Las Vegas ahead of the COP26 conference, and the head of policy at the U.K.'s principal climate science denial group are also among those who were given badges.

The delegates have access to the official "Blue Zone" area of the conference, where negotiations — which are restricted to government delegations — and a variety of side-events are being held.

Many of them are also speaking at an alternative two-day "Climate Reality Forum", live-streamed from an undisclosed location in the city.

The news has been met with anger from environmental groups who point to the difficulty representatives of Indigenous communities and low-income countries vulnerable to climate change have had in gaining access to the summit.

"The fact that climate deniers are allowed space at COPs, while Indigenous peoples are fighting to get inside speaks to the performative functions of the COP," said Jennifer K. Falcon from the Indigenous Environmental Network.

"The world is on fire, sea levels are rising, food and water shortages are already hitting Black, Indigenous and frontline communities of the global majority," she added, "and climate deniers are given direct access to world leaders to continue the status quo of killing our planet."

Jean Su, energy justice director at the Center for Biological Diversity, said: "Granting access to climate deniers adds insult to injury when countless climate-vulnerable people have been refused entry in the politics of vaccine apartheid."

The climate denial delegates are listed as attending COP26 on behalf of the U.S.-based Committee for a Constructive Tomorrow (CFACT) and the Competitive Enterprise Institute (CEI), both of which have a long history of rejecting mainstream climate science and have previously taken funding from oil giant ExxonMobil.

CFACT has called carbon dioxide a "harmless trace essential gas in the atmosphere that humans exhale from their mouth", while CEI claims that climate models "inflate greenhouse gas emissions scenarios" and boasts about defeating efforts to introduce climate legislation in the U.S. on its website.
COWBOY POLITICS - The Marlboro Man character - used from 1954 to 1999 in magazine, television and billboard adverts - was portrayed in a natural setting with only a cigarette. It was initially conceived by Leo Burnett as a way to popularize filtered cigarettes, which at the time were considered a feminine commodity.
Winfield said that he wore his own clothes for shoots and never wore make-up. The Oklahoma native was one of the last Marlboro Men alive. Some were authentic cowboys like him while others were actors.
Other ex-faces of the tobacco brand include David Millar, who died of emphysema in 1987, and David McLean, who died of lung cancer in 1995. Another who pushed the product, Wayne McLaren, died before his 52nd birthday in 1992 and Dick Hammer - better known for his role as Captain Hammer in the TV show Emergency! - passed away from lung cancer in 1999, aged 69.
Eric Lawson who played the iconic cigarette-puffing cowboy during the late 1970s passed away aged 72 from respiratory failure last January. The Marlboro Man was scrapped in the late Nineties, when state governments banned the use of humans or cartoons in U.S. tobacco advertisements. Winfield was born on July 30, 1929, in Little Kansas, Oklahoma.
1. Myron Ebell, CEI's director of energy and environment was selected by Trump in 2016 to lead the former U.S. president's transition team at the EPA, which the CEI says should not be allowed to regulate greenhouse gas emissions.

2. James Taylor - CEI's delegation includes the president of the Heartland Institute, James Taylor, and a correspondent for the conservative National Review magazine,

3. Kevin Williamson - who has been working on a CEI project "examining the modern environmental movement, its culture, and advocacy".

Also in attendance is CFACT's communications director,

4. Marc Morano - who is no stranger to controversy at U.N. climate summits, having been ejected from the 2016 talks in Marrakech for taking part in an unauthorised demonstration during which he ripped up a copy of the Paris Agreement.

Morano is a former aide to U.S. Republican senator James Inhofe, who describes human-caused climate change as a "hoax". And last week, Morano was interviewed on U.K. radio station talkRADIO claiming global elites are planning Covid-style "lockdowns" to tackle emissions.

The accreditations for the two organizations, however, are apparently overlapped, with two CFACT representatives — including, allegedly, potential relatives of Morano, 10 & 11 Elena and Jessica — attending under CEI badges.

5. Travis Buck - CEI's vice president of communications, is listed under CFACT.

CFACT's delegation also includes

6. Harry Wilkinson - head of policy at Net Zero Watch, the new name for the Global Warming Policy Forum, the campaign wing of the U.K. climate science denial charity established by former Tory chancellor Nigel Lawson.

Other CFACT delegates include its executive director

7. Craig Rucker - and senior fellow Peter Murphy.

CFACT and the Heartland Institute have been running an alternative conference in Glasgow, alongside Dutch and German climate science denial groups, CLINTEL and EIKE, the latter of which reportedly works with the far-right Alternative for Germany party.

Speakers at this event include British hereditary peer

8. Christopher Monckton - a longtime climate denier, and the German "anti-Greta"

9. Naomi Seibt, who spoke on Wednesday about the "Evil Motives of Climate Socialism".

No details were given on how to attend the event in person, but a live-stream was provided.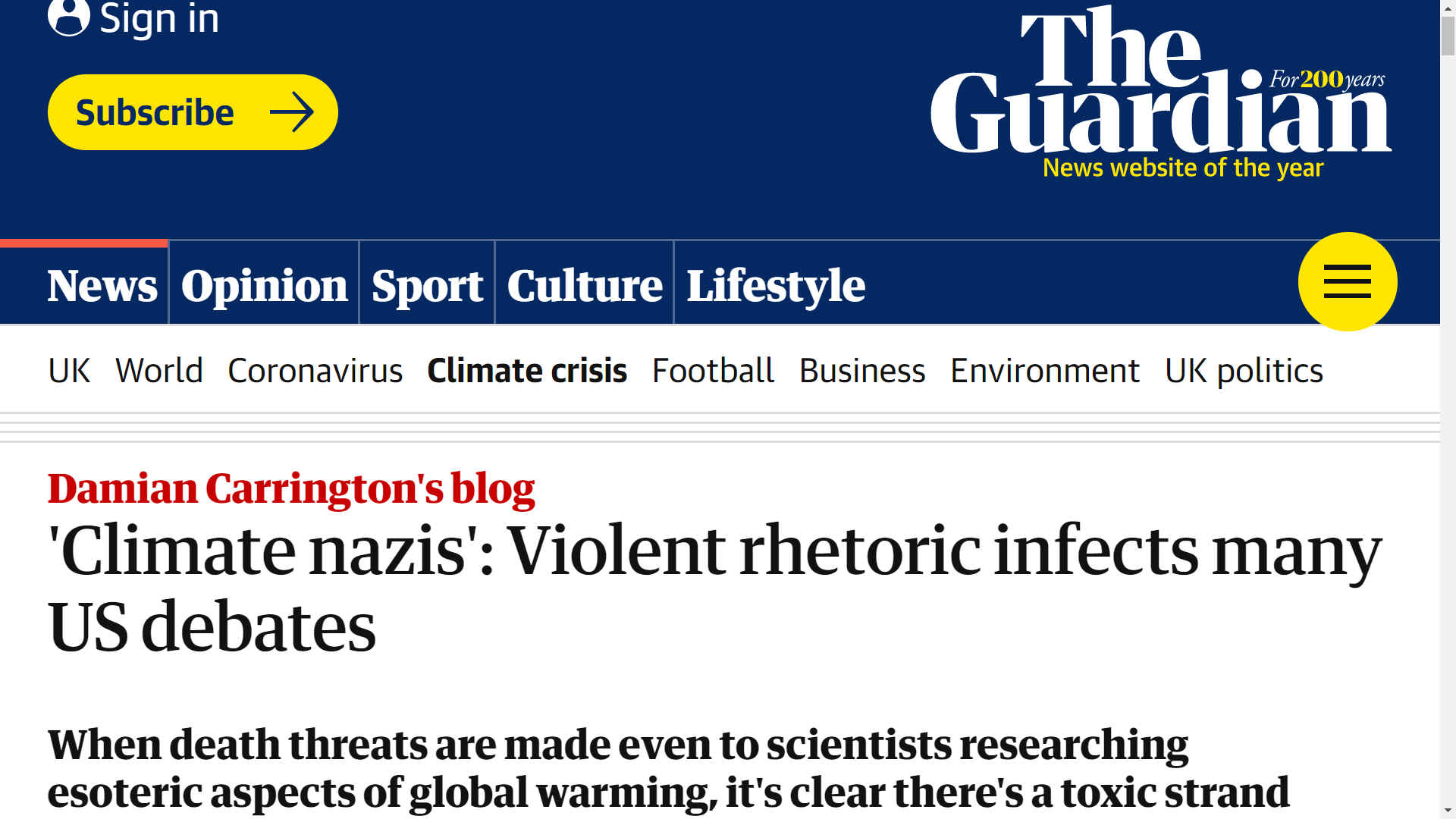 GUARDIAN JAN 2011 - 'Climate nazis': Violent rhetoric infects many US debates - When death threats are made even to scientists researching esoteric aspects of global warming, it's clear there's a toxic strand to political debate. But is it dangerous?

The violent rhetoric and hate campaigns being proposed by many commentators as setting the context for the horrific attack on congresswoman Gabrielle Giffords, which left 6 dead and 14 injured, is far from restricted to the obvious issues of abortion, gun control and federal laws.

Even the debate on climate change, where the key issues are frequently highly scientific or economic, has attracted frequent death threats to researchers and election TV ads in which a prospective Senator shoots the cap-and-trade bill with his rifle.

Jared Loughner, the man charged with the attack, is widely reported to have been mentally unstable. Some commentators argue the act was his alone.

But the example of global warming, where arguments rage over datasets, reveals the terrifying atmosphere that can be generated even in an area that lacks the visceral punch of issues such as healthcare.

My colleague Leo Hickman reported last year on the repulsive hate mail received by climate scientists following the "climategate" emails:

The scientists revealed they have been told to "go gargle razor blades" and have been described as "Nazi climate murderers". Some emails have been sent to them without any attempt by the sender to disguise their identity. Even though the scientists have received advice from the FBI, the local police say they are not able to act due to the near-total tolerance of "freedom of speech" in the US.

[The late climate scientist Stephen] Schneider described his attackers as "cowards" and said he had observed an "immediate, noticeable rise" in emails whenever climate scientists were attacked by prominent right-wing US commentators, such as Glenn Beck and Rush Limbaugh.

What causes the rise? Publication of his email addresses on the sceptic website Climate Depot presumably helped. The comment Schneider made in July make sobering reading in the light of the Giffords attack:

Schneider said the FBI had taken an interest earlier this year when his name appeared on a "death list" on a neo-Nazi website alongside other climate scientists with apparent Jewish ancestry.

"The effect on me has been tremendous," said Schneider. "Some of these people are mentally imbalanced. They are invariably gun-toting rightwingers. What do I do? Learn to shoot a Magnum? Wear a bullet-proof jacket? I have now had extra alarms fitted at my home and my address is unlisted."

Schneider was far from alone in the US with Michael Mann among others also reporting death threats. Phil Jones, the scientist at the heart of "climategate", also received death threats but the phenomenon is generally far less frequent in the UK.

I have received a handful of threats by email and phone myself, which given my low profile is a measure of the extent of the problem. My better-known colleagues George Monbiot and Leo Hickman receive more.

So it's clear that even in issues such as climate change there is an active fringe of people deploying violent rhetoric and hate mail against those with whom they disagree. Could that tip the balance between thought and action in the mind of an unstable individual? It's a worryingly plausible thought.
Responding to the news, Richard Black, an honorary research fellow at Imperial College London and author of a book on climate "contrarianism" in the U.K., said: "It's not unusual to see contrarians turning up at U.N. climate summits, in fact it's pretty routine. But what is noticeable is how these days, almost no-one cares."

Black, a former BBC environment correspondent and veteran COP attendee, said side events organized by groups like CEI would previously have drawn in journalists and generated headlines.

"Now, it really is a side-show — an irrelevance," he said, "given that pretty much everyone else is talking about how to tackle climate change and the benefits of doing so, rather than whether to."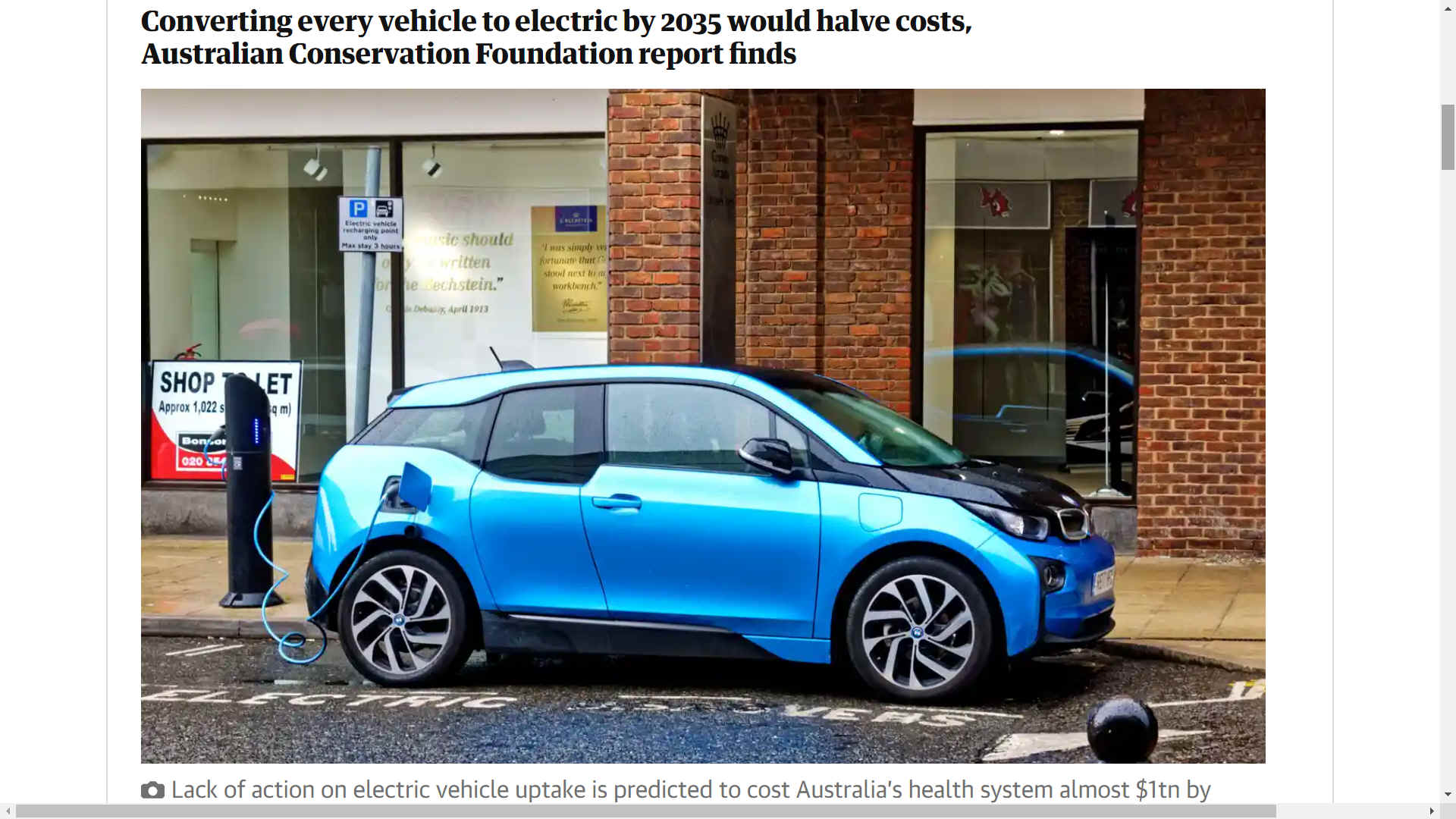 A SLOW DEATH - If Australia had invested in electric vehicle infrastructure, thousands of human lives could have been saved - according to a report by the Australian Conservation Foundation. To know about a potential cure, and to do nothing to implement it, is a violation of the State's duty of care to their population. Where everyone has the right to life, and to expect a long and healthy life, this dereliction of duty constitutes a serious human rights violation, multiplied by 5,000 every year in Australia, and some 8 million deaths globally in 2018. It is worse than Covid19 at 5,078,234 so far in two years. Hence, petrol and diesel fumes are far more dangerous - but the problem is not receiving the attention it deserves.
CARBON (PLANET) TAXES ON IMPORTS & TRANSPORT
The reason we have global warming on the scale it is, is because China and India have woken up to producing cheap goods using cheap coal, and exporting them using dirty bunker fuel. It is all too easy for them, using a business model that Chinese and Indian banks understand and therefore green light as a rubber stamp exercise. Both have said they are accelerating build and generation of coal fired electricity - telegraphing their intentions - that in reality will never slow down, because neither have produced any plan as to how to reach their "plucked from thin air" targets. It is all pie in the sky horseshit.
One way of teaching climate criminals a lesson, is to include a planet, or carbon tax on all imports produced using dirty coal and oil. This should also include the cost of cleaning up and preventing oil spills that are so damaging to coasts and marine life.
These taxes are justifiable in Human Rights terms, as the cost of dealing with global warming, health provision for the lung cancer victims in developed countries and aid for all the families that are being displaced and dying of hunger in the new desert areas that was their home.
As the offenders cannot control import duty, there is nothing they can do about it, save stop building coal fired stations and instead, install solar and wind powered electricity stations.
In addition, the buying public should be made aware of the cheap goods flooding in that are climate dirty. This can be via regular advertising on television, in the media (mainly online shopping channels) and radio. Statute must be passed as to Government Health Warnings on goods not certified as produced with sustainable energy supplies. Especially concerning aggressive marketing campaigns for Chinese clothing and other goods, that we see today on virtually all media feeds. Where at the moment the origin of the goods is carefully masked, to look like western products.
To be clear, goods produced in China and India that are certified (and traceable back to) as made with 100% renewable energy, would not be penalised. And would not be subject to a Planet Carbon Tax (PCT). There is thus no discrimination as to the country of origin, only the method of production. Hence, goods from other countries heavily reliant on coal and oil in the making, would also be subjected to PCT. This would include film making. So may hit Hollywood hard. In that the US is one of the biggest undertakers in the world in terms of fossil fool energy consumption.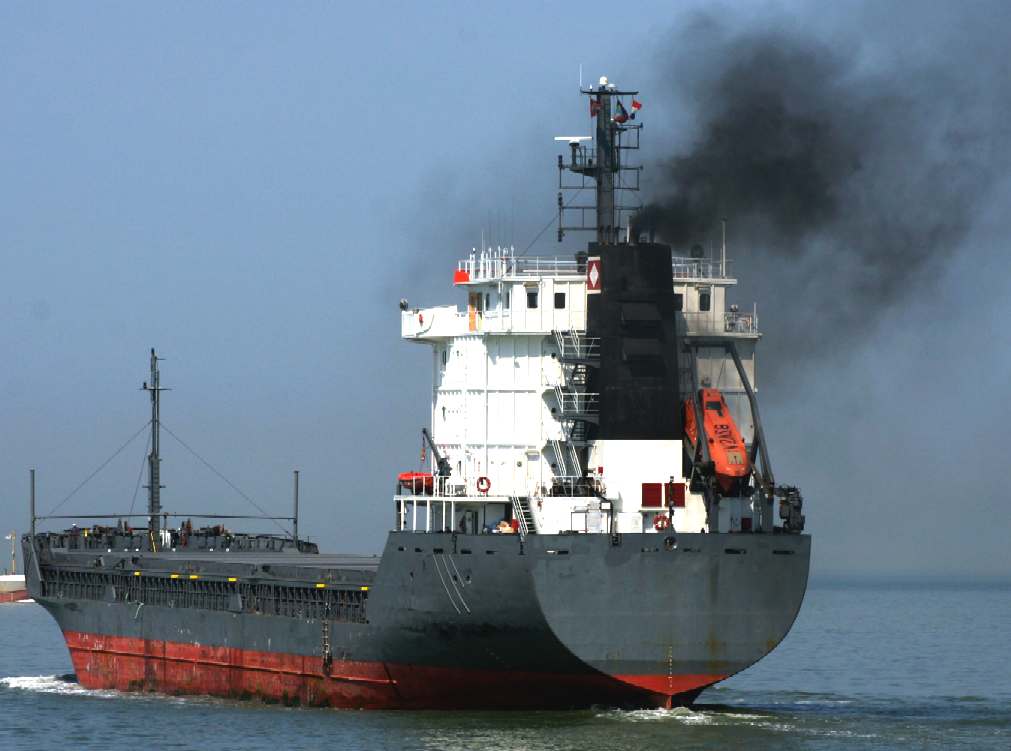 TRANSPORT AIR POLLUTION - Those in hospitals dying of respiratory diseases, and those being denied NHS treatment because of cutbacks, would not normally equate the dirty black exhaust from vessels at sea, with their early demise. But ordering goods from countries reliant on coal and oil for factories and shipping in via containers and tankers, is tantamount to boosting the funeral business. What is needed is taxes and government health warnings on goods from administrations run by fossil policy geriatrics.
WAR FOOTING
China and India will retaliate with threats of aggression, and war, but let them. A jolly good war in those regions will cull the human population. At least it is a quick death, not the agonizing starvation and mental torture being inflicted on poorer nations unable to defend themselves from the Dirty Dozen bullies.
I makes sense to keep UN forces at Defcon 2 during the period where Climate Carbon Taxes are introduced and enforced. Enforcement must include confiscation, holding and disposal of goods until their origin has been certified. Strict rules as to certification must be employed, including validification of potentially fraudulent claims to being made with clean electricity.
Interestingly, World War Two began with a furious start in the winter of 1939/40 and was repeated in the following winters of 1940/41 and 1941/42. All three winters in Europe at this time were the coldest in over 100-120 years, at a time the Little Ice Age (LIA) had not ended. But soon air temperature decreased globally, which eventually lasted until the mid -1970s. This has been attributed to war at sea, battleships, torpedoes and sinkings, etc., upsetting current patterns. Yet to be investigated.
No COP-OUT conference of the parties would ever suggest anything so positive as taxing coal and oil derived products, because coal and oil are not included in the dialogue, because the UN are pussies at the negotiating table - all talk - no action. You cannot plough a field by talking about it!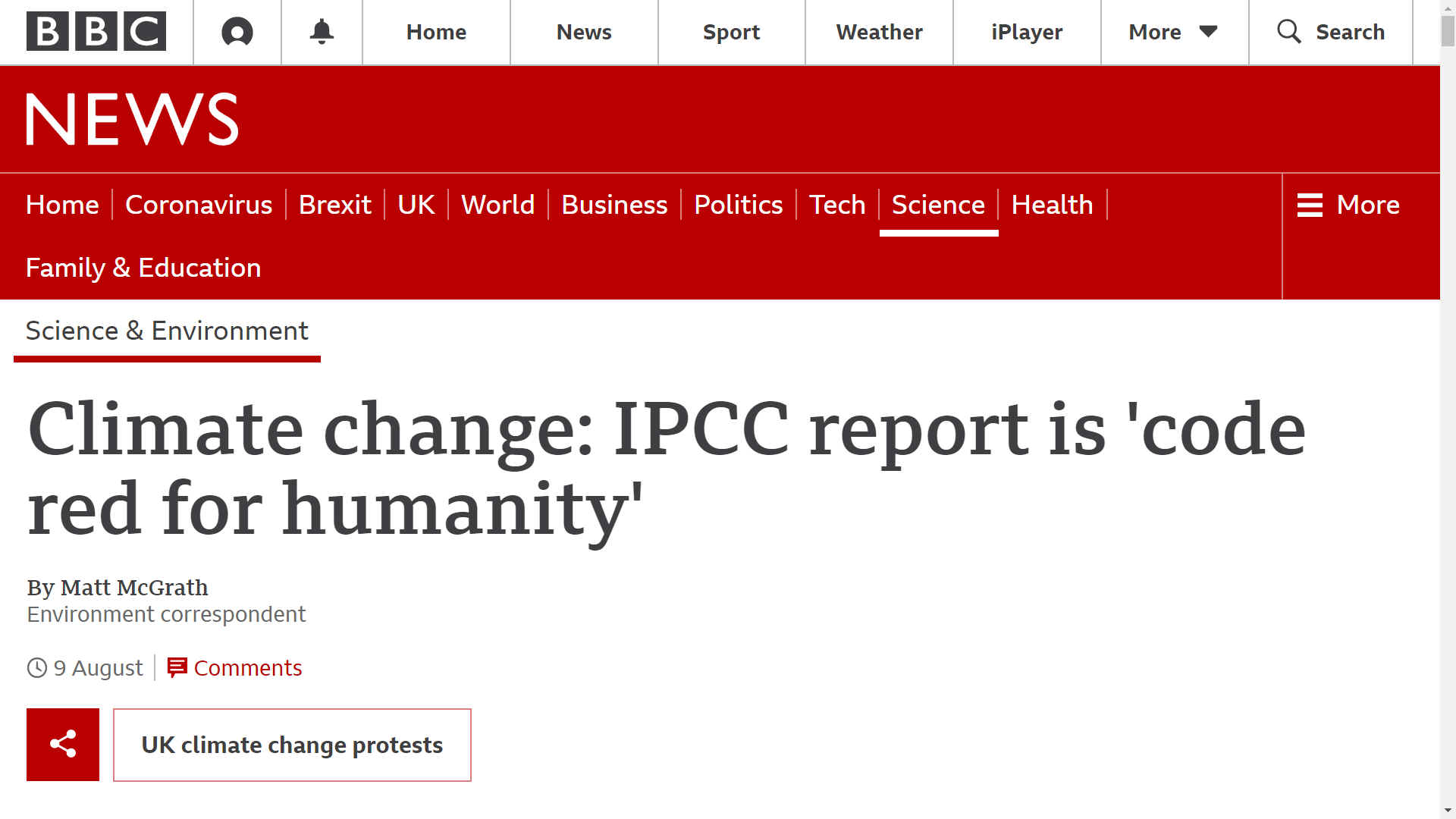 UN'S IPCC CODE RED - Although not actually using the above terminology in the Report, August 2021, it has been interpreted by most people reading the document as a Code Red for Humanity. Code Red is equal to DefCon1, in military terms.
TOP CLIMATE DENIERS - THE WORLD'S HEAD UNDERTAKERS
A colorful cast of characters has made a living out of denying the science of climate change. These so-called "experts" often start out their statements with "I'm not a climate scientist, but…" before launching into a series of carefully rehearsed talking points meant to confuse the public on the climate change issue. Many of them are well-paid operatives of organizations like The Heartland Institute, CFACT, and Americans for Prosperity, which take contributions from fossil fuel corporations — including ExxonMobil, the Koch Brothers and their company Koch Industries — who seek to delay or block any substantial government policy initiatives meant to curb fossil fuel emissions or hasten the rapid growth of cheaper, cleaner sources of energy like wind and solar power.
Only a handful of powerful individuals bear the personal responsibility for stoking global warming.

The nation's worst polluters have managed to evade accountability and scrutiny for decades as they helped the fossil fuel industry destroy our planet. The actions of these climate super-villains have affected millions of people, disproportionately hurting the vulnerable who have done the least to contribute to global emissions.

Working- and middle-class people must stop blaming themselves for the climate crisis. Instead, it's time to band together to seek justice and hold these profiteers accountable. Only in calling out their power and culpability is it possible to reclaim the world that belongs to all of us, together.

Below is a list of the most prominent climate deniers working actively to mislead the public and delay policy action to address climate change: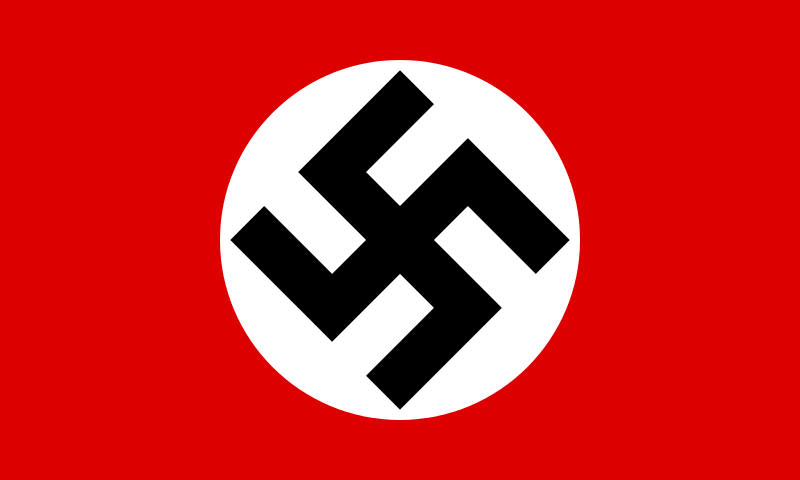 SEN. JAMES INHOFE
Senator James Inhofe (R-OK) is the chairman of the Senate Committee on Environment and Public Works. According to Oil Change International, Inhofe has received over $2 million in political contributions from the fossil fuel industry. He once compared the Environmental Protection Agency to the Gestapo, and brought a snowball onto the Senate floor to 'disprove' global warming. Sen. Inhofe, author of the 2012 book The Greatest Hoax: How the Global Warming Conspiracy Threatens Your Future, once claimed on the Senate floor that "man-made global warming is the greatest hoax ever perpetrated on the American people."





MARC MORANO

Marc Morano: Executive director of ClimateDepot.com and communications director for the Committee for a Constructive Tomorrow (CFACT), an anti-science think tank that has received funding from ExxonMobil, Chevron, as well as hundreds of thousands of dollars from foundations associated with Richard Mellon Scaife. Morano previously worked for Sen. James Inhofe and began his career with Rush Limbaugh.

Read more on DeSmog's Denier Database




CHRIS HORNER
Christopher C Horner is a Senior Legal Fellow for the Energy and Environment Legal Institute (E&E Legal) and a senior fellow for the Competitive Enterprise Institute (CEI). Horner has personally received funding from the coal company Alpha Natural Resources for legal counsel, as well as fossil fuel funding to his organization. He is a regular speaker at the Heartland Institute conferences.


Randy Randall
Tom de Weise
Austin Smithson
Brandon Middleton
Myron Ebell is the director of energy and global warming policy at CEI and director of Freedom Action, a "web-based grassroots activist organization loosely affiliated with CEI." He is also the chair of the Cooler Heads Coalition, which describes itself as "focused on dispelling the myths of global warming."




STEVE MILLOY
Steve Milloy was most recently the Director of External Policy and Strategy at Murray Energy Corp, which claims to be the largest privately-owned coal producer in the United States. Milloy is the publisher of the websites JunkScience.com, a former columnist for Fox News, co-creator and manager of the Free Enterprise Action Fund, an adjunct scholar with the Competitive Enterprise Institute and the president of the business consulting firm Steven J. Milloy, Inc. Milloy is also a Senior Policy Fellow at the Energy & Environment Legal Institute. Steve Milloy has been associated with the major American tobacco companies since at least 1997.




PATRICK MICHAELS
Pat Michaels is the director of the Center for the Study of Science at the conservative Cato Institute. Michaels is a regular commentator on climate change issues on Fox News and Forbes and contributes opinion articles to US newspapers and has written several books critical of climate change science and the risks of rising greenhouse gas emissions. Michaels once estimated that "40 percent" of his funding comes from the oil industry.





BJØRN LOMBORG
Bjørn Lomborg is a political scientist, economist and the founder and president of the Copenhagen Consensus Center (CCC). Lomborg is the author of The Skeptical Environmentalist and Cool It, two books that downplay the risks of global warming. Lomborg is a regular critic of renewable energy and claims that fighting global warming is too expensive to warrant taking action. He also advocates for the expansion of fossil fuel usage in developing countries, particularly natural gas fracking, and claims "there is a lot of positives to global warming right now."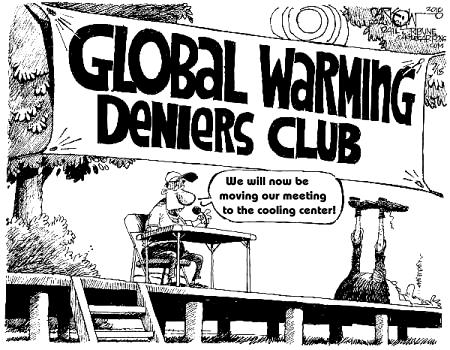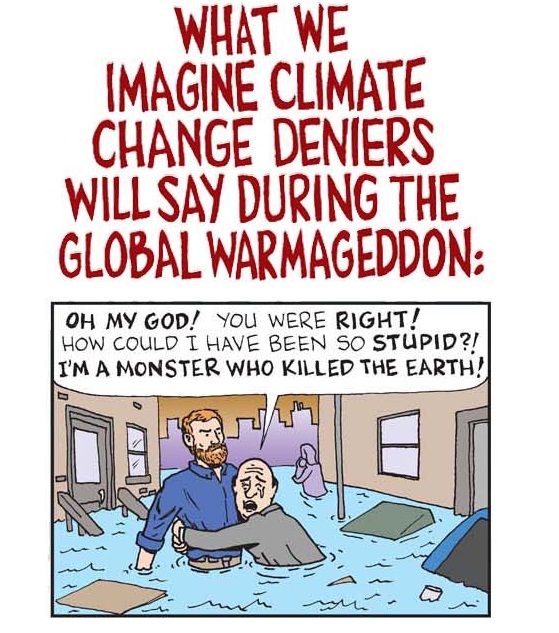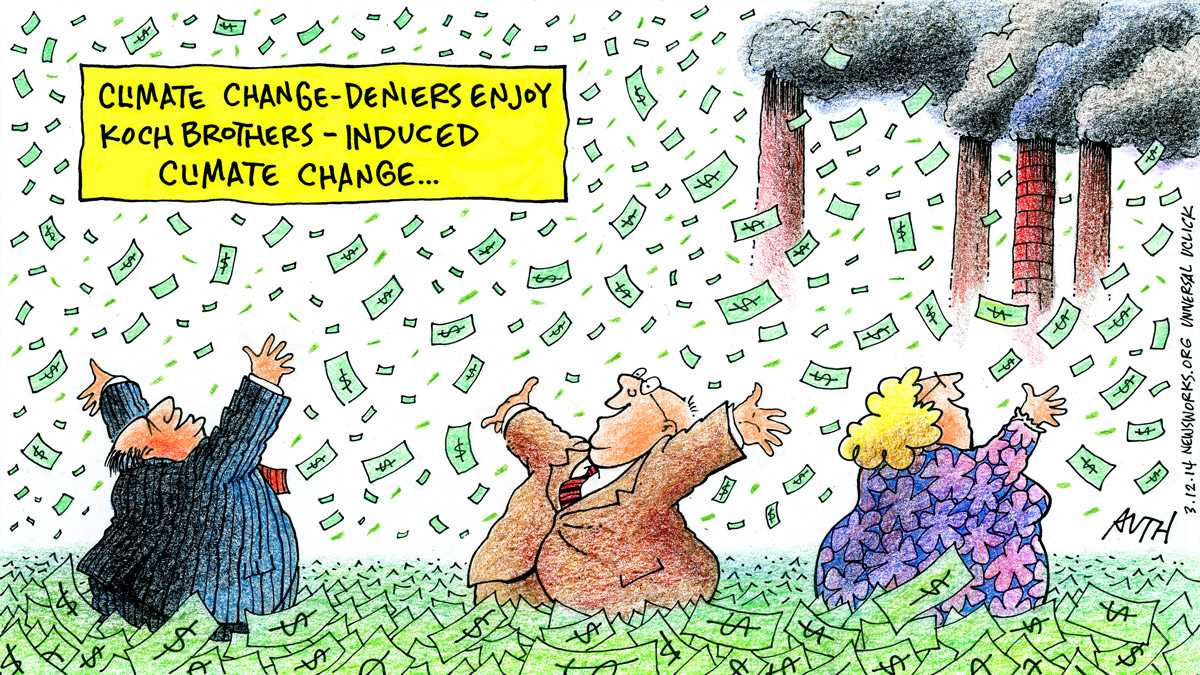 MATT RIDLEY
Viscount Matthew White Ridley is a Conservative hereditary peer in the British House of Lords, a science writer, journalist, author, and advisor to the Global Warming Policy Foundation (GWPF). He was a strong advocate for the "Brexit" campaign to pull Britain out of the European Union. Ridley benefits financially from coal mining on his family's land, advocates for expanded gas fracking and criticizes renewable energy technologies. "I am a climate lukewarmer. That means I think recent global warming is real, mostly man-made and will continue but I no longer think it is likely to be dangerous…" Ridley says.



CHRISTOPHER MONCKTON
Christopher Walter Monckton, the third Viscount Monckton of Brenchely, is a former British politician affiliated with the UK Independence Party. He holds a degree in classics and a diploma in journalism. Monckton claims that "global warming will not affect us for the next 2,000 years, and if it does, it won't have been caused by us." He once led a Tea Party crowd in a call-and-response that "Global warming is? BULLSH**T."




FRED SINGER
Siegfried Frederick Singer (S. Fred Singer) is a former space scientist and government scientific administrator, and founder of the denial organization Science & Environmental Policy Project (SEPP). Leaked documents obtained by DeSmogrevealed that Fred Singer received $5,000 a month from the Heartland Institute. Singer claims, "Climate change is a natural phenomenon. …since 1979, our best measurements show that the climate has been cooling just slightly. Certainly, it has not been warming."




ROY SPENCER
Roy W. Spencer is a research scientist at the University of Alabama, Huntsville, and self-describes as a climatologist, author, and former NASA scientist. He has received funding from the coal company Peabody Energy to testify at a Minnesota state hearing on the impacts of carbon dioxide. Spencer's position on climate change is: "There's probably a natural reason for global warming […] We will look back on it as a gigantic false alarm […] The Earth isn't that sensitive to how much CO2 we put into the atmosphere. I think we need to consider the possibility that more carbon dioxide is better than less."
ZEWT ALORS - Sulfur from ship exhaust stacks is one of the major causes of acid oceans. But ships could easily be clean using a combination of fuel cells, green hydrogen and batteries. The oil giants have been lobbying for years to keep shipping dirty, because they could then sell their heavy diesel bunker oils. In Europe, they have the Zero Emission Waterborne Transport programme, that is unfortunately, only open to big players in 2022. But, nevertheless, is a start.
ANOTHER DIRTY DOZEN
THE WOKE-WASHER - Mike Wirth is Chairman of the board and CEO of Chevron

Mike Wirth captains Chevron, a notorious corporate polluter responsible for one of the highest total carbon emissions of any private company worldwide.

Under Wirth's direction, Chevron has pursued several greenwashing tactics to downplay the company's environmental impact. A coalition of environmental groups filed a Federal Trade Commission complaint against Chevron earlier this year saying it misled the public by claiming responsibility only for carbon emissions associated with refining and transporting oil, not the total emissions created by the product it sells.

Wirth also sits on the board of the American Petroleum Institute, an oil industry trade group with a long track record of spreading climate denial and delaying legislative efforts to curb carbon emissions.

In his own words: "Let them plant trees."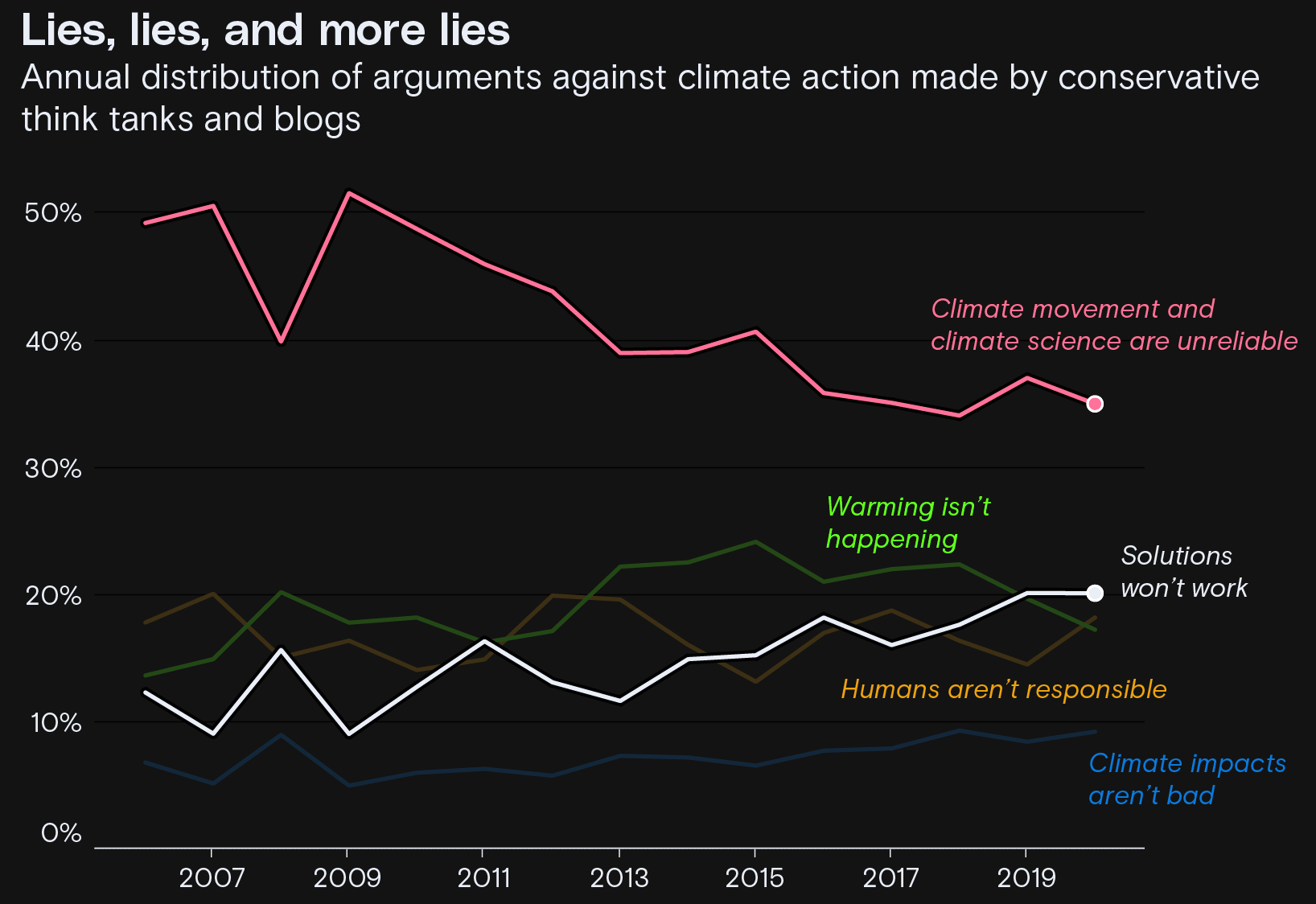 THE RINGLEADER - Darren Woods is the Chairman of the board and CEO of Exxon

ExxonMobil is publicly known as one of the first oil companies to become aware of climate change, more than 40 years ago. Still, Exxon spent millions of dollars spreading climate denial while simultaneously contributing the fourth largest amount of carbon emissions of any investor-owned company in the world.

Woods, who has been with the company since 1992, makes more than $20m a year. And though he expressed support for the 2015 Paris agreement to substantially reduce global pollution, leaked documents showed his plan for the company to increase its emissions by 17% through 2025.

Earlier this year, Exxon lobbyists were captured on video revealing the company's efforts to obstruct climate legislation in Congress. Woods later tried to distance himself and the company from the lobbyists, saying they "in no way represent" Exxon's position.

In his own words: Woods once called carbon reduction standards "a beauty match, a beauty competition".



THE ENABLER - Jamie Dimon is the CEO of Chase Bank

Billionaire Jamie Dimon is top dog at JP Morgan Chase, which has provided $317bn in fossil fuel financing – 33% more than any other bank – since the Paris agreement was adopted in 2015. Under Dimon, Chase has also funneled more than $2bn into tar sands projects between 2016 and 2019.

When Chase's managing director, Greg Determann, was asked early this year if the company would still lend to oil and gas companies despite the worsening climate crisis, Determann replied: "'Mr Dimon is quite focused on the industry. It's a huge business for us and that's going to be the case for decades to come."

In his own words: "The solution is not as simple as walking away from fossil fuels."




THE FINANCIER - Larry Fink is the CEO of BlackRock

As the chief executive of BlackRock, Fink oversees one of the world's largest fossil fuel investment portfolios, with $87bn behind the industry.

And though Fink has made sweeping climate promises and even wrote an op-ed about achieving a "net-zero" world, his company has profited off deforestation – a major cause of rising emissions – more than any other company globally.

Fink has also pushed BlackRock to vote against pro-climate action shareholder resolutions – all while angling for money from the federal government that should go to climate projects.

In his own words: "Without global action, every nation will bear enormous costs from a warming planet, including damage from more frequent natural disasters and supply-chain failures."


THE KINGPIN - Charles Koch is the Chairman and CEO of Koch Industries.
He has been labeled by Greenpeace as a "kingpin of climate denial".

The Kochs, and particularly Charles, moved early to politicize climate change. Charles founded and funded the Cato Institute, a libertarian thinktank known to coordinate and distribute climate denial, which became the first organization to stoke the ideological divide on the climate crisis. Koch Industries went on to spend nearly $150m financing climate denial groups between 1997 and 2018 alone.

Since his brother's death, Charles has attempted to backtrack on his legacy of sowing hyper-partisan division. But according to OpenSecrets, Koch Industries is the top spender ($5.6m) on annual lobbying on oil and gas so far this year.

In his own words: "Boy did we screw up. What a mess!"


THE OBSTRUCTIONIST - Mitch McConnell - Senate minority leader

Mitch McConnell admitted to believing in human-caused climate change only in 2020. He is also the chief architect of ongoing Republican obstructionism. Under President Obama, whose climate actions he smeared as a "war on coal", McConnell used the filibuster to block even tepid climate reforms supported by a majority of Americans.

Under Trump, McConnell nuked the judicial filibuster in order to put three anti-science, pro-corporate justices on the supreme court, including Amy Coney-Barrett, who maintains deep family ties to big oil (her father worked at Shell for decades). And now, McConnell is ensuring that 100% of Republicans will vote against all of Biden's climate agenda.

McConnell is also heavily funded by the fossil fuel industry, to the tune of more than $3m over the course of his infamous career.

In his own words: "I'm not a scientist."




THE SABOTEUR - Joe Manchin - US senator

Today, Joe Manchin is most famous for being a swing vote for important legislation, but the real story is how the fossil fuel industry made him mega-wealthy through two coal companies he founded in the 1980s.

While even coalminers in his home state of West Virginia support a Green New Deal, Manchin uses his position to hold climate legislation hostage on behalf of the fossil fuel industry – which he is doing by threatening to vote against Biden's Build Back Better climate agenda. The Exxon lobbyists caught on tape earlier this year specifically identified Manchin as "their guy", and said they meet with him several times a week.

According to OpenSecrets, Manchin takes more money from the fossil fuel industry than any other Democrat.

In his own words: "If you're sticking your head in the sand, and saying that fossil [fuel] has to be eliminated in America … and thinking that's going to clean up the global climate, it won't clean it up at all. If anything, it would be worse."



THE PROPAGANDIST - Mark Zuckerberg - Facebook founder and CEO

Zuckerberg, whose net worth is $120bn, shows a consistent willingness to profit off the spread of climate denial on behalf of the fossil fuel industry. In April 2021, Zuckerberg told Congress climate misinformation was "a big issue", yet Facebook has done little to rein in climate denial or challenge the fossil fuel industry.

Last year, pro-fossil fuel Facebook ads were viewed 431m times. In just the first half of 2020, ​ads on Facebook calling climate change a hoax were viewed at least 8m times in the United States alone.

In 2019, an article falsely attributing climate change to Earth's solar orbit went viral, accumulating millions of views without intervention by the company. And this year, one report found that in just the first two months of 2021, Facebook spread climate denial to more than 25 million people, including posts about wind turbines being to blame after Texas froze over in February.

Meanwhile, Facebook has muzzled actual climate scientists trying to share peer-reviewed research.

In his own words: "Move fast and break things. Unless you are breaking stuff, you are not moving fast enough."



THE TYCOON - Rupert Murdoch - Founder of News Corp

The father of international media conglomerate News Corp and the CEO of Fox News, the Wall Street Journal, and many other outlets, Australian American tycoon Rupert Murdoch has overseen his companies' rampant spreading of misinformation and climate denial for decades, netting him over $23bn.

Although Murdoch has claimed his company does not support climate denial, his news outlets have published article after article sowing doubt in climate science. Meanwhile, as of 2019, more than 80% of climate coverage on Fox News was steeped in denial, according to an analysis by the consumer advocacy organization Public Citizen.

In his own words: "Climate change has been going on as long as the planet is here, and there will always be a little bit of it."




THE DESTROYER - David MacLennan is CEO of Cargill

Rainforests are the most important climate regulators in the world. But Cargill, a global food corporation helmed by MacLennan, has a profit model based on rainforest destruction caused by soy and beef production, particularly in the Amazon.

MacLennan has been in charge of the company's global strategy since 2013. He was calling the shots when, in 2019, former congressman Henry Waxman called Cargill the "worst company in the world", referring to its track record on deforestation.

Thanks to public pressure, Cargill did recently declare a moratorium on buying agricultural products from illegally cleared rainforest, but there is evidence that under MacLennan's leadership, the company is already ignoring its own commitment.

In his own words: When asked why Cargill wasn't eliminating deforestation from its supply chain: "The supply chains in Brazil are very complicated."




THE FABULIST - Richard Edelman PR

Edelman heads the global communications firm Edelman PR as CEO, which made tens of millions of dollars over the years by working with fossil fuel companies. His firm has created multi-pronged PR, advertising and lobbying campaigns with ExxonMobil, TransCanada, the American Petroleum Institute and Shell – prompting high-profile clients and executives to leave over the firm's work peddling climate denial.

In 2015, Edelman announced that the firm would stop accepting climate denier assignments, but he has since claimed that the firm's work for Shell, ExxonMobil and more don't technically qualify as climate denial.

Tax filings show that since that 2015 announcement, the firm has raked in $12m for its work with the American Fuel and Petrochemical Manufacturers alone, whose most recent focus has been increasing criminal penalties for pipeline protesters.

In his own words: "I'm proud of what our firm is doing to build a house of trust through our mission, values, and actions."



Ted Boutrous - THE SMOOTH TALKER

Ted Boutrous is a partner of Gibson Dunn law firm

As Chevron's lead attorney and the main spokesman for all the oil companies in some two dozen climate liability cases, Boutrous sets the agenda in answering to the fossil fuel industry's decades of lies about climate change. His argument before the courts hinges on the idea that every person shares equal blame for the climate crisis, and that it's "counterproductive" to hold the fossil fuel industry particularly responsible.

Law Students for Climate Accountability rates Gibson Dunn among the worst of the worst on its climate scorecard for having the second-highest amount of fossil fuel litigation work of all 26 firms the group evaluated.

In his own words: "Chevron is a great company and great client with a strong culture of social responsibility."
COP 21 PARIS - THEIR DIRTIEST FOSSIL FUEL LOBBYISTS BEHIND THE DOORS OF #COP21

The world was calling for a commitment to a 100% clean future at the climate summit in Paris. But a group of climate criminals were trying to stop that deal. Their tactics were/are different, but their end game is the same: shift the focus away from emissions targets and keep fossil fuels at the centre of human development.
Some even argue that more money should be spent on coal - the worst carbon-polluting fuel. Most get paid by fossil fuel companies like Exxon to speak against climate action. Some of them have launched extreme public attacks against scientists and others.

That is why Avaaz sought to expose the biggest climate criminals attending the COP21 Paris climate summit.


BENJAMIN SPORTON - Coal lobbyist-in-chief, World Coal Association

Sporton is the newly-appointed chief executive of the World Coal Association (WCA), the body that represents the interests of the coal industry. With coal companies reeling from a plummeting coal price and the prospect of a global climate agreement spelling tough times ahead, the WCA's job is to somehow convince the world that it makes sense to keep on burning coal, the most carbon-intensive fossil fuel. Or as Sporton puts it: "We need to see more investment in ensuring that people can access new coal technology."

The WCA is now arguing that coal is the only realistic way to provide energy to much of the world's poor - a message which may sound selfless, but is motivated by self-interest and conveniently ignores the huge impact that climate change will have on the world's poorest people.


FIONA WILD - PR Manager for the World's Most Valuable Mining Company, BHP Billiton

Fiona Wild is the Environmental Affairs Manager at BHP Billiton, the world's top mining company based on 2015 market value. She leads the implementation of BHP Billiton's climate change strategy.

Ahead of Paris, "Wild reasserted coal's place - and that of fossil fuels more broadly - in BHP's portfolio", which may be unsurprising given that BHP is invested in some of the biggest coal mines in the world and is sitting on coal stockpiles that if burned would produce billions of tonnes of carbon dioxide. By supporting Tony Abbott's bid to ditch Australia's carbon tax, BHP helped cement Australia's role as one of the leading greenhouse gas emitters in the world.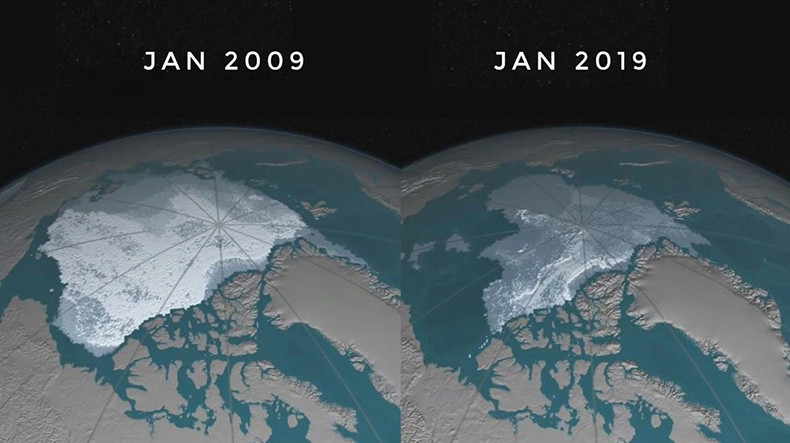 FLOP 26 - GLASGOW 2021
Unfortunately, all the talk in the world and promises to change, are largely hot air. Especially from the Dirty Dozen climate criminals, the worlds filthiest nations, measured by their CO2 and methane output.
They know that if they make all the right noises, that the UN are weak. In reality the planet is in a Trade War, with China and India producing goods using coal generated electricity. Russia, and the USA are addicted to oil. With Australia happy to mine and export coal to other countries, and of course use a little themselves, rather than embrace clean tech. And that is because of the coal and oil magnates who have a vice like grip on politicians.
SIX IMPORTANT CHANGES TO COOL THE PLANET
1. TRANSPORT: Phase out polluting vehicles. Government aims to end the sale of new petrol, and diesel vehicles by 2040 but have no infrastructure plan to support such ambition. Marine transport can be carbon neutral.
2. RENEWABLES: Renewable energy should replace carbon-based fuels (coal, oil and gas) in our electricity, heating and transport. Conventional energy exploration companies should consider a phased transition to green alternatives.
3. HOUSING: On site micro or macro generation is the best option, starting with sustainable new homes built of renewable materials that lock carbon and are affordable. Offering planning rights free to encourage eco builds and cut out empire building councils that add significant costs and legal obstacles to hinder progress.
4. AGRICULTURE: We need trees to absorb carbon emissions from a growing population, fossil fueled air travel, and to build new homes. We need to reduce food waste and promote less energy intensive eating habits such as no meat Mondays.
5. INDUSTRY: Factories should be aiming for solar heating and onsite renewable energy generation until the grid is all solar and wind powered.
6. POLITICS: - National governing bodies need to adopt policies to eliminate administrative wastages, to include scaling down spending on war machines, increase spend on educating the public and supporting sustainable social policies that mesh with other cultures. We need an end to local empire building kleptocrats.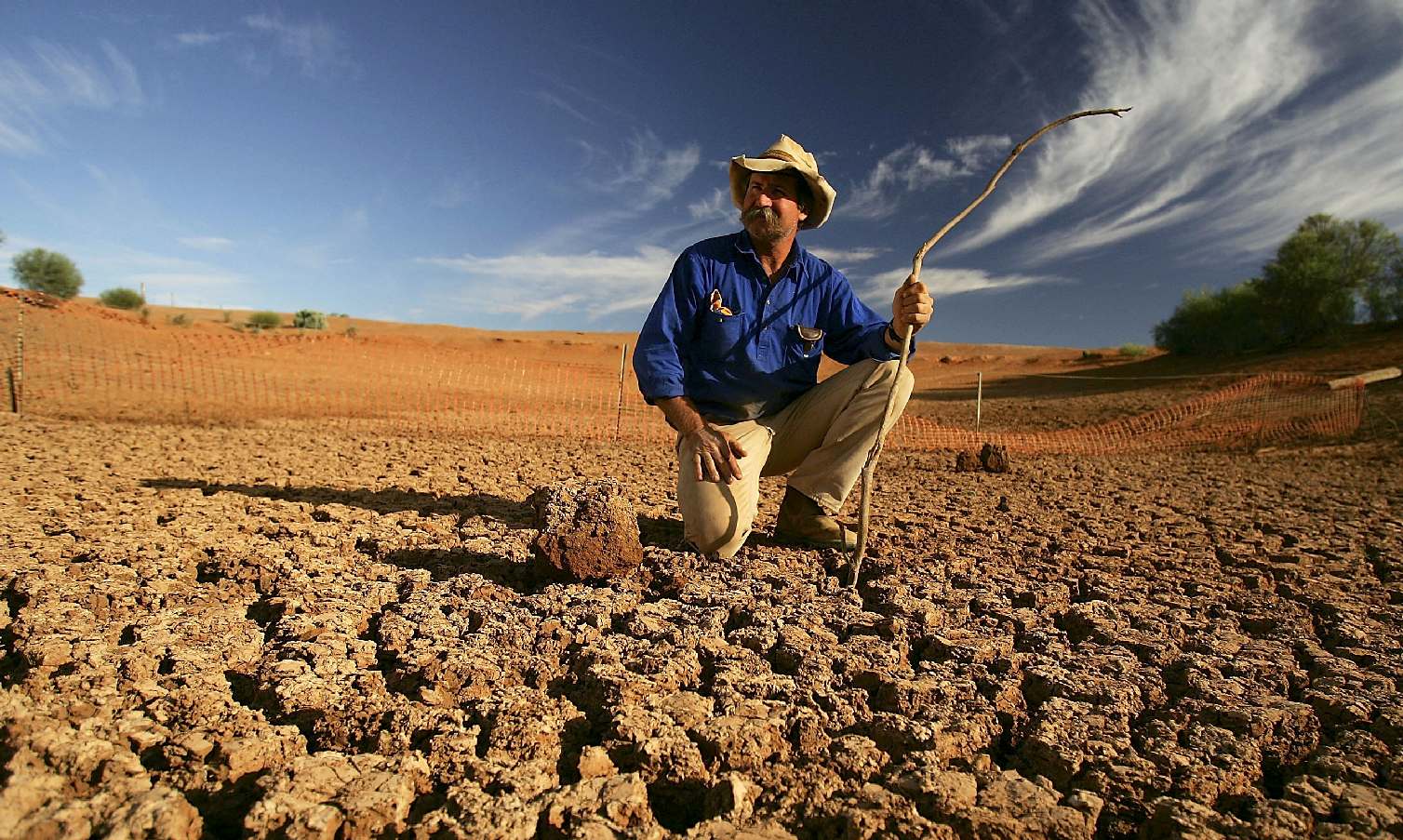 CLIMATE INACTION SUMMIT - Human activities are releasing nearly 10 Gegatons of Carbon (about 36 Billion tons of CO2) into the atmosphere every year, driving atmospheric CO2 concentrations to 400 parts per million (ppm) from their original pre-industrial levels of 280 ppm. This increase in CO2 and other greenhouse gases concentrations traps additional energy in the earth's climate system. What happens to this "extra" energy (0.5-1 watt/m2) remains a mystery to many outside the field of climate and sciences.
COP HISTORY
1995 COP 1, BERLIN, GERMANY
1996 COP 2, GENEVA, SWITZERLAND
1997 COP 3, KYOTO, JAPAN
1998 COP 4, BUENOS AIRES, ARGENTINA
1999 COP 5, BONN, GERMANY
2000:COP 6, THE HAGUE, NETHERLANDS
2001 COP 7, MARRAKECH, MOROCCO
2002 COP 8, NEW DELHI, INDIA
2003 COP 9, MILAN, ITALY
2004 COP 10, BUENOS AIRES, ARGENTINA
2005 COP 11/CMP 1, MONTREAL, CANADA
2006 COP 12/CMP 2, NAIROBI, KENYA
2007 COP 13/CMP 3, BALI, INDONESIA

2008 COP 14/CMP 4, POZNAN, POLAND
1995 COP 1, BERLIN, GERMANY
1996 COP 2, GENEVA, SWITZERLAND
1997 COP 3, KYOTO, JAPAN
1998 COP 4, BUENOS AIRES, ARGENTINA
1999 COP 5, BONN, GERMANY
2000:COP 6, THE HAGUE, NETHERLANDS
2001 COP 7, MARRAKECH, MOROCCO
2002 COP 8, NEW DELHI, INDIA
2003 COP 9, MILAN, ITALY
2004 COP 10, BUENOS AIRES, ARGENTINA
2005 COP 11/CMP 1, MONTREAL, CANADA
2006 COP 12/CMP 2, NAIROBI, KENYA
2007 COP 13/CMP 3, BALI, INDONESIA
2008 COP 14/CMP 4, POZNAN, POLAND
2009 COP 15/CMP 5, COPENHAGEN, DENMARK
2010 COP 16/CMP 6, CANCUN, MEXICO
2011 COP 17/CMP 7, DURBAN, SOUTH AFRICA
2012 COP 18/CMP 8, DOHA, QATAR
2013 COP 19/CMP 9, WARSAW, POLAND
2014 COP 20/CMP 10, LIMA, PERU
2015 COP 21/CMP 11, Paris, France
2016 COP 22/CMP 12/CMA 1, Marrakech, Morocco
2017 COP 23/CMP 13/CMA 2, Bonn, Germany
2018 COP 24/CMP 14/CMA 3, Katowice, Poland
2019 COP 25/CMP 15/CMA 4, Santiago, Chile
2020 COP 26/CMP 16/CMA 5, Glasgow, Scotland
2021 COP 26/ Glasgow, Scotland 1-12 November
2022 COP 27/ Egypt
NAZIS 1939 - 1945
Adolf Hitler

German Chancellor

Herman Goring

Reichsmarschall Luftwaffe

Heinrich Himmler

Reichsführer Schutzstaffel

Joseph Goebbels

Reich Minister Propaganda

Philipp Bouhler SS

NSDAP Aktion T4

Dr Josef Mengele

Physician Auschwitz

Martin Borman

Schutzstaffel

Adolph Eichmann

Holocaust Architect

Erwin Rommel

The Desert Fox

Rudolf Hess

Auschwitz Commandant

Karl Donitz

Submarine Commander

Albert Speer

Nazi Architect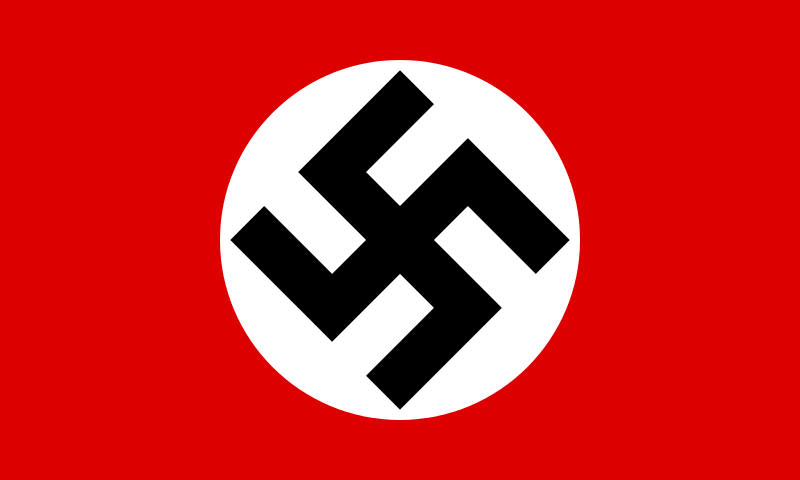 LINKS & REFERENCE
https://climatechangedispatch.com/fonda-politicians-nazi-war-criminals/
https://www.nationalgeographic.com/history/article/130507-nazi-war-criminal-holocaust-auschwitz-hans-lipschis-simon-wiesenthal-center-demjanjuk
https://iowaclimate.org/2021/06/30/climate-crimes-the-graun-goes-full-proto-nazi/
https://oceansgovernclimate.com/the-first-climate-criminal-adolf-hitler-1889-1945/
https://1ocean-1climate.com/if-the-ipcc-cant-answer-it-well-do-it/
https://www.theguardian.com/commentisfree/2021/oct/27/climate-crisis-villains-americas-dirty-dozen
https://www.nationofchange.org/2021/11/04/these-11-climate-science-deniers-are-attending-the-cop26-climate-summit/
https://secure.avaaz.org/campaign/en/climate_criminals/
http://www.climatecriminals.co.uk/
http://www.climatecrimeanalysis.org/
https://www.theguardian.com/environment/damian-carrington-blog/2011/jan/10/gabrielle-giffords-rightwing-rhetoric-climate-change
https://secure.avaaz.org/campaign/en/climate_criminals/
http://www.climatecriminals.co.uk/
http://www.climatecrimeanalysis.org/
https://climatechangedispatch.com/fonda-politicians-nazi-war-criminals/
https://www.nationalgeographic.com/history/article/130507-nazi-war-criminal-holocaust-auschwitz-hans-lipschis-simon-wiesenthal-center-demjanjuk
https://iowaclimate.org/2021/06/30/climate-crimes-the-graun-goes-full-proto-nazi/
https://oceansgovernclimate.com/the-first-climate-criminal-adolf-hitler-1889-1945/
https://1ocean-1climate.com/if-the-ipcc-cant-answer-it-well-do-it/
https://www.theguardian.com/commentisfree/2021/oct/27/climate-crisis-villains-americas-dirty-dozen
https://www.desmog.com/
https://www.nationofchange.org/2021/11/04/these-11-climate-science-deniers-are-attending-the-cop26-climate-summit/
Please use our A-Z INDEX to navigate this site