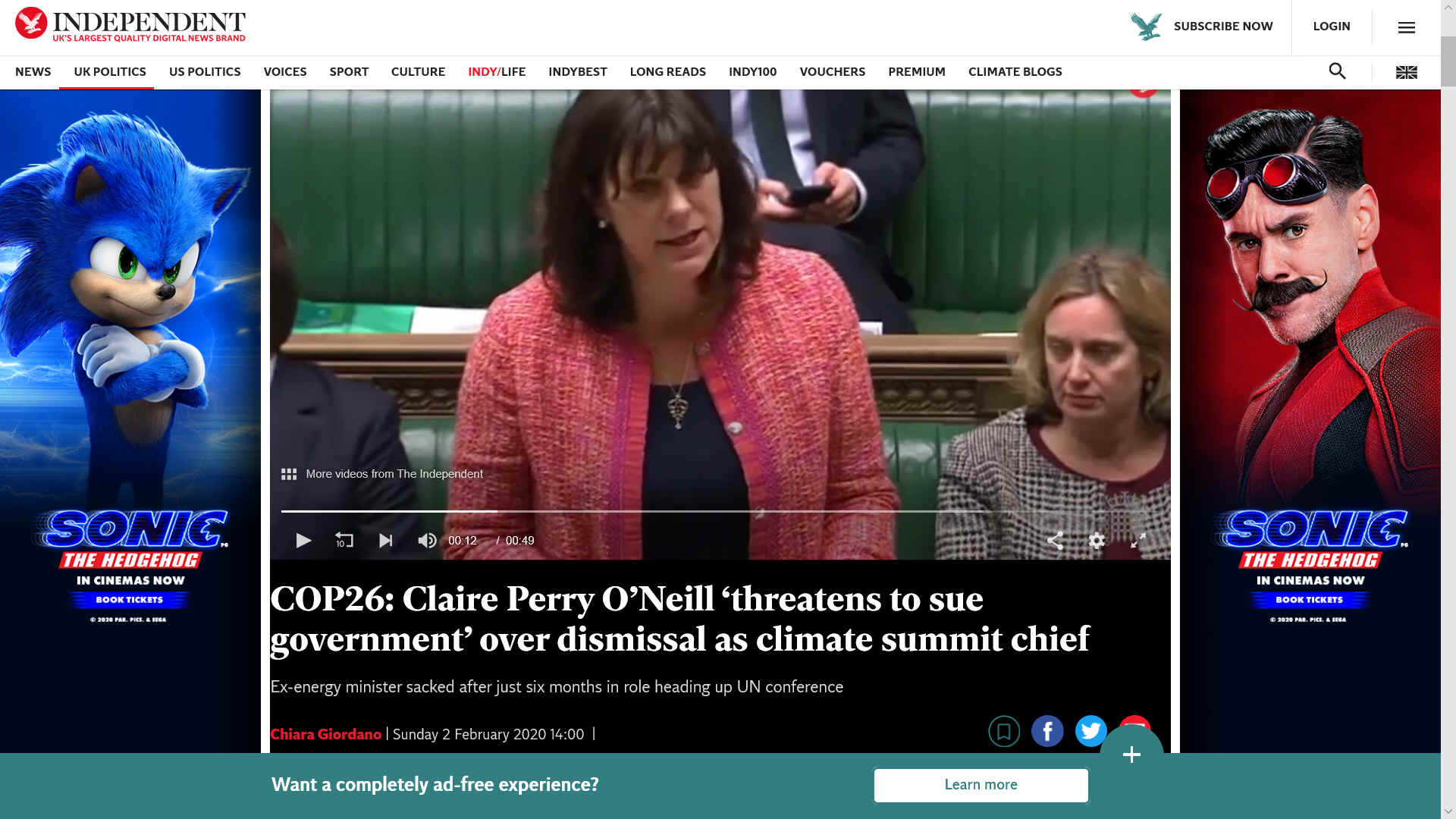 INDEPENDENT 2 FEB 2020 - More an advertising medium for cinema releases than a newspaper perhaps, but still carries the stories hitting the tabloids as a way of selling ad space. What have newspapers become. Sonic The Hedgehog for Prime Minister anyone? We had no idea Independent readers were into animated movies.
THE G20 @ COP 26, SCOTLAND, NOVEMBER 2021
| | | | | |
| --- | --- | --- | --- | --- |
| ARGENTINA | AUSTRALIA | BRAZIL | CANADA | CHINA |
| EUROPEAN UNION | FRANCE | GERMANY | INDIA | INDONESIA |
| ITALY | JAPAN | MEXICO | RUSSIA | SAUDI ARABIA |
| SOUTH AFRICA | SOUTH KOREA | TURKEY | UNITED KINGDOM | UNITED STATES |
AGRICULTURE | BANKS | HOUSING | GROUP20 | INDUSTRY | MONEY | POLITICS | RENEWABLES | TRANSPORT
The 2020 Climate Change Conference was to have taken place in Glasgow, Scotland.

This meeting would have addressed issues that have implications for climate ambition before and after 2021.
COP 26 / CMP 16 / CMA 3 was scheduled to take place from 9 to 20 November 2020.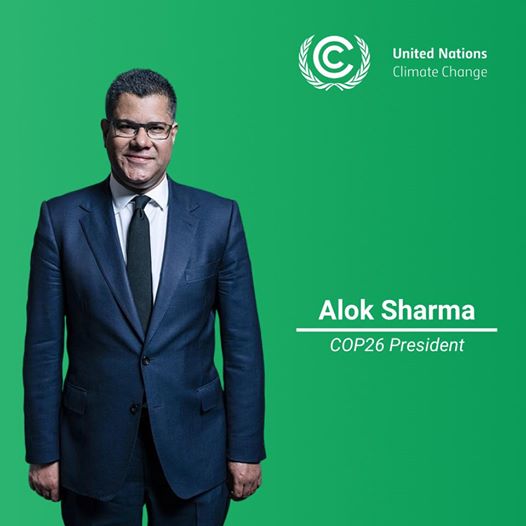 INDEPENDENT 2 FEB 2020 - Alok Sharma was appointed Secretary of State for Business, Energy and Industrial Strategy on 13 February 2020. He was also appointed Minister for COP 26, the 26th United Nations Climate Change Conference, on the same date.
He was previously Secretary of State for International Development from 24 July 2019 to 13 February 2020, and Minister of State for Employment at the Department of Work and Pensions from 9 January 2018 until 24 July 2019. Here we are looking at the rise of suicides from policy changes that made the poorest members of society poorer and unable to cope.
Alok Sharma was Minister of State for Housing and Planning, for the Department for Communities and Local Government from 13 June 2017 to 9 January 2018. With the building of so many climate unfriendly houses in the UK since then and the rise in planning consents to continue to do so, we wonder at the choice, that tends to suggest no change - and business as usual.
Alok was Parliamentary Under Secretary of State at the Foreign and Commonwealth Office from 17 July 2016 to 13 June 2017. He has served as a member of the Commons Treasury select committee, a member of the Commons Science and Technology select committee, a Parliamentary Private Secretary at the Treasury and from 2012 to 2015 as a Conservative Party Vice Chairman. Alok was appointed in 2016 as the Prime Minister's Infrastructure Envoy to India.
Prior to entering Parliament, Alok qualified as a chartered accountant with Coopers & Lybrand Deloitte, and then worked for 16 years within banking, first with the Japanese firm Nikko Securities and then Enskilda Securities (the investment banking arm of SE Banken), where he held senior roles based out of London, Stockholm and Frankfurt, including serving as a member of the bank's Corporate Finance Global Management Committee. Is it all about the money, or will he be counting the cost of global warming in his presidency of one of the most important conferences in 2020.

BAD HABITS
According to the figures from 2018, we are slipping back into our old ways. The use of coal is growing in China, having lifted their ban on new coal fired stations, and President Donald Trump is undoing most of the good achieved by the Barack Obama administration, especially on withdrawing from the Paris Agreement. This in not a game of political chess chaps, it is gambling with the lives of millions.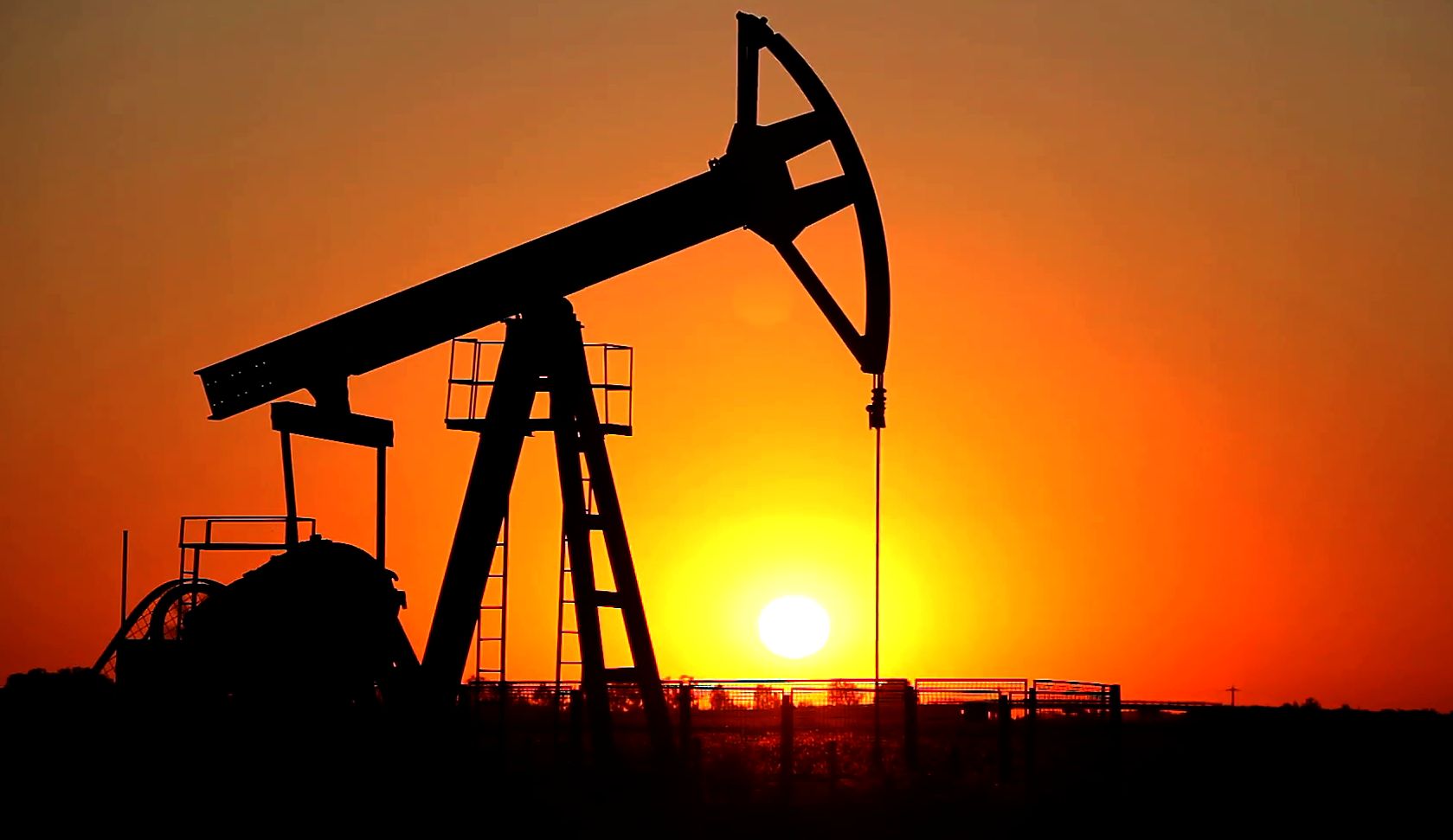 IT KILLS THEM GETTING IT OUT - Drilling and pumping oil is a messy occupation playing with carcinogenic fluids, that traditionally makes millionaires of those prospectors. Hence the name "Black Gold" and "Texas Tea." Years ago oil prospecting was respectable, today those investing in oil are deemed by many to be climate criminals - because it kills us when we burn it.
The Western European and Other States Group (WEOG), has endorsed the United Kingdom of Great Britain and Northern Ireland, in partnership with Italy, to host the twenty sixth session of the Conference of the Parties (COP 26), the sixteenth session of the Conference of the Parties serving as the meeting of the Parties to the Kyoto Protocol (CMP 16) and the third session of the Conference of the Parties serving as the meeting of the Parties to the Paris Agreement (CMA 3).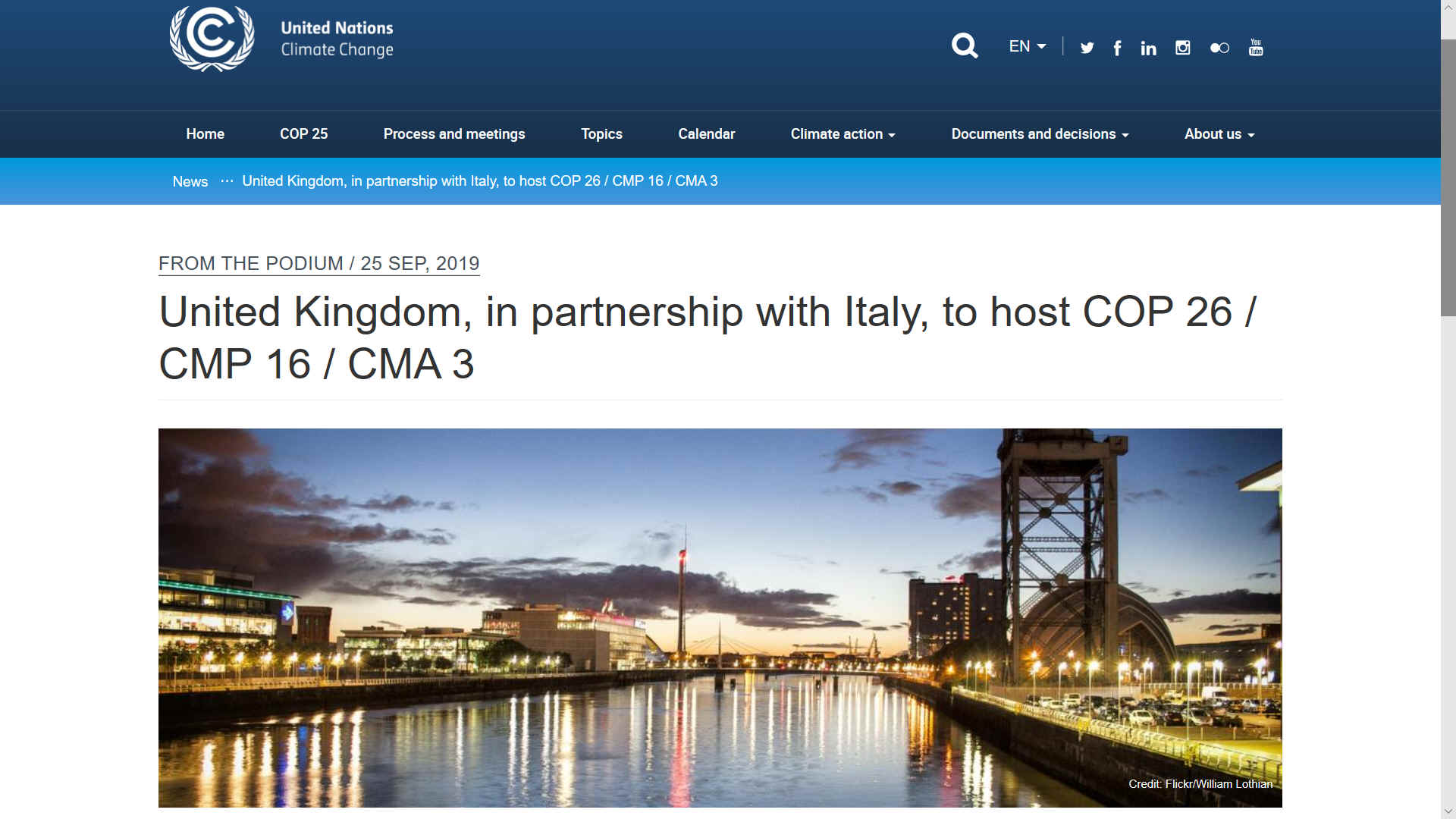 ...
VISION

The whole world is living a process of transformation towards a truly sustainable development. Raising the levels of ambition with a balance between mitigation and adaptation is essential. For this purpose, we need the participation of both the States and local governments, and the private sector.

The COP must encourage concrete climate action, ensuring an inclusive process for all parties and the formal integration of the scientific world and the private sector.

Our challenge is to achieve a transition towards increased action and that is perceived by the general public. Climate change is a reality now, not in 50 years' time.

Oceans

Oceans play a fundamental role in mitigating climate change since they capture and store more than 90% of the heat and approximately 25% of the carbon produced by emissions from human activities. Unfortunately, the increase in heat and carbon in the ocean is having visible, global impacts, and to a large extent, irreversible, such as the increase in temperature, sea level rise, ocean acidification and changes in marine biodiversity, among others.

Antarctica

Antarctica, the Arctic and mountain glaciers (cryosphere), besides being major water reserves, are important climate regulators since they reflect the solar energy back into space and thus affecting the planet's energy balance. The cryosphere is also very sensitive to global warming, which leads to melting and loss of mass, processes that are (in part) responsible for rising sea levels, loss of biodiversity and deterioration of ecosystems. Alterations occurring in Antarctica (due to climate change) will have global consequences and will last for several centuries.

Biodiversity

The direct and indirect effects of climate change are closely related to changes in biodiversity resulting from human activity, so it is essential to ensure the preservation of biodiversity and its functions and allow for our development as a society. Biodiversity is fundamental for the adaptation and mitigation of climate change, which is why it is necessary to carry out actions that enable its preservation.

Forests

Forests deserve special mention, as they play an important role in mitigating climate change by capturing and sequestering CO2 emitted into the atmosphere. In addition, they provide a number of benefits, such as water provision, protection of soil and biodiversity in general.

Adaptation

Estimations from climate change scenarios include increasing temperature, decreasing rainfall in the center-south and possible increases in farthest areas, and changes in glaciers surface area. These scenarios imply increasing extreme weather events and decreasing water availability, having significant impact on ecosystems, population and productive activities. In order to cope with this impact, adaptation measures are required across sectors. The implementation of these measures must be focused on institutional improvements, design of resilient infrastructure, protection of ecosystems and less vulnerable communities.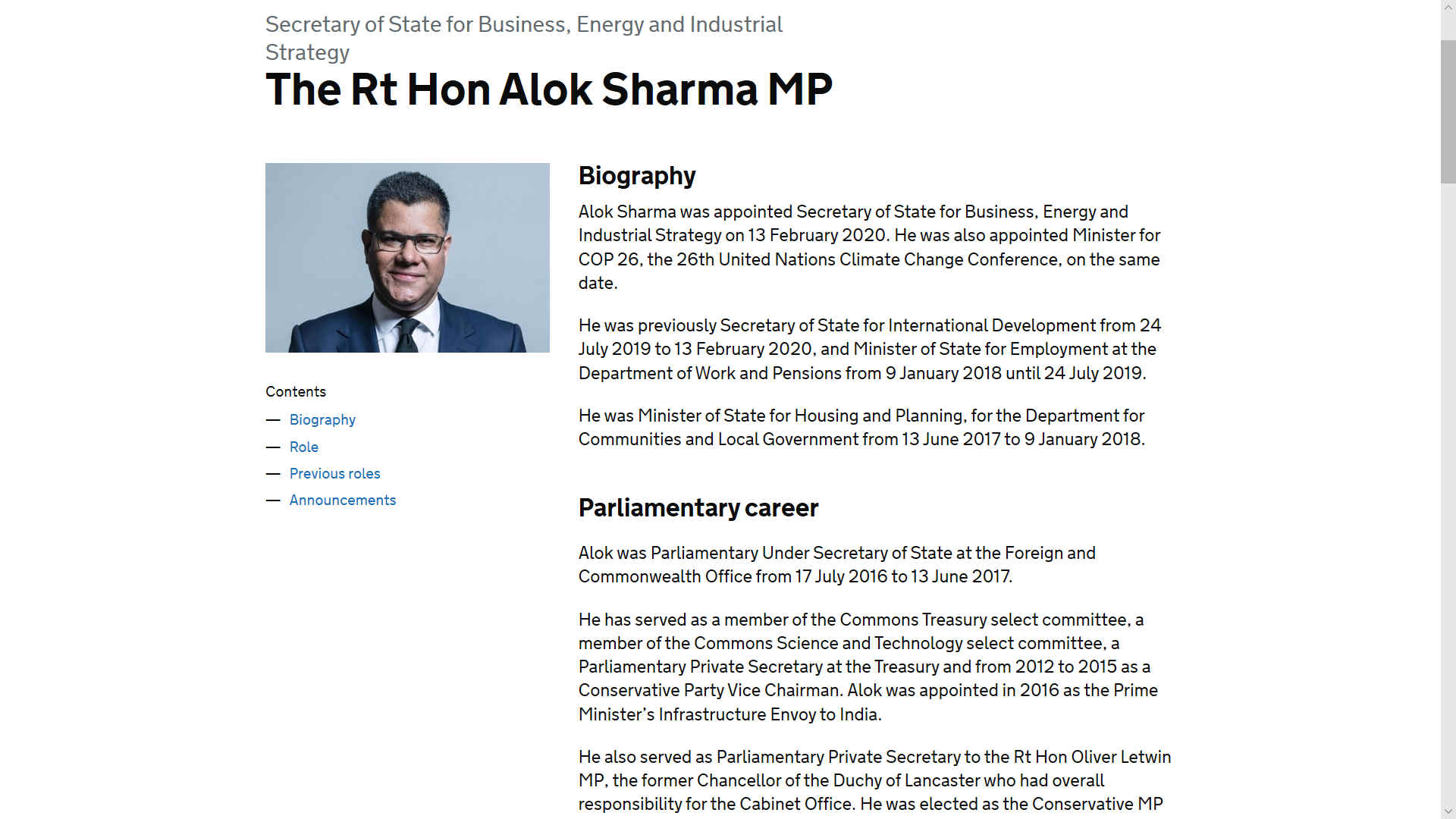 Cities

The world is facing an unprecedented process of urbanization. The large size of cities makes them extremely complex, but trends of weak sustainability are seen in medium-sized and small settlements as well.

Cities contribute to climate change through the use of energy for transport, construction, housing operations and production processes, and are therefore vulnerable to the impacts of climate change.

On the other hand, local mitigation actions by the cities have the potential for an immediate impact which, when added together, can create global effects and local co-benefits such as reduced air pollution.

With regard to adaptation, it is key for local and regional governments to integrate climate risks into their urban planning and management processes, in conjunction with the general public and service companies.

Renewable energies

Renewable energies are of the utmost importance for achieving sustainable development and the ambition to be carbon neutral by mid-century, as they do not generate direct greenhouse gases emissions (unlike fossil fuels).

Circular Economy

The fundamental principle of the circular economy is using waste as raw material for other products, drastically reducing both waste generation and the extraction of new and raw materials.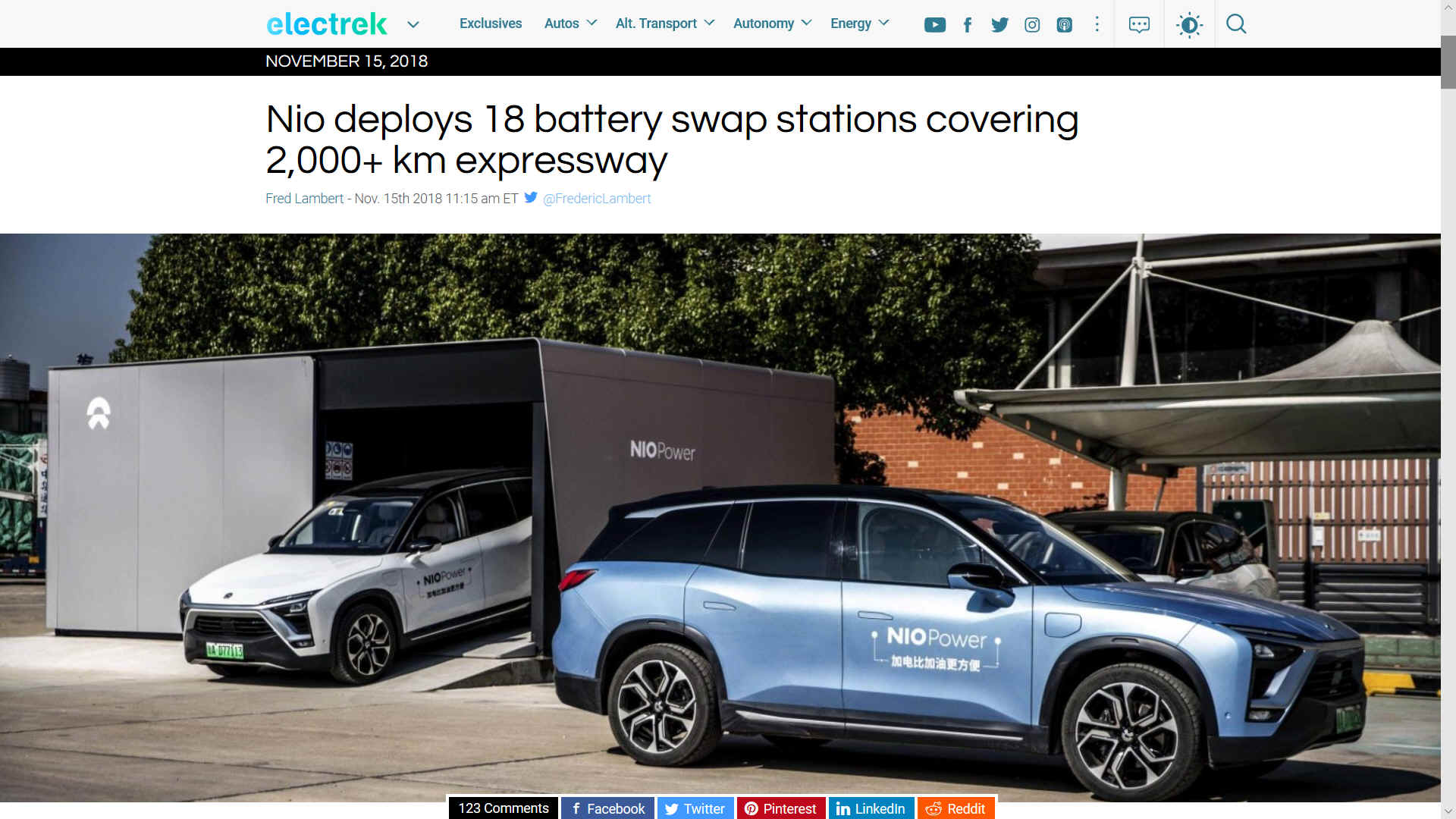 ELECTREK NOVEMBER 2018 - Nio deploys 18 battery swap stations covering 2,000+ km expressway

No one in the electric vehicle space has managed to make battery swapping work yet, but Nio is trying big time with 18 new battery swap stations covering a 2,000+ km expressway in China.
Several companies tried and failed at battery swapping. Tesla had a battery swap system that they seemingly abandoned and Better Place went bankrupt
But you could say Tesla didn't try that hard and has instead bet on fast-charging and Better Place was a little too ahead of its time.
Now Nio is trying to make battery swapping a reality.
We reported earlier this month about them building a battery swap station right next to a Tesla Supercharger – highlighting the growing options that EV drivers are getting.
It was only the beginning because today the startup unveiled 18 NIO battery swap stations located in 14 service areas along the G4 Expressway linking Shijiazhuang, Zhengzhou, Wuhan, Changsha, Guangzhou and other major cities. They held a press conference for the opening of the battery swap network, which is only the first of several networks, according to the company.
NIO co-founder and president, Lihong Qin, commented on the announcement:
"With the support of our partners, we've dedicated ourselves to deploying our battery swap network in order to offer users a worry-free driving experience on China's highways. The deployment of our battery swap network on the G4 expressway is the beginning of providing a charging experience beyond refueling,"
Furthermore, the company announced that "all ES8 Founders Edition owners, as well as owners who have put down a deposit on the ES8 Standard Edition, will be able to enjoy 12 free battery swaps every year at any service station across China."
They want to deploy 1,100 battery swapping stations by 2020. Last month, they announced that they delivered 3,350 ES8s, their electric SUV, since starting production this summer.
Electrek's Take - I'm growing more and more optimistic about Nio. They are delivering EVs, building infrastructure, and their own store and service networks. In my opinion, they are doing all the right things. That said, I've never had the chance to take a close look or test drive the ES8, but I'm hearing good things. They have some global ambitions so I might get the chance to test it out soon. Otherwise, I'll have to go to China. If you have experience with Nio and its vehicles, please don't hesitate to reach out and share your thoughts. By Fredericc Lambert
Electromobility

Mobility in cities is a major source of greenhouse gases emissions, as well as many other externalities. To reduce them, we must think about urban planning aiming at shorter distances, prioritizing non-motorized modes and promoting public transport.

With regard to the latter point, electro mobility represents a great opportunity if it goes along with renewable power generation. And it is especially attractive if the effort is focused on buses and urban trains.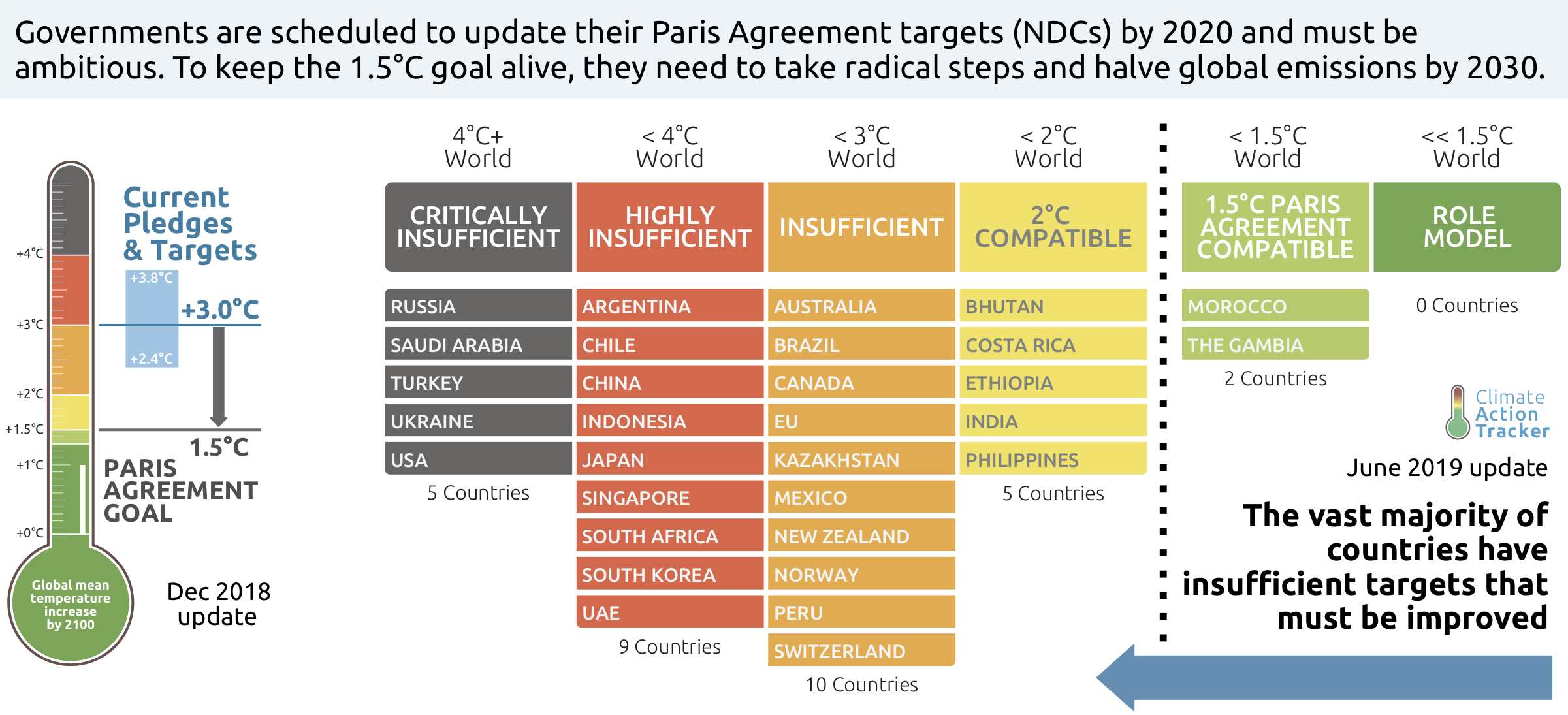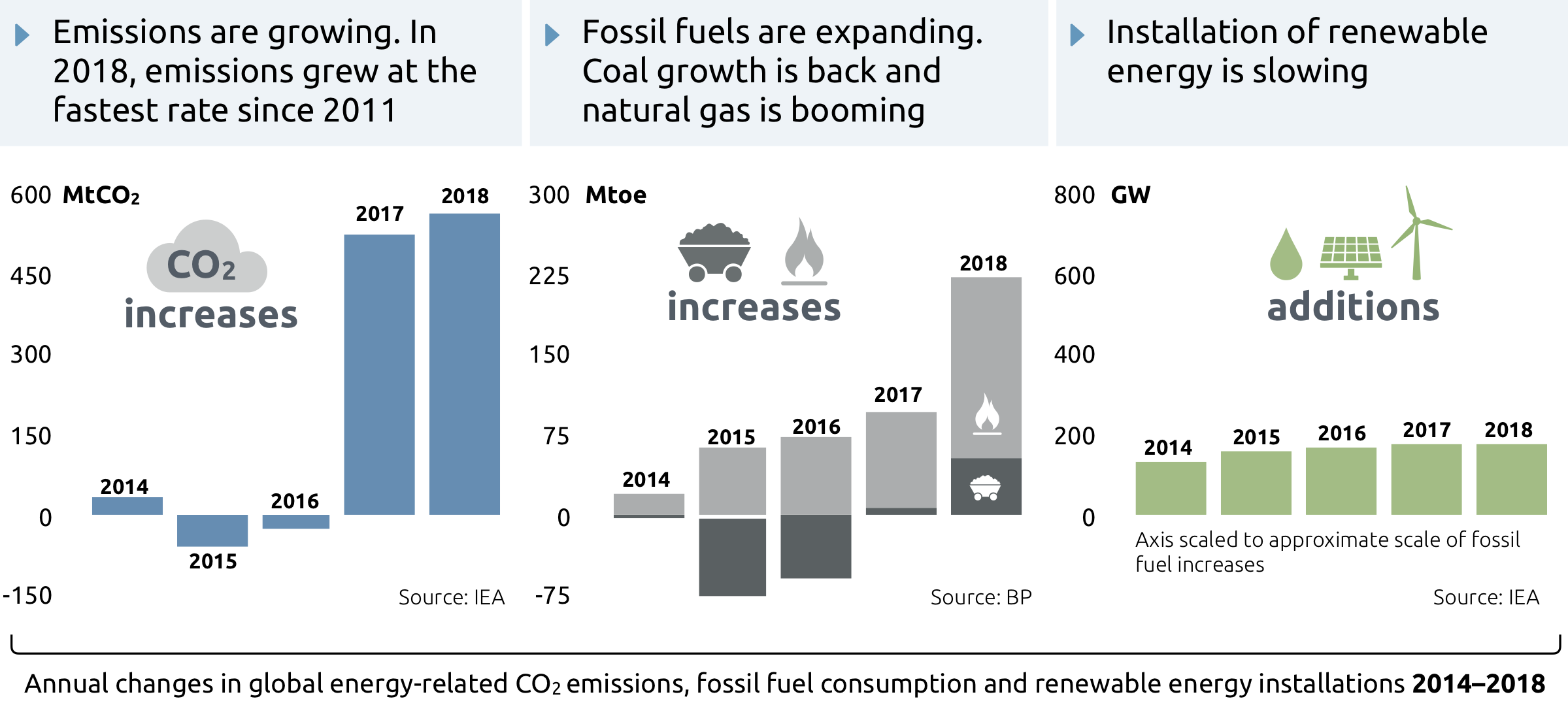 REVIEWS OF THE NDCs. HOW OFTEN?
The NDCs are plans by each country which include adaptation and mitigation strategies for climate change. These plans have to be revised as often as necessary (every 5 years) to reach the objective of keeping the planet's temperature below 1.5°C with respect to the pre-industrial era as recommended by the IPCC.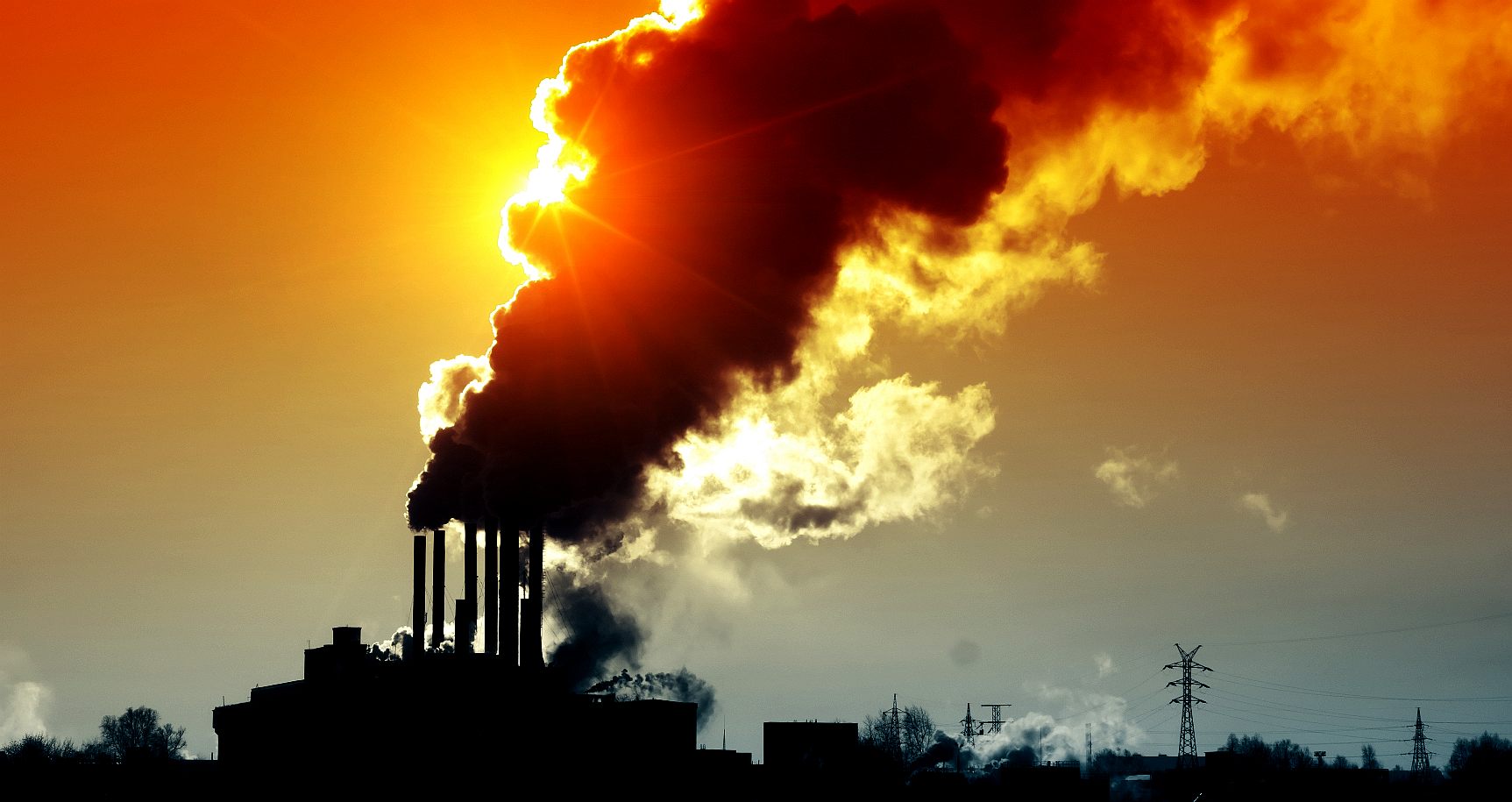 COP HISTORY
1995 COP 1, BERLIN, GERMANY
1996 COP 2, GENEVA, SWITZERLAND
1997 COP 3, KYOTO, JAPAN
1998 COP 4, BUENOS AIRES, ARGENTINA
1999 COP 5, BONN, GERMANY
2000:COP 6, THE HAGUE, NETHERLANDS
2001 COP 7, MARRAKECH, MOROCCO
2002 COP 8, NEW DELHI, INDIA
2003 COP 9, MILAN, ITALY
2004 COP 10, BUENOS AIRES, ARGENTINA
2005 COP 11/CMP 1, MONTREAL, CANADA
2006 COP 12/CMP 2, NAIROBI, KENYA
2007 COP 13/CMP 3, BALI, INDONESIA

2008 COP 14/CMP 4, POZNAN, POLAND
2009 COP 15/CMP 5, COPENHAGEN, DENMARK
2010 COP 16/CMP 6, CANCUN, MEXICO
2011 COP 17/CMP 7, DURBAN, SOUTH AFRICA
2012 COP 18/CMP 8, DOHA, QATAR
2013 COP 19/CMP 9, WARSAW, POLAND
2014 COP 20/CMP 10, LIMA, PERU
2015 COP 21/CMP 11, Paris, France
2016 COP 22/CMP 12/CMA 1, Marrakech, Morocco
2017 COP 23/CMP 13/CMA 2, Bonn, Germany
2018 COP 24/CMP 14, Katowice, Poland
2019 COP 25/CMP 15/ Santiago, Chile (venue moved)

2019 COP25/CMP 15, Madrid, Spain

BLUEBIRD MARINE ZEV - A prototype 50 meter container ship for long range routine inter-island provisioning in the Pacific Ocean and sustainable (eco) cruising in the Mediterranean Sea. If this vessel performs as expected, the age of zero carbon shipping is within our grasp - we could be about to enter the zero emission cruising era free of gases for fuel, subject to development of the concept.
SIX STEPS TOWARD A COOLER PLANET
1. TRANSPORT: Phase out polluting vehicles. Government aims to end the sale of new petrol, and diesel vehicles by 2040 but have no infrastructure plan to support such ambition. Marine transport can be carbon neutral.
2. RENEWABLES: Renewable energy should replace carbon-based fuels (coal, oil and gas) in our electricity, heating and transport.
3. HOUSING: On site micro or macro generation is the best option, starting with new build homes.
4. AGRICULTURE: We need trees to absorb carbon emissions from a growing population, flying, and to build new homes. Reducing food waste and promoting less energy intensive eating habits such as no meat Mondays.
5. INDUSTRY: Factories should be aiming for solar heating and onsite renewable energy generation.
6. POLITICS: - National governing bodies need to adopt policies to eliminate administrative wastages, to include scaling down spending on war machines, educating the public and supporting sustainable social policies that mesh with other cultures.
UN CLIMATE ACTION PORTFOLIOS
1. Finance
2. Energy Transition
3. Industry Transition
4. Nature-Based Solutions
5. Cities and Local Action
6. Resilience and Adaptation
7. Mitigation Strategy
8. Youth Engagement & Public Mobilization
9. Social and Political Drivers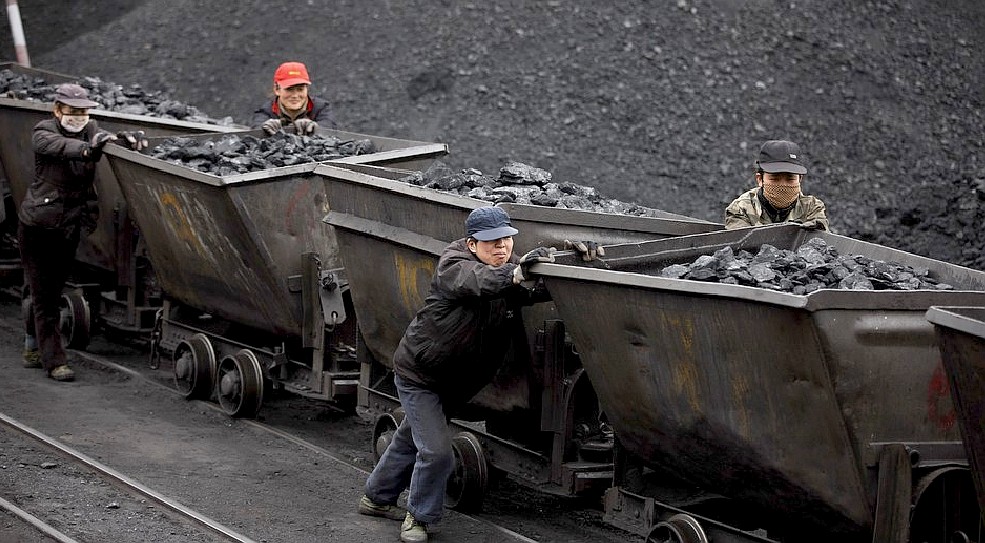 IT US KILLS GETTING IT OUT - Mining is traditionally a dangerous occupation. If a mine collapse does not get you, the carcinogenic dust will do you

r lungs no good.

DESERTIFICATION COP HISTORY
| | |
| --- | --- |
| COP 1: Rome, Italy, 29 Sept to 10 Oct 1997 | COP 9: Buenos Aires, Argentina, 21 Sept to 2 Oct 2009 |
| COP 2: Dakar, Senegal, 30 Nov to 11 Dec 1998 | COP 10: Changwon, South Korea, 10 to 20 Oct 2011 |
| COP 3: Recife, Brazil, 15 to 26 Nov 1999 | COP 11: Windhoek, Namibia, 16 to 27 Sept 2013 |
| COP 4: Bonn, Germany, 11 to 22 Dec 2000 | COP 12: Ankara, Turkey, 12 to 23 Oct 2015 |
| COP 5: Geneva, Switzerland, 1 to 12 Oct 2001 | COP 13: Ordos City, China, 6 to 16 Sept 2017 |
| COP 6: Havana, Cuba, 25 August to 5 Sept 2003 | COP 14: New Delhi, India, 2 to 13 Sept 2019 |
| COP 7: Nairobi, Kenya, 17 to 28 Oct 2005 | COP 15: 2020 |
| COP 8: Madrid, Spain, 3 to 14 Sept 2007 | COP 16: 2021 |
BIODIVERSITY COP HISTORY
| | |
| --- | --- |
| COP 1: 1994 Nassau, Bahamas, Nov & Dec | COP 8: 2006 Curitiba, Brazil, 8 Mar |
| COP 2: 1995 Jakarta, Indonesia, Nov | COP 9: 2008 Bonn, Germany, May |
| COP 3: 1996 Buenos Aires, Argentina, Nov | COP 10: 2010 Nagoya, Japan, Oct |
| COP 4: 1998 Bratislava, Slovakia, May | COP 11: 2012 Hyderabad, India |
| EXCOP: 1999 Cartagena, Colombia, Feb | COP 12: 2014 Pyeongchang, Republic of Korea, Oct |
| COP 5: 2000 Nairobi, Kenya, May | COP 13: 2016 Cancun, Mexico, 2 to 17 Dec |
| COP 6: 2002 The Hague, Netherlands, April | COP 14: 2018 Sharm El-Sheikh, Egypt, 17 to 29 Nov |
| COP 7: 2004 Kuala Lumpur, Malaysia, Feb | COP 15: 2020 Kunming, Yunnan, China |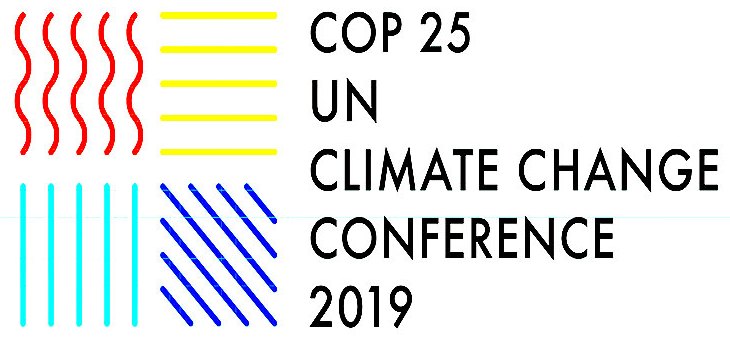 LINKS & REFERENCE
https://www.gov.uk/government/people/alok-sharma
https://unfccc.int/news/united-kingdom-in-partnership-with-italy-to-host-cop-26/cmp-16/cma-3
https://www.independent.co.uk/news/uk/politics/claire-oneill-perry-cop26-un-climate-change-president-glasgow-legal-action-a9313406.html