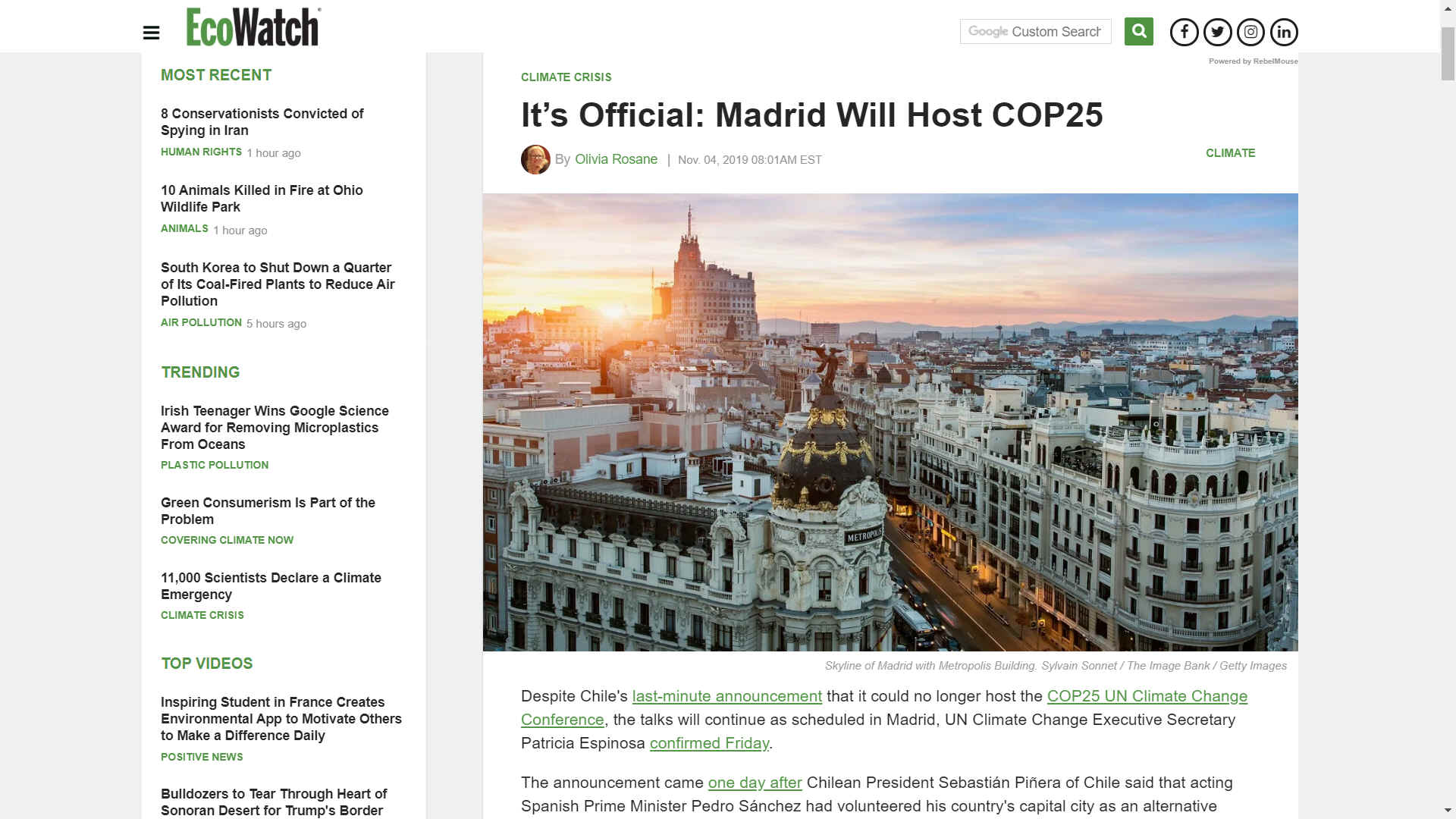 SPAIN - One cannot blame anyone for wanting more urgent action to combat the rising temperature of planet earth. 2018 saw energy-related emissions reach yet another historic high after significant net greenhouse gas increases, 85% of which came from the US, India and China. Coal reversed its recent decline and was responsible for over a third of CO2 emissions. At the same time there was a huge 4.6% surge in natural gas CO2 emissions and an associated rise in atmospheric methane. This, plus a stagnation in the number of renewable energy installations, make it clear that governments must do a lot more to address the climate crisis.
The 2019 Climate Change Conference will take place in Madrid, Spain, from 2-13 December. The Conference was originally scheduled to take place in Santiago, Chile. However, on 30 October 2019, UNFCCC Executive Secretary Patricia Espinosa was informed by the Government of Chile of its decision not to host the Conference, in view of the difficult situation that the country is undergoing. On 1 November 2019, the COP Bureau agreed that the Conference would take place on the originally scheduled dates in Madrid.

The 2019 Climate Change Conference comes amid calls for countries to step up the ambition of their climate pledges. The Chilean Presidency had billed the Conference as the "Time for Action," and many are looking to this meeting of the Conference of the Parties (COP) to the United Nations Framework Convention on Climate Change (UNFCCC) as a turning point in climate ambition before the Paris Agreement begins in 2020.

This meeting will address issues that have implications for climate ambition before and after 2020. Delegates will take stock of the implementation and ambition of climate action before 2020 throughout the meeting. The technical phase of the stocktake will take place during the first week, followed by a high-level event for delegates to discuss mitigation, support provided, and actions of the Marrakech Partnership for Global Climate Action.

Other issues under consideration relate to the Paris Agreement. Article 6, which relates to internationally transferred mitigation outcomes (ITMOs), a market mechanism, and a non-market mechanism, is a yet unresolved part of the Paris Agreement Work Programme - the rulebook of the Paris Agreement. Negotiations on Article 6 are scheduled to conclude at the 2019 Climate Change Conference. As highlighted in the summary and analysis of the negotiations held in Bonn in June 2019, delegates made progress, although some expressed concern of the amount of work remaining.

Parties will, for the first time, also consider of special needs and circumstances of developing countries, particularly in Africa and Latin America. Parties will give guidance to financial bodies, such as the Green Climate Fund (GCF) and Global Environment Facility (GEF) as they relate to the Paris Agreement. Other discussions related to the Paris Agreement will focus on technical issues such as reporting formats and the public registries for mitigation and adaptation pledges. There will also be a consideration of the outcome of the review of the Warsaw International Mechanism on Loss and Damage associated with Climate Change Impacts.

The Marrakech Partnership will host a series of events from 5-10 December 2019. The events will attempt to foster dialogue on actionable and collaborative solutions on a range of themes, including land use, water, oceans, resilience, and circular economy, among others.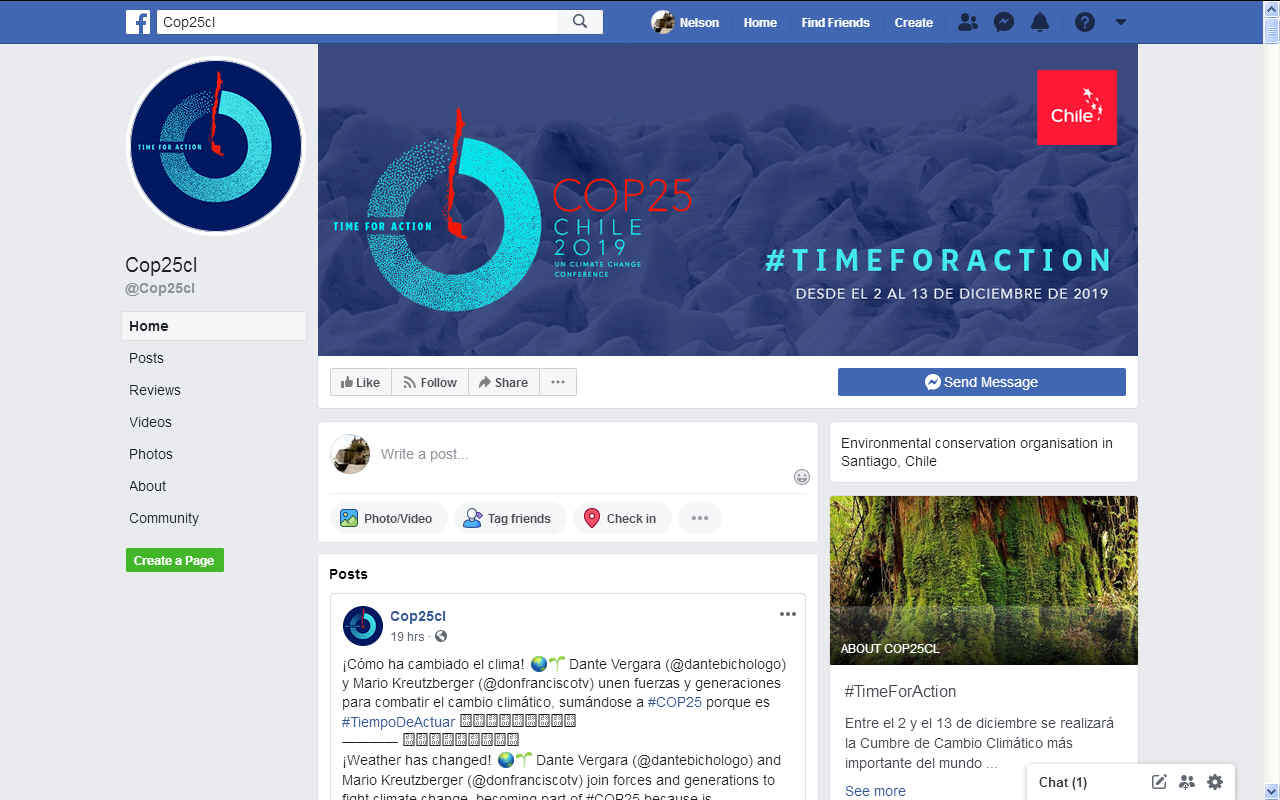 BAD HABITS
According to the figures from 2018, we are slipping back into our old ways. The use of coal is growing in China, having lifted their ban on new coal fired stations, and President Donald Trump is undoing most of the good achieved by the Barack Obama administration, especially on withdrawing from the Paris Agreement. This in not a game of political chess chaps, it is gambling with the lives of millions.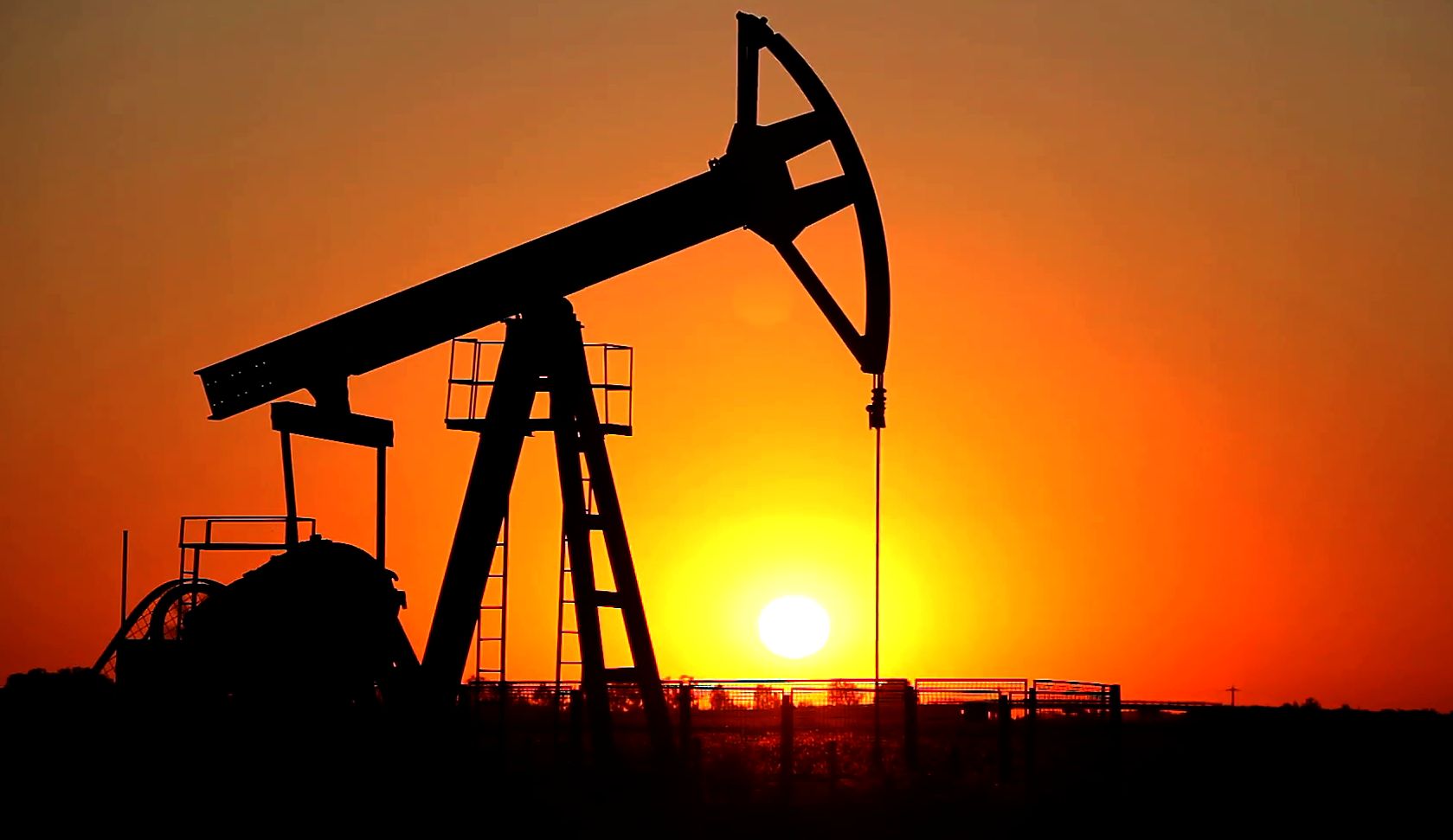 IT KILLS THEM GETTING IT OUT - Drilling and pumping oil is a messy occupation playing with carcinogenic fluids, that traditionally makes millionaires of those prospectors. Hence the name "Black Gold" and "Texas Tea." Years ago oil prospecting was respectable, today those investing in oil are deemed by many to be climate criminals - because it kills us when we burn it.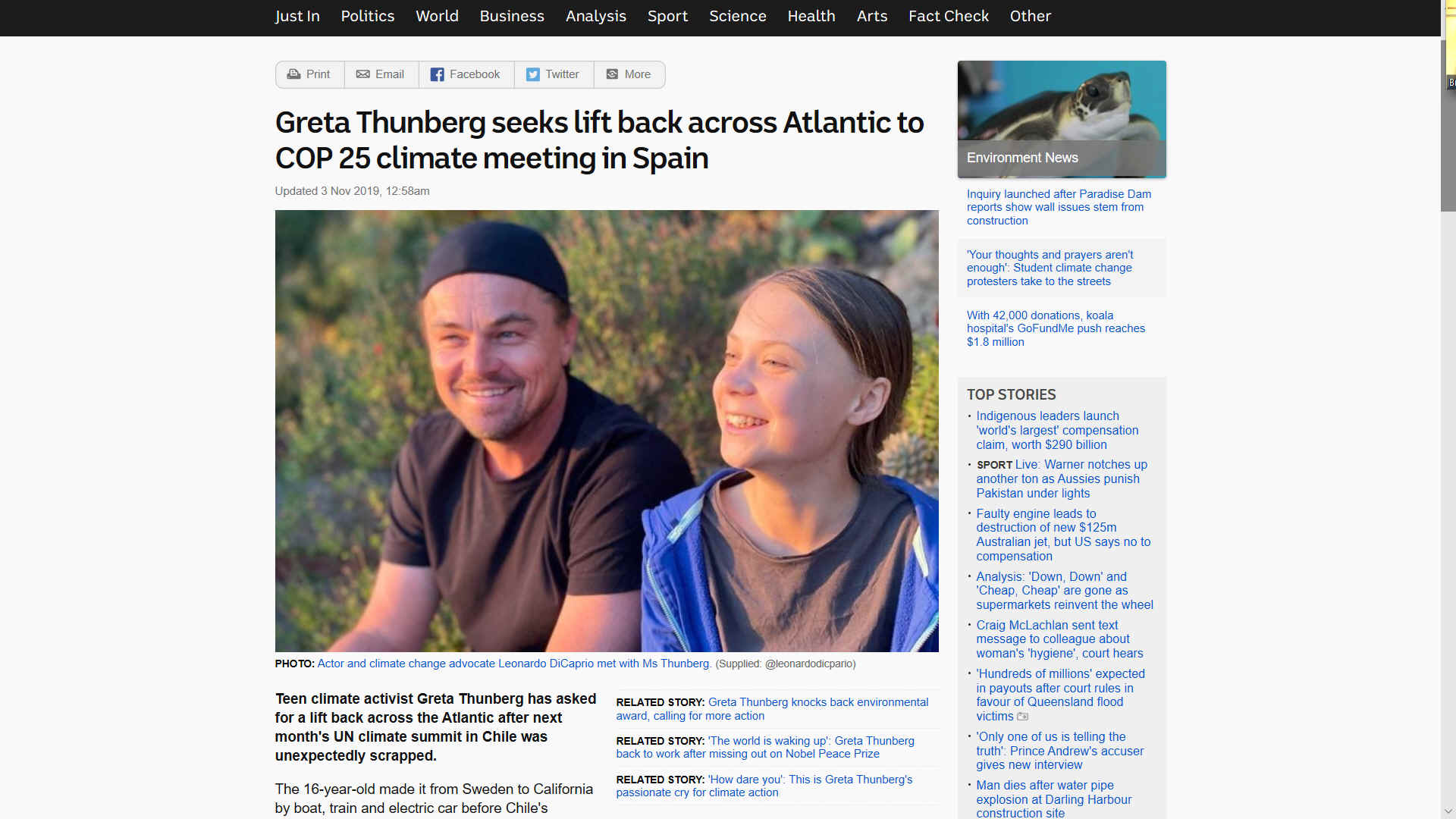 SPAIN CALLING GRETA - Spain's environment minister said the government would help Greta Thunberg cross the Atlantic in time to attend the upcoming UN climate talks.

"Dear Greta, it would be great to have you here in Madrid," the minister, Teresa Ribera, said on Twitter. "You've made a long journey and help all of us to raise concern, open minds and enhance action. We would love to help you to cross the Atlantic back."
The 16-year-old made it from Sweden to California by boat, train and electric car before Chile's government announced it was canning the summit because of political unrest in the South American nation. The COP 25 summit will now be held in Spain.
"As #COP25 has officially been moved from Santiago to Madrid I'll need some help," Ms Thunberg tweeted from Los Angeles.
....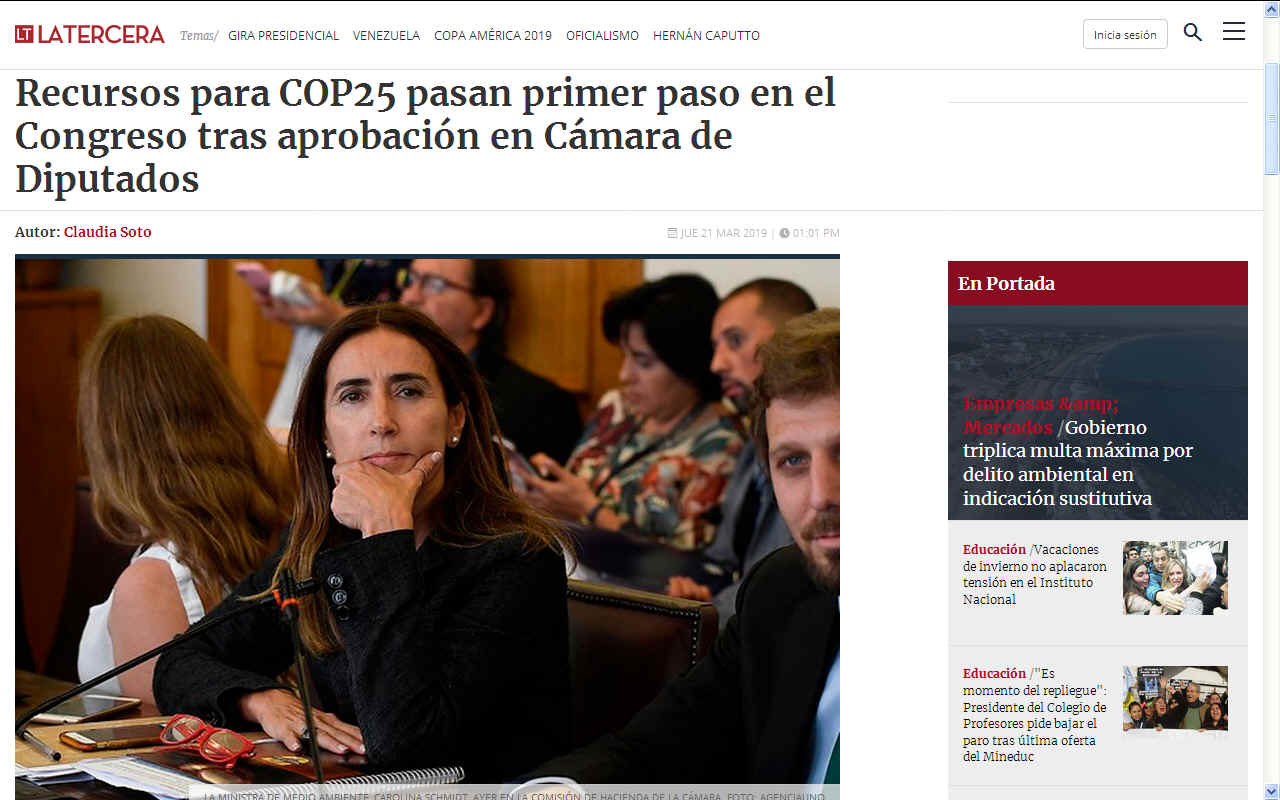 HMMMMM - How did this happen? One minute we are leading the charge, the next minute we have a riot on our hands. Before standing on the international podium thumping the drums of change, make sure your house is in order. Now that is a tall order. Almost no country in the world has their house well and truly in order.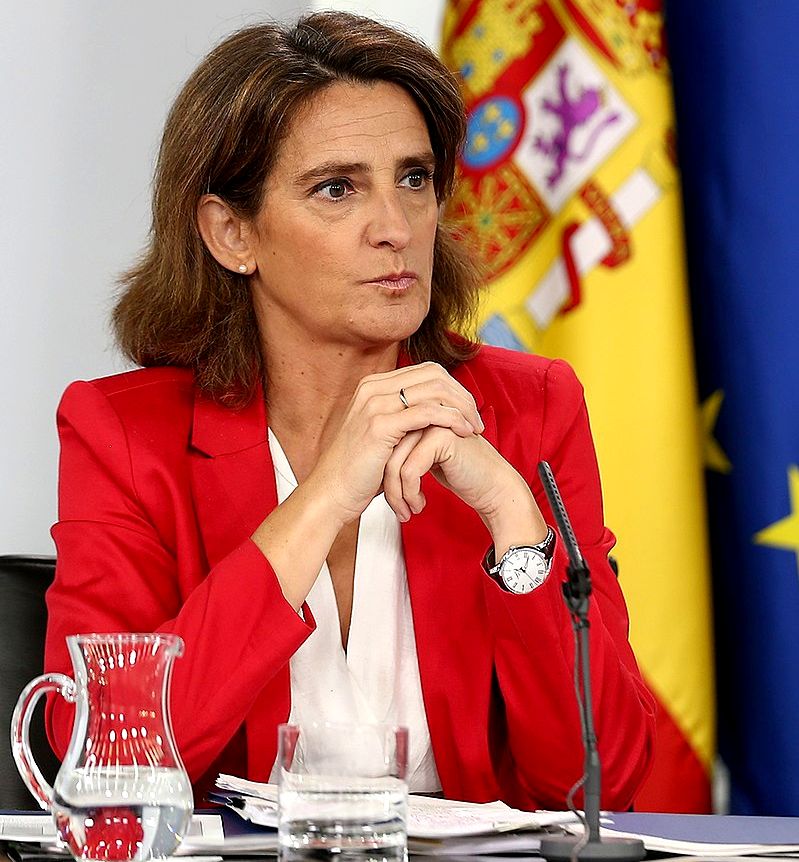 ENVIRONMENT MINISTER
Environment Minister, Teresa Ribera, is a Spanish jurist, university professor and Spanish politician, current Minister for the Ecological Transition of Spain. She serves in the Sánchez government which came to power in 2018 after the approval of the motion of no-confidence in the Rajoy government.
Between 2008 and 2011 she held the position of Secretary of State for Climate Change in the second administration of José Luis Rodríguez Zapatero. Between 2014 and 2018, she was director of the Institute of Sustainable Development and International Relations, based in Paris.
In June 2018, it was announced that she would be the Minister for the Ecological Transition of the Sánchez government, following the motion of censure that the PSOE presented against the previous government of Mariano Rajoy (PP) and that was approved by the Congress of Deputies. On 1 June 2018, Sánchez appointed her as Minister in new Spanish government. Felipe VI sanctioned by royal decree of June her appointment as holder of the portfolio of Minister for the Ecological Transition. On 7 June she took office as Minister before the King at Palace of Zarzuela.
The first measures that she carried out as minister was to end the so-called «sun tax» to allow the free production of power in an effort to increase ecological power and to reduce the price of electricity.
In an effort to end coal pollution and to transform the power production of Spain, Ribera reached an agreement with unions to close most of the coal mines that still survived in the north of the country by making an investment of € 250 million to avoid a fall in the miners' standard of living and to restore the environmental balance of the area. In October 2018, she was awarded the Climate Reality Project Award in the category of 'Public Personality' granted by the Climate Reality Project.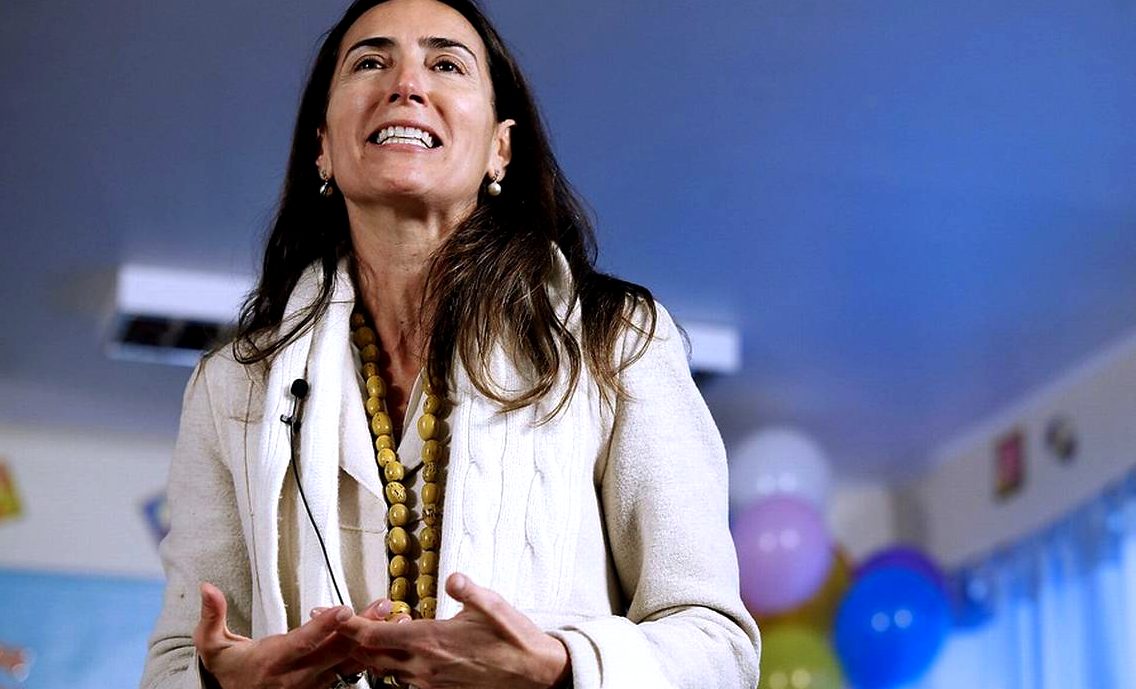 GIVE ME STRENGTH - It's enough to make you want to leave politics and join the activists. At least they let off steam for a good reason. How is it that politicians cannot see the writing on the wall. In the UK Margaret Thatcher tried to milk the electorate too hard with a Poll Tax in the 1990s and caused riots in London and all over the country - trying to charge people without property (the poorest) to directly help pay for those with property. Most countries are milking their general population too hard with taxes and policies that work against the ordinary man, in favor of the wealthy few in control, suppliers to the armed forces and dare we say it, corrupt police officials - who will not investigate illegal activity in local government, so perpetuate profiteering and the favors for the old boys network. Look at what is happening on your doorstep, for that is what is happening all over the world.
VISION

The whole world is living a process of transformation towards a truly sustainable development. Raising the levels of ambition with a balance between mitigation and adaptation is essential. For this purpose, we need the participation of both the States and local governments, and the private sector.

The COP must encourage concrete climate action, ensuring an inclusive process for all parties and the formal integration of the scientific world and the private sector.

Our challenge is to achieve a transition towards increased action and that is perceived by the general public. Climate change is a reality now, not in 50 years' time.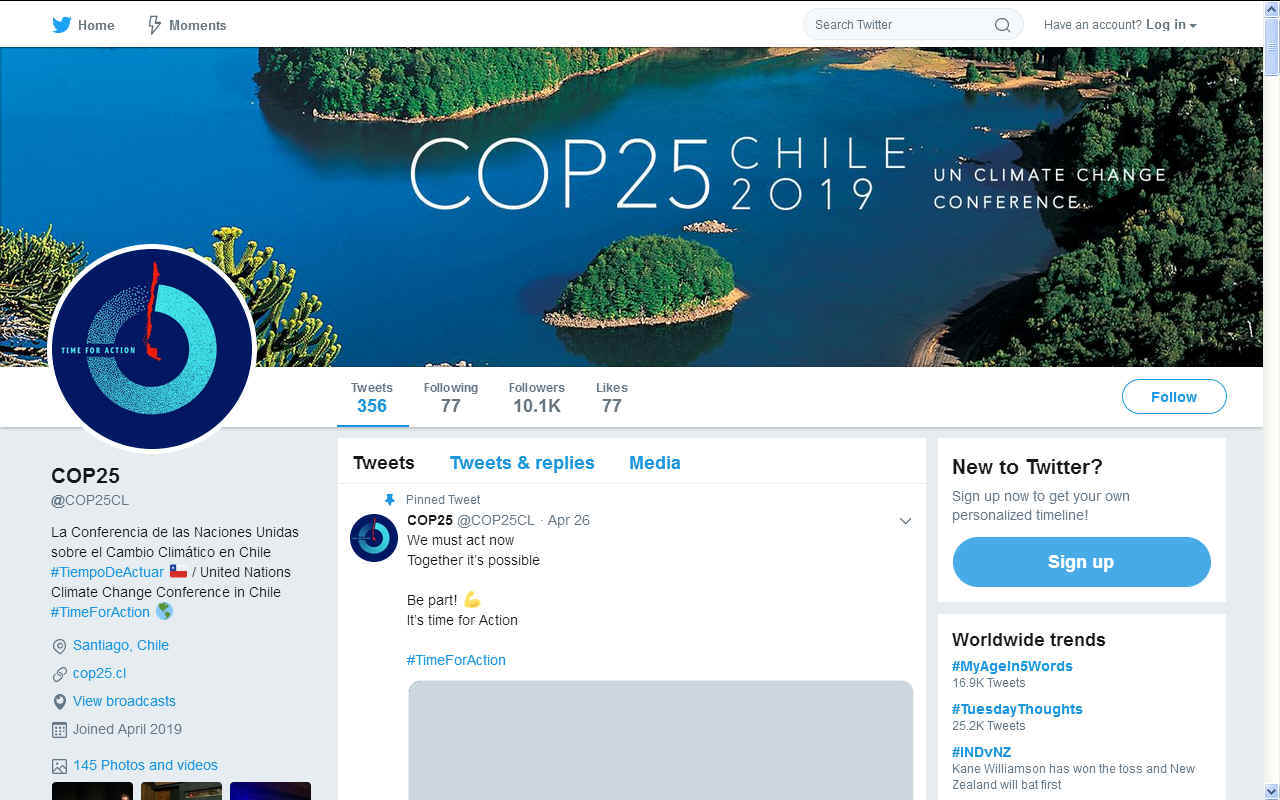 INNITIATIVES

While the COP25 is known as the "Time for Action" COP due to the need for all countries to expand their commitments to limit global warming, Chile wanted to highlight the following topics.

Oceans

Oceans play a fundamental role in mitigating climate change since they capture and store more than 90% of the heat and approximately 25% of the carbon produced by emissions from human activities. Unfortunately, the increase in heat and carbon in the ocean is having visible, global impacts, and to a large extent, irreversible, such as the increase in temperature, sea level rise, ocean acidification and changes in marine biodiversity, among others.

Antarctica

Antarctica, the Arctic and mountain glaciers (cryosphere), besides being major water reserves, are important climate regulators since they reflect the solar energy back into space and thus affecting the planet's energy balance. The cryosphere is also very sensitive to global warming, which leads to melting and loss of mass, processes that are (in part) responsible for rising sea levels, loss of biodiversity and deterioration of ecosystems. Alterations occurring in Antarctica (due to climate change) will have global consequences and will last for several centuries.

Biodiversity

The direct and indirect effects of climate change are closely related to changes in biodiversity resulting from human activity, so it is essential to ensure the preservation of biodiversity and its functions and allow for our development as a society. Biodiversity is fundamental for the adaptation and mitigation of climate change, which is why it is necessary to carry out actions that enable its preservation.

In this context, Chile has not fallen behind; it has a wide network of land and marine protected areas and is carrying out a National Plan for Wetlands Protection and working on a Draft Bill for the creation of the Biodiversity and Protected Areas Service (SBAP).
Forests

Forests deserve special mention, as they play an important role in mitigating climate change by capturing and sequestering CO2 emitted into the atmosphere. In addition, they provide a number of benefits, such as water provision, protection of soil and biodiversity in general. Chile boasts an extensive network of well-preserved native forest ecosystems, especially in the Patagonian zone. Nonetheless, in other parts of the country these ecosystems have been significantly altered and therefore their restoration must be a priority to mitigate climate change.

Adaptation

Estimations from climate change scenarios for Chile include increasing temperature, decreasing rainfall in the center-south and possible increases in farthest areas, and changes in glaciers surface area. These scenarios imply increasing extreme weather events and decreasing water availability, having significant impact on ecosystems, population and productive activities. In order to cope with this impact, adaptation measures are required across sectors. The implementation of these measures must be focused on institutional improvements, design of resilient infrastructure, protection of ecosystems and less vulnerable communities.

Cities

The world is facing an unprecedented process of urbanization, which in Chile is particularly evident, with 90% of Chileans living in cities. The large size of cities makes them extremely complex, but trends of weak sustainability are seen in medium-sized and small settlements as well.

Cities contribute to climate change through the use of energy for transport, construction, housing operations and production processes, and are therefore vulnerable to the impacts of climate change.

On the other hand, local mitigation actions by the cities have the potential for an immediate impact which, when added together, can create global effects and local co-benefits such as reduced air pollution.

With regard to adaptation, it is key for local and regional governments to integrate climate risks into their urban planning and management processes, in conjunction with the general public and service companies.

Renewable energies

Renewable energies are of the utmost importance for achieving sustainable development and for Chile's ambition to be carbon neutral by mid-century, as they do not generate direct greenhouse gases emissions (unlike fossil fuels).

Chile has accomplished a rapid conversion to renewable energies without the need for direct subsidies. In fact, Chile leads Bloomberg's Climatescope 2018 ranking as the most attractive country for the development of clean energies (out of a total of 103 emerging markets). Despite this, we are currently tapping only about 12 GW of our renewable energy potential, which exceeds 1,800 GW

Circular Economy

The fundamental principle of the circular economy is using waste as raw material for other products, drastically reducing both waste generation and the extraction of new and raw materials.

In February 2019, Chile passed a law banning the commercial use of plastic bags throughout the country. In addition, in 2016 the waste management framework law was passed, as well as extended producer responsibility and the promotion of recycling.

The country has a seal of circularity and initiatives aimed at reducing the use of plastic are being developed, such as the "Goodbye plastic straws" campaign.

Electromobility

Mobility in cities is a major source of greenhouse gases emissions, as well as many other externalities. To reduce them, we must think about urban planning aiming at shorter distances, prioritizing non-motorized modes and promoting public transport.

With regard to the latter point, electromobility represents a great opportunity if it goes along with renewable power generation. And it is especially attractive if the effort is focused on buses and urban trains. Santiago is moving forward decisively in this direction, extending its Metro network and implementing the world's largest fleet of electric buses outside China.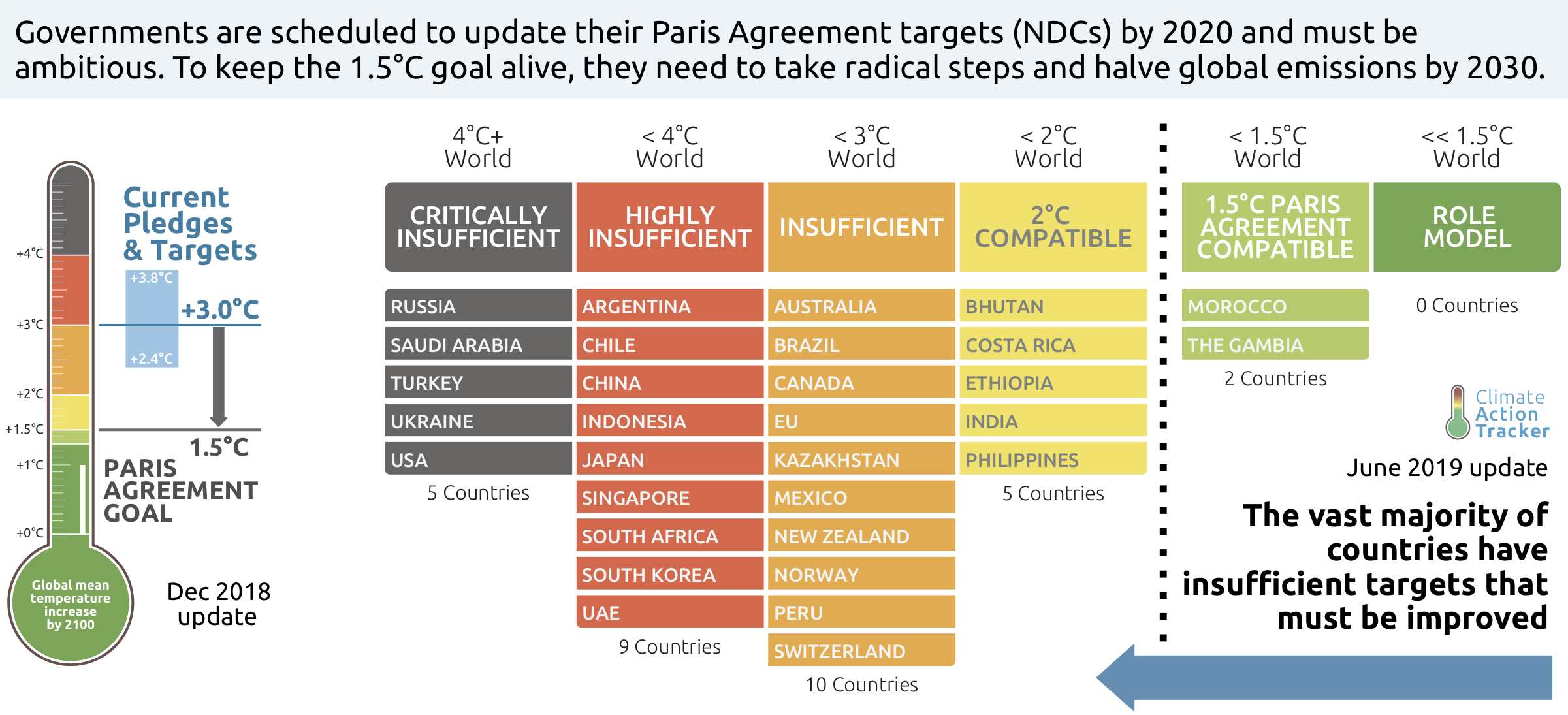 -
....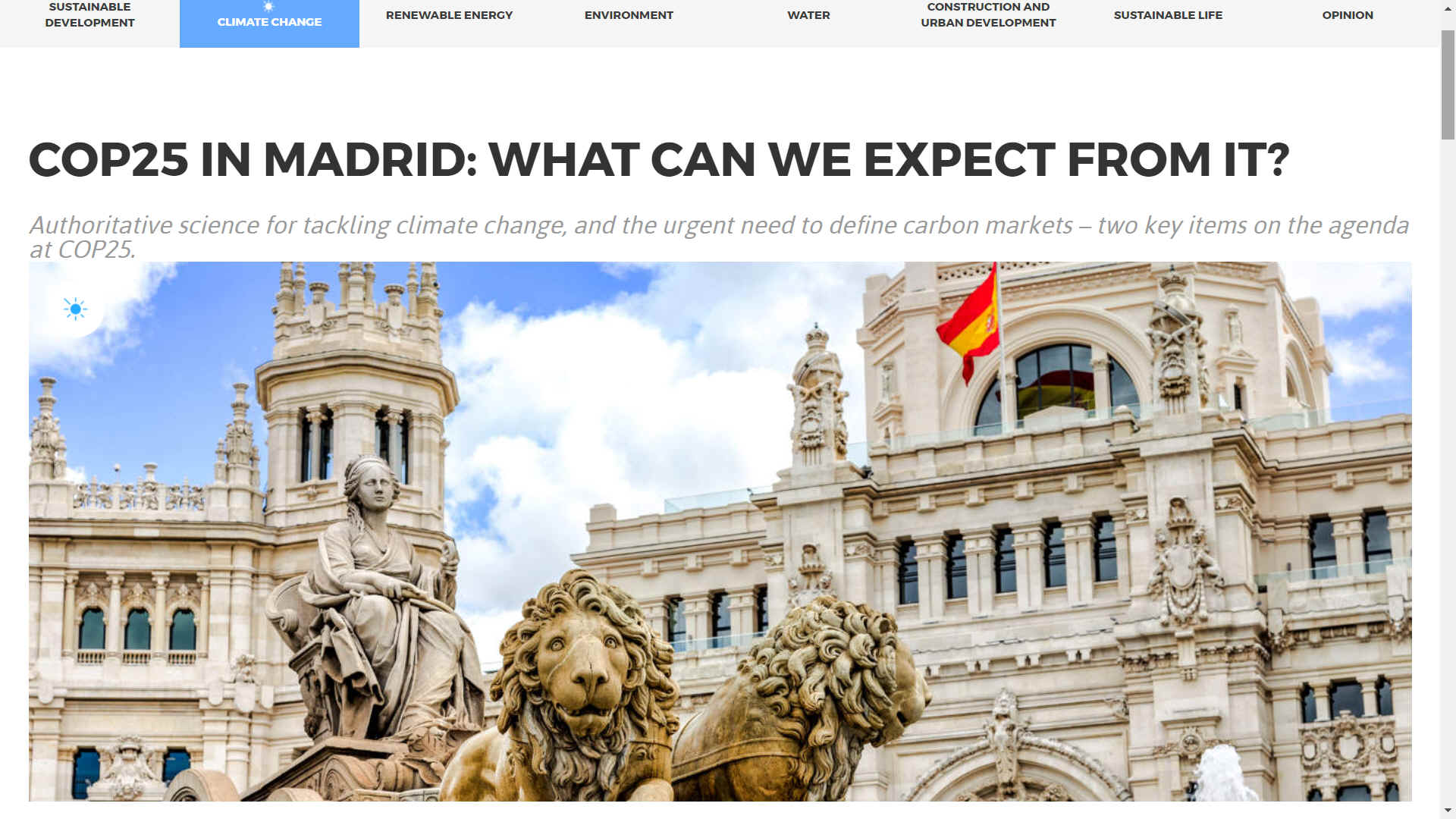 MONKEY BUSINESS COP 25 MADRID SCIENCE SUMMIT
COP25 in Madrid will be one of the most important summits since COP21 in that countries can no longer be seen to be lukewarm about their measures to fight the climate emergency if they wish to comply with the objectives of the Paris Agreement.

It will also probably be the COP most covered by the media to date, not so much for the risks undertaken in changing the venue at the last minute, but because young people have transformed global warming into a social trend thanks to their planet-wide protests against climate change and raised awareness among society as a whole about what governments are doing – or not - to tackle the problem.

To this pricking of the social conscience, add the contribution of the scientific community, which will have a central role at COP25 in Madrid. The latest report by the IPCC (the UN panel of scientists investigating the impacts of climate change), which makes it patently clear that the difference between a 1.5 and 2°C rise in the temperature of the planet is a matter of life or death, has been questioned by some governments. Nevertheless, most of the world's nations are still committed to taking heed of the warnings of the climate change scientists and the powerful maxim on everyone's lips: you can't argue with science.

As such, at COP25 everything is pointing in the same direction, the urgent need to reduce emissions. On the one hand, governments are being urged to work toward achieving the Sustainable Development Goals, above all SDG 13 on Climate Action, an objective contingent on the negotiations at COP and which seeks to mobilize USD 100 billion a year to 2020 with the aim of meeting the needs of developing countries so that they can adapt to climate change and invest in low-carbon systems. And on the other, legislation must ensure that investment is channeled toward more sustainable models in line with the work that the European Union is carrying out using the new taxonomy in which companies are no longer classed so much for their activity but their impact on the environment.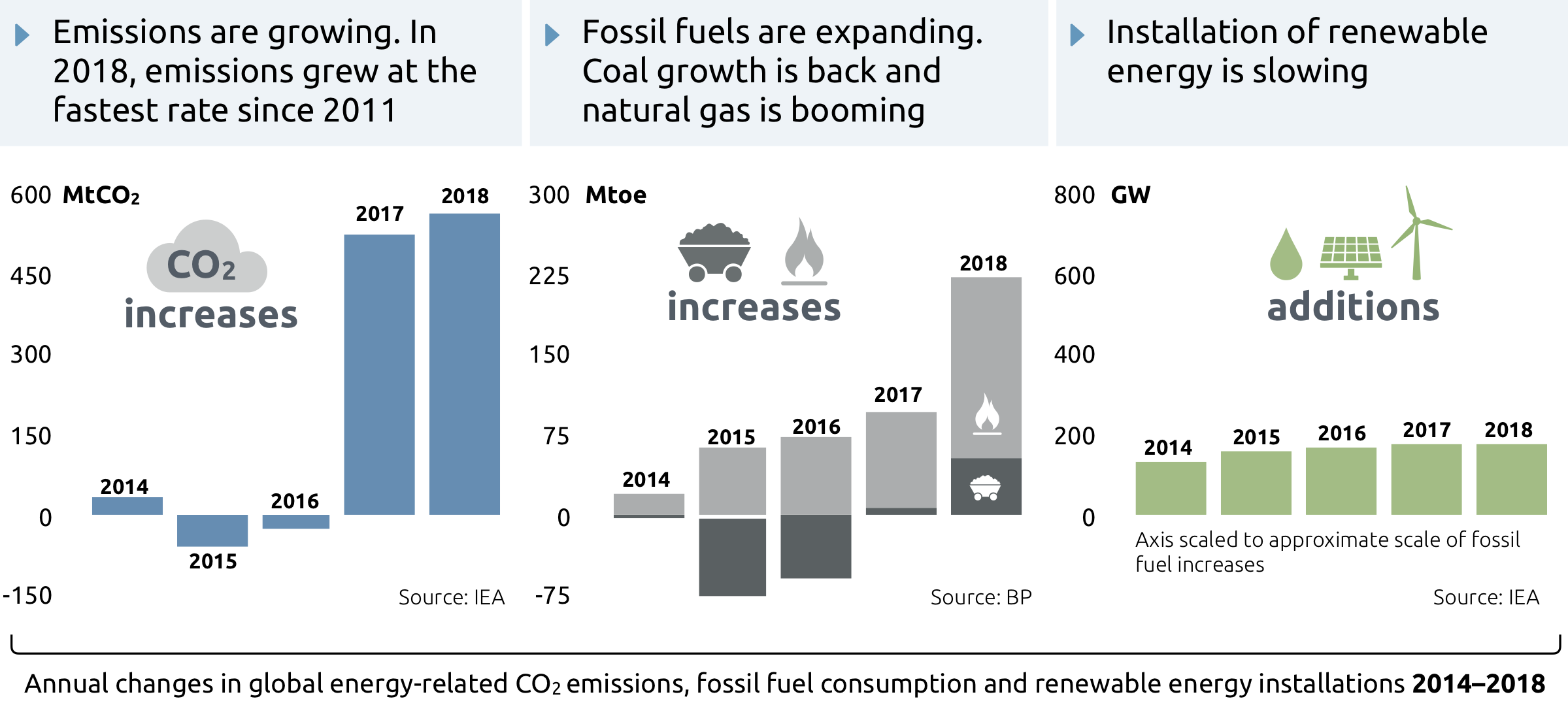 COP25 - FINAL REVISION BEFORE TAKING THE EXAMS IN 2020
2020 is a crucial year for the Paris Agreement. Nations must present new plans, the so-called NDCs (Nationally Determined Contributions), guaranteeing the main aim of keeping the planet's temperature below 2°C with respect to the pre-industrial era, making efforts so that it does not exceed 1.5°C. COP25 in Madrid will be the last conference before this happens. As such, the Parties have the obligation, which can no longer be postponed, to establish clear rules so that the measures signed in the Agreement come into force.

One of the critical points, and most difficult to resolve in COP25, will be the definition of Article 6 of the Paris Agreement, in which the participation of the private sector is essential. The main aim of this article is to construct the basis of an emissions trading system that concludes in a global carbon price, i.e., a market that permits countries to exchange, buy and sell carbon credits and in this way reduce emissions.

Article 6 contains two principal tools to regulate this market, which are due to be discussed at COP25:

Paragraph 6.2, about the commercialization of emissions, the so-called Internationally Transferred Mitigation Outcomes (IMTO) by which a country that reduces or eliminates emissions can authorize for a number of them to be transferred to another country seeking to fulfill its climate plan targets, how the system should record this to avoid double accounting of emissions, and the presentation of reports.
Paragraph 6.4, requiring the development of a centralized mechanism accrediting the "legitimacy" of the emission reductions.
Nations and companies have said they intend to use the power of the markets to help achieve their NDCs and increase the efficiency of emission reduction processes.

Tweet: Setting a global carbon price to achieve emission reductions will be one of the goals of COP25.

Another question that will take center stage at COP25 in Madrid will be how to tackle the direct consequences of natural disasters, given that there is no form of climate financing covering losses and damage.
REVIEWS OF THE NDCs. HOW OFTEN?
The NDCs are plans by each country which include adaptation and mitigation strategies for climate change. These plans have to be revised as often as necessary (every 5 years) to reach the objective of keeping the planet's temperature below 1.5°C with respect to the pre-industrial era as recommended by the IPCC.

COP25 also plans to grant time to debate the protection and conservation of forests, oceans and the poles, in the context of the Amazon and its continuous fires, and those in other tropical forests. Another report published recently by the IPCC, warning that the rising sea level will affect 680 million people worldwide, should also be discussed.

In a nutshell, COP25 will be defined by what governments are carrying with them when they arrive at the summit, hopefully suitcases full of the most ambitious commitments to reduce emissions yet seen.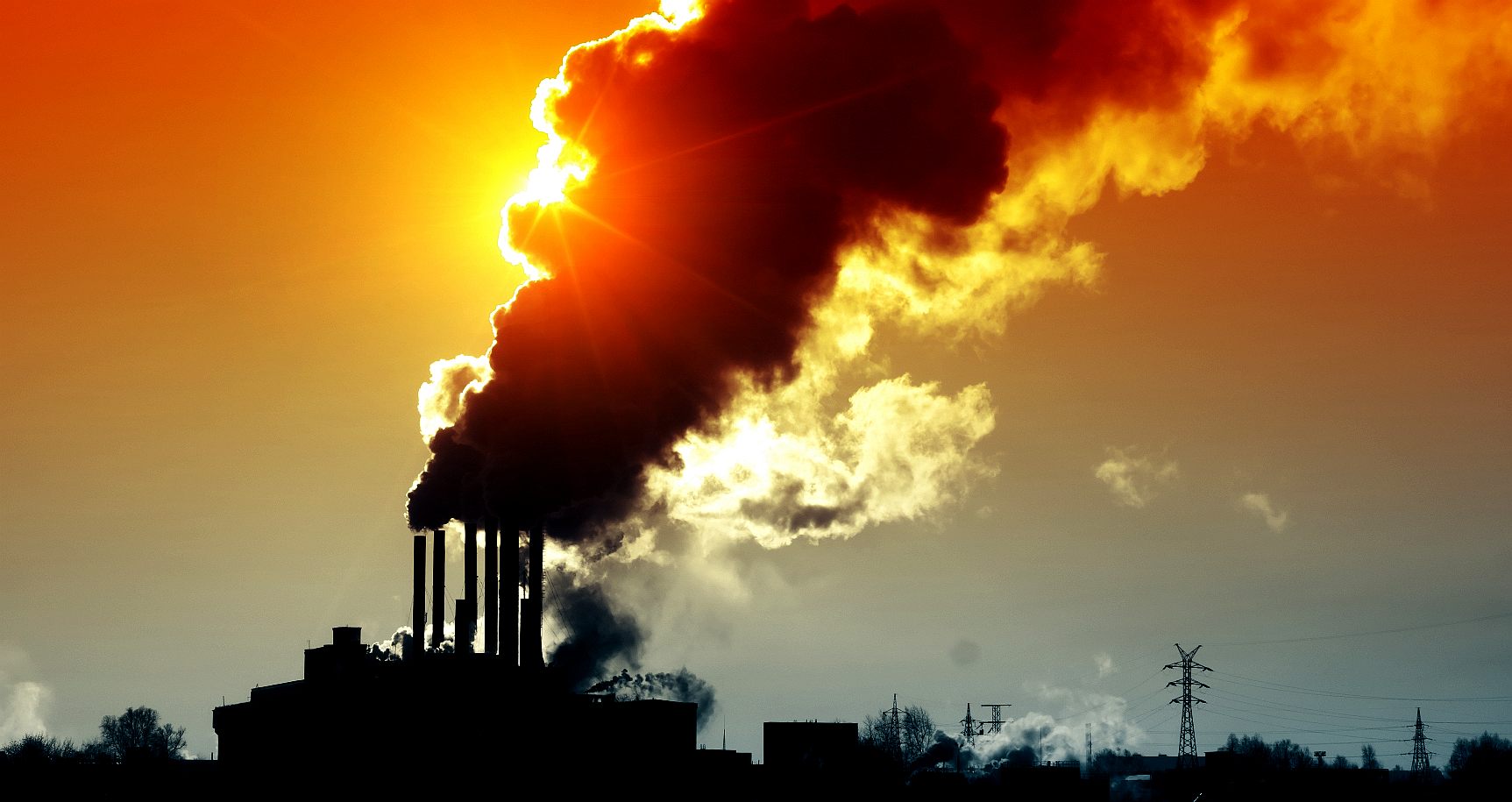 COP HISTORY
1995 COP 1, BERLIN, GERMANY
1996 COP 2, GENEVA, SWITZERLAND
1997 COP 3, KYOTO, JAPAN
1998 COP 4, BUENOS AIRES, ARGENTINA
1999 COP 5, BONN, GERMANY
2000:COP 6, THE HAGUE, NETHERLANDS
2001 COP 7, MARRAKECH, MOROCCO
2002 COP 8, NEW DELHI, INDIA
2003 COP 9, MILAN, ITALY
2004 COP 10, BUENOS AIRES, ARGENTINA
2005 COP 11/CMP 1, MONTREAL, CANADA
2006 COP 12/CMP 2, NAIROBI, KENYA
2007 COP 13/CMP 3, BALI, INDONESIA

2008 COP 14/CMP 4, POZNAN, POLAND
2009 COP 15/CMP 5, COPENHAGEN, DENMARK
2010 COP 16/CMP 6, CANCUN, MEXICO
2011 COP 17/CMP 7, DURBAN, SOUTH AFRICA
2012 COP 18/CMP 8, DOHA, QATAR
2013 COP 19/CMP 9, WARSAW, POLAND
2014 COP 20/CMP 10, LIMA, PERU
2015 COP 21/CMP 11, Paris, France
2016 COP 22/CMP 12/CMA 1, Marrakech, Morocco
2017 COP 23/CMP 13/CMA 2, Bonn, Germany
2018 COP 24/CMP 14/CMA 3, Katowice, Poland
2019 COP 25/CMP 15/CMA 4, Santiago, Chile

2019 COP25/CMP 15/CMA 4, Madrid, Spain

2020 COP 26/CMP 16/CMA 5, Italy & UK bids

BLUEBIRD MARINE ZEV - A prototype 50 meter container ship for long range routine inter-island provisioning in the Pacific Ocean and sustainable (eco) cruising in the Mediterranean Sea. If this vessel performs as expected, the age of zero carbon shipping is within our grasp - we could be about to enter the zero emission cruising era free of gases for fuel, subject to development of the concept.
SIX STEPS TOWARD A COOLER PLANET
1. TRANSPORT: Phase out polluting vehicles. Government aims to end the sale of new petrol, and diesel vehicles by 2040 but have no infrastructure plan to support such ambition. Marine transport can be carbon neutral.
2. RENEWABLES: Renewable energy should replace carbon-based fuels (coal, oil and gas) in our electricity, heating and transport.
3. HOUSING: On site micro or macro generation is the best option, starting with new build homes.
4. AGRICULTURE: We need trees to absorb carbon emissions from a growing population, flying, and to build new homes. Reducing food waste and promoting less energy intensive eating habits such as no meat Mondays.
5. INDUSTRY: Factories should be aiming for solar heating and onsite renewable energy generation.
6. POLITICS: - National governing bodies need to adopt policies to eliminate administrative wastages, to include scaling down spending on war machines, educating the public and supporting sustainable social policies that mesh with other cultures.
UN CLIMATE ACTION PORTFOLIOS
1. Finance
2. Energy Transition
3. Industry Transition
4. Nature-Based Solutions
5. Cities and Local Action
6. Resilience and Adaptation
7. Mitigation Strategy
8. Youth Engagement & Public Mobilization
9. Social and Political Drivers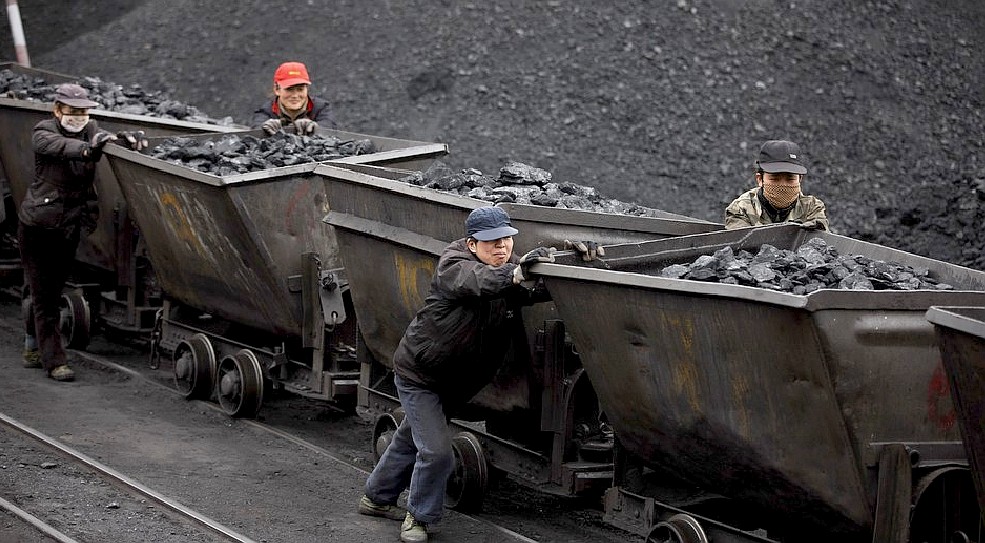 IT US KILLS GETTING IT OUT - Mining is traditionally a dangerous occupation. If a mine collapse does not get you, the carcinogenic dust will do you no good.
CLIMATE CHANGE - The United Nations' climate summit talks are known as COP (= Conference Of the Parties). During these discussions action for climate policy is negotiated with each country fighting for points in a global economic struggle. Nobody wants to give ground, except that every party agrees in principle that they need to make concessions - otherwise, with deaths from heat exhaustion and strokes, eventually, there will be nothing to argue about. We will all be dead.
So far with over twenty-four years of haggling the arctic ice is still melting - and faster than ever. No wonder so many high profile people and corporations are worried. The United Nations Framework Convention on Climate Change (UNFCCC) is an international treaty adopted at the Earth Summit in Rio de Janeiro from 1992. The UNFCCC objective is to "stabilize greenhouse gas concentrations in the atmosphere at a level that would prevent dangerous anthropogenic interference with the climate system".
DESERTIFICATION COP HISTORY
| | |
| --- | --- |
| COP 1: Rome, Italy, 29 Sept to 10 Oct 1997 | COP 9: Buenos Aires, Argentina, 21 Sept to 2 Oct 2009 |
| COP 2: Dakar, Senegal, 30 Nov to 11 Dec 1998 | COP 10: Changwon, South Korea, 10 to 20 Oct 2011 |
| COP 3: Recife, Brazil, 15 to 26 Nov 1999 | COP 11: Windhoek, Namibia, 16 to 27 Sept 2013 |
| COP 4: Bonn, Germany, 11 to 22 Dec 2000 | COP 12: Ankara, Turkey, 12 to 23 Oct 2015 |
| COP 5: Geneva, Switzerland, 1 to 12 Oct 2001 | COP 13: Ordos City, China, 6 to 16 Sept 2017 |
| COP 6: Havana, Cuba, 25 August to 5 Sept 2003 | COP 14: New Delhi, India, 2 to 13 Sept 2019 |
| COP 7: Nairobi, Kenya, 17 to 28 Oct 2005 | COP 15: 2020 |
| COP 8: Madrid, Spain, 3 to 14 Sept 2007 | COP 16: 2021 |
BIODIVERSITY COP HISTORY
| | |
| --- | --- |
| COP 1: 1994 Nassau, Bahamas, Nov & Dec | COP 8: 2006 Curitiba, Brazil, 8 Mar |
| COP 2: 1995 Jakarta, Indonesia, Nov | COP 9: 2008 Bonn, Germany, May |
| COP 3: 1996 Buenos Aires, Argentina, Nov | COP 10: 2010 Nagoya, Japan, Oct |
| COP 4: 1998 Bratislava, Slovakia, May | COP 11: 2012 Hyderabad, India |
| EXCOP: 1999 Cartagena, Colombia, Feb | COP 12: 2014 Pyeongchang, Republic of Korea, Oct |
| COP 5: 2000 Nairobi, Kenya, May | COP 13: 2016 Cancun, Mexico, 2 to 17 Dec |
| COP 6: 2002 The Hague, Netherlands, April | COP 14: 2018 Sharm El-Sheikh, Egypt, 17 to 29 Nov |
| COP 7: 2004 Kuala Lumpur, Malaysia, Feb | COP 15: 2020 Kunming, Yunnan, China |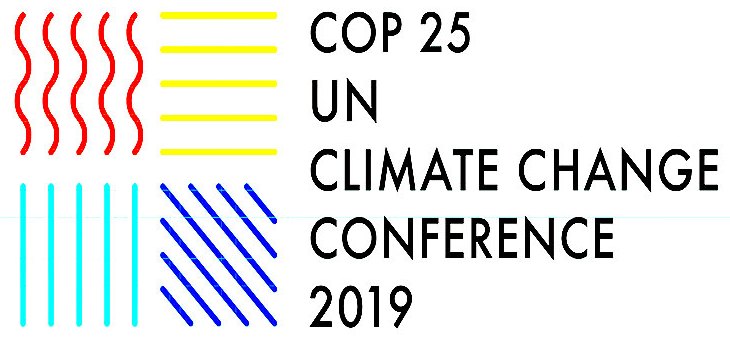 LINKS & REFERENCE
https://climateactiontracker.org/publications/climate-crisis-demands-more-government-action-as-emissions-rise/
https://www.activesustainability.com/climate-change/cop25-madrid-what-can-we-expect/
http://static4.businessinsider.com/chile-wants-more-ambitious-action-at-un-climate-change-conference-2019-4