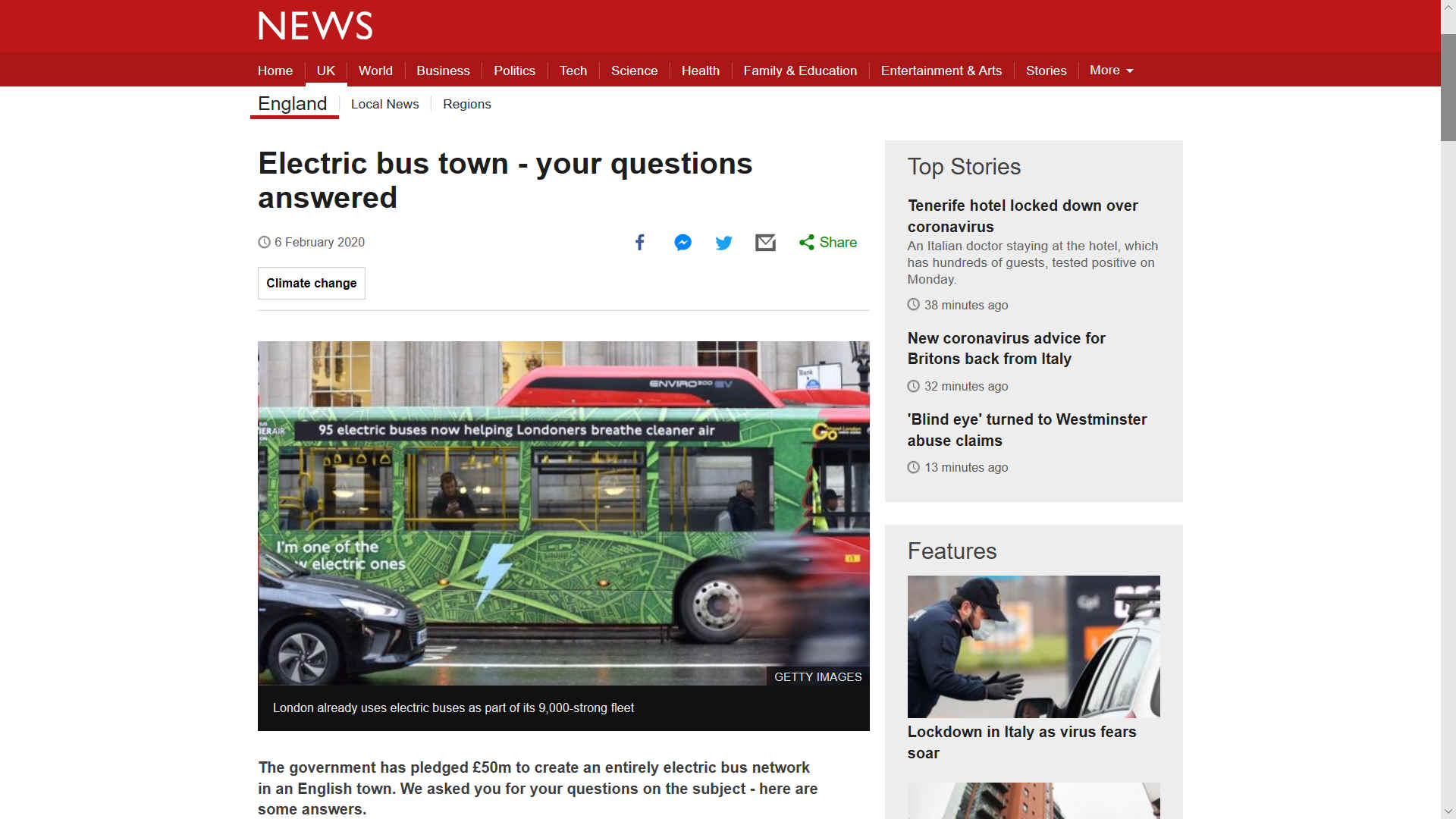 FIFTY MILLION POUNDS - The British government has pledged £50m to create an entirely electric bus network in an English town. They are a bit slow off the mark, where the Chinese are concerned, but it is better to be late than never. Today, about 425,000 electric buses roam the planet, but 99 percent of them are in China.
PARIS APRIL 8 2020 - ZERO EMISSION BUS CONFERENCE 2020 (POSTPONED TO AUTUMN)
The Paris Zero Emission Bus Conference follows the successful 2nd edition held in Cologne, Germany, in November 2018. Over 360 global stakeholders representing 220 organizations attended the event.
Expert speakers debated routes to commercialization and discussed technological readiness of the two zero emission options: battery and fuel cell buses.

ZEB 2020 will call on European manufacturers, policy makers and operators to scale up their zero emission ambitions to become global leaders in the transition to a zero-emission society.
ZEB CONTACTS:

Madeline Ojakovoh (Element Energy)
Tel: +44 (0)203 813 3901
Email: madeline.ojakovoh@element-energy.co.uk

Michela Bortolotti (Hydrogen Europe)
Tel: +32 (0) 472 395 486
Email: m.bortolotti@hydrogeneurope.eu

https://twitter.com/EUZEBconference

ZEB VENUE

Maison de la Chimie
28 rue Saint Dominique
FR-75007 Paris
EV BUS HISTORY
The idea of using electricity for public transport is not new. Electric trams, trolley buses and streetcars were operating in the late 1800s, the first invented by Fyodor Pirotsky in 1880, operated in Sestroretsk near Saint Petersburg, Russia.
The second line was the Gross-Lichterfelde tramway near Berlin in Germany, which opened in 1881. It was built by Werner von Siemens after contact with Pirotsky. This was world's first commercially successful electric tram. It initially drew current from the rails, with overhead wire being installed in 1883. Also in 1883, the Mödling and Hinterbrühl Tram was opened near Vienna in Austria. It was the first tram in the world in regular service that was run with electricity served by an overhead line with pantograph current collectors.
PARIS - Trams, or trolleybuses were used in France for funerals. The design is not much different to the heritage streetcar [right] operated in Majorca, Spain.
The convenience and economy of electricity resulted in its rapid adoption once the technical problems of production and transmission of electricity were solved. Electric trams largely replaced animal power and other forms of motive power including cable and steam, in the early 20th century.
They never really stopped operating in some places around the world, with trolley bus services running today in the USA. But these converted buses are reliant on overhead cables that present something of a maintenance nightmare and cannot extend to roads outside the confines of a city.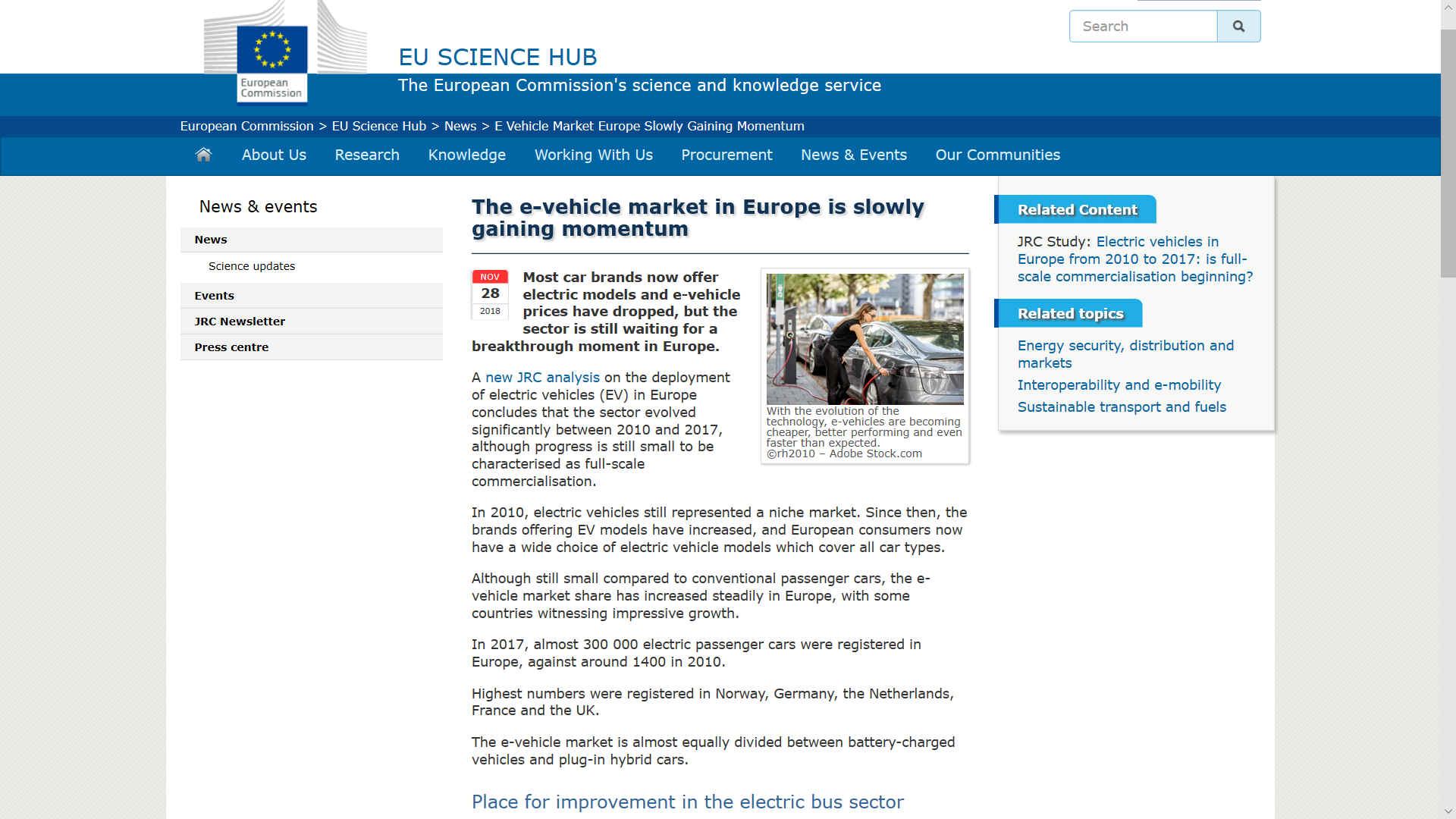 BUS SECTOR NEEDS WORK - Electric buses offer an environmentally friendly transport alternative, especially in cities. However, the urban bus sector in Europe has yet to experience a full transition to e-mobility. The recharging infrastructure is improving unevenly in different parts of Europe.
A European Commission study from 2017 estimated the global electric bus stock to count 173 000 buses, with 98% of the global stock being situated in China.
Between 2010 and 2017, the highest numbers of electric buses in Europe were registered in the United Kingdom (~200), the Netherlands (~175), Belgium (~140), Germany (~90) and Austria (~75).
The availability and development of EV recharging infrastructure is another important factor contributing to the development of e-mobility. In general terms, the recharging infrastructure has improved in Europe.
More charging points are now available and technological advances have made the recharging faster. However, the situation is very different from one Member State to another. The Netherlands, Germany, France and UK have the highest number of charging points, ranging from around 140 000 in the UK to around 325 000 in the Netherlands. All other European countries have less than 5000 charging points.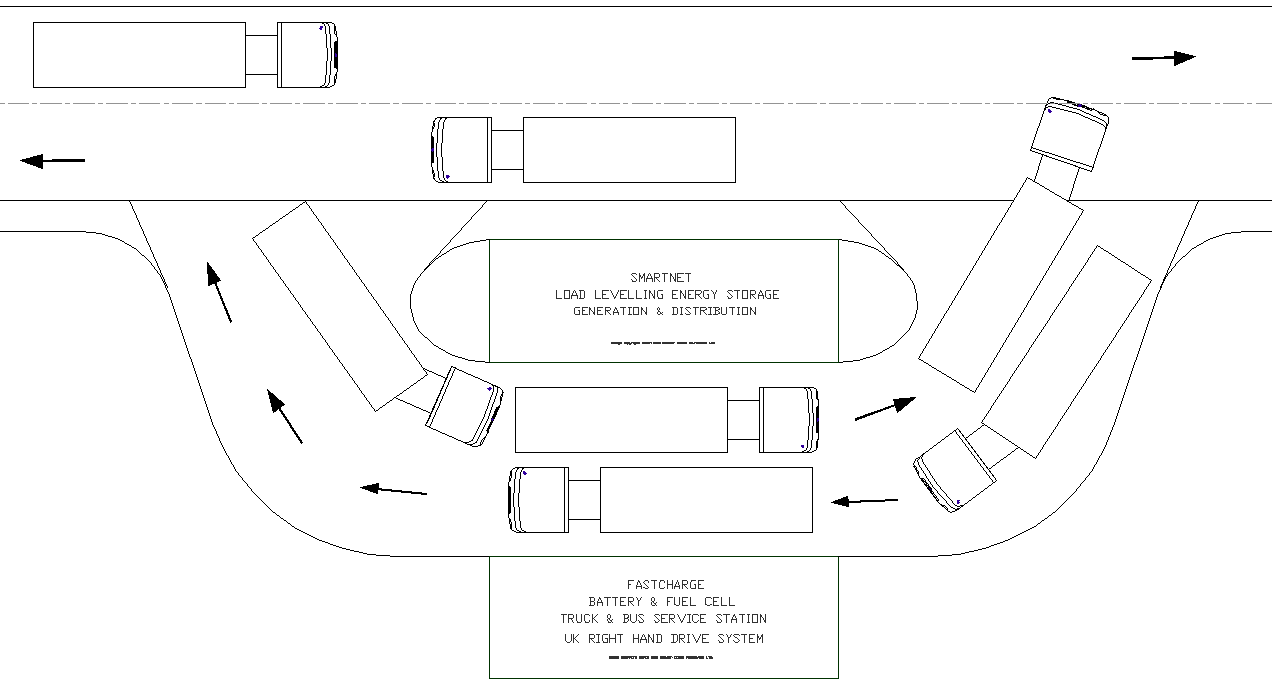 DUAL PURPOSE BATTERY STORE - This diagram shows a SMARTNET service facility in plan view, with articulated trucks turning in from a (UK right hand drive) main road, into the service station - passing through for battery swapping - and then exiting back onto the main road. The suggested layout speeds up refills and assists traffic flow in busy cities. This battery storage facility carries 60 standard cartridges, but can carry 96 battery units in the same footprint. Alternatively, a flat-pack station with a smaller footprint can be installed in congested towns. Electricity can be stored in the facility for load levelling, then fed back to the local grid for distribution, to use wind and solar generated energy more efficiently.
As an aid to the electrification of cities for bus based public transport, stations like these would avoid the need to install thousands of individual charging points, meaning that 2030 climate change targets might be met.
There is one particular hazard associated with trams powered from a trolley pole off an overhead line. Since the tram relies on contact with the rails for the current return path, a problem arises if the tram is derailed or (more usually) if it halts on a section of track that has been particularly heavily sanded by a previous tram, and the tram loses electrical contact with the rails. In this event, the under-frame of the tram, by virtue of a circuit path through ancillary loads (such as interior lighting), is live at the full supply voltage, typically 600 volts DC.

Any person stepping off the tram completed the earth return circuit and could receive a nasty electric shock. In such an event, the driver was required to jump off the tram (avoiding simultaneous contact with the tram and the ground) and pull down the trolley pole, before allowing passengers off the tram.

In the 2000s, two companies introduced catenary-free designs. Alstom's Citadis line uses a third rail, and Bombardier's PRIMOVE LRV is charged by contact-less induction plates embedded in the trackway.
HYDROGEN

In March 2015, China South Rail Corporation (CSR) demonstrated the world's first hydrogen fuel cell vehicle tramcar at an assembly facility in Qingdao. The chief engineer of the CSR subsidiary CSR Sifang Co Ltd., Liang Jianying, said that the company is studying how to reduce the running costs of the tram.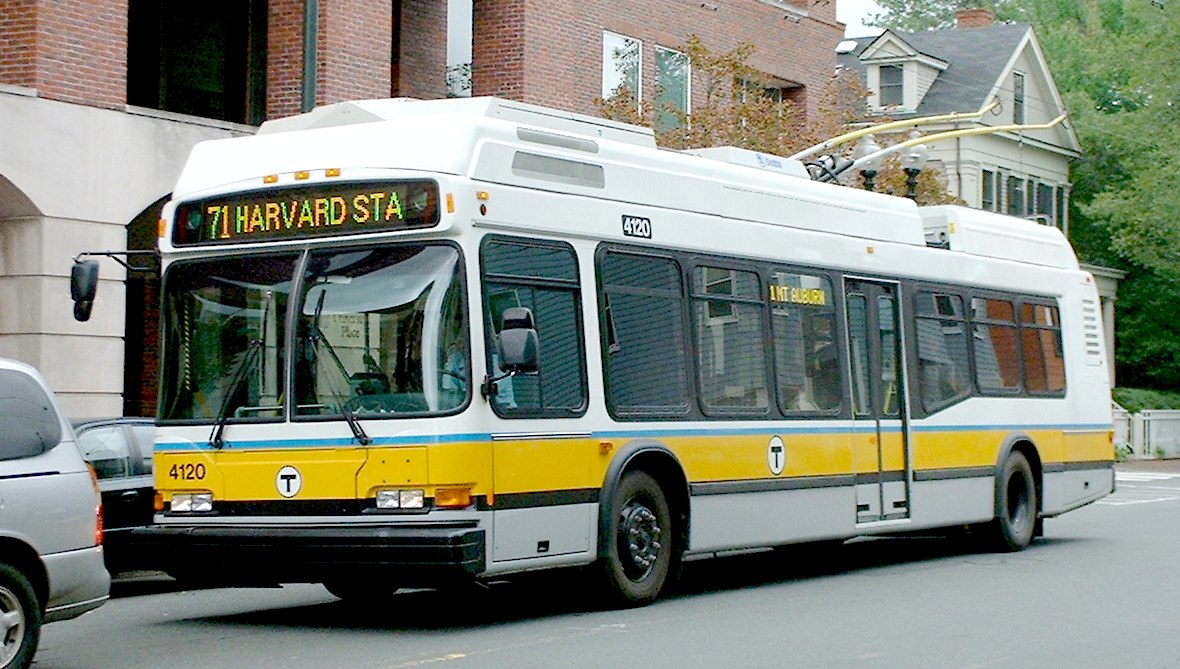 MASSACHUSETTS - New in 2004, Massachusetts Bay Transportation Authority Neoplan trolleybus number 4120, operating near Harvard Square in Cambridge. Note unique left-side door to allow passenger loading in Harvard Square tunnel.
BATTERY POWER
Attempts to use batteries as a source of electricity were made from the 1880s and 1890s, with unsuccessful trials conducted in among other places Bendigo and Adelaide in Australia, and for about 14 years as The Hague accutram of HTM in the Netherlands. The first trams in Bendigo, Australia, in 1892, were battery-powered but within as little as three months they were replaced with horse-drawn trams. In New York City some minor lines also used storage batteries.
Battery power freed vehicles of the need for tracks in the road, a limiting factor due to cost and complexity.

Comparatively recently, during the 1950s, a longer battery-operated tramway line ran from Milan to Bergamo.
But it would take a while before battery operated buses would appear in Japan in the 1960 and 70s.
In 1995, Powergen, in London, England, were interested in battery swap technology for buses. Sadly they folded and oil prices dropped - meaning that development went no further.
At that time the Dti in England confirmed in writing that in their view there was no future for battery electric vehicles, so ruling out the development of swapping station development. They were pursuing hydrogen for vehicles, but had overlooked the fact that hydrogen fuel cell cartridges was a solution.
Europe and Australia were of a similar mind. The political brakes had been applied in typical red flag fashion.
CARB in the USA had already said something similar in 1991, and put that in writing too. They had decided to wait for super batteries and hybrids.
These were opportunities missed, that had to wait until now for climate warming and smog levels to get to dangerous levels before anyone might again take sufficient note of the concept. China as beset by carcinogenic smogs.
In China there is a Nanjing battery Tram line and has been running since 2014. More recently in 2019, the Midland Metro in Birmingham, UK has adopted battery powered trams on sections through the city centre close to the Birmingham Town Hall, a listed building they want to protect.
STANDARD CARTRIDGES
The proposed 'standard' cartridge based system is ideal for the rapid recharge of buses; passenger service vehicles (PSVs), including coaches. That could mean clean cities free of particulates where lung cancer is at its worst. The same cartridge system will work just as well in trucks, where they are both (in effect) heavy goods vehicles (HGVs) variations with parts commonality in terms of axles and chassis members.
With global warming and cancer now acting as drivers for change, it worthwhile looking for development partners in terms of risking precious resources against business planning and the making of grant applications that previously had no chance of success, due to the perceived lack of commitment on the part of the parties.

BUSES, COACHES & TRUCKS - One size fits all. No need for overhead cables or tracks in the road, like the trams of old, and most existing electric buses might be converted. As the incentive to fast-forward the move to inner-city electrification, the service station is the key to confidence building for investors and motor manufacturers. These stations also service vans and cars, while they provide load leveling mobility security.
Buses can have a capacity as high as 300 passengers. The most common type is the single-deck rigid bus, with larger loads carried by double-decker and articulated buses, and smaller loads carried by midi-buses and minibuses while coaches are used for longer-distance services. Many types of buses, such as city transit buses and inter-city coaches, charge a fare. Other types, such as elementary or secondary school buses or shuttle buses within a post-secondary education campus do not charge a fare. In many jurisdictions, bus drivers require a special licence above and beyond a regular driver's licence.
Buses may be used for scheduled bus transport, scheduled coach transport, school transport, private hire, or tourism; promotional buses may be used for political campaigns and others are privately operated for a wide range of purposes, including tour vehicles. The service station above is Copyright February 2020 © all rights reserved, Cleaner Ocean Foundation Ltd.
BBC NEWS FEBRUARY 6 2020 - ELECTRIC BUS TOWN YOUR QUESTIONS ANSWERED

How do electric buses work and where does the power come from?
There are two types of fully electric buses - those that run off batteries and those powered by overhead cables like trolley-buses.
A few BBC readers asked whether there could be a return to the trolley-bus system seen in the UK in previous decades and often found abroad today. The government is inviting local authorities to apply for the £50m fund so the detail is up to the applicants.

But trolley-buses would require much more infrastructure work than battery-powered buses, although they too would need some changes to the network such as the installation of charging points.
Another option might be hybrid buses, which use a combination of an electric battery pack and a diesel engine to provide power, and reportedly produce about 40% less CO2 emissions than traditional diesel-powered buses.
Either way, with trolley or battery buses, the electricity comes from the National Grid which has said it will be able to cope with demand from an increase of electric vehicles.
Low-carbon sources of electricity made up 47% of Great Britain's output in January with wind power the second biggest provider after gas power stations. National Grid plans to be zero-carbon by 2025.
UNITED KINGDOM - In Britain, Volk's electric railway was opened in 1883 in Brighton (see Volk's Electric Railway). This two kilometer line, re-gauged to 2 ft 9 in (838 mm) in 1884, remains in service to this day, and is the oldest operating electric tramway in the world. The Blackpool Tramway, was opened in Blackpool, UK on 29 September 1885 using conduit collection along Blackpool Promenade. This system is still in operation in a modernised form.
What difference will electric buses make to emissions?
The big driver behind electric buses is their environmental friendliness. A town with 200 electric buses could cut its CO2 emissions by about 7,400 tonnes each year, the equivalent to taking 3,700 diesel cars off the road, according to the Department for Transport.
Buses are currently the fourth biggest emitter of carbon based on emissions per user, behind domestic and long-haul flights and single-person car journeys.

As well as trying to make buses greener, the government also wants more people to use them. The number of bus passenger journeys is down almost 7% in the past decade. And while bus use in London has also been falling recently, the decline across the rest of England means more journeys are now made in the capital than the rest of the nation combined.
Brighton and Hove has the highest rate of bus use outside of London. In 2018-19 there were 172 journeys per head of population.
The lowest bus use per person in England was recorded in Windsor and Maidenhead, with just nine per head of population.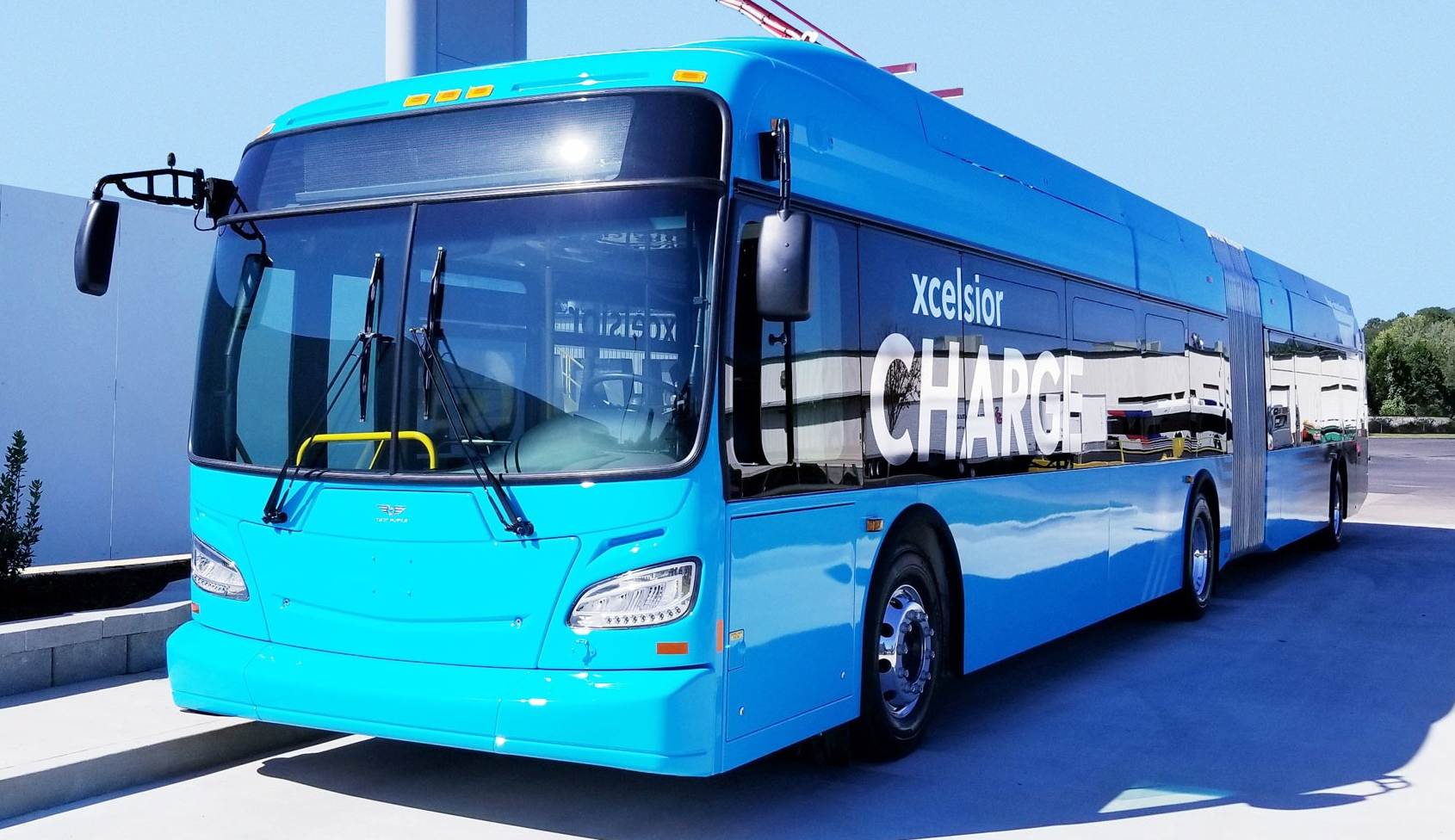 DIMENSIONS - United Kingdom and European Union: Maximum Length: Single rear axle 13.5 meters (44 ft 3 1⁄2 in). Twin rear axle 15 meters (49 ft 2 1⁄2 in). Maximum Width: 2.55 meters (8 ft 4 3⁄8 in).
United States, Canada and Mexico: Maximum Length: None. Maximum Width: 2.6 meters (8 ft 6 3⁄8 in).
What else is being done to encourage bus use?
One of the chief complaints about buses is their lack of regularity. As well as the £50m electric bus scheme, the government has also pledged a further £170m to improve services.
This includes an extra £30m to local authorities in 2020-21 to "restore lost services where they're needed most".

There is also £20m being spent on an Uber-style on demand service where passengers use a mobile phone app to order a bus.
Oxford Bus Company runs a PickMeUp service which has 30,000 registered users and completed its 250,000th journey in January. But the firm said it was "challenging to operate on a fully commercial basis" and it may have to end the 18-month long project unless it gets extra public funding.

Arriva has been running its ArrivaClick service in Liverpool since 2018, with more than 40,000 customers having used it. "We have learned a great deal and are continually reviewing our operations based on customer and stakeholder feedback in order to find the right model," an Arriva spokeswoman said.
ArrivaClick recently launched in Leicester and will soon arrive in Watford, the spokeswoman added.
The government has also launched a four-year pilot of a Superbus network in Cornwall to "deliver low-fare, high-frequency services".
The trial will start in May, with Cornwall Council reducing fares to encourage more people to use buses.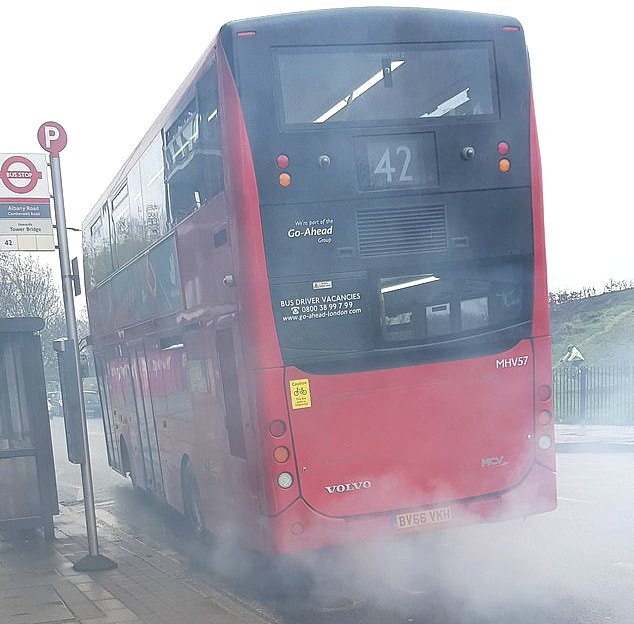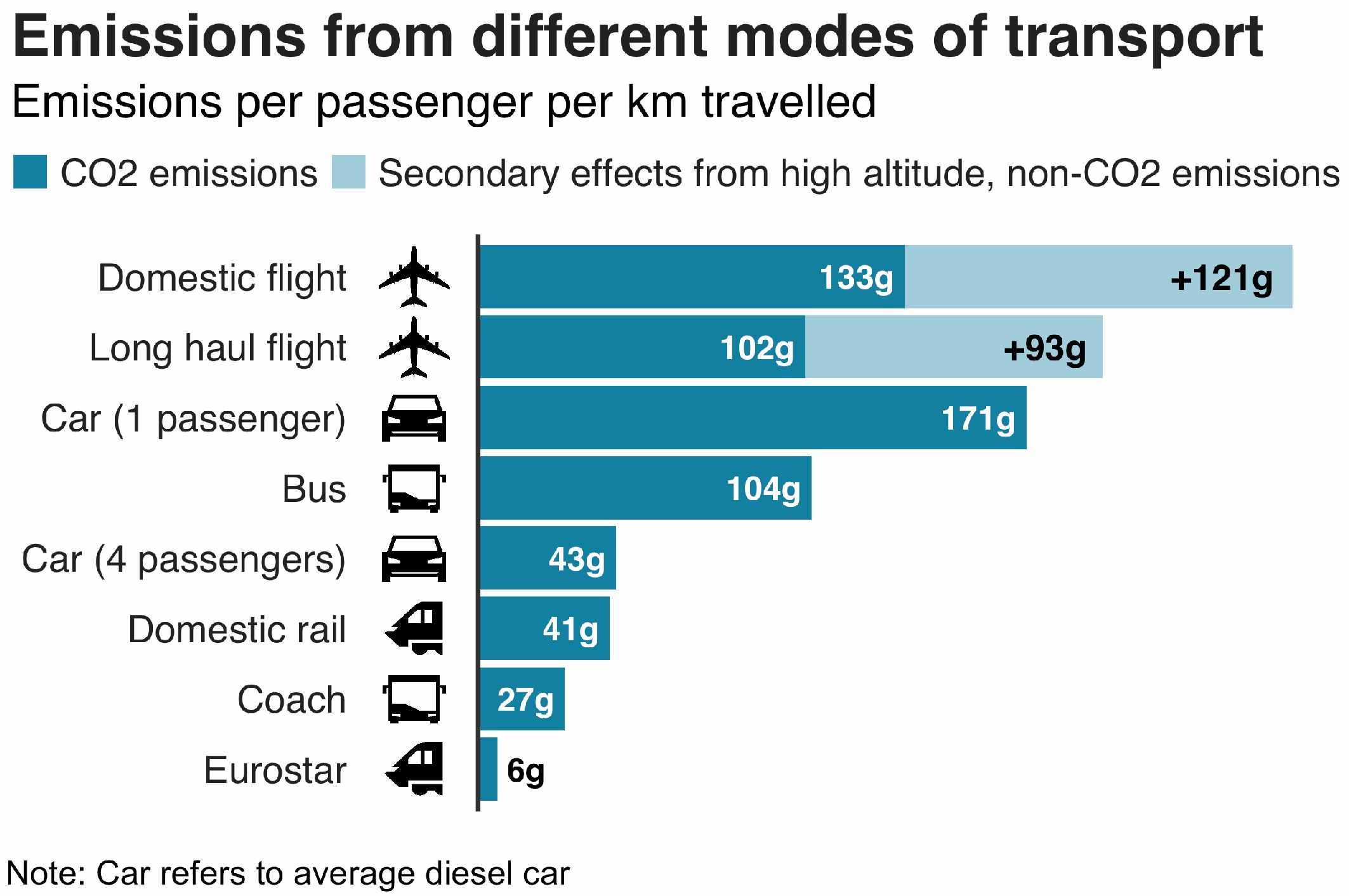 ....
BBC NEWS JANUARY 11 2020

They were the original electric buses but 50 years ago today saw the plug pulled on the last trolleybus in Wales.
Environmentally friendly and cheap, they finally succumbed to car ownership and fossil fuel on 11 January 1970.
Yet half a century later - almost to the day - local councils now see electric public transport as an answer to congestion and air pollution.
Some experts and enthusiasts even believe that shift could spark a revival for the forgotten trolleybus.
Known as the "trackless trolleys" when they first appeared on UK streets in 1911, trolleybuses became the workhorses of the public transport network.
Freed from the restrictions of tracks, taking their power from overhead cables, they provided clean, affordable and quick transport for the masses.
In Cardiff alone, more than six million journeys were taken in the first 12 months of the system opening on St David's Day in 1942.

But the boom in private car ownership during the 1960s would spell the beginning of the end. Electricity prices rose and rapidly-growing cities soon outgrew a network of overhead cables in desperate need of investment.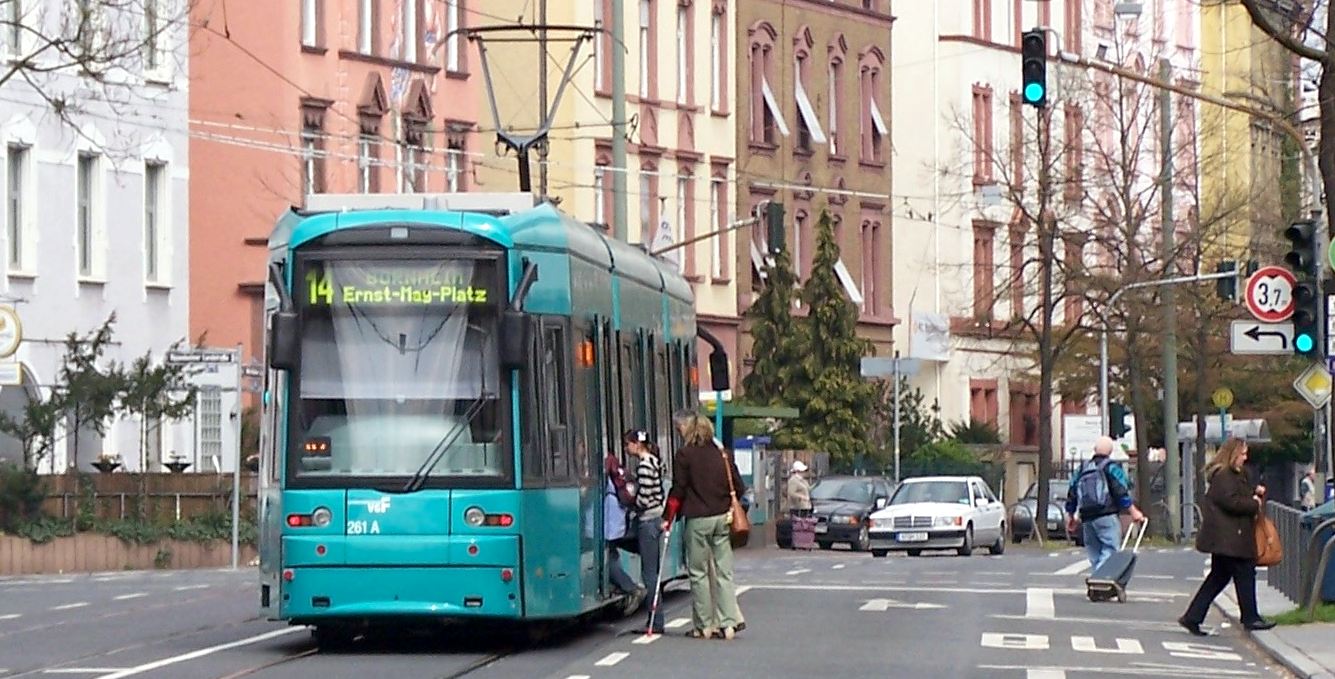 When Cardiff's trolleybus number 262 returned to the Newport Road depot for the last time in January 1970 it marked the end of an era.
However could local authorities in Wales turn back the clock amid concerns over air quality in our cities?

"It was one of those big mistakes to stop using trolleybuses," said Stuart Cole, professor of transport at the University of South Wales.
"They were clean, quiet and the technology would only have improved, as we have seen in many European cities.
"With the current thinking over getting away from fossil fuels and dealing with the pollution in city centres, it is inevitable they will come back, and a number of local authorities are looking at that possibility."

Battery-powered electric buses are already appearing on Welsh roads. The first to be used on a permanent basis appeared in Newport in August while 2020 will see 16 new zero-emission vehicles in Caerphilly.
Cardiff council will announce its transport vision for next 10 years on Wednesday, to include funding for 36 electric buses.
"Electric buses are the future - but battery technology still has a long way to go," said Mr Cole.
"The beauty of trolleybuses is that they do not need to stop to be recharged en route, so you only need one place to generate the power for the system."

Municipally-owned trolleybuses remain hugely popular across Europe, particularly in Holland, and in North America.
One group helping keep the memory of trolleybuses alive in Wales is the Cardiff and South Wales Trolleybus Project, which has spent 25 years renovating old vehicles.
"They are magic - it's like having a fairground ride in the centre of Cardiff," said co-ordinator Keith Walker.
"Anyone who travelled on them will know why we love them so much. "People think they were slow but they could easily reach speeds of 60mph."

However one bus was destroyed and two others - the last remaining models of their kind in the UK - were badly damaged in a barn fire on the farm where they were being stored.
Memorabilia, including more than 2,000 old photos, were also lost in the blaze at Peterstone, near Newport, in October, and put their work out by more than a year.
"It was heartbreaking to see all the hours of work we had put in go up in smoke," said project chairman John Webb.
"At first we thought we had lost everything so we were grateful that we had something to salvage."

Now the society is calling for Wales to have a National Museum of Transport as well as a return for the trolleybuses.
"The vehicles would fit as well now as they did when they first started," said Mr Walker. "Transport heritage must not be lost and our ambition would be to have a live circuit that people could ride."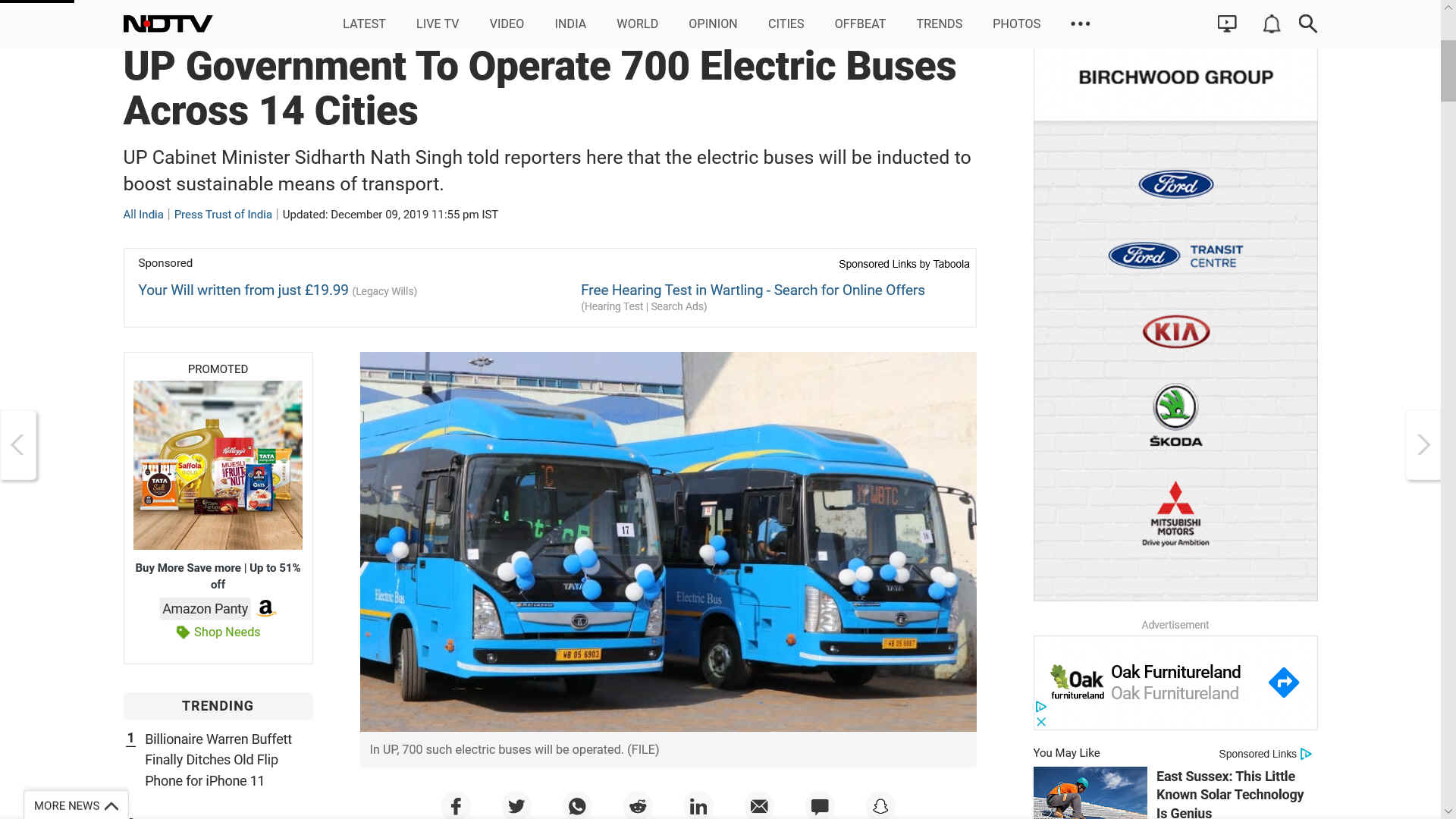 NDTV DECEMBER 9 2019 - UP GOVERNMENT TO OPERATE 700 BUSES

UP Cabinet Minister Sidharth Nath Singh told reporters here that the electric buses will be inducted to boost sustainable means of transport.

Lucknow: The Uttar Pradesh government on Monday cleared a proposal for the operation of electric buses as part of the public transport system in 14 cities across the state.

UP Cabinet Minister Sidharth Nath Singh told reporters here that the electric buses will be inducted to boost sustainable means of transport

"PMI Electro Mobility Solutions Private Limited Consortium was chosen in the tender process. In UP, 700 such electric buses will be operated

One bus will cost Rs 1.25 crore. The Centre under Phase-II of FAME will give Rs 45 lakh per bus," the minister said.

Sidharth Nath Singh said Rs 250 crore will be incurred in the operation of these buses of which Rs 120 crore will be realised through the sale of tickets.
The buses will run in Lucknow, Prayagraj, Meerut, Agra, Ghaziabad, Kanpur, Varanasi, Moradabad, Aligarh, Jhansi, Bareilly, Gorakhpur, Shahjahanpur and Mathura-Vrindavan.

As part of the National Electric Mobility Mission Plan 2020, the Centre's Department of Heavy Industry formulated a scheme called Faster Adoption and Manufacturing of (Hybrid &) Electric Vehicles in India (FAME India) in 2015 to promote manufacturing of electric and hybrid vehicle technology and to ensure sustainable growth.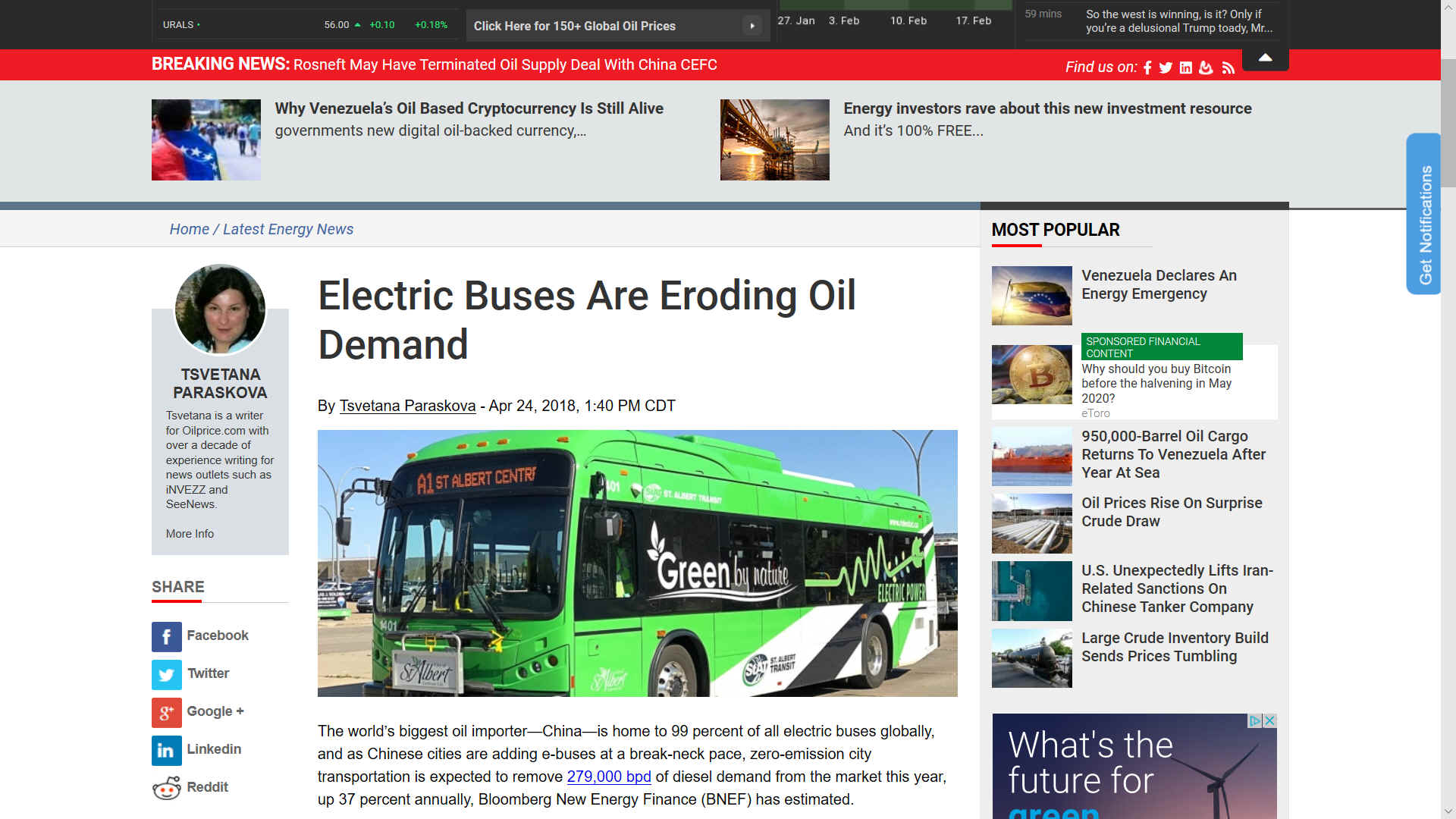 BLOOMBERG EXTRACT 2018 - Electric buses were seen as a joke at an industry conference in Belgium nine years ago when the Chinese manufacturer BYD showed an early model. Suddenly, buses with battery-powered motors are a serious matter with the potential to revolutionize city transport - and add to the forces reshaping the energy industry. With China leading the way, making the traditional smog-belching diesel behemoth run on electricity is starting to eat away at fossil fuel demand. The numbers are staggering. China had about 99 percent of the 385,000 electric buses on the roads worldwide in 2017, accounting for 17 percent of the country's entire fleet.
OIL PRICE.COM - ELECTRIC BUSES ARE ERODING OIL DEMAND 2018

The world's biggest oil importer - China - is home to 99 percent of all electric buses globally, and as Chinese cities are adding e-buses at a break-neck pace, zero-emission city transportation is expected to remove 279,000 bpd of diesel demand from the market this year, up 37 percent annually, Bloomberg New Energy Finance (BNEF) has estimated.

Every five weeks, cities in China add 9,500 e-buses on their roads, equal to the entire bus fleet of London, BNEF says.
Derided by the auto industry just a few years ago, electric buses are now having more impact on diesel fuel consumption savings than the electric passenger vehicles, because buses consume 30 times more fuel than an average-sized passenger sedan.

"The global bus fleet is still predominantly powered by diesel and CNG, and, with the exception of China, the share of electric buses in the total fleet is minimal," BNEF said in a recent report on behalf of the C40 Cities Climate Leadership Group.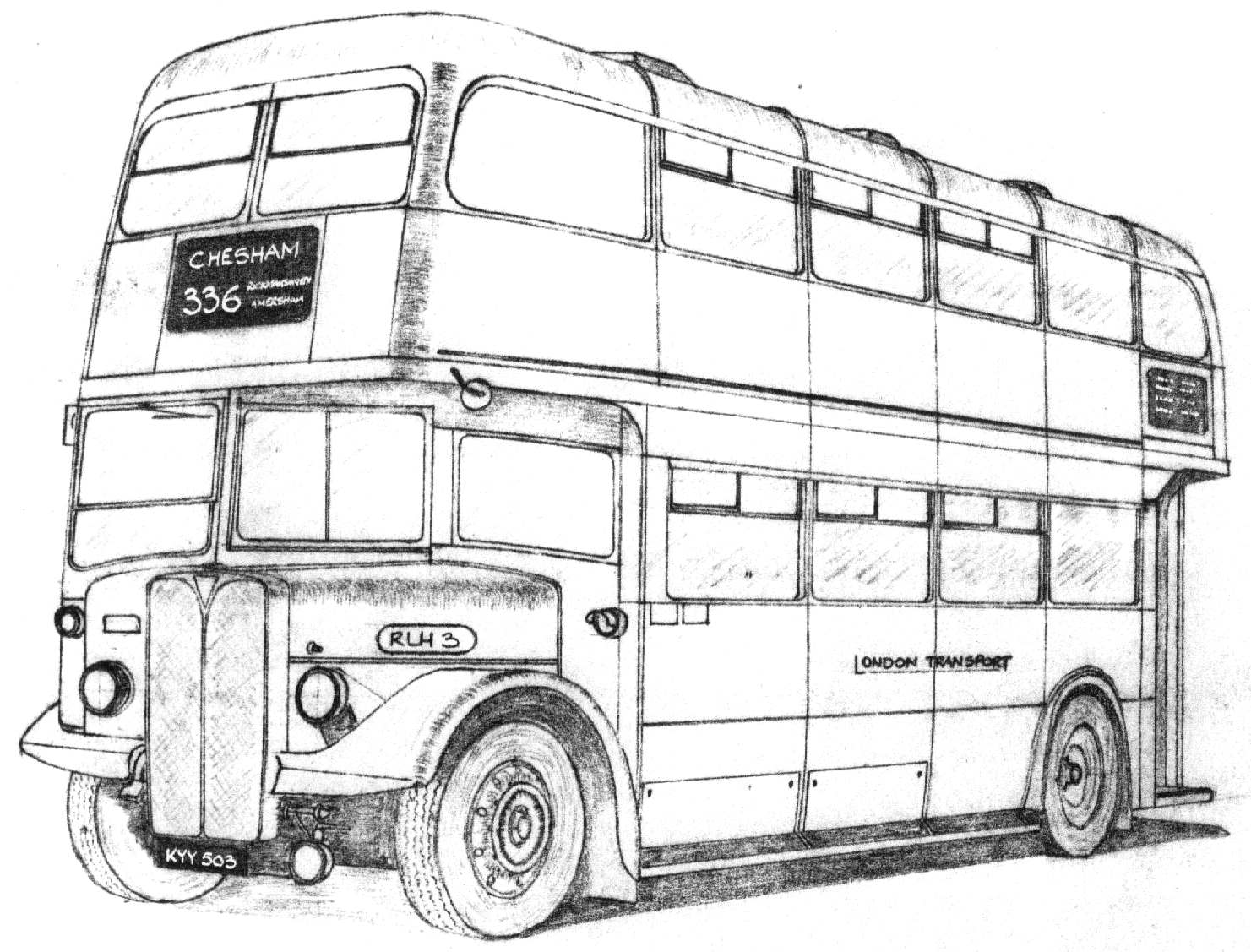 However, in China, around 17 percent of the bus fleet is already electric, and China is the world's biggest producer and user of electric buses, according to BNEF.
E-bus demand in China is soaring, pushed up by air quality targets, national sales targets, and supportive subsidies. Large cities like Shanghai and Shenzhen have already stopped buying new internal combustion engine (ICE) municipal buses and are only buying electric ones, BNEF said.

The share of e-bus sales of total bus sales in China increased to 22 percent last year, from just 0.6 percent back in 2011.

The major reasons for the Chinese e-bus boom are funding; the drive to fight urban pollution; a "blank slate" in building entirely new public transport networks while in the U.S. or Europe cities struggle to find ways to incorporate e-buses into well-established transport infrastructure; and an industrial policy to develop domestic e-vehicle brands that would be competitive abroad.
According to BNEF, globally, the "analysis of battery cost curves indicates that electric buses will reach unsubsidized upfront cost parity with diesel buses by around 2030. By then, the battery pack in the average e-bus should only account for around 8 percent of the total e-bus price – down from around 26 percent in 2016." By Tsvetana Paraskova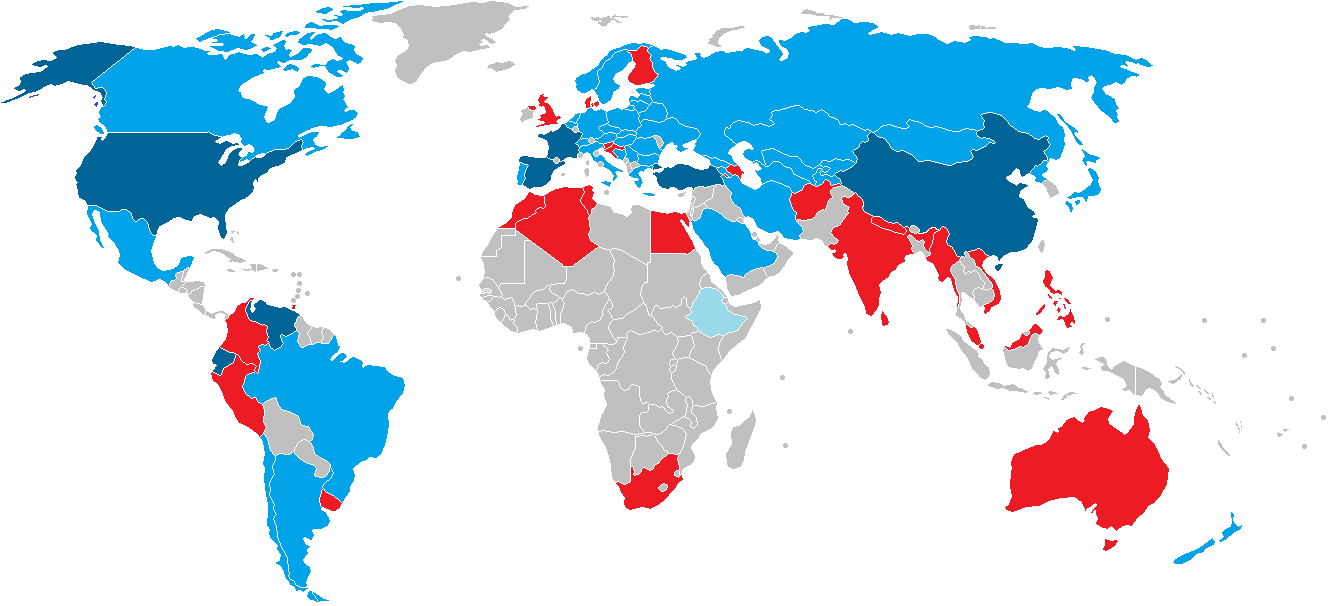 | | | |
| --- | --- | --- |
| | | Trolleybus networks in operation (also with bus rapid transit) |
| | | Trolleybus networks in operation (without bus rapid transit |
| | | Trolleybus networks planned (as new or reconstruction) |
| | | Countries that had trolleybus networks |
| | | Countries that never had trolleybus networks |
WIRED.COM JULY 2019

In lots of ways, the electric bus feels like a technology whose time has come. Transportation is responsible for about a quarter of global emissions, and those emissions are growing faster than in any other sector. While buses are just a small slice of the worldwide vehicle fleet, they have an outsize effect on the environment. That's partly because they're so dirty - one Bogotá bus fleet made up just 5 percent of the city's total vehicles, but a quarter of its CO2, 40 percent of nitrogen oxide, and more than half of all its particulate matter vehicle emissions. And because buses operate exactly where the people are concentrated, we feel the effects that much more acutely

Enter the electric bus. Depending on the "cleanliness" of the electric grid into which they're plugged, e-buses are much better for the environment. They're also just straight up nicer to be around: less vibration, less noise, zero exhaust. Plus, in the long term, e-buses have lower operating costs. What with their streamlined electric engines, they're easier to maintain (at least once maintenance folks accustomed to internal combustion learn to deal with them).
So it makes sense that global e-bus sales increased by 32 percent last year, according to a report from Bloomberg New Energy Finance. "You look across the electrification of cars, trucks - it's buses that are leading this revolution," says David Warren, the director of sustainable transportation at bus manufacturer New Flyer.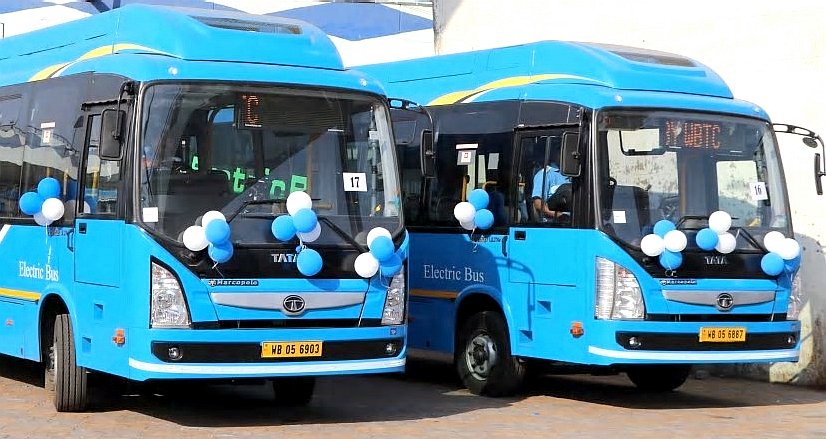 Today, about 17 percent of the world's buses are electric - 425,000 in total. But 99 percent of them are in China, where a national mandate promotes all sorts of electric vehicles. In the US, a few cities have bought a few electric buses, or at least run limited pilots, to test the concept out. California has even mandated that by 2029 all buses purchased by its mass transit agencies be zero-emission.
But given all the benefits of e-buses, why aren't there more? And why aren't they everywhere?
"We want to be responsive, we want to be innovative, we want to pilot new technologies and we're committed to doing so as an agency," says Becky Collins, the manager of corporate initiative at the Southeastern Pennsylvania Transportation Authority, which is currently on its second e-bus pilot program. "But if the diesel bus was a first-generation car phone, we're verging on smartphone territory right now. It's not as simple as just flipping a switch."

One reason is trepidation about the actual electric vehicle. Some of the major bus manufacturers are still getting over their skis, production-wise. During early tests in places like Belo Horizonte, Brazil, e-buses had trouble getting over steep hills with full passenger loads. Albuquerque, New Mexico, canceled a 15-bus deal with the Chinese manufacturer BYD after finding equipment problems during testing. (The city also sued). Today's buses get around 225 miles per charge, depending on topography and weather conditions, which means they have to rest-up about once a day on a shorter route in a dense city. That's an issue in a lot of places.
If you want to buy an electric bus, you need to buy into an entire electric bus system. The vehicle is just the start.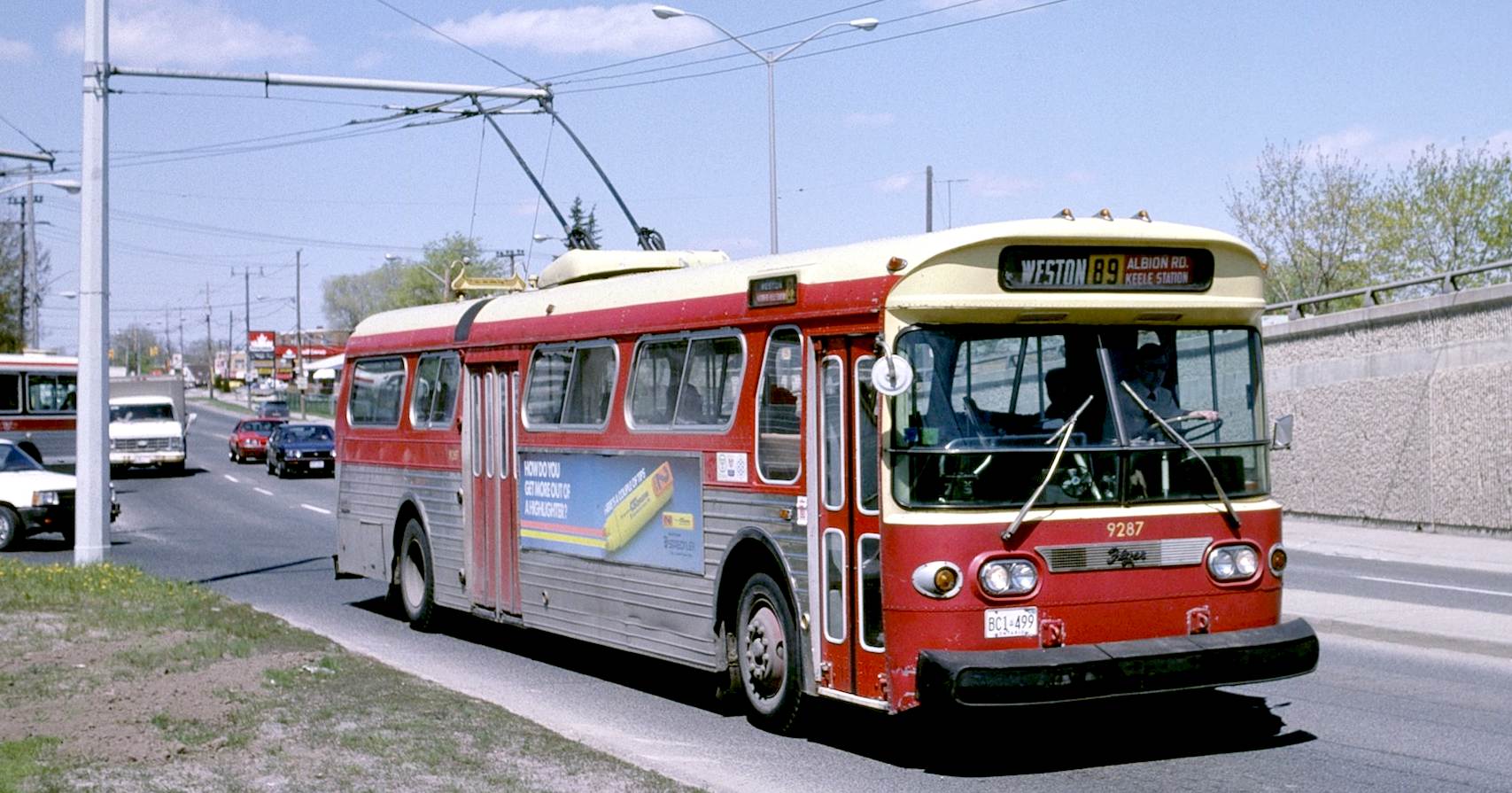 CANADA - Toronto Transit Commission trolleybus 9287 on route 89-Weston Road in 1987, in Toronto, Ontario. It is traveling south on Weston Road just north of Albion Road/Walsh Avenue, starting a new trip on route 89. The vehicle was built in 1972 by Flyer Industries Ltd. (which later became New Flyer Industries), but fitted – by the TTC's own staff – with recycled electrical equipment taken from 1947/48 CCF-Brill trolleybuses being retired. Route 89 reached this location when a very short extension of the 1948-opened route came into use, in April 1973. Toronto's Flyer trolleybuses were withdrawn in January 1992, and service on route 89 also ended permanently in that month. The last trolleybus service in Toronto (routes 4 and 6) ended in July 1993.
The number one thing people seem to forget about electric buses is that they need to get charged. "We talk to many different organizations that get so fixated on the vehicles," says Camron Gorguinpour, the global senior manager for the electric vehicles at the World Resources Institute, a research organization, which last month released twin reports on electric bus adoption. "The actual charging stations get lost in the mix."
But charging stations are expensive - about $50,000 for your standard depot-based one. On-route charging stations, an appealing option for longer bus routes, can be two or three times that. And that's not even counting construction costs. Or the cost of new land: In densely packed urban centers, movements inside bus depots can be tightly orchestrated to accommodate parking and fueling.
New electric bus infrastructure means rethinking limited space. And it's a particular pain when agencies are transitioning between diesel and electric buses. "The big issue is just maintaining two sets of fueling infrastructure," says Hanjiro Ambrose, a doctoral student at UC Davis who studies transportation technology and policy.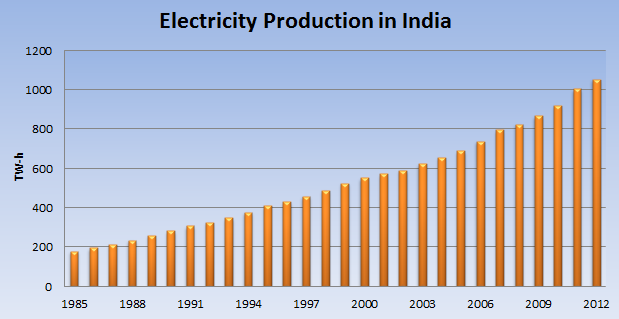 Then agencies also have to get the actual electricity to their charging stations. This involves lengthy conversations with utilities about grid upgrades, rethinking how systems are wired, occasionally building new substations, and, sometimes, cutting deals on electric output. Because an entirely electrified bus fleet? It's a lot to charge. Warren, the New Flyer executive, estimates it could take 150 megawatt-hours of electricity to keep a 300-bus depot charged up throughout the day. Your typical American household, by contrast, consumes 7 percent of that - per year. "That's a lot of work by the utility company," says Warren.

For cities outside of China - many of them still testing out electric buses and figuring out how they fit into their larger fleets - learning about what it takes to run one is part of the process. This, of course, takes money. It also takes time. Optimists say e-buses are more of a question of when than if. Bloomberg New Energy Finance projects that just under 60 percent of all fleet buses will be electric by 2040, compared to under 40 percent of commercial vans and 30 percent of passenger vehicles.

Which means, of course, that the work has just started. "With new technology, it always feels great when it shows up," says Ambrose. "You really hope that first mile is beautiful, because the shine will come off. That's always true."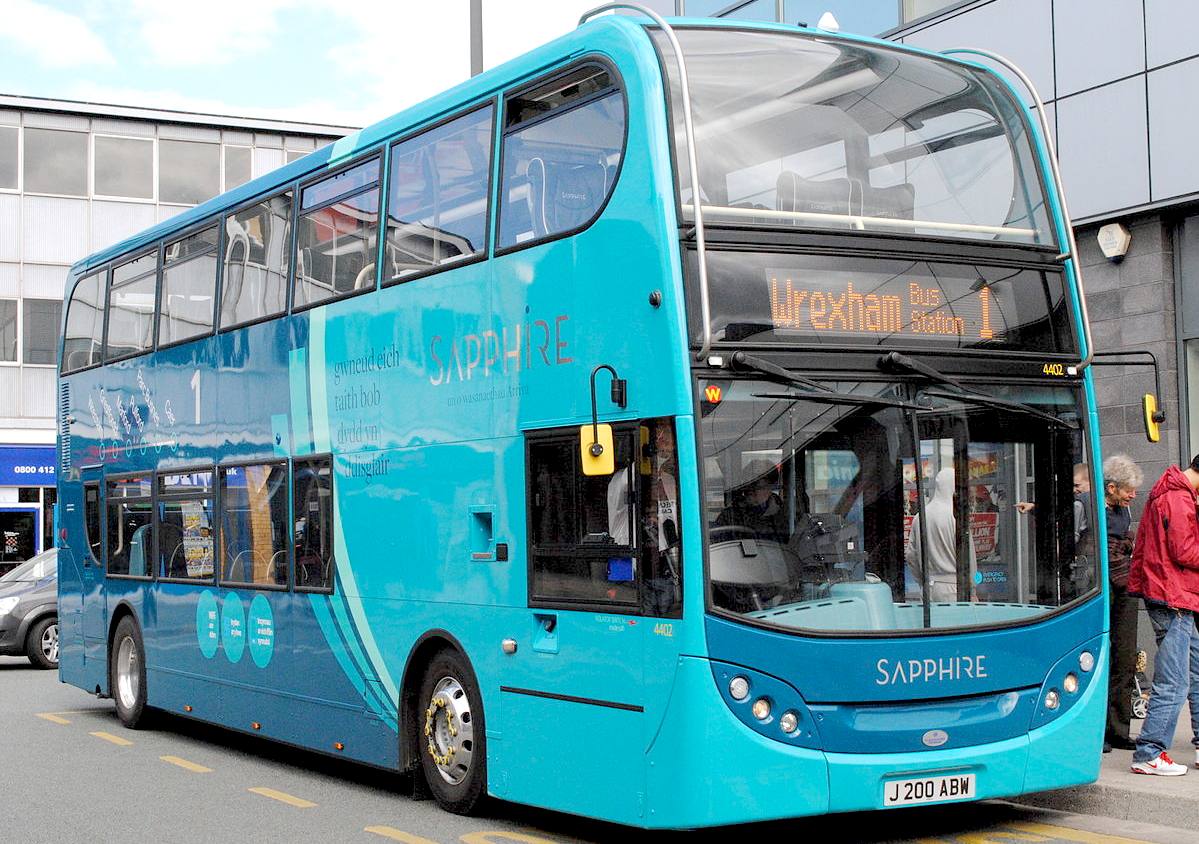 MAKES OF ELECTRIC BUSES & COACHES
- BDY
MAKES OF ELECTRIC TRUCKS
- DAF
- Renault
- MAN
- Volvo
CONTACTS
Bluebird Energy Systems (SME)
PIC No: 895922168
Cleaner Ocean Foundation (Not for profit)
PIC: 915580382
LINKS & REFERENCE
https://zeroemissionbusconference.eu/
https://economictimes.indiatimes.com/ashok-leylands-new-electric-bus-may-turn-focus-on-battery-swaping/articleshow/62845416.cms
https://kojects.com/2016/07/25/jeju-introduces-electric-buses-with-swapping-battery/
https://www.ndtv.com/india-news/up-government-clears-proposal-for-operation-of-700-electric-buses-across-14-cities-2146062
https://www.wired.com/story/electric-buses-havent-taken-over-world/
https://arstechnica.com/cars/2018/04/electric-buses-are-avoiding-hundreds-of-thousands-of-barrels-of-oil-per-day/
https://oilprice.com/Latest-Energy-News/World-News/Electric-Buses-Are-Eroding-Oil-Demand.html
https://www.bbc.co.uk/news/uk-england-51400545
https://ec.europa.eu/digital-single-market/en/fet-proactive
https://www.bbc.co.uk/news/uk-wales-51034523
https://ec.europa.eu/easme/en/section/sme-instrument/eic-accelerator-sme-instrument-funding-opportunities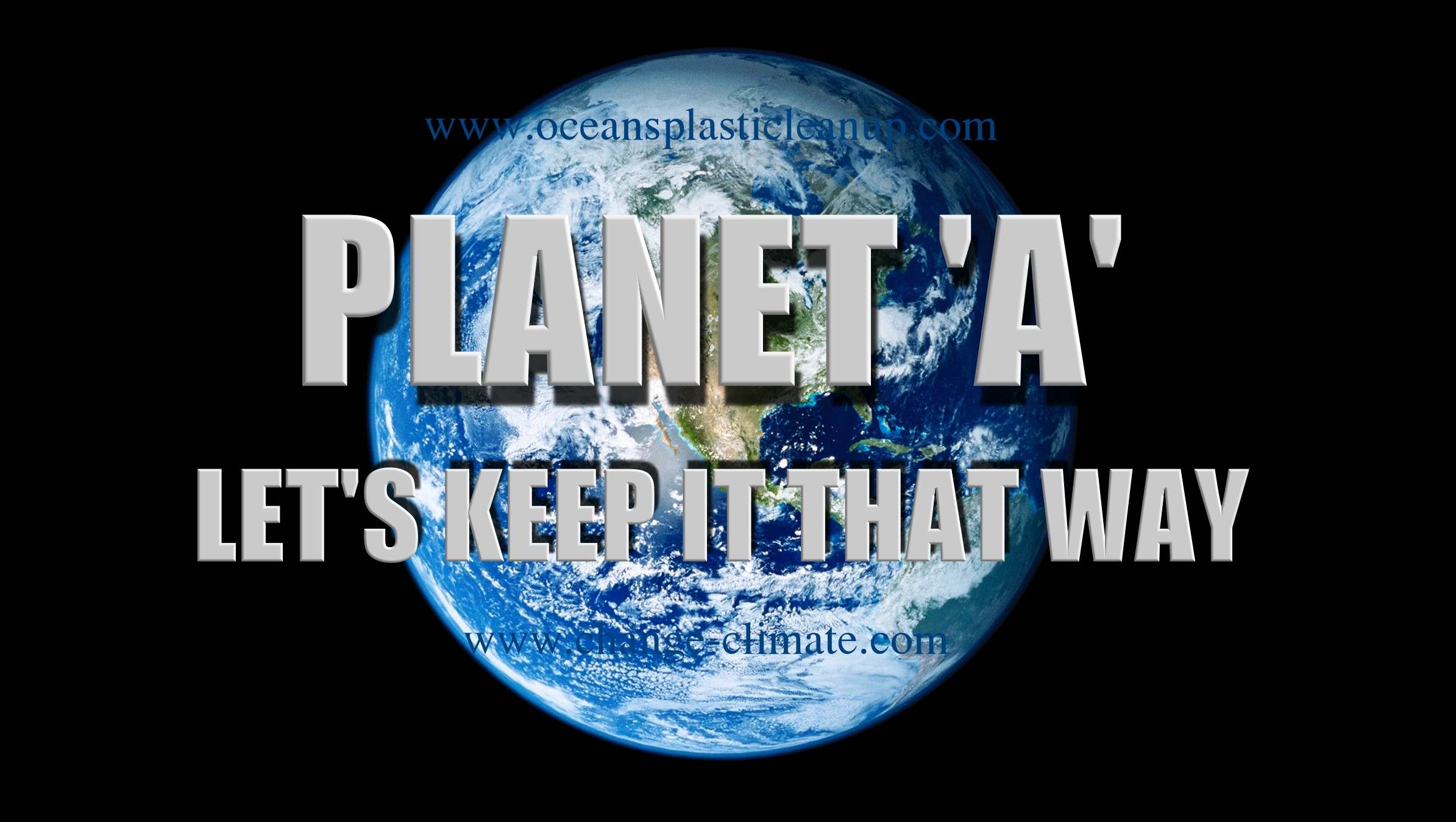 Please use our A-Z INDEX to navigate this site