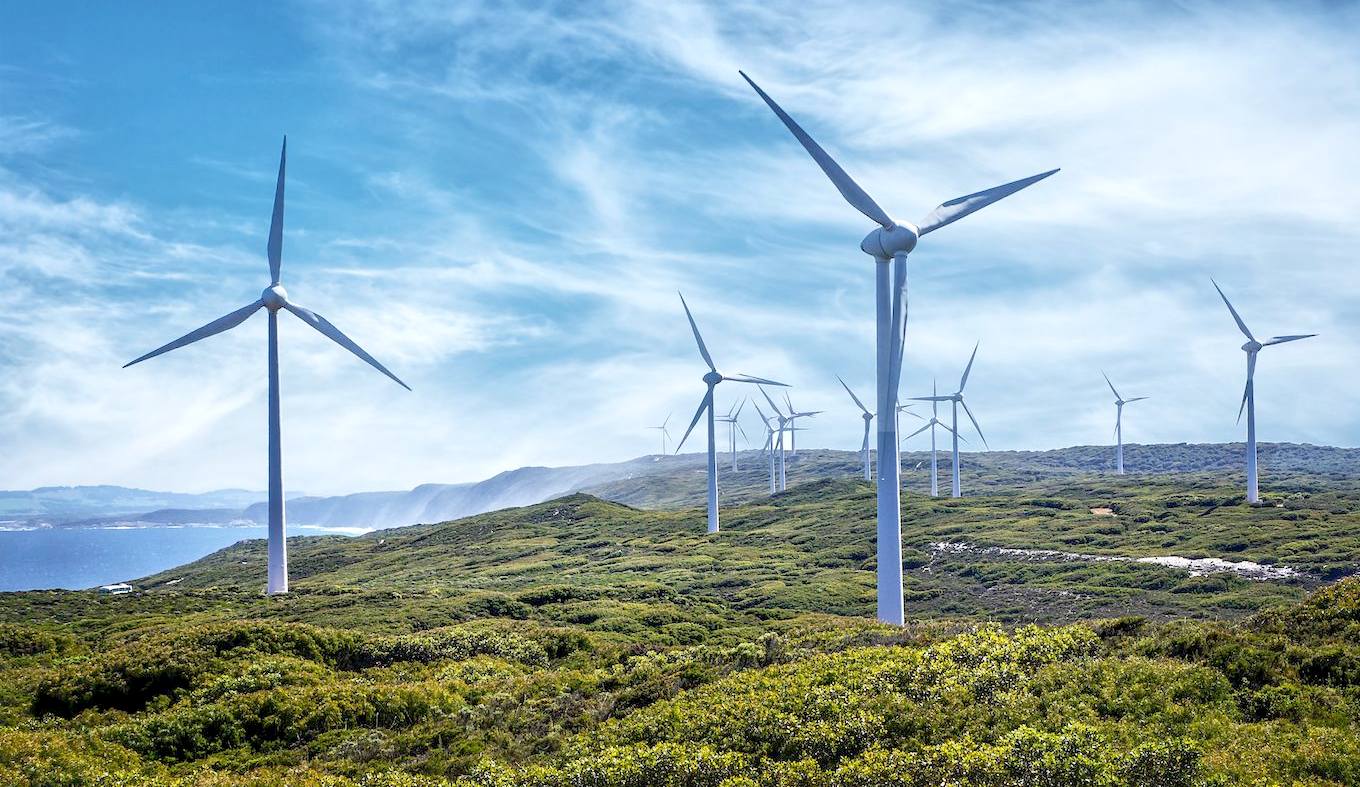 FREE AS A BIRD - It is happening. Wind energy is providing bucket loads of power that will be more useful with the kind of load leveling that battery and green hydrogen storage can provide, to make better use of all that captured natural muscle. Windmills and sails had been working for mankind for hundreds of years before the discovery of electricity. These graceful machines can be located in isolated areas where winds are strong and reliable. Making allowance for storms, doldrums, and power blackouts, by design.
ABOUT SSE
According to their website, SSE has set four fundamental goals for 2030 which put sustainability at the heart of its business.

SSE's business strategy places addressing the challenge of climate change at the very core of what they do – that's why they have decided to link long-term business goals to the UN's global goals for sustainable development (the SDGs).
These four goals are:

- Cutting carbon intensity
- Treble renewable energy output
- Help accommodate 10 million EVs
- Champin fair tax and real living wage

These goals help SSE achieve its vision of being a leading energy company in a low-carbon world.
GO AHEAD LONDON
SSE Enterprise is helping thousands of London commuters travel by electric bus after installing hundreds of charging points across the capital

The business has delivered six projects for four bus operators – including Go-Ahead London – totalling almost £7million over the last three years

In total SSE Enterprise will deliver more than 330 electric bus charging points in London by April 2020 as the capital's iconic red bus fleet transitions from diesel to other power sources over the coming years.
SSE Enterprise's work included Go-Ahead London's ground-breaking Waterloo Garage development, which became the first, and currently only, all-electric bus garage in the country, complete with 43 charging points in 2016.

Since that time, Go-Ahead London has safely operated around seven million emission-free electric kilometres from three of its 16 bus garages.
EV'S POTENTIAL IMPACT ON THE GRID
With various studies having found that EV owners currently tend to charge their cars at the end of their working day – coinciding with when energy demand is already at its peak – the major question being posed is this: how will the system be able to cope if charging habits remain the same when EVs are in much wider use?
To put the potential demand increase into some perspective, it is estimated the draw on the grid for each single EV is equivalent to that of an entire house. Thus, hypothetically speaking, if a network feeder line had 2,000 homes on it, and 400 of those households decided to charge their EVs at the same time in the early evening, then peak demand would rise by a massive 20 percent.
It is highly likely in this case that demand would far outstrip supply, resulting in such system chaos as transformer overloads, feeder congestion, and undue circuit faults. The consequences of this would be widespread power outages, bringing catastrophic disruption to everyday life.
SMART CHARGING FOR A SMARTER GRID
Demand-side response

The traditional answer to meeting greater energy demand has simply been to build more power plants and perform regular upgrades to the grid. However, this is today seen as an extremely expensive and unsustainable solution.
Therefore, the utilities industry and energy customers alike are left with a huge incentive to work within existing grid resources in order to maximise efficiency and cut down costs.
This is where EVs, if utilised as a demand-side response mechanism, could turn a problem into an opportunity.
Demand-side response, or DSR, relates to how consumers can use (or be incentivised to use) energy more intelligently in order to lower or shift electricity demand at peak times. As the National Grid puts it, DSR provides an important tool to "ensure a secure, sustainable and affordable electricity system…helping soften peaks in demand and fill in the troughs."
In this context, far from adding to stress on the grid, EVs can actually become a key tool for grid stability, allowing electricity distributors to manage peak load and maintain reliability of supply.

iN 2017, Two methods that have been identified as ways in which EVs can contribute to this 'Smart Grid' scenario are Smart Charging and 'Vehicle to Grid schemes.

Smart Charging

Smart charging – also called managed charging – is the proposed intelligent charging of EVs, where charging can be shifted based on grid loads and in accordance with the vehicle owner's needs.
It would mainly be used to reduce peaks in demand (i.e. when everybody gets home from work and plugs in their electric vehicle), although could also be used to provide high frequency response (an increase in demand in response to a rise in system frequency).
As an incentive, utility companies can offer EV owners monetary and/or non-monetary benefits in exchange for enrolment in a programme that permits controlled charging at the times when curtailment capacity is needed for the grid.
In the UK, Scottish and Southern Electricity Networks has already trialled DSR in this area with "breakthrough" success, while Electric Nation – a Western Power Distribution project – announced in March 2017 that it is to undertake the largest smart charging trial of its kind seen so far.
Preliminary results for this trial, presented by Electric Nation in early September 2017, back up the concept of smart charging as a "key solution to the impact of increasing numbers of EVs on the electricity network".


Vehicle to Grid (V2G)

Whereas Smart Charging involves one way flow of electricity from the charger to the car, V2G facilitates a two-way flow of energy from and to the EV. This means that if the grid was short on power (e.g. a power station suddenly goes offline), then the vehicle could provide power to the grid, helping balance the network.
Operating under a V2G system, EVs have the potential to become an extremely flexible asset – as well as providing transportation, they can undertake smart charging, thereby reducing demand as required, and can also export power back to the system.
As things stand, V2G has been tested in a small number of pilots; however a number of technical and regulatory issues need to be overcome before it can be widely and effectively used.
In significant news for the technology, the UK Department for Business, Energy & Industrial Strategy (in collaboration with the Office for Low Emission Vehicles and Innovate UK) announced in July 2017 that it is making £20 million available to businesses who want to help develop V2G projects around the country.


The future

mart Charging and V2G technologies are still in the development stage. The concepts of both have already been proven as viable methods for addressing grid stability. The challenge will be in how to commercialize these technologies and roll them out to EV owners.

For this to happen, significant cooperation and engagement will be needed between many different parties – developers, DNOs, energy suppliers, government, and consumers – and this may not be easy, especially as it is estimated to cost £2.2 billion by 2050 to upgrade local electricity infrastructure.
But in 2022, they still have no solution to power cuts and blackouts, causing major disruption in the modern age of electricity - putting the lives of young, vulnerable and infirm at risk. Also raising the question of this company failing to meet Paris climate objectives aimed at Net Zero - where reliability is a key factor in reaching United Nations' Sustainability Development Goals. Especially SDG7 clean, affordable energy for all, and SDG17, partnerships, such as with automotive OEMs, where the supply of energy for transport is their responsibility, as much as motor manufacturers have a duty to provide zero emission vehicles (ZEVs) - meaning electrics, as a solution that has finally come of age. But where is the infrastructure to make this happen?
Power companies and automotive OEMs need to work together urgently, if they are going to stand any chance of catering for EVs by 2050. They have no chance at all at present levels of cooperation and forward planning - of meeting the targets set for 2030 by policy makers. They are far too comfortable, knowing they can give politicians the run around with manifold excuses from spin doctors - who are employed by climate deniers - to keep burning carcinogenic coal, diesel and petrol.
In the process, they are making their countries vulnerable to suppliers of energy who have grown wealthy enough from fossil fuel exports, to wage war in 2022.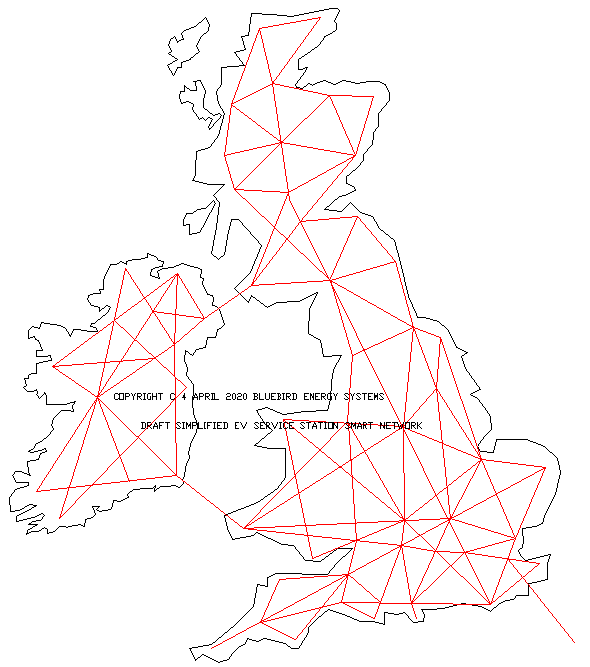 UK MAP - Draft infrastructure networked grid for the UK to kick-start EV service station building, aiming for a low carbon society that is sustainable and climate friendly by 2050 to comply with the targets set by the Climate Change Act 2008. This map is simplified and includes the Republic of Ireland for practical reasons. Supplied by and used with permission of Bluebird Energy Systems. If we use just the intersections endpoints as likely locations that would mean installing 60+ stations, that could recharge more than the 14,000 charge points in the UK as of January of 2018. Another 1,800 such stations at strategic locations could service all 25,000,000 million vehicles in the United Kingdom. Optimistic, but you have to start somewhere when conceptualizing. In the UK, the Department for Business, Energy and Industrial Strategy have introduced their Grand Challenges initiative, offering grants of up to 70% for SMEs in connection with mobility and clean energy.
According to Power-Technology.com, a website that provides market and customer insights in this sector, they listed these power companies (according to the 2018 Forbes calculation of net market capitalization, assets, sales and profit) as some of the world's the biggest utilities:
Duke Energy Corporation, DUK, N. Carolina, USA
Dominion Energy Inc., Richmond, Virginia
Exelon Corporation EXC, Chicago, USA
KEPCO Korean Electric Power Corporation
National Electric Grid & Central Electricity Authority (India)
National Energy Board (Canada)
National Grid plc (formerly Central Electricity Generating Board UK)
Next Era Energy Inc. Florida, USA
Scottish & Southern Energy
Southern Company, Atlanta, Alabama, Georgia, Mississippi, USA
State Grid Corporation of China
TEPCO Tokyo Electric Power Company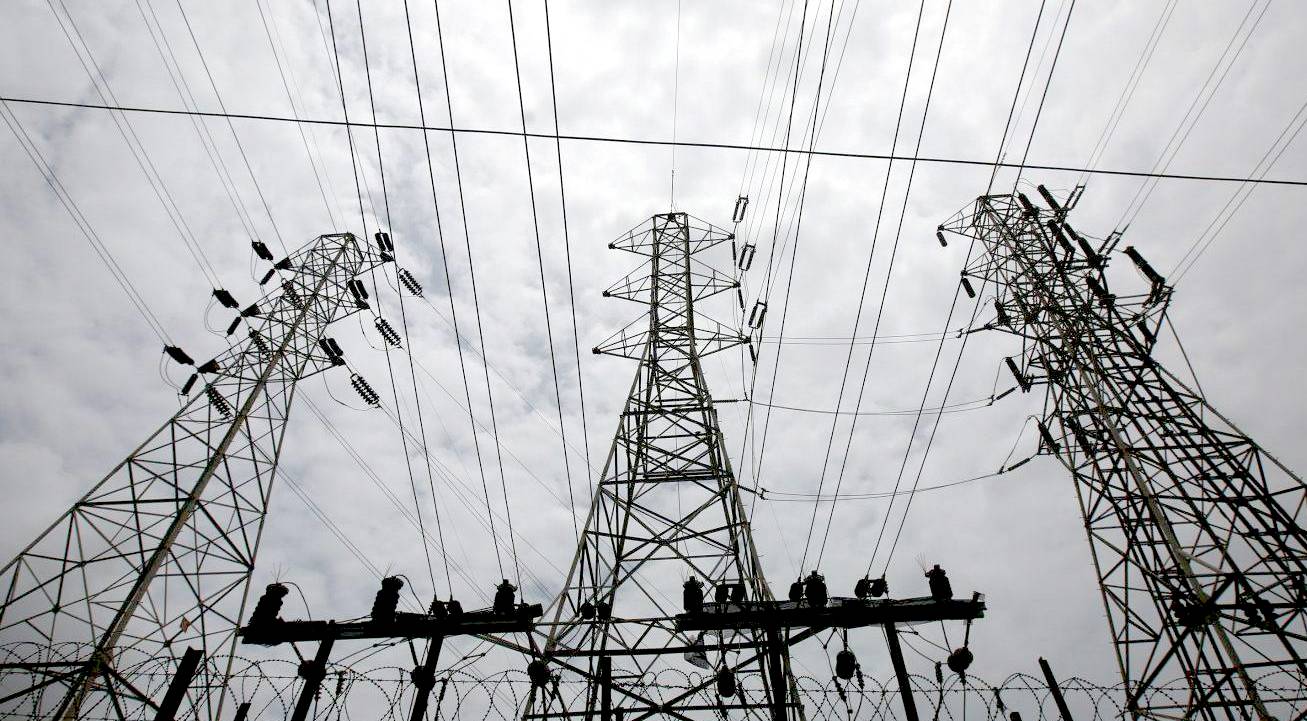 HIGH VOLTAGE - Every country uses high voltage cables to transmit electricity via a grid. mostly over ground using steel pylons.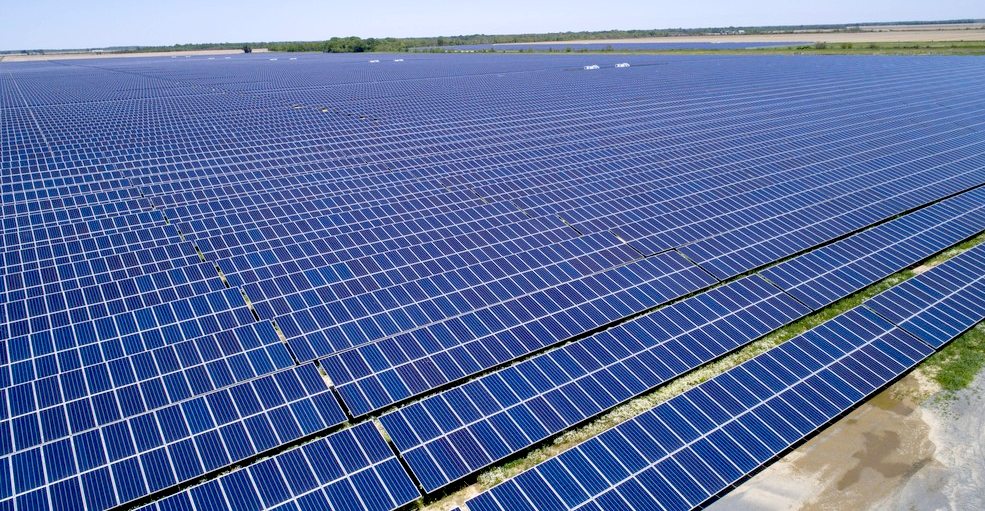 FROM SPACE EXPLORATION TO ZERO EMISSIONS - Developed to power satellites and spacecraft, the silicon solar panel is now a cost effective way of generating clean electricity. Ideal sites for the location of solar farms is land that cannot be used for farming, such as the deserts we have created.
CONTACTS

SSE plc
200 Dunkeld Road
Perth, PH1 3AQ
Scotland
SSE Utility Solutions Ltd
No.1 Forbury Place
43 Forbury Road
Reading, Berkshire
RG1 3JH, United Kingdom
ENERGY GENERATING-DISTRIBUTION UTILITIES ARCHIVE 2015
EUROPEAN AUTO MANUFACTURERS:
- Audi
- BMW
- Citroen
- Fiat
- Ford
- Lotus
- Mercedes
- Peugeot
- Renault
- Seat
- Smart
MAKE OF ELECTRIC BUSES & COACHES
- BDY
MAKES OF ELECTRIC TRUCKS
- DAF
- Renault
- MAN
- Volvo
LINKS & REFERENCE
www.sseenterprise.co.uk/press-releases/sse-and-go-ahead-london-help-330-buses-turn-from-red-to-green-via-innovative-ev-infrastructure/
http://www.electricnation.org.uk/2019/07/17/electric-nation-smart-charged-conference-review/
https://www.sms-plc.com/insights/blogs-news/smart-charging-the-ev-solution-for-a-smarter-grid/
https://sse.com/sustainability/our-2030-goals/
https://www.ssen.co.uk/Home/
https://ec.europa.eu/digital-single-market/en/fet-proactive
https://www.power-technology.com/features/top-10-power-companies-in-the-world/
Scottish and Southern Electricity Networks is a trading name of: Scottish and Southern Energy Power Distribution Limited Registered in Scotland No. SC213459; Scottish Hydro Electric Transmission plc Registered in Scotland No. SC213461; Scottish Hydro Electric Power Distribution plc Registered in Scotland No. SC213460; (all having their Registered Offices at Inveralmond House 200 Dunkeld Road Perth PH1 3AQ); and Southern Electric Power Distribution plc Registered in England & Wales No. 04094290 having their Registered Office at No.1 Forbury Place, 43 Forbury Road, Reading, RG1 3JH which are members of the SSE Group www.ssen.co.uk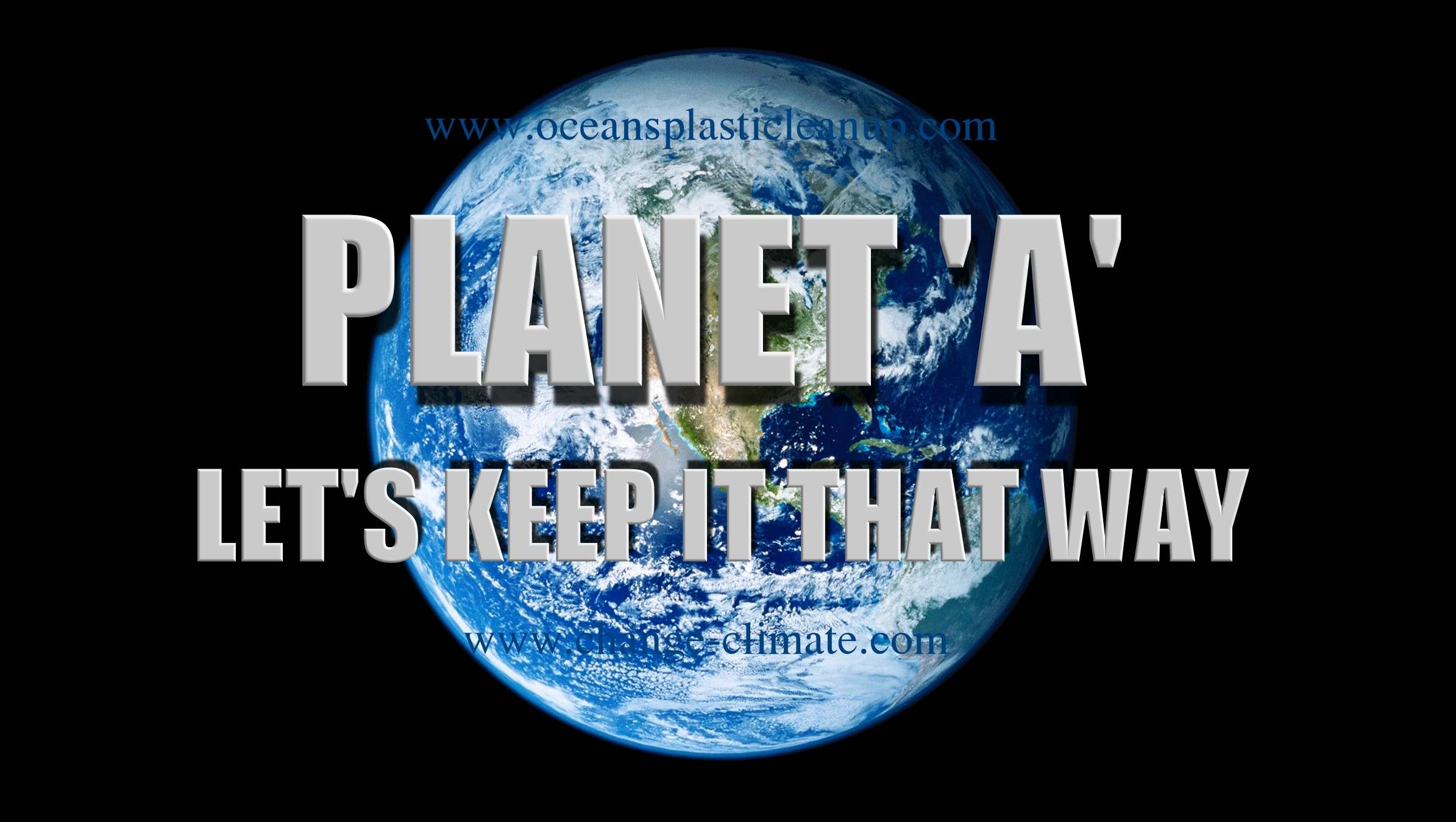 Please use our A-Z INDEX to navigate this site