FET FUTURE EMERGING TECHNOLOGY (PILOT)
The Industrial Strategy sets out Grand Challenges to put the UK at the forefront of the industries of the future, ensuring that the UK takes advantage of major global changes, improving people's lives and the country's productivity.
The first 4 UK Grand Challenges are focused on the global trends which will transform the future, 3 of which are:

- Artificial Intelligence and data (smart)

- Clean growth (sustainability)

- Future of mobility

The British Government claim to be developing ambitious missions to tackle their Grand Challenges.
Each of these will focus on a specific problem, bringing government, businesses and organisations across the United Kingdom together, hoping to make a real difference to people's lives. They will work with leading experts such as University College London's Commission for Mission Oriented Innovation and Industrial Strategy in order to facilitate their aims.
Future of mobility
The UK hopes to become a world leader in the way people, goods and services move.
The mission is to put the UK at the forefront of the design and manufacturing of zero emission vehicles, with all new cars and vans effectively zero emission by 2040.
How people get around is going to change significantly in the future. New technologies, such as zero emission vehicles and self-driving cars, are improving transport to make it safer, cleaner and better connected.
This mission aims to put the UK at the forefront of the design and manufacture of zero emission vehicles and sets an ambition for all new cars and vans to be effectively zero emission by 2040. This will help improve the air we breathe, support the shift to clean growth, and help the UK seize new economic opportunities.
How they are backing this mission:
- Support for innovation in clean ways of powering vehicles, including £1 billion over 10 years for development of low carbon powertrains through the Advanced Propulsion Centre, and £246 million for the Faraday Battery Challenge to develop safe, cost-effective and high-performance batteries for electric vehicles.
- Grants to help people buy ultra low emission vehicles, as part of a £1.5 billion investment between 2015 and 2021 to support the growth of this market
- Investments in electric vehicle charging infrastructure and hydrogen vehicle refuelling stations
an Automotive Sector Deal setting out how government and industry will work together to achieve this strategic vision.
- Their zero emission road transport strategy will set out in more detail the government approach to the transition to zero emission road transport.


Progress so far
The UK have: published the Road to Zero strategy setting out our comprehensive plans to support the transition to zero emission vehicles, including: their ambition for at least 50% — and as many as 70% — of new cars sold to be ultra low emission by 2030 a commitment to massively expand electric and low emission vehicle infrastructure across the country hosted the world's first Zero Emission Vehicle Summit in Birmingham, where:
- They announced a £100 million boost for R&D in zero emission vehicle technology industry announced £500 million of investment creating over 1,000 jobs across the UK, including; £200 million for EV Network, a UK-based charging station development company, and £50 million for a new Aston Martin facility in St Athan Wales.
- They launched the Poland-UK e-mobility declaration, at the UN climate COP24 negotiations, signed by nearly 50 governments.
- They passed the Automated and Electric Vehicles Act, giving the government new powers to improve the customer charging experience, require chargepoints to be smart and increase chargepoints at key location.
- They invested £246 million in the Faraday battery challenge to drive innovation and scale-up facilities for batteries for electric vehicles, including a UK Battery Industrialisation Centre in Coventry.
- They announced £78 million from the Industrial Strategy Challenge Fund (Stephenson Challenge) to drive the electric revolution.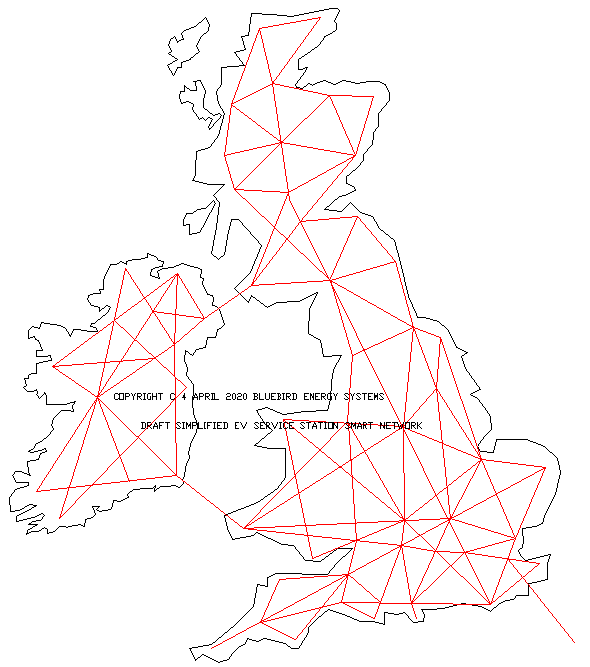 UK MAP - Draft infrastructure networked grid for the UK to kick-start EV service station building, aiming for a low carbon society that is sustainable and climate friendly by 2050 to comply with the targets set by the Climate Change Act 2008. This map is simplified and includes the Republic of Ireland for practical reasons. Supplied by and used with permission of Bluebird Energy Systems. If we use just the intersections endpoints as likely locations that would mean installing 60+ stations, that could recharge more than the 14,000 charge points in the UK as of January of 2018. Another 1,800 such stations at strategic locations could service all 25,000,000 million vehicles in the United Kingdom. Optimistic, but you have to start somewhere when conceptualizing.
If we are to provide enough charging points to cope with an all electric 2040, we will need to install around 280,000 units per year for the next 22 years. That is 767 charging points a day, based on the assumption that one in four cars will be charging at any one time in 2040 and not the full Monty.
There will not be a charging point for every car, but realistically, we are never going to install 767 stations every day.
The UK needs to provide energy for 25 million low carbon vehicles before 2050.

If the average driver in the UK travels 10,000 miles per year and let us suppose (for example) that this person operated a BMW i3, they will need to charge up 125 times in a year x 20kW = 2,500 kW (2.5Mw). Multiply this by 10 million vehicles (under half the 25 million licensed vehicles) and we are going to need a whole lot of load leveling, or sharing, or something in between. Where 10 million x 2.5Mw = 25 million Mw (25 Terawatts).
25TWh is not a lot compared to the overall UK energy use in 2014. We use 2014 as a bench mark where 2017 information was not sufficiently freely available in 2018 >>.
EV'S POTENTIAL IMPACT ON THE GRID - LOAD LEVELLING
With various studies having found that EV owners currently tend to charge their cars at the end of their working day – coinciding with when energy demand is already at its peak – the major question being posed is this: how will the system be able to cope if charging habits remain the same when EVs are in much wider use?
To put the potential demand increase into some perspective, it is estimated the draw on the grid for each single EV is equivalent to that of an entire house. Thus, hypothetically speaking, if a network feeder line had 2,000 homes on it, and 400 of those households decided to charge their EVs at the same time in the early evening, then peak demand would rise by a massive 20 percent.
It is highly likely in this case that demand would far outstrip supply, resulting in such system chaos as transformer overloads, feeder congestion, and undue circuit faults. The consequences of this would be widespread power outages, bringing catastrophic disruption to everyday life.
A study was conducted as to two-way smart plug points, that showed a marked improvement, but only to a point. This is where car batteries are used to load level the grid.
That Automated & Electric Vehicles Act 2018 makes it law that refuelling points must be situated at motorway services.
PETROL STATIONS
The number of petrol filling stations had dropped considerably. In 1970 there were 37,539 petrol stations in the UK but by 2012 the number had fallen dramatically by 75 per cent to 8,677.

The number of petrol and diesel station sites in the United Kingdom (UK) from 2000 to 2016 had fallen since by over 34 percent. 2013 is the only year of the fifteen recorded which shows an increase on the previous year's number. In 2013, approximately 34 percent of petrol stations operated on a 24 hour basis. BP operated the greatest number of forecourts. BP, ESSO, and Shell combined operated more than 1,000 sites. The supermarket-owned petrol stations operated more than 500 forecourts.
Owning fewer forecourts, the supermarket retailers sold a greater volume of fuel @ 44 percent of fuel sold in the UK. With petrol and diesel cars using less fuel for the same distance traveled, petrol stations will become less profitable. As EVs increase in numbers it is likely that fossil fuel sellers will move into the electricity supply business, or lose out on that opportunity. This is where flat-pack EV stations that load-level could become attractive.
At the moment there are not enough EVs on British roads to make it worthwhile operating dedicated service stations. For this reason plug in charging points are needed to sow the seeds of an embryonic market.
UK CABINET POLICY MAKERS - APRIL 2020
Chancellor Exchequer

Alok Sharma

Business & Energy

Transport

George Eustice

Environment

Robert Jenrick

Housing, Local Gov.
LINKS & REFERENCE
https://www.gov.uk/government/publications/automotive-sector-deal/auto
http://www.electricnation.org.uk/2019/07/17/electric-nation-smart-charged-conference-review/
http://www.wealdendistrict.com/Cimate_Change/Electric_Vehicles_Infrastructure/CAP_Electric_Vehicles_Infrastructute_Climate_Action_Plan.htm
https://www.gov.uk/government/publications/industrial-strategy-the-grand-challenges/industrial-strategy-the-grand-challenges#future-of-mobility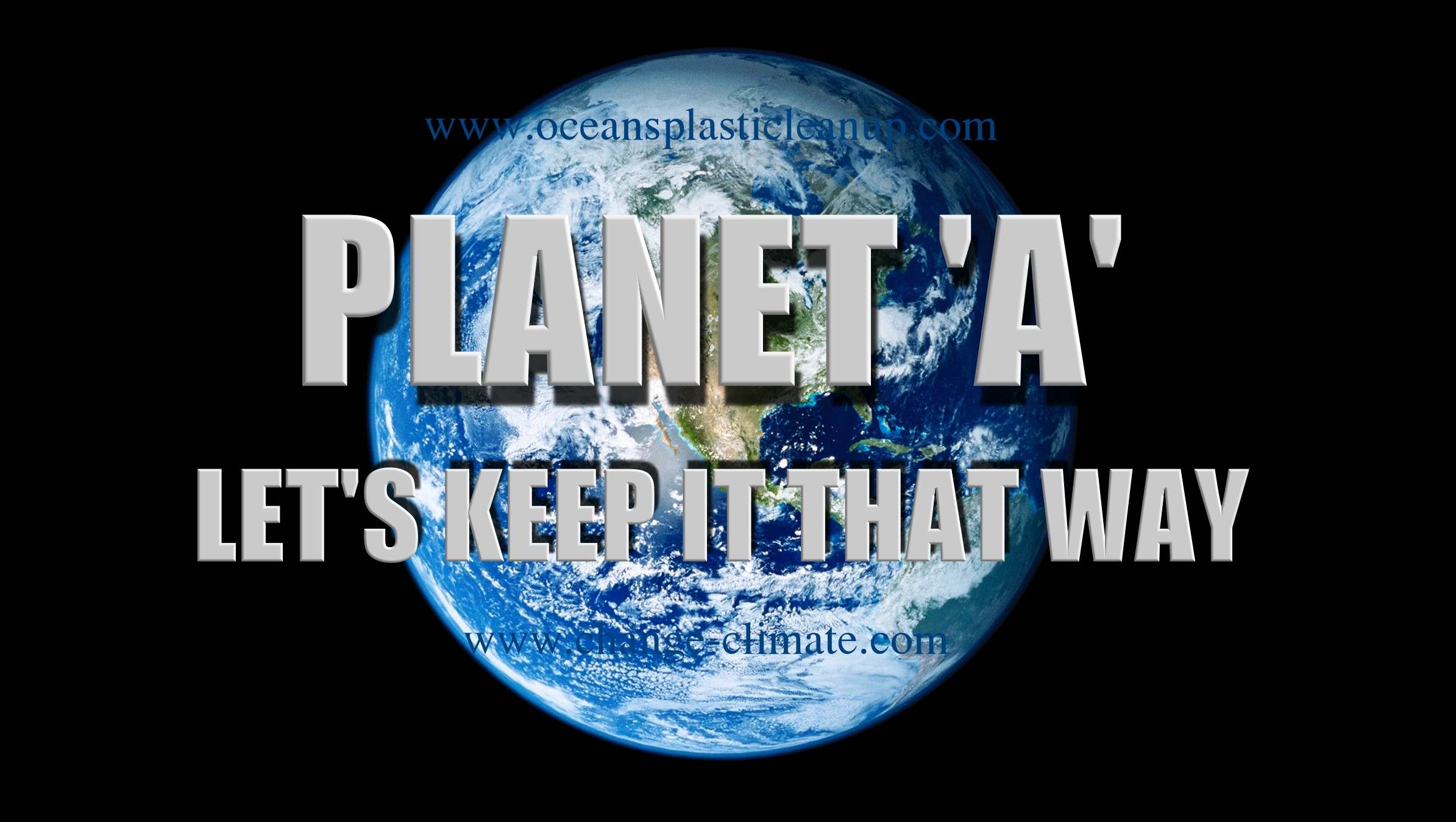 Please use our A-Z INDEX to navigate this site