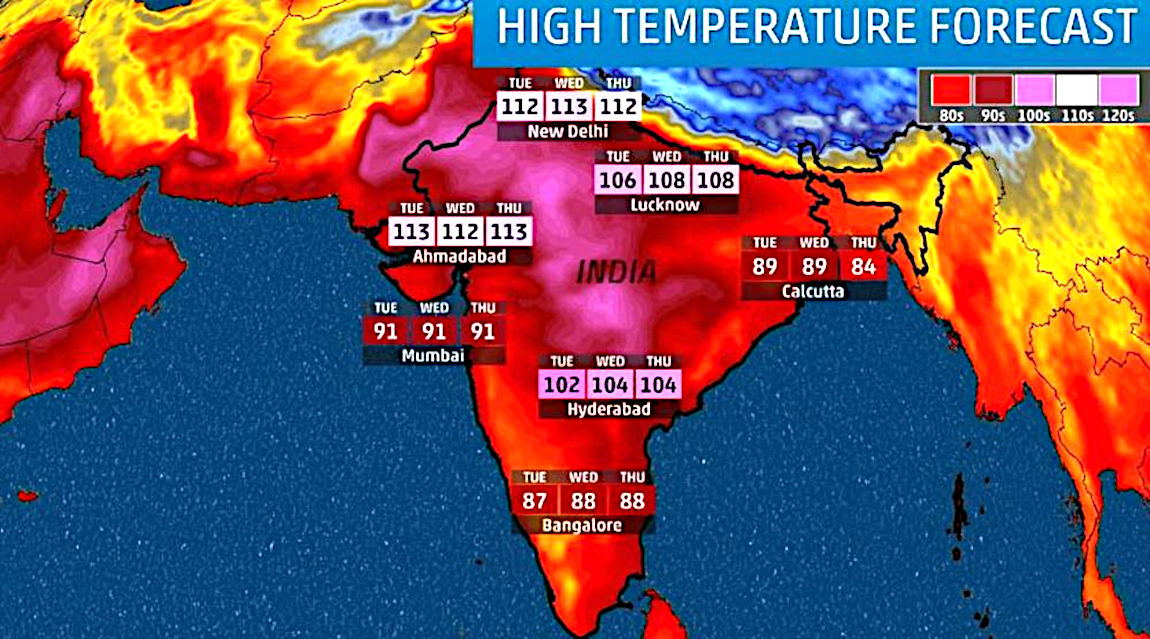 ARMAGEDDON - The consequences of failing to act when you have the opportunity, is that it is too late when the roasting escalates. What you can hope for is that the politicians who allowed the situation to go unchecked, are the ones the public roast first when the crops fail - and we are forced to consider other sources of protein.
According to the latest data from the India Meteorological Department, Delhi has recorded a maximum temperature of at least 42C on 25 days since summer began – the highest number since 2012.

The average summer temperature is usually 36-38C. In mid-May the temperature shot up to 49C in some parts of the city. March was also the hottest in India as a whole since records began 122 years ago. UN chief António Guterres has likened the climate crisis to ''collective suicide".


BONN, GERMANY - CLIMATE TALKS JUNE 2022

Indian delegation have told representatives of rich countries that India is suffering loss and damage owing to the climate crisis. They are demanding massive funding so the government can prepare for extreme weather events by building early warning systems.

The delegation also wants money to carry out reconstruction after extreme events that damage infrastructure, homes and crops.

India's demand is that if it has to make these large investments, wealthy countries must support it through a "loss and damage" finance facility.
In our view, India has a cheek calling for aid, where they have refused to scale back the use of coal, so are the engine of their own destruction. The architect of Indian arsonist policies, Narendra Modi, should have introduced statute to make renewable energy, solar and wind power, a legal requirement 20 years ago, where he has embarked on the build of coal fired power stations and refused to give assurances at FLOP26 as to relenting on such arsonist policies. He has also embarked on an economic expansion strategy that is unsustainable - contrary to circular, blue growth principles.
The infrastructure to support electric vehicles and necessary load leveling, is also virtually non-existent.
You can bet that COP27 will be no different. There will be no change until the precipice, where millions are starving and expiring from heat exhaustion. Only then will the kleptocrats milking the country confess their sins - if they have not been consumed by a starving electorate. See Hannibal Lecter's cookbook.
NEWS 18 21 JULY 2022 - INDIA SUMMER HEAT WAVES LIKELY TO TRIPLE BY 20100: IFPRI REPORT

The average temperature across India is projected to rise by 2.4 – 4.4 degree Celsius by 2100, while summer heat waves are projected to triple or quadruple by then due to climate change, according to a report. As the temperature increases, average land productivity is also decreasing, US-based IFPRI said in its latest report on Thursday. For the South Asia region as a whole, annual mean temperatures are projected to increase by 1.2 – 4.3 degree celsius (under low- and high-emissions scenarios) by the end of the century, it noted.

According to the report 'The 2022 Global Food Policy Report' published by International Food Policy Research Institute (IFPRI), "South Asia is a climate change hotspot, with many climate-induced risks compounded by significant existing vulnerabilities". Policy actions vary across countries, but all governments in the region have signed the Paris Agreement on climate change, it said. However, all South Asian countries are lagging in undertaking some critical actions that would directly contribute to both climate change adaptation and mitigation in the region, and COVID-19 has led to a significant reduction in climate-related investments, it added.

The report said that the temperature rise in South Asia over the past century is well documented, and the projections are dire. "In South Asia, the average temperature rise has been a little less than the global average temperature because of the cooling effect of aerosols, including short-lived climate pollutants. But it has its own negative health and agricultural consequences," said Aditi Mukherji, Principal Researcher, International Water Management Institute (IWMI).

According to the report, increased frequency and/or intensity of extreme events, such as high heat, extended droughts, and floods are becoming more frequent. They are likely to play increasingly important roles in productivity and production. Both low and high extremes have increased in South Asia, especially since the 1980s, with more frequent dry spells and more intense wet spells, it said.

"Notably in India, summer monsoon precipitation has shown declining trends over the last few decades, with larger decreases over the main breadbasket region of the Indo-Gangetic belt," it added. In India, the report said, reduced summer monsoon rainfall has increased the frequency and spatial extent of droughts from the 1950s onward. Similarly, in Pakistan, the intensity and severity of droughts have increased over the last century.

"Greater incidence of localised extreme precipitation events has increased flood risks in India, and projections show increases in flood intensity and occurrence in the Indus, Ganges, and Brahmaputra River basins," it noted.

On the other hand, the tropical cyclones over the Northern Indian Ocean region have become less common, although very severe cyclonic storms have become more frequent in the post-monsoon season, it added. Due to increasing salinity intrusions in inland aquaculture ponds, there is a fall in fishery productivity both in India and Bangladesh, the report said. "The global food sector will likely have to become not just zero emissions but a net sink in order to offset positive emissions elsewhere. These are the big challenges that we need to address over the next 30 years," Channing Arndt, Director of IFPRI's Environment and Production Technology Division, said. There are several promising innovations that can be applied to adaptation but with more warming, adaptation will become less effective, he added.

"Climate risks in South Asia are amplified by existing vulnerabilities, which have been further compounded by the impacts of Covid-19. It has led to a decrease in yields, depleted natural resources, and associated income losses," said Shahidur Rashid, Director-South Asia, IFPRI. The impact of climate change will make it extremely challenging for the region to achieve the SDG goals of zero hunger by 2030, he noted.

According to the report, as much as USD 350 billion per year will be needed to meet climate-related goals in food systems much of which could be "reoriented" from existing sources. Current financial flows — including agricultural support, international development funds, and private investment — are at best insufficient and at worst counterproductive to climate-resilient development, it said. They often support unsustainable and unhealthy production while undervaluing environmental impacts, it said, adding the future of food systems depends on access to sufficient funding to facilitate a shift to sustainable production and consumption and to better livelihoods, it added.
EARTH.ORG 3 MAY 2022

Unprecedented and extreme high temperatures in India and neighbouring Pakistan have put more than a billion lives at risk as the effects of the climate crisis continue to impact across the subcontinent.

The historic heatwave, which started in March, resulted in the hottest March in India since records began more than a century ago. In the capital of New Delhi, residents suffered through seven consecutive days of over 40 degrees Celsius.

But temperatures in April showed no signs of relenting, where average maximum temperatures for northwest and central India climbed to its highest in 122 years, reaching 35.9 and 37.78C (96.62 and 100F) respectively, according to the Indian Meteorological Department (IMD). In some cities, temperatures crossed 43C (109.4F).

Over some parts of northwest India, surface land temperatures even exceeded 60C, according to imagery captured by satellites on May 1.

The Intergovernmental Panel on Climate Change (IPCC) has warned India being one the countries expected to be worst hit by the impacts of the climate crisis.

"This heatwave is definitely unprecedented," said Dr. Chandni Singh, IPCC Lead Author and Senior Researcher at the Indian Institute for Human Settlements. "We have seen a change in its intensity, its arrival time, and duration. This is what climate experts predicted and it will have cascading impacts on health."

The heatwave has sparked a number of worrying issues in India. The extreme heat caused a massive fire in an equally massive landfill in the city of Bhalswa, where the blaze reached higher than a 17-storey building and covered an area bigger than 50 football fields.

The risk of fire there is particularly high as 2,300 tonnes of the city's waste are dumped in landfills every day. As organic waste decomposes, it creates a build-up of highly combustible methane gas, which is a far more potent greenhouse gas than carbon dioxide. Three other landfills around the Indian capital have also caught fire in recent weeks.

Other major issues at hand include crop damage – where India's wheat crop is usually harvested in the month of April, potentially exacerbating global wheat shortages and food insecurity following the Russian invasion of Ukraine – as well as increasing pressure on domestic energy demand.

India's electricity demand has soared to a record high in April from the surge in the use of air conditioning. Total power demand rose 13.2% to 135.4 billion kilowatt hours (kWh), with electricity demand in the north growing between 16- 75%, according to Reuters' analysis of government data.

This has led to a coal shortage in India – also exacerbated by the war in Ukraine – and triggered the country's worst power crisis in more than six years. Millions are left without power for up to nine hours a day, and critical services such as hospitals are threatened by blackouts.
This year's wildfires, compounded by a record-breaking heatwave, is leading to a spike in respiratory diseases among mountain communities

Mohan Negi is worried that respiratory conditions are becoming more common across Chamoli district in Uttarakhand, north India. "At least 50% of the elderly population suffers from respiratory issues in our village of Irani," says the president of Irani's district village committee. "There are now even cases of asthma in young children."

He adds that this has worsened in the past two years, with the occurrence of winter forest fires "for the first time in history".

In just four years, the damage done by wildfires in Uttarakhand more than tripled. In 2017, 1,244 hectares of forest were burnt in the north Indian state. Last year this reached 3,927 hectares; this year 3,152 hectares have already been gutted. As of 18 May, 6,153 trees have been lost, six people injured and one person has died. Even if the monsoon arrives early this year, the devastation is likely to be worse than any of the previous years.

Data on the health impact caused by forest fires in Uttarakhand is unavailable, as the state department does not classify the information separately. But health experts in the region say there has been a multifold increase in respiratory conditions.

Anurag Aggarwal, professor and head of the Department of Respiratory Medicine at the Government Doon Medical College in state capital Dehradun, confirms to The Third Pole that the number of patients is increasing.

"There has been a sharp rise in chest pain, dry cough and even tuberculosis. Earlier we received more patients in winters, but in the last few years, it is the same all year round. The increased pollution in the state caused by both fires and industrialisation is a big factor I believe," he says.
Uttarakhand has become a tinderbox

From late March in the Himalayas, there is a 12-week dry period, also known as pre-monsoon summer. During this period, soaring temperatures dry out leaves and wood, turning forests into tinderboxes that only need a tiny spark to become a blaze.

This year, a severe and prolonged heatwave hit India and Pakistan earlier than usual. This means forests have had longer to become drier, increasing the risk of wildfire.

The frequency and severity of forest fires in Himalayan states has reached record highs in recent years.

Uttarakhand is particularly vulnerable to the problem. Around 45% of the state is forested and it is located on the southern slope of the Himalayas, where it receives a large amount of sunlight, leading to more heating. But it has also suffered from overexploitation of its natural resources, tourism and changes in the make-up of its forests.

Negi, the president of Irani village, is concerned about the sharp increase in a short period of time. "People cannot go to their fields or take animals for grazing for fear of injury or death," he says.

The economic losses to the villagers are immense, Negi adds. Many have had to abandon their wheat fields, the main harvest

in April. Households only own enough land to feed themselves – between one and three nali (one nali is about 200 square metres). If the harvest is lost to fire, compensation from the government amounts to less than a dollar per nali, which is woefully inadequate to buy food in replacement.

"We have written numerous letters to the district administration but they only take action once something happens," Negi says.

HOW HAVE FOREST FIRES CHANGED IN UTTARAKHAND IN THE LAST TWO DECADES?

Between 2002 and 2021, Uttarakhand lost 17,900 hectares of tree cover. In 2021 alone, the state lost 820 hectares of natural forest, equivalent to 428 kilotonnes of carbon dioxide emissions.

STS Lepcha, former senior forest officer for Uttarakhand, says that degradation of the state's forests has increased wildfires. "Degraded or abandoned land is invaded by pine trees, a species highly tolerant to fire and drought," explains Lepcha. "The trunk of the tree can withstand fire and the pines, which contain resin, burn like diesel as soon as it comes in contact with ignition. Thus, a little spark can lead to the burning of the entire forest".

He adds that there is a social dimension, as the increase in uninhabited villages means fires are not being reported early on.

Nishant Verma, chief conservator of forests and disaster management for Uttarakhand, tells The Third Pole that every possible step is taken to keep the fires under control. He says that before the start of the fire season his department carried out controlled burning, as well as training. This, he says, led to cooperation with villagers and quick response times.

"We have social media groups, crew stations and villagers deployed as bywatchers for these three to four months all leading to sharing real-time information… As soon as we hear of an incident, the team does all it can to douse it," he says.

However, experts told The Third Pole that the increase in fire incidents is not just a climate change issue, but a management issue.

"There is no point in spending time trying to douse the fire in mature pine forests. Instead, all the focus should be concentrated on saving the regenerative areas," Lepcha stresses.

"In a climate-challenged world and an ecologically fragile state like Uttarakhand, the only silver lining is that nothing is unexpected. We have a lot of history when it comes to forest fires and other natural disasters, and these should be used to our advantage to mitigate the impact," says Anoop Nautiyal, a social activist and environmentalist based in Dehradun.

Another factor is the year-round movement of people in remote areas, says SP Sati, a geologist and environmental scientist in the Garhwal region of Uttarakhand. In 2000, when the state was formed, it only had 8,000 kilometres of road, but in the last 21 years, it has increased to more than 45,000 km. As more people are able to reach remote areas, Sati says the likelihood of human-started fires rises.

Sati says that the state forest department should focus more on implementing a plan to minimise the annual forest fires. Dealing with the issue requires manpower, resources and citizen engagement, since many places in the Himalayas are inaccessible by fire engines.

He gives the example of two villages, Sitlakhet and Syahi Devi, where local people have acted to stop fires being started in the forest.
VICIOUS CYCLES

The environmental impact of forest fires extends beyond their contribution to global heating. When forests burn, they release particulate matter.

SP Sati, the geologist and environment scientist, explains that the increase in particulate matter or aerosols in the air causes an increase in the size of raindrops – which leads to cloudbursts. "The more the particulate matter, the higher chances of rainfall disturbances which lead to cloudbursts, thus making the state even more vulnerable to natural disasters," he adds. The presence of the particles in clouds also prolongs dry spells – thus creating a vicious cycle of heatwaves and forest fires.

Particulate matter is one of the key reasons for glacier melting, studies have confirmed. "The unburnt carbon fragments from the fires, also called black carbon, blows towards the glaciers, causing a black cover. As we know that black absorbs more heat, this is one of the reasons that the glaciers are melting at a higher rate," Sati points out.

Winter fires pose a particular challenge. Uttarakhand's hilly terrain makes it difficult to control the fires during the summer but during winters the fires become inaccessible due to snow and sub-zero temperatures.

As forest fires become a year-round phenomenon, the state has its task cut out, both in terms of prevention and mitigation.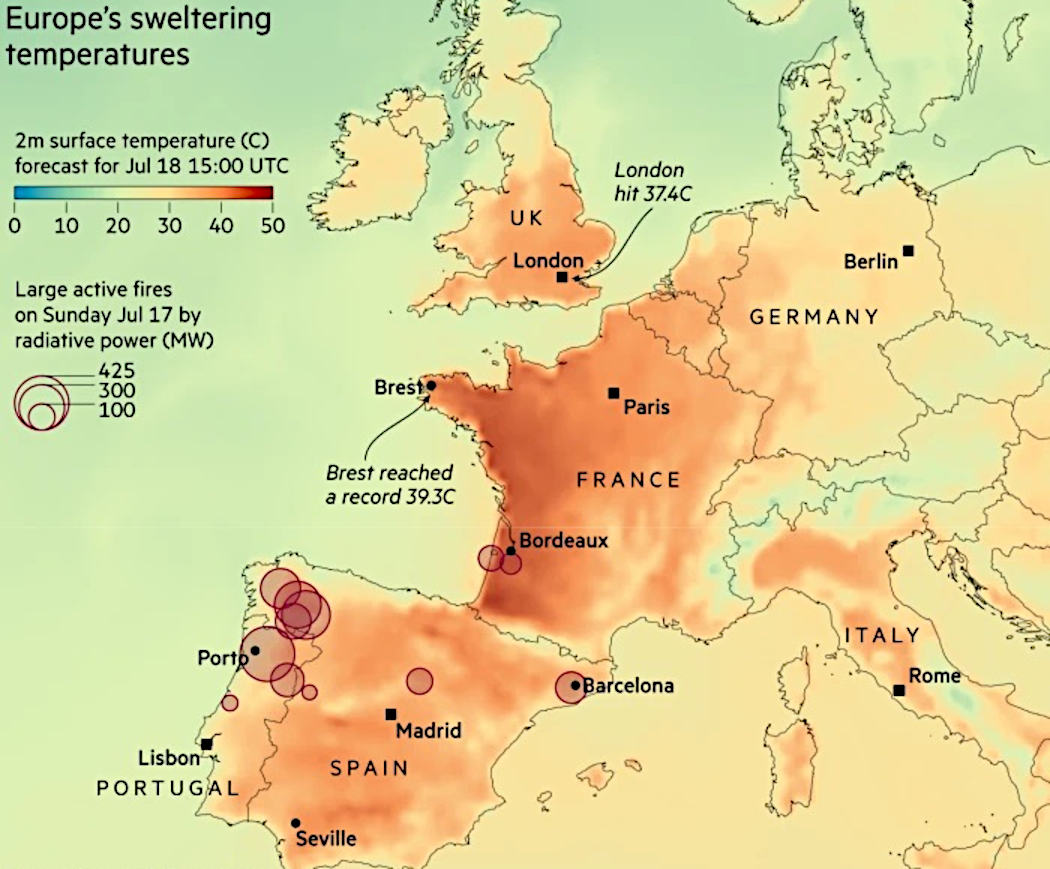 ARSONIST POLICIES - According to the UN, the world is on course for a catastrophic temperature rise of 2.7°C (4.9°F) if we don't change our habits fast. Despite targets to reduce our collective carbon footprint by 2030, many countries are still polluting the planet through fossil fuels and deforestation.
Meanwhile London sizzled at 37.4C, Bordeaux had to be evacuated, Barcelona, Oporto and Landiras blazed away.
Canada had a similar experience in July 2021, in Lytton, British Columbia.
It's not as if politicians did not know about the consequences of failing to act from at least 30 years ago. Their sloth is leading us to extinction, with the 1.5 degrees Celsius target now impossible to achieve.
So brace yourselves. This is just the beginning. Unless, policies change tomorrow - and that is not going to happen with the so-called United Nations unable to agree on anything - the epitome of a dysfunctional do-good organization, bereft of teeth. All they can do is give the G20s conscience a gentle suck. They used to get more of a kicking from dear old Greta Thunberg, when she was young enough to make a difference. But even the Swedish dynamo could not sway them during FLOP 25 and FLOP 26. Brace yourself for FLOP 27. More talk and obfuscation.
The UK Conservative party might as well offer you matches and a blowtorch for your home. That is what their policies amount to, if you are stupid enough to vote for Liz Truss or Rishi Sunack. The Arsonist Party; crematorium earth. There is little mention of how they will tackle rising temperatures, just how they will pour more fuel on the fire. Why? Because they won't get elected by telling the truth.
The problem is those in power have too much invested in coal, gas and oil, for rapid change - roughly $2.8 billion dollars a day to be precise. That's like asking you to hand over your wallet and the codes to your bank accounts. It's not going to happen. Politicians are greedy for money and power. They will not change until it's either their houses on fire, or they cannot get elected without immediate zero carbon policies.
Council's like Wealden are the same, leading us down the path to damnation, as they refuse to build sustainable housing, in favour of expensive palaces, allowing them to charge more Tax. Yup, and what is that for? Their retirement fund of course - it's all about the money. Will these climate geriatrics have anything to retire to! They still don't get it. It is not about growth, it is about reductions to 1990 levels. It is about a phased shrinking of the economy. One the planet can afford.
They really are a bunch of fossil fools. You cannot have grow, if you have already exceeded the natural limits of your living space.
We should be thinking about re-wilding and planting trees. Wealden want exactly the opposite. Staggering stupidity comes from fat wallets. The fatter your wallet, the more blind, deaf & dumb you become.
There are none so blind as those who will not see. The arson of the planet continues.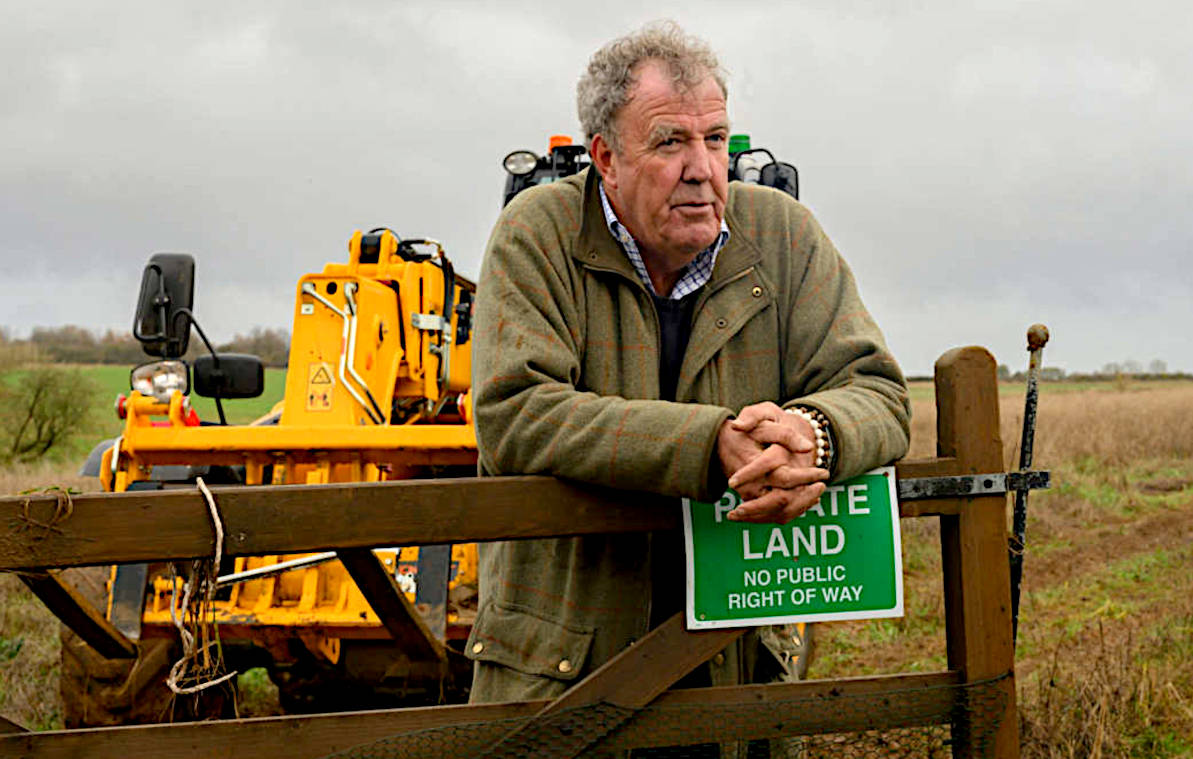 HEAR NO, SEE NO, SPEAK NO EVIL - Jeremy Clarkson has been promoting petrol and diesel vehicles for years. Unapologetically. He still does not seem to get it. But then he has raked in the cash from helping to sell fast fossil fueled vehicles over many years. With such incentives, it is no wonder his moral compass is bewildering to many on twitter, etc. Tweet, tweet! He even had a go at Greta Thunberg. That is how far climate deniers will go for their jollies. In our view this man should not be allowed on television, to tell everyone that everything is okay - when that is blatantly untrue. Don't you agree that he is a fossil fool.
FINANCIAL TIMES 17 JULY 2022 - CLIMATE CHANGE SHOVED IN OUR FACE - EUROPE WRESTLES WITH HEATWAVE AND FOREST FIRES

Five countries declare states of emergency or issue red alerts as temperatures break records across northern Europe

A deadly heatwave spreading across Europe is breaking temperature records, fuelling wildfires, and disrupting transportation, as the continent faces the impact of climate change.

Temperatures in the UK are forecast to climb even higher on Tuesday, as an unusual atmospheric pattern carries hot air from southern Europe further north.

At least five European countries have declared states of emergency or issued red alerts, and governments are racing to care for tens of thousands of people who have been displaced by the fires..

Just a year after flooding killed more than 200 people in Germany and Belgium, this week's record-breaking heatwave is bringing home the urgency of climate change, including in some countries that have been relatively sheltered from it until now.

The heat disaster comes as Europe is also in the grip of an energy crisis, with several countries planning to burn more coal this winter, which will increase greenhouse gas emissions.

"We are almost reaching a point where Mother Earth is going to shed humanity as an old skin, rid itself of all of us," Frans Timmermans, the EU's top climate official, said. Calling for more action to stop the climate crisis he added: "This is not about saving the planet. It is about saving humanity."

Temperature rises are almost exponential, from the cumulative effects of population growth and economic expansion. All of which need to burn fuel. Coal being the choice for Australia, China and India. Even Japan is building more coal power stations. And we thought they were intelligent.
The real problem is the world is on an economic merry-go-round where politicians only know how to sell growth drenched in cancerous oil, when what the electorate want is stability. A house to go home to, not a pile of ashes.
HEATWAVES A TO Z
Australia
Brazil & Amazon rainforest
British Columbia on the 1st of July 2021
London had a similar experience in July 2022
Tokyo & Osaka, Japan June 2022
USA
FOREST FIRE A TO Z
Arctic
Bolivian
British Columbian
Canadian - Saskatchewan
Chilean
Croatian
Ecuador
Europe heat wave 17 July 2022
France
Greece
Malaysian
Mongolian
Portugal
Spain
Sweden
USA - California, Yosemite
- Montana
- Georgia
- Sacramento
UK - Saddleworth Moor
- Moray
- Dartmoor
WOOD IS GOOD x 10 PLEASE
Timber grown for wood is only good if part of a replanting scheme, with at least 2 trees planted for every one felled, though we would suggest up to 10 trees should be planted to offset the loss of carbon absorption during growth.
We need to plant more trees - a whole lot more trees, not clear them, and especially not waste timber that is a vital renewable resource for zero carbon house building. Forest fires that cause deforestation are raising the temperature of Planet Earth and there is no Planet B.
LINKS & REFERENCE
https://www.thethirdpole.net/en/climate/northern-india-caught-in-vicious-cycle-of-heatwaves-and-forest-fires/
https://earth.org/heatwave-in-india/
https://www.bbc.co.uk/news/world-asia-61976937
https://www.ft.com/content/6e52be5f-4091-4b38-8156-9e3e7f4e4bf3
https://www.news18.com/news/india/india-summer-heat-waves-likely-to-triple-or-quadruple-by-2100-due-to-climate-change-ifpri-report-5601469.html
https://www.theguardian.com/world/2022/jun/14/india-takes-tough-stand-at-climate-talks-as-delhi-endures-brutal-heatwave
https://www.theguardian.com/world/2022/jun/14/india-takes-tough-stand-at-climate-talks-as-delhi-endures-brutal-heatwave
https://www.news18.com/news/india/india-summer-heat-waves-likely-to-triple-or-quadruple-by-2100-due-to-climate-change-ifpri-report-5601469.html
https://www.thethirdpole.net/en/climate/northern-india-caught-in-vicious-cycle-of-heatwaves-and-forest-fires/
https://earth.org/heatwave-in-india/
https://www.bbc.co.uk/news/world-asia-61976937
https://www.ft.com/content/6e52be5f-4091-4b38-8156-9e3e7f4e4bf3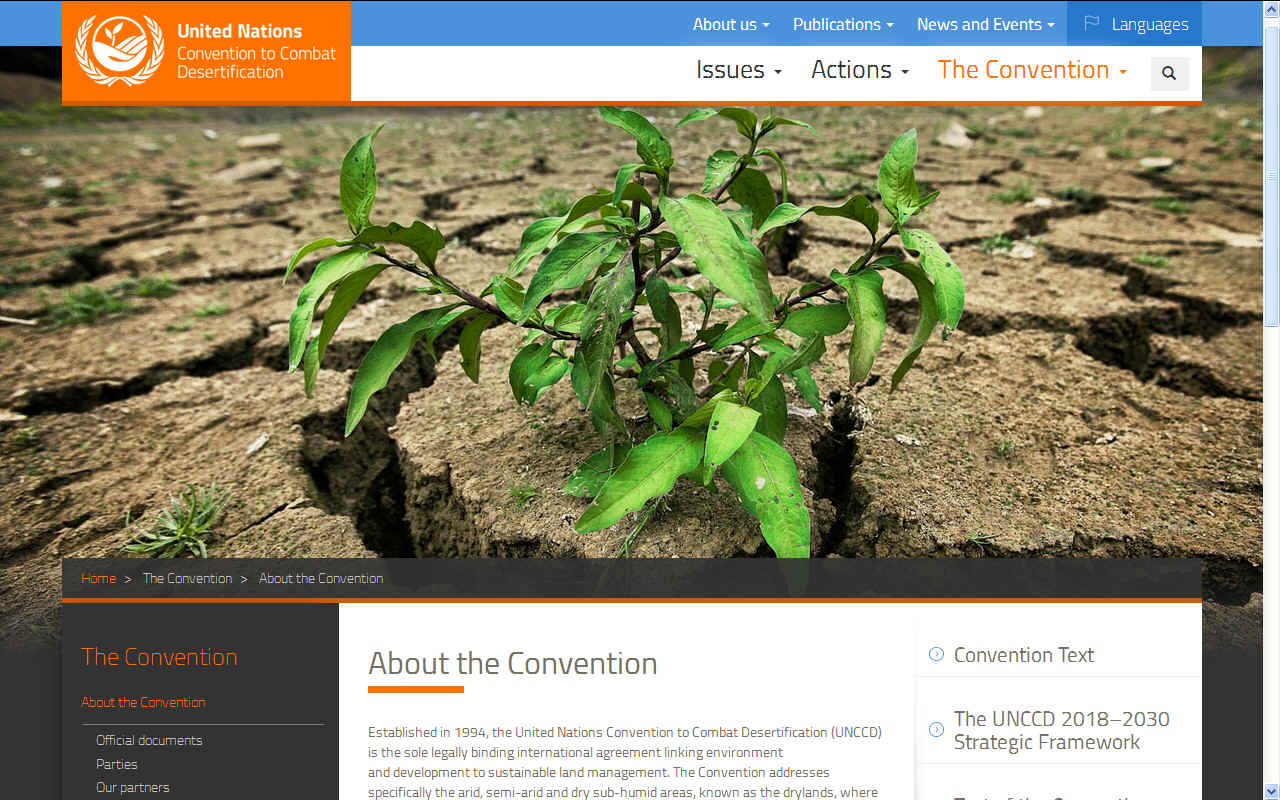 SOIL EROSION - The more land that we lose to grow crops the greater the food security issue. As the ice caps melt, desertification spreads to make Earth more uninhabitable.
Please use our A-Z INDEX to navigate this site or see HOME