BLAH, BLAH, BLAH
Please use our A-Z INDEX to navigate this site
REVERSE ALL ENGINES - Undaunted, Greta Thunberg is on her way back to Europe after the shock cancellation of Santiago. Spain wants her to attend, offering to help. The whole world wants her to attend. Fingers crossed then and sock it to them Greta : )
'Blah, blah, blah' Greta Thunberg criticises UK government at Youth4Climate

During her speech in Italy, the 18-year-old climate activist, also quoted some of the things Prime Minister Boris Johnson has said about Britain's response to climate change.

It's ahead of the UK hosting a big international climate change conference called Cop26, which will take place in Glasgow in November.

Criticising the government's efforts as words instead of action, the Swedish activist said: "Build back better, blah blah blah. Green economy, blah blah blah. Net zero by 2050, blah blah blah. Climate neutral, blah blah blah.

"This is all we hear from our so-called leaders. Words that sound great, but so far have led to no action."

"Of course, we need constructive dialogue - but they've now had 30 years of blah, blah, blah, and where has that led us," said Greta.

The UK has promised to cut 78% of its emissions by 2035. But the government's current plans are projected to deliver less than a quarter of the cuts needed to meet the goal.

Mr Johnson has said he will push for action on coal, climate, cars and trees in particular at the COP26 climate summit in Glasgow in November.

Several other countries have also announced plans to reduce the greenhouse gasses they produce as part of the Paris Agreement, a promise between nations to tackle climate change.

Experts say some recent announcements, such as China's statement that it would not build any more coal plants overseas and the US, EU and others pledging to cut methane emissions by 30% by 2030, are signs that progress is being made.

However, Greta has said the UK, like many other countries, uses what she has called "creative carbon accounting", where things like the fossil fuels exported from Britain to other parts of the world are not currently counted as part of the emissions the country produces.

"Just recently, a report by the UN (United Nations) showed that the global emissions are expected to rise by 16% by 2030," Greta added.

"I mean that says it all. We think that we are moving in the right direction, but the emissions are actually still increasing."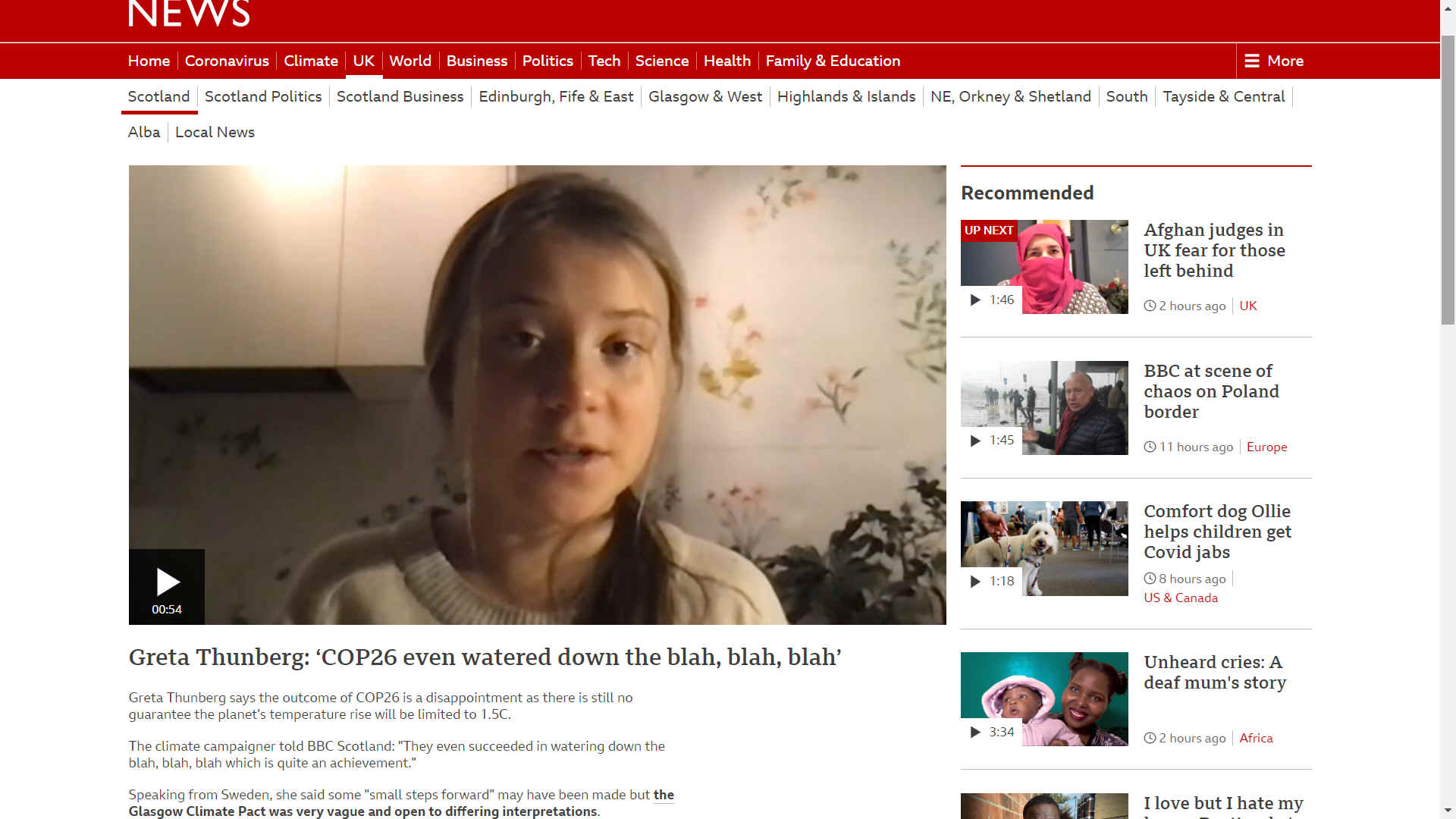 BBC NEWS 16 NOV 2021 - Greta Thunberg: 'COP26 even watered down the blah, blah, blah'

Greta Thunberg says the outcome of COP26 is a disappointment as there is still no guarantee the planet's temperature rise will be limited to 1.5C.

The climate campaigner told BBC Scotland: "They even succeeded in watering down the blah, blah, blah which is quite an achievement."

Speaking from Sweden, she said some "small steps forward" may have been made but the Glasgow Climate Pact was very vague and open to differing interpretations.


NEW STATESMAN 16 NOVEMBER 2021 - Why we need Greta Thunberg more than ever

There is still too much misinformation and greenwash surrounding claims of climate action.

"Blah, blah, blah," was the devastating put-down deployed by Greta Thunberg from the beginning to the end of the Cop26 UN climate summit in Glasgow. "'Small steps in the right direction', 'making some progress' or 'winning slowly' equals loosing [sic]," the world's most famous climate activist tweeted halfway through the talks.

So how should Cop26 be judged? Even if the final deal is not in line with climate science, naming and shaming "fossil fuels" in an official agreement for the first time is progress all the same, say many. As is the fact countries must now annually account for their decarbonisation plans and prove they are cutting emissions.

Others, however, such as youth activists and those from particularly climate-vulnerable nations, argue that criticism of the agreement's shortcomings is the only ethical response.

Both positions are valid, and the split is arguably even a good thing: the climate crisis needs tackling from every angle. It requires diplomats straining to inch forward a collective solution to a collective problem, summits to assess progress, researchers developing innovative solutions, companies rolling out new technologies, as well as activists demanding an ever faster and fuller response.

But behind the surface scorn of Thunberg's preferred soundbite is also a powerful truth: there is still too much white noise, disinformation and greenwash surrounding claims of climate action. Calling out those who attempt to thwart ambition is more important now than ever.

The messy latest round of "blah blah blah" revealed that perceptions matter. In the final moments of the talks, India and China watered down the agreement to phase out coal, but China also did so only by hiding behind its less wealthy counterpart. No one wants to be seen to be on the wrong side of history.

Similarly, when Thunberg turned up to a Cop26 panel on carbon offsetting held by former Bank of England governor Mark Carney and described it as "greenwashing" before walking out, his team knew they were being served notice. By the time the particulars of carbon market rules were agreed a little over a week later, the biggest of the loopholes for continuing pollution had been closed.

This shift in awareness is certainly not all down to Thunberg. Voices from indigenous territories and the Global South have spoken out for years on these issues, alongside countless other activists, old and young. Yet by using her platform to publicly shame those who would hamper progress, she has helped mainstream the toxification. "Greenwashing is the new climate denial and we have seen too much at play in this Cop," tweeted Laurence Tubiana, one of the architects of the Paris Agreement.

The first element in the success of the Swedish teen's approach in Glasgow is consistency. "No more blah, blah blah. No more whatever the f*** they're doing inside there," she told a Fridays for Future rally on the opening day (later joking she would go "net zero" on the use of swear words). This led some to warn of the risks in taking cynicism too far. But by setting out her stall at the start of the talks and sticking to it, Thunberg gained authority by dint of repetition. By the time she tweeted her summary of the Glasgow deal's outcome as "blah, blah, blah" on 13 November, the phrase had become a rallying cry.

Second, while her attacks on the insufficient status quo may be increasing in disdain (her latest criticism is arguably even more cutting than the emotional "how dare you" delivered to the UN climate assembly in 2019), they have always been underpinned by science – and that has not changed. The drastic emissions cuts needed to stem dangerous levels of warming are not in place. Adequate financial support for the world's most at-risk is still not forthcoming.

Thirdly, and perhaps most powerfully, in recent years Thunberg has extended her message of science-based climate action to one of wider social justice – lending her voice to everything from farmers' protests in India to Black Lives Matter. At Cop26, the seeming completion of her personal journey from shy outsider staging solo "school strikes for climate" to global movement leader surrounded by activist friends, has coincided with demands for loss and damage "reparations" finally being recognised in the official UN process.

Moreover, the Cop26 presidency itself has helped cement her continued relevance. The decision not to issue her with an official invitation to speak on the presidential stage (as in previous years) arguably only strengthened her voice outside the talks and validated her anti-establishment standing. "I think that many people might be scared that if they invite too many radical young people, then that might make them look bad," she told Andrew Marr.

In fact, her iconic status is, paradoxically, now so entrenched it is almost no longer needed. At a New York Times hub event hosted by actor Emma Watson, Thunberg shared the panel with, among others, Uganda's Vanessa Nakate and Britain's "BirdGirl" Mya-Rose Craig. On the Fridays for Future stage, she was preceded by speeches from an array of indigenous speakers from Brazil and Ecuador. And her absence from the official talks was more than made up for by the rousing address given by Mia Mottley, prime minister of Barbados.

If Thunberg was to never appear at a climate summit again, the climate movement – which existed long before she was born – would certainly continue to exist. But with her decision to go all-in on calling out greenwash at Glasgow, the 18-year-old has blown apart the association of "youth" with straight talking, and "adulthood" with hedged nuance. She has proved herself the consummate climate watchdog. And in the process shown how we must all now defend against the "blah, blah, blah". By India Bourke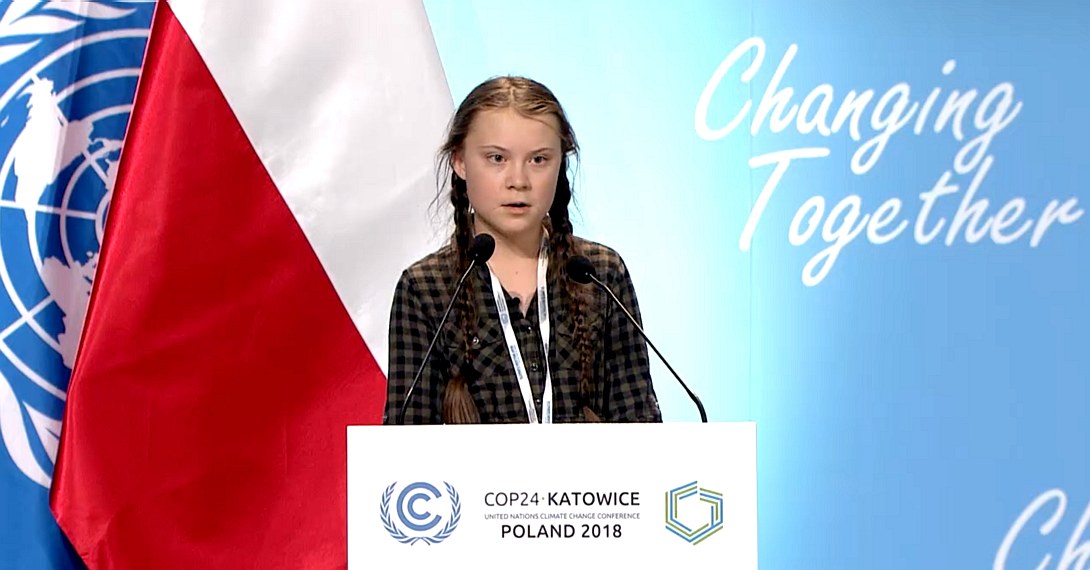 This girl was 15 years old when she started striking and insisting that her so-called guardians might do something positive. Although she gave it her best shot, along with millions more schoolchildren around the world, the politicians and industrialists would not listen to reason. Climate deniers are likely to be responsible for the mass murder of seven billion people, in a climopic genocide built on a financial eugenics programme to make billions of dollars exploiting planet earth at the expense of the human population. But for what? If we all die, what good is money. If push comes to shove, the politicians who let us down are likely to be a frenzied source of protein, as humans become livestock due to food shortages. You may have noticed the shelves on your supermarkets drying up! Survival could soon be the name of the game.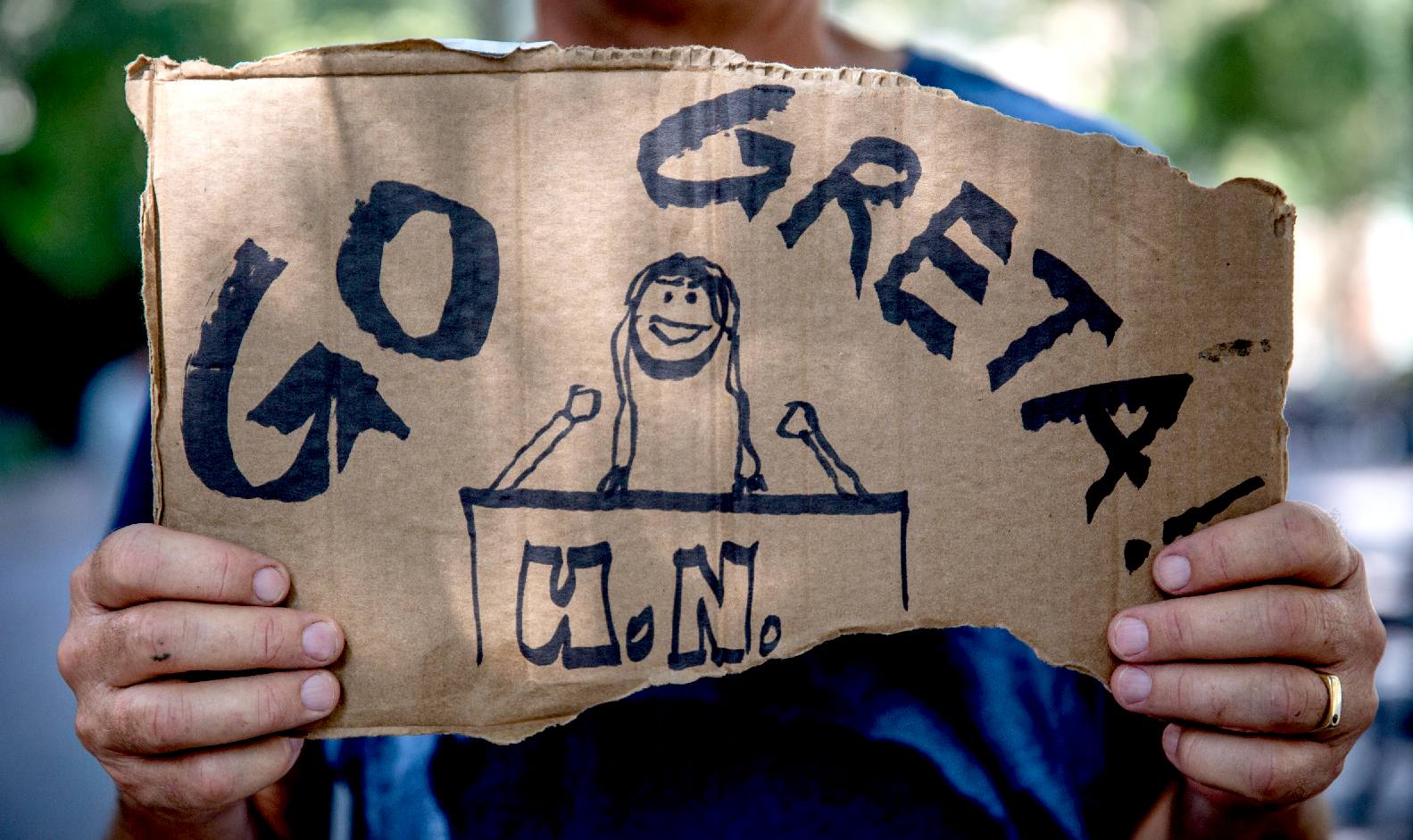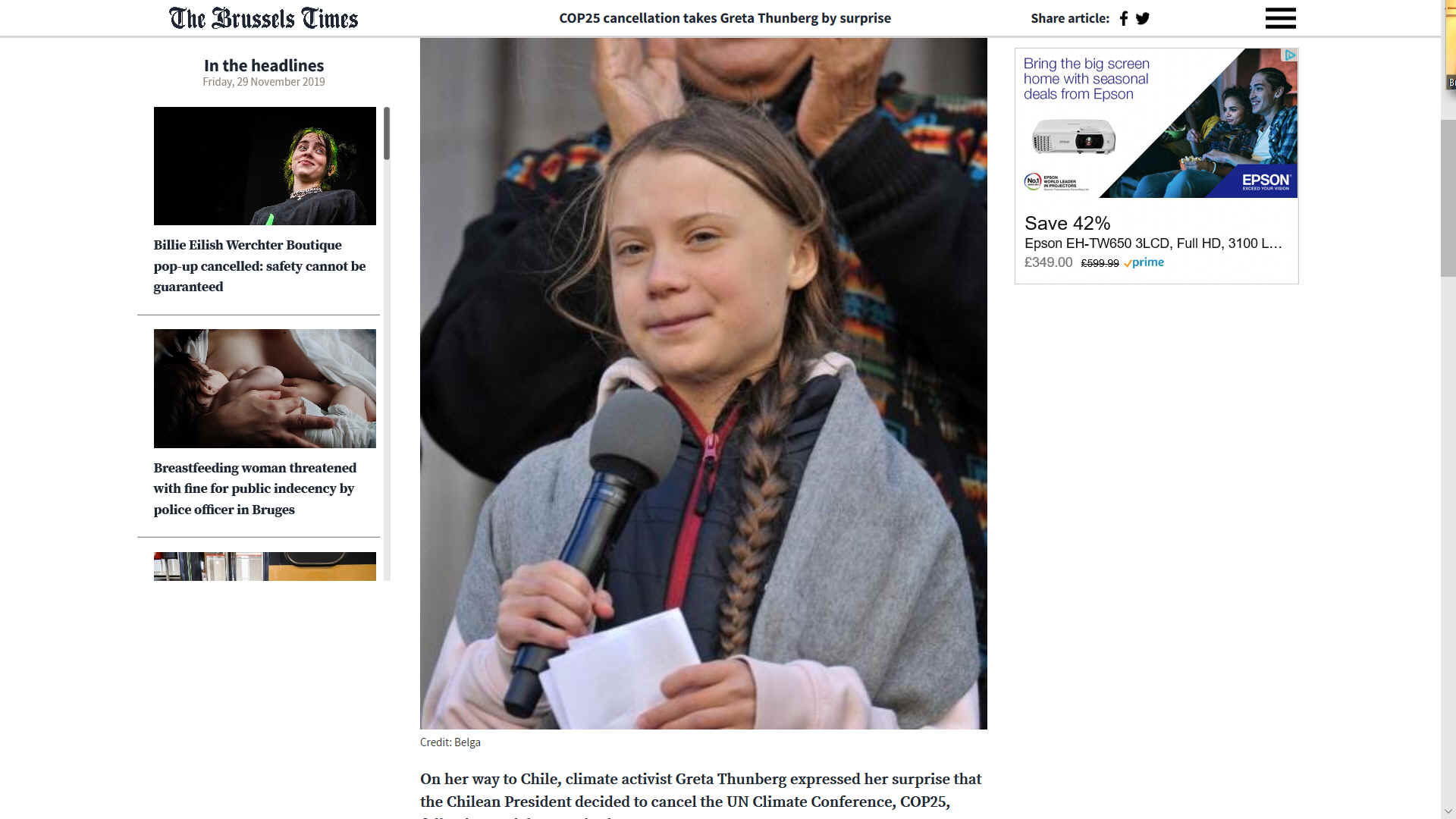 GRETA THUNBERG - is a Swedish climate activist. At the COP24 climate talks in Poland, December 2018, Miss Thunberg addressed the Secretary-General of the United Nations. There, she received a standing ovation for one of her talks. She is behind the global school strike created to call attention to climate change. She is a 'Rebel With a Cause.' Miss Thunberg was 15 at COP24 and the newest, youngest and most powerful voice on the world stage demanding the world address global warming. In 2021 at COP26, her arguments are based on the realisation that it is worse than "Business As Usual." Governments like Chinese and Indian climate criminals are boasting of increasing coal burning and accelerating their economies at the expense of killing people, using "greenwashing" in attempts to soften the blow. Roll on World War Three, possibly starting with Taiwan, as the news goes in 2021. This could see China and the US go head to head, taking out two of the dirtiest birds with one stone - provided that rest of the world can cope with nuclear fallout.
LINKS & REFERENCE
https://www.newstatesman.com/environment/climate/2021/11/why-we-need-greta-thunberg-more-than-ever
https://www.bbc.co.uk/news/av/uk-scotland-59298344
https://www.newstatesman.com/environment/climate/2021/11/why-we-need-greta-thunberg-more-than-ever
https://www.newstatesman.com/environment/climate/2021/11/why-we-need-greta-thunberg-more-than-ever
https://www.bbc.co.uk/news/av/uk-scotland-59298344
https://www.newstatesman.com/environment/climate/2021/11/why-we-need-greta-thunberg-more-than-ever
This website is provided on a free basis as a public information service. copyright © Climate Change Trust 2021. Solar Studios, BN271RF, United Kingdom.