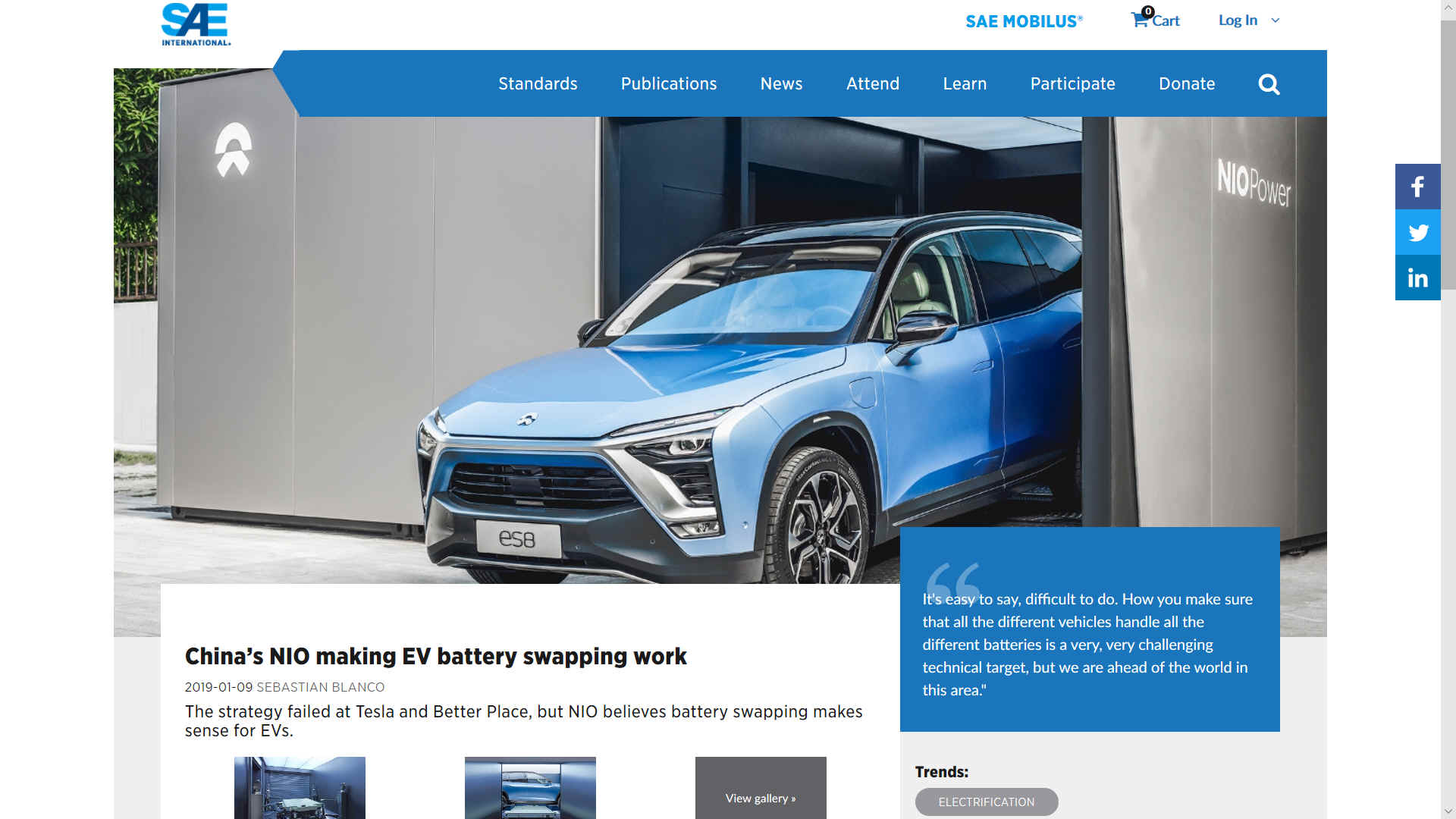 LOOKING GOOD - The cars look good, the idea is good, let us hope that it catches on. We hope they make provision for the changeover to hydrogen, should lithium production become a problem.
SAE (STANDARDS) INTERNATIONAL JANUARY 9 2019
China's NIO making EV battery swapping work

The strategy failed at Tesla and Better Place, but NIO, along with BattSwap and PowerSwap, believes battery swapping makes sense for EVs.

Emergent electric-vehicle automaker NIO believes battery swapping makes sense for EVs and the company's customers almost universally agree. In front of 10,000 guests at the 2018 NIO Day in mid-December, company founder and CEO William Li announced that 9,726 units of the company's first vehicle, the ES8 SVU (above), had been delivered. And over 95% of those buyers chose to lease the battery, which is only possible with battery packs designed to be swapped out for recharging.

Swappable, leased batteries mean NIO can offer its EVs at a much lower up-front cost than other OEMs selling electric vehicles. NIO customers who opt to lease the battery reduce the cost of their EV by 100,000 RMB ($14,476 US). These ES8 buyers then pay a subscription fee, either 980 RMB ($142) per month or 10,800 RMB ($1,570) annually, to access NIO's battery swap stations and other "Power Express" services, like a public charging network and the use of NIO's Power Mobile charging trucks. A similarly priced subscription service will be available for buyers of the upcoming ES6 SUV EV.

The footprint for NIO's battery-swap station is about the size of three parking spaces (45 square meters), including space to hold five battery packs in reserve. NIO also has plans for a five-space station that can hold more batteries in higher-demand locations. While the stations are designed to be fully automated in the future, for the first two years a NIO employee will be on site to maneuver cars in and out of the station. The actual battery swap takes three to five minutes, on average, with the entire process including maneuvering requiring around 10 minutes.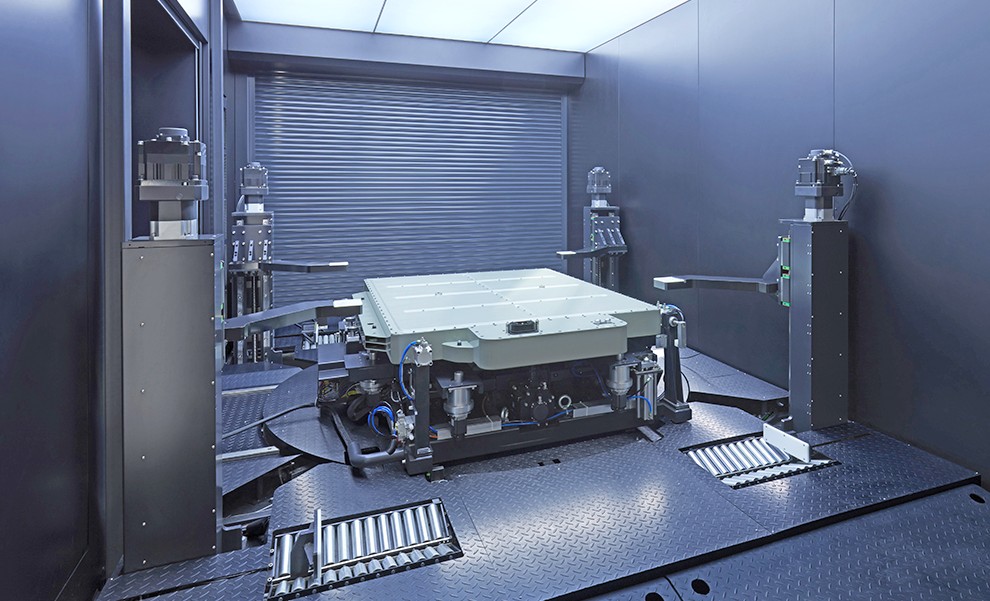 All NIO batteries use cells from Contemporary Amperex Technology (CATL). The only NIO pack currently available is a 70-kW·h lithium-ion unit that uses NCM523 ternary cathode material and has an energy density of 135 watt-hours per kilogram. A larger, 84-kW·h capacity pack with NCM811 ternary cathode material will be released alongside the ES6 later in 2019. More technical details about this pack will be revealed at a later time.

Both battery packs are the same size and have the same heat-management port, which allows the swap stations to put either pack into a ES6 or ES8 as long as the vehicle's software parameters have been updated to account for the different cells. Today, some of NIO's stations are used 20-30 times a day, others just once or twice, according to Feng Shen, NIO's VP and chairman of quality management. He said that NIO is collecting usage data to determine which stations may need to be expanded or upgraded.

"It's easy to say, difficult to do," Shen said. "How you make sure that all the different vehicles handle all the different batteries is a very, very challenging technical target, but we are ahead of the world in this area." NIO has over 300 patents covering the tech in its swap stations. These patents cover precise positioning of the vehicle in the station, rapid removal of the pack, compact integration, and more.
Charging a full pack takes about one hour, and the 300-kW stations cool the batteries as they charge. NIO also monitors charging status and sends detailed information to its cloud while the company's battery management system monitors the pack for faults in real time. NIO also has over-the-air update capabilities that can upgrade the software of the battery management units and cell supervising circuits and switch boxes.

NIO has installed 18 swap stations at 14 service areas along a 1,420-mile (2,285-km) route along the north-south G4 Expressway in eastern China. It also has stations installed around its joint production facility with JAC in Hefei and in Beijing, Shanghai, Chengdu, and other cities. NIO has had discussions with other automakers about having other EVs use the NIO battery swap stations, but no deals had been finalized as of early January 2019. By Sebastian Blanco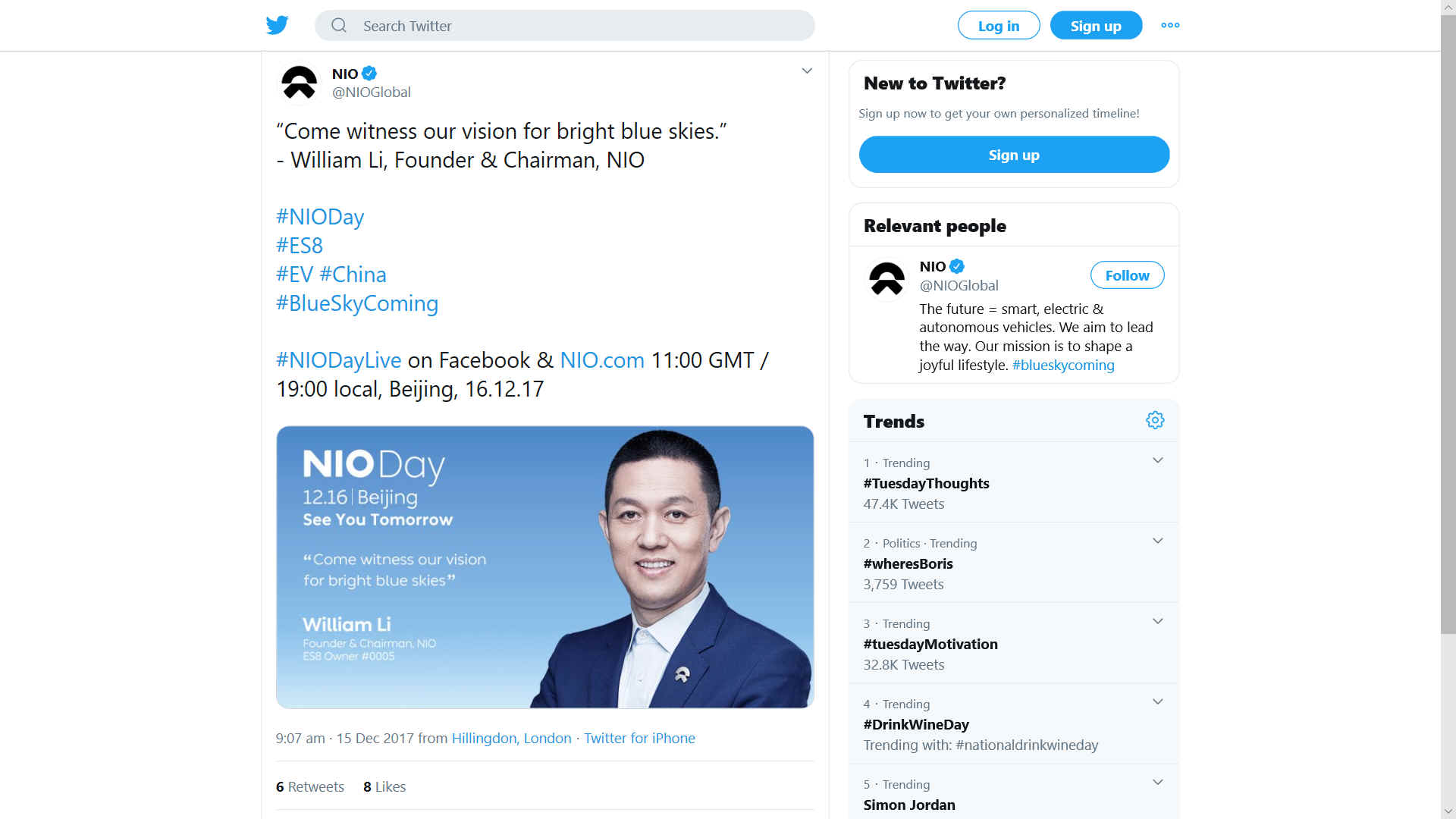 WILLIAM LI
NIO was founded in November 2014 by William Li, the Chairman of Bitauto and NextEV. After launch, several companies invested in NIO, including Tencent, Temasek, Baidu, Sequoia, Lenovo and TPG. Its first model, the NIO EP9 sports car, debuted the same day the brand was established.

In October 2016, NIO announced that it had been given an "Autonomous Vehicle Testing Permit" by the California DMV and it would begin testing on public roads under the "Autonomous Vehicle Tester Program" guidelines as part of its autonomous vehicle program. According to the company, it planned to launch vehicles with level-three and level-four autonomy.
In May 2018, NIO opened its first battery swap station in the Nanshan District of Shenzhen, Guangdong, China, dubbed the "Power Swap Station". Only batteries for ES8 cars would be available from this station.
In September 2018, the company filed for a US$1.8 billion initial public offering on the New York Stock Exchange.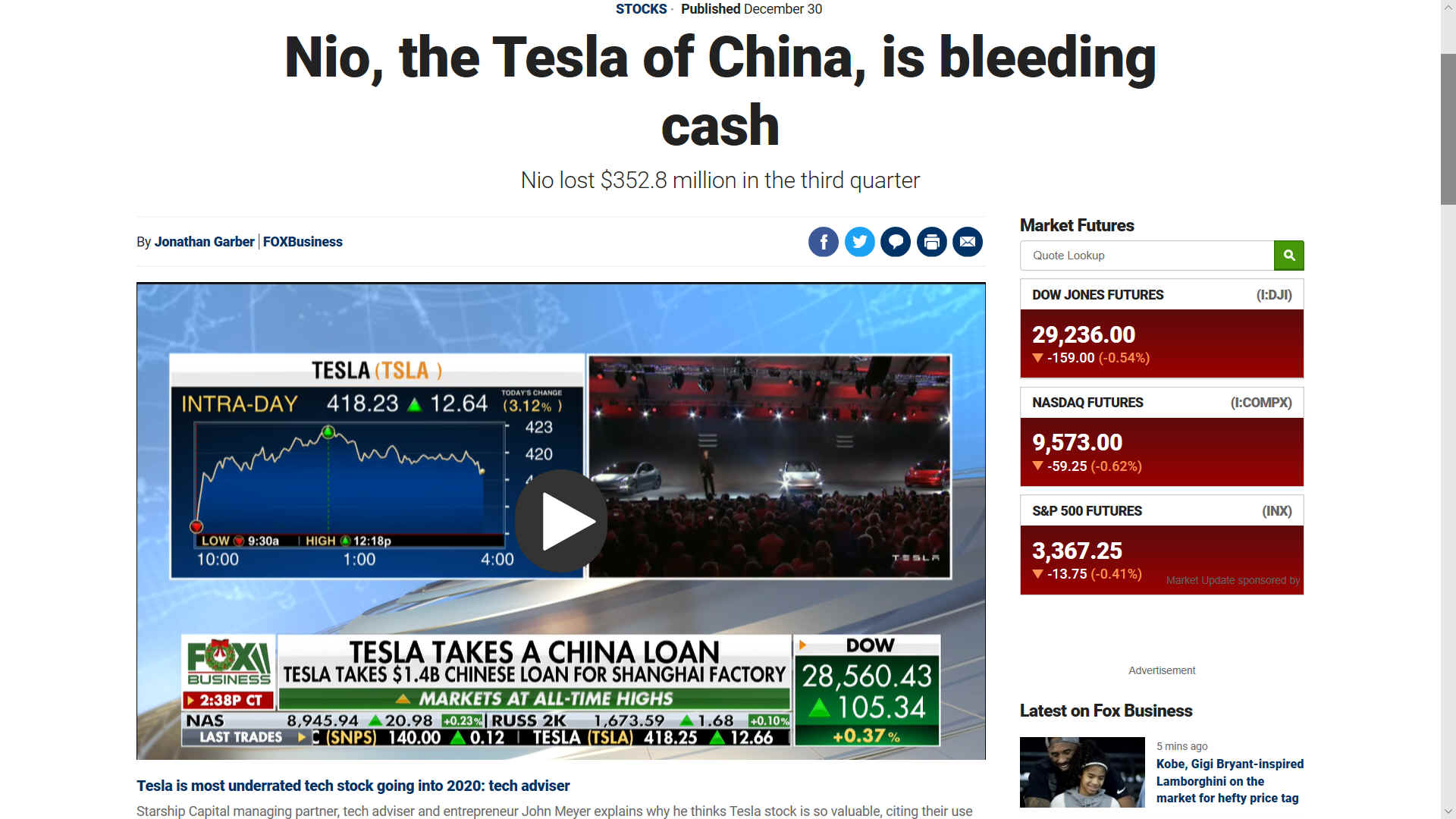 THE TESLA OF CHINA - Nio, often referred to as the "Tesla of China," is fighting for its survival, giving Elon Musk another reason to celebrate 2019. The electric-vehicle maker lost $352.8 million in the third quarter, dropping its cash balance to $274.3 million, according to an unaudited earnings release. By comparison, Tesla turned a profit in the third quarter, surprising its naysayers.
Nio's continuous operation depends on its "capability to obtain sufficient external equity or debt financing," the company said, adding that it is working on "several financing projects, the consummation of which is subject to certain uncertainties."
TESLA HAS RALLIED 'TOO FAR TOO FAST - The company lost an adjusted $2.38 per diluted share as revenue rose 25 percent year-over-year to $1.84 billion. Deliveries were up 35 percent versus a year ago to 4,799 vehicles. The unaudited results were better than analysts were expecting, sending shares soaring.

However, Nio shares have plunged 62 percent this year, lagging the S&P 500's 29.2 percent gain. By comparison, Tesla shares have advanced 29 percent in 2019, propelled by the electric-car maker's surprise third-quarter profit.

"The electric vehicle sector experienced substantial softness in the second half of 2019 after the reduction of EV subsidies in China," said William Li, chairman, founder and CEO, in a statement. "Despite the challenges, Nio's sales improved solidly since September."
Looking ahead, Nio expects to deliver more than 8,000 units in the fourth quarter, up 66.7 percent from the prior quarter.

Nio said in September that it needed to raise $200 million from Li and the Chinese gaming giant Tencent, one of its largest shareholders, after burning through cash at a faster than expected rate. It is unclear if that funding has been secured. A company spokesperson did not immediately respond to FOX Business' request for comment.
Aside from the unexpected third-quarter profit from Tesla, it has been a difficult year for electric-vehicle makers. In October, the vacuum-maker Dyson killed its $3.1 billion electric-car project, saying it was not "commercially viable," and Harley-Davidson had to idle production of its electric motorcycle due to battery problems.

Additionally, Jia Yueting, founder of the Chinese electric-car maker Faraday Future, filed for Chapter 11 bankruptcy protection with liabilities of up to $3.6 billion.
EQUAL OCEAN JANUARY 24 2019

NIO Inc. (NYSE: NIO), the leading EV maker startup from China, today announced that its founder, chairman and CEO, Mr. William LI (LI Bin, 李斌), transferred an aggregate amount of 50 million ordinary shares, consisting of 189,253 class A ordinary shares and 49,810,747 class C ordinary shares, to the newly established NIO User Trust (the "Trust") formed in conjunction with NIO's pursuit of being a user enterprise and with the goal of building a deeper connection between the Company and its users.

As promised in the prospectus, William this time took one solid step towards his thinking of making NIO a company of the users, and the 50 million ordinary shares account for approximately one-third of NIO shares beneficially owned by William, according to the "Letter from Bin Li" in the prospectus.

By this transfer of shares, William LI still retain the voting rights, while NIO users will have the opportunity to discuss and propose the use of the economic benefits from the transferred shares. However, the mechanisms to implement the Trust with NIO users is still not clear, more details need to be discussed.

"A key competitive edge of NIO is our unique, user-centric business model, which creates strong relationships with the NIO community. Looking ahead, we will continue to develop premium, high-quality electric vehicles while consistently delivering holistic user experiences to become the best user enterprise." said William LI in the News Release of this Issue.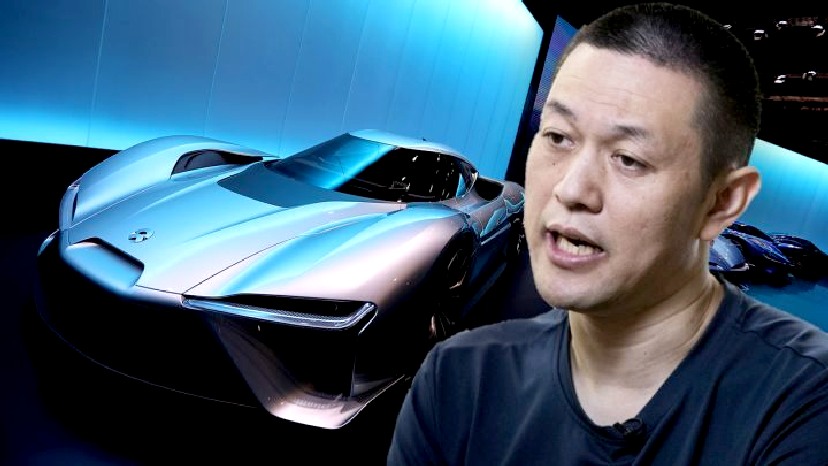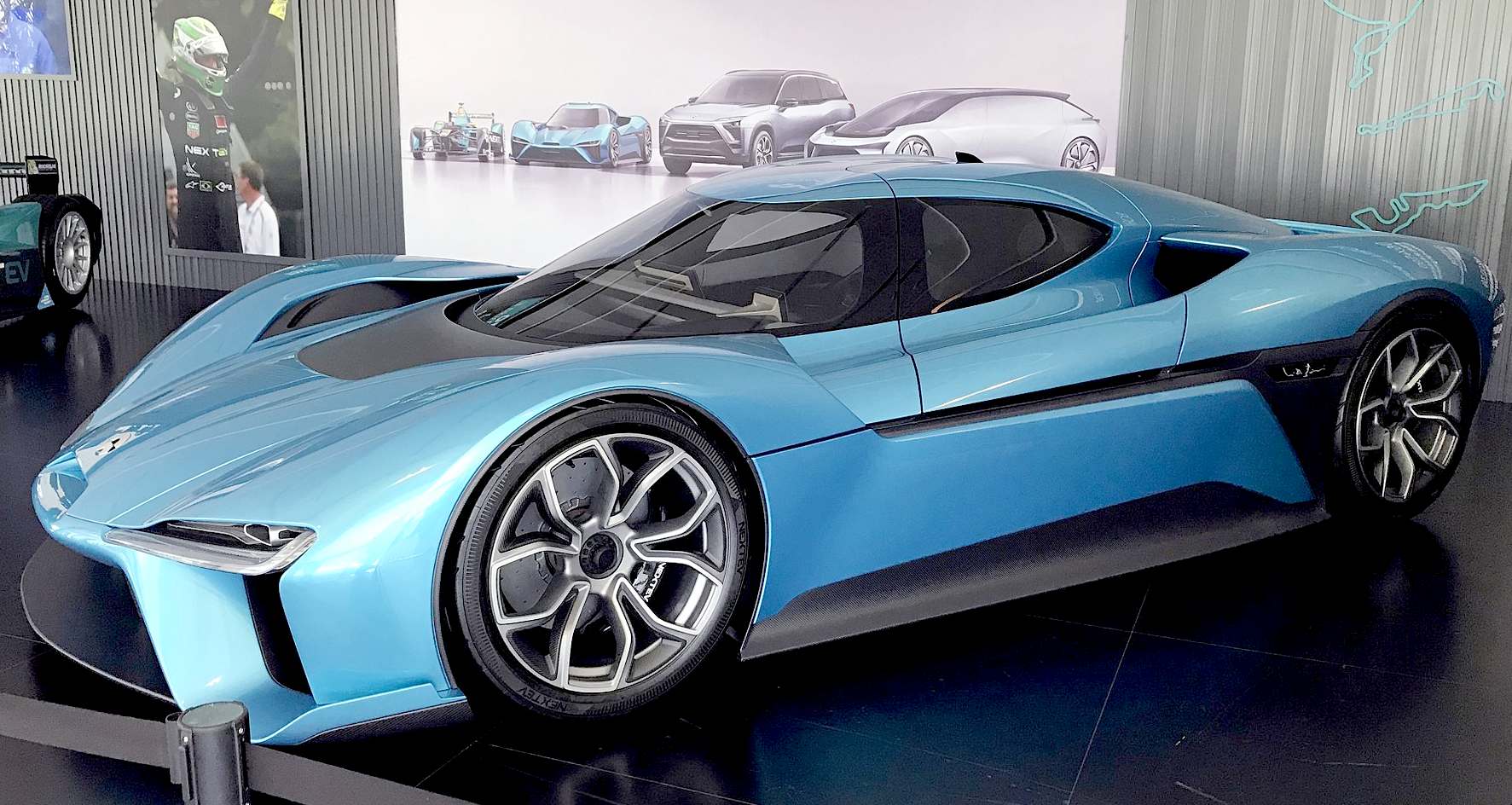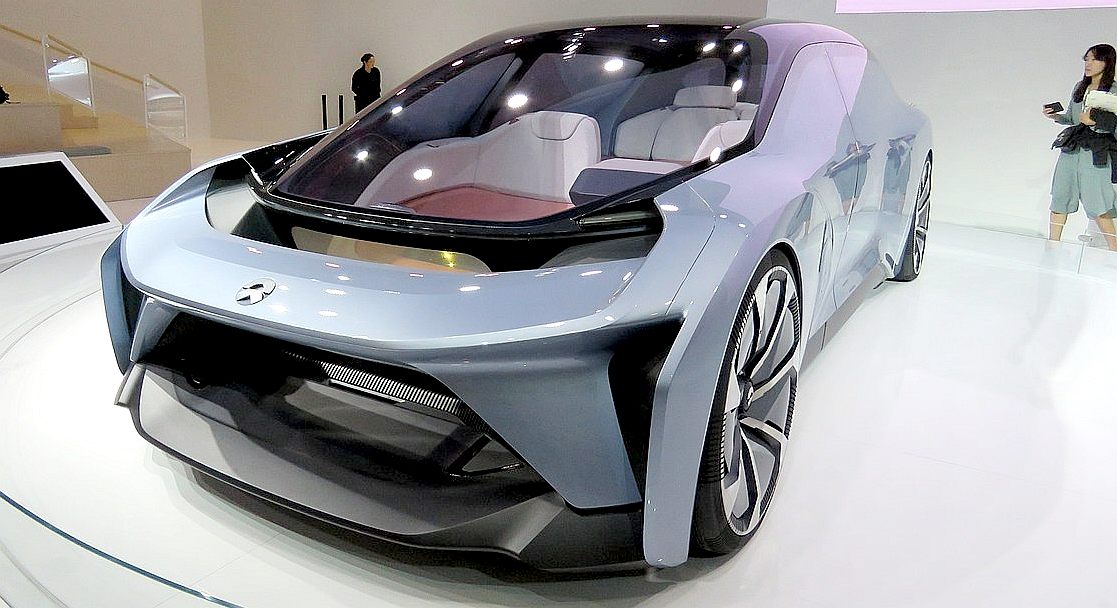 As mentioned in the analysis article before, NIO believes that motor corporations will have to make a change, from solely selling products to providing the user experience. NIO aims to develop itself into a community starting with cars and expanding to their users. Through NIO mobile application, hundreds of and even thousands of people could be connected with each other or share experience regarding their vehicles. Furthermore, the offline NIO Houses have become a destination among some NIO fans.

And on the NIO DAY 2018, William LI introduced that the Daily Active Users of NIO App was almost 200 thousand, and it is definitely an amazing number. At that time (Dec 15, 2018), NIO just delivered 9726 models, which means the fans on the App are 20 times of its actual owners of ES8.

To be a user enterprise, NIO had already taken the lead among all the EV startups in China, with its large amount of fans. Furthermore, the quite innovative way to share the usage decision rights of economic benefits also makes NIO and William LI somehow different in today's business world in China.

So far, William LI gave all users of NIO an expectation to discuss the usage of the economic benefits, if anything goes wrong in the future, William LI will probably be attached with a stigma of publicity stunt.

In the end, in the author's opinion, this kind of sharing decision rights is essentially a new, fancy and probably meaningful way of marketing, paid by William LI, entertaining every user. William LI and his team are quite smart.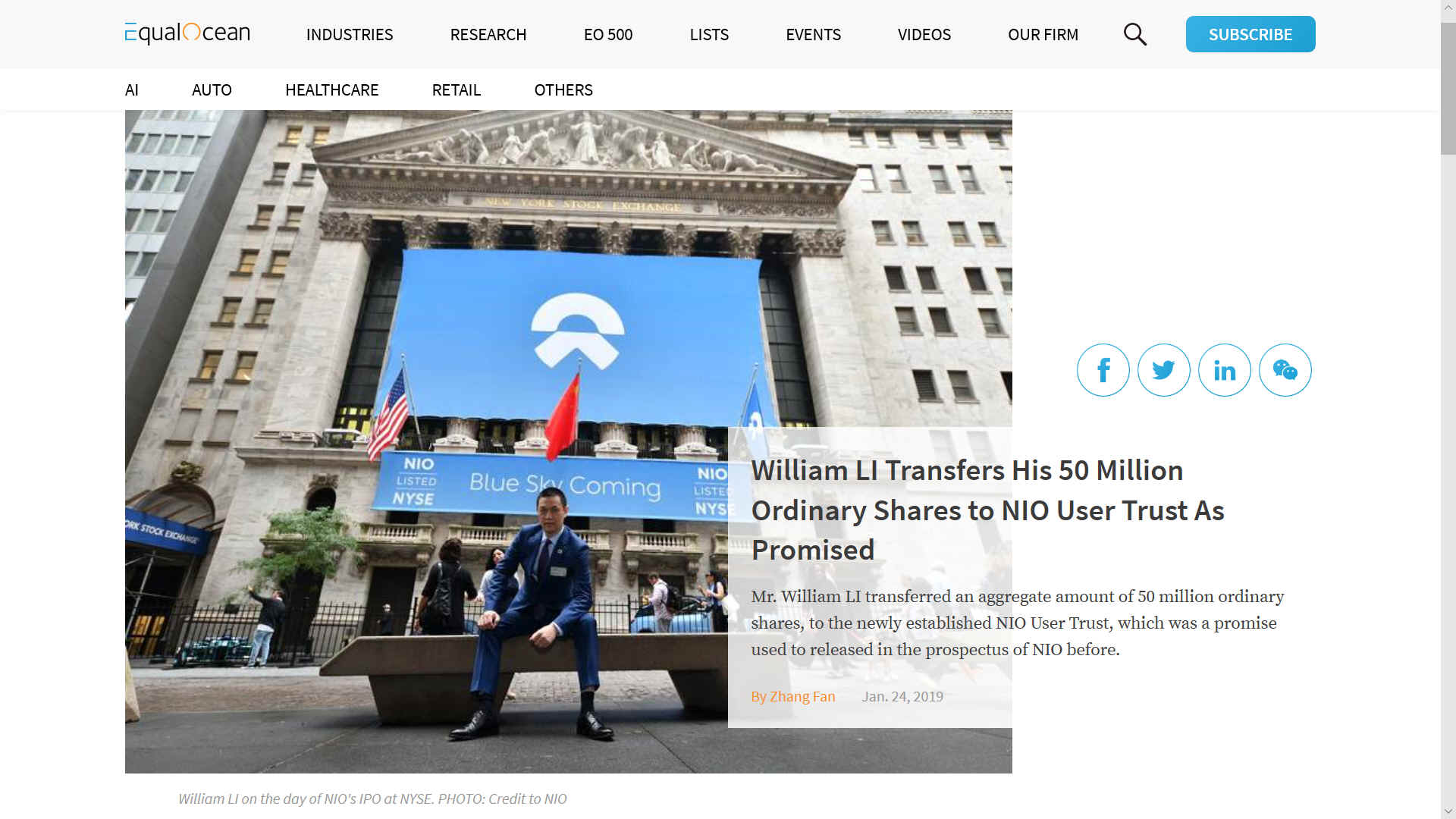 EUROPEAN AUTO MANUFACTURERS WITHOUT CARTRIDGE EV'S:
- Audi
- BMW
- Citroen
- Fiat
- Ford
- Lotus
- Mercedes
- Peugeot
- Renault
- Seat
- Smart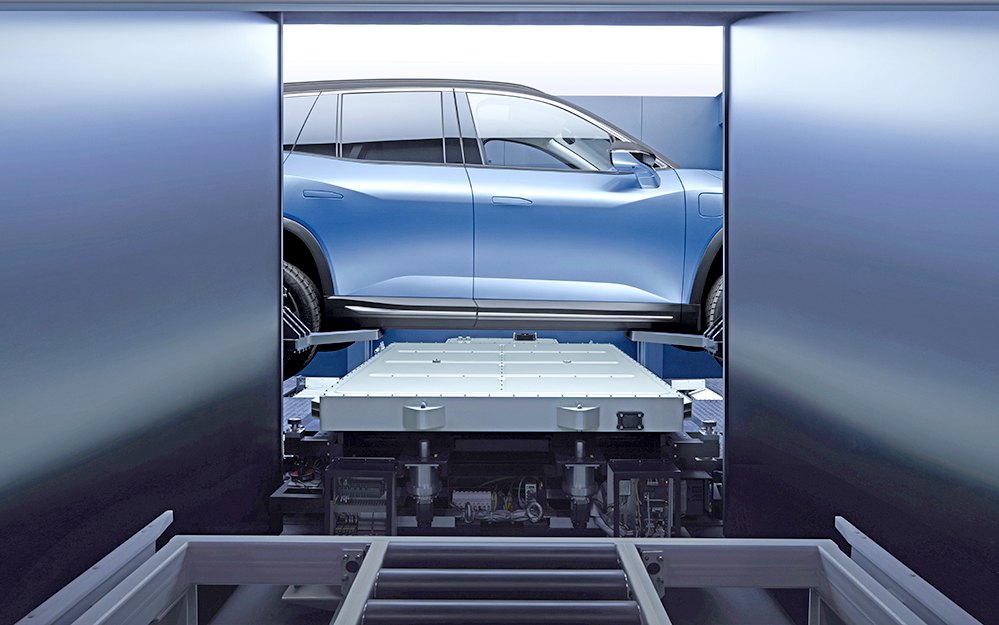 BETTER OR WORSE - Does it matter? At least it is working and the car makers are doing something positive. By collecting data and being operational, systems can develop to advance electric motoring.
CONTACTS
....
A - Z of CARS and MOTORCYCLES

HYDROGEN FUEL CELL CARTRIDGE - It looks like a battery cartridge. It performs like a battery cartridge. It stores energy like a battery cartridge, but it is a hydrogen fuel store and fuel cell cartridge combination. Where lithium and cobalt raw materials may limit the production numbers of EVs as green motoring becomes the norm, hydrogen in a safe format might offer unlimited possibilities. The concept is compatible with SMARTNET FASTCHARGE service stations. NOTE: This is just a concept, not a product yet. More development is needed to before mass production could be entertained.
LINKS & REFERENCE
http://www.mining.com/web/chinas-top-ev-maker-starts-battery-swap-service-lure-users/
https://electrek.co/2018/11/15/nio-battery-swap-stations-network/
https://equalocean.com/auto/20190124-nios-one-more-step-to-become-the-users-enterprise
https://twitter.com/nioglobal/status/941595632166494208
https://www.sae.org/news/2019/01/nio-ev-battery-swapping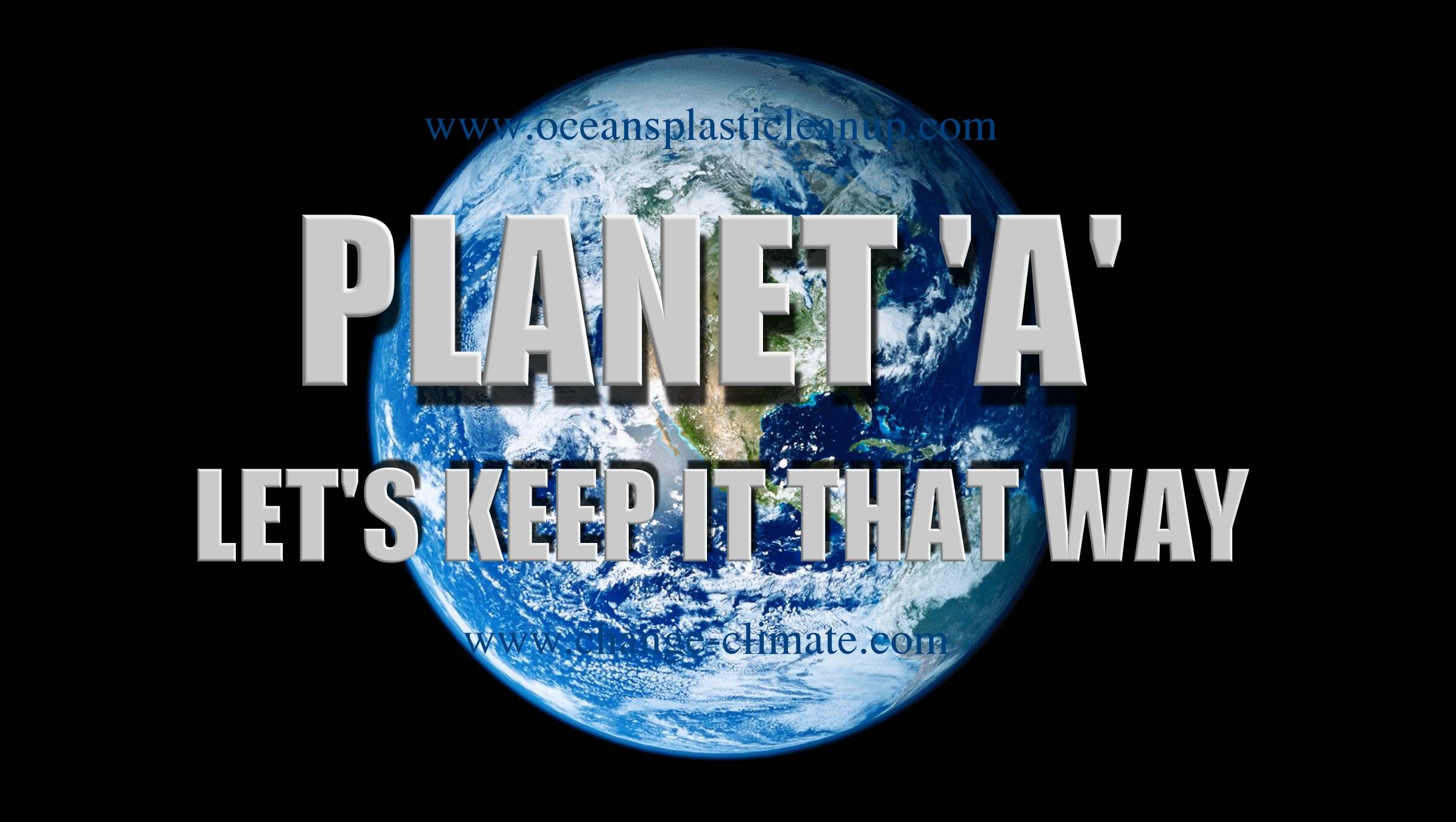 Please use our A-Z INDEX to navigate this site