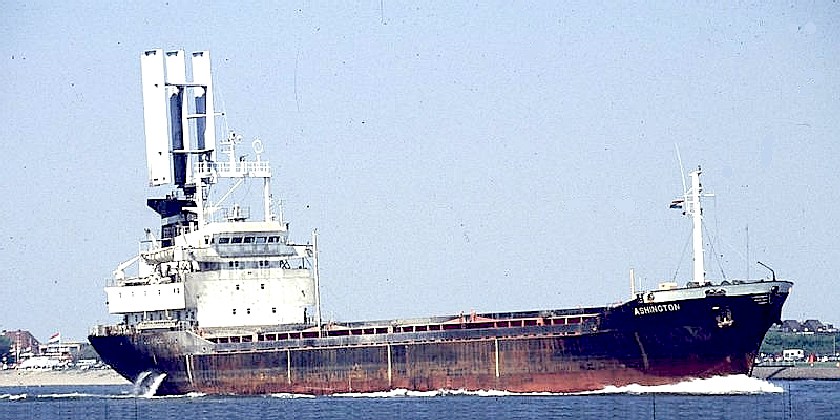 1987 CONVERSION - This cargo vessel started life as the Ashington, registered at London in 1979. Ten years later she was re-registered in the Isle of Man (1989). In 2004 she was renamed Fjord Pearl while registered in Nassau. Then again is 2007 a name change to JP Fox and registration at Bergen. Finally in 2008 she was registered in Panama and renamed Milano Star.
The 'Wing Sail' concept emerged out of the U.S. government commissioned a study in the 1980s that went into the economic feasibility of wind assisted propulsion in response to soaring fuel prices.
This system was designed as an automated mechanism of solid, rectangular sails on a framework of cylindrical masts. They would adjust automatically to changes in wind direction and would need minimal handling.
Despite the fact that trials of the wing sail fitted aboard a small freighter demonstrated fuel savings of between 15% and 25%, the concept failed to make it big where oil prices fell so that research as to alternatives did not seem important to fleet operators - and the IMO just seem to have gone along with that.
A revival of the wing-sail concept now focuses on collapsible wing sails, rather than rigid sails, or vertical wings. The Walker wingsail system proved the concept for others to build on.
Walker Wingsail Systems plc built and sold an 8 tonne wingsail for use on MV Ashington in 1986. Collapse of world oil prices destroyed the economic case for use of wingsails in commercial shipping and the company turned to the luxury yacht markets and launched the trimaran design Blue Nova in 1990 and a smaller 43ft Zefyr trimaran design of which four were produced between 1997-2001.

These wingsail boats attract attention wherever they are seen. Inventure has been extensively modified to enable sailing by a paraplegic, with a heavily publicised story. The first three Zefyrs left the UK very soon after being sold. The fourth, Larinka, spent last winter in a very prominent berth at Portsmouth (Gun Wharf Quays) where she was a real eye-catcher.

During the 1980s and 90s, the UK media seemed hostile to wingsails, with a infamous libel case against the publication iYachting World-i. Venture capital funding appeared inaccessible and no UK boat-builders came in with Walker as partners. Investment was provided by 6,500 individual shareholders, with £12.5M invested before voluntary liquidation of WWS. One outside view was that the project needed £15-20M to succeed; another that the management and hull design were inappropriate.

Wingtek plc, the successor company to WWS plc, also tried to rely upon individual shareholders. It purchased from the liquidator of WWS the three partially built boats and moulds along with a licence for the IPR, but was compulsorily wound up (May-Nov 1999) to prevent publication of a prospectus for public subscription. Unusually, a Company Voluntary Arrangement was established (Spring 2000) to enable the company to trade its way back to solvency. This CVA relied upon an up-front loan from the customer for the next boat whose money failed to materialise.

No other customers were forthcoming, and so the CVA failed in August 2000, just as Zefyr_004 had been launched. This boat was purchased from the liquidator by James Wright and finished by Ian Page, to the best of his ability, but technical expertise was by then not available to him for some aspects of the software and control systems.

The English Board of Trade provided £207,500 in financial assistance to Walker Wingsail Systems Ltd. of Hamble, Hampshire under the support for innovation scheme before 1988, prior to the company's move to Plymouth. Grants made to Walker Wingsail Systems Ltd. under the support for innovation scheme were monitored at each payment stage. The financial assistance was forthcoming under the enterprise initiative consultancy scheme.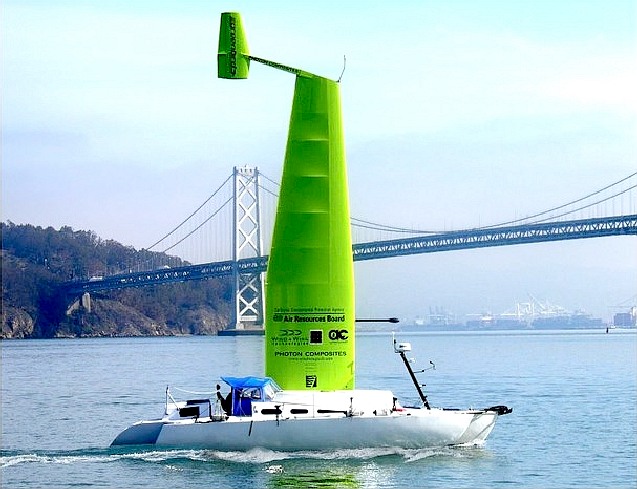 SAN FRANCISCO 42ft TRIMARAN 2014 - Wind & Wing Technologies testing of the green sailed vessel had gone well according to Jay Gardner. The ease and simplicity of the wing assisted 42' trimaran has been better than originally anticipated. Even the parts you think might present problems, mostly docking and departures are easy, thanks to the sails ability to feather. " It's actually has less resistance than a conventional rig" says Jay. He adds that the current testing with and without power on the 45' "Trilliza", custom trimaran, will present a study on the fuel consumption and efficiency of the winged trimaran. The wing is 350 sq ft and rotates 360 degrees on a tapered spar that is 15" in diameter. The wing Richard Jenkins designed for the Greenbird works beautifully.
Adventure Cat's Co founder Jay Gardner has been lobbying to see wing assisted ferries sailing on San
Francisco Bay and has partnered with Jenkins to build a scale model of the proposed wing powered ferry and has been testing the boat around San Francisco Bay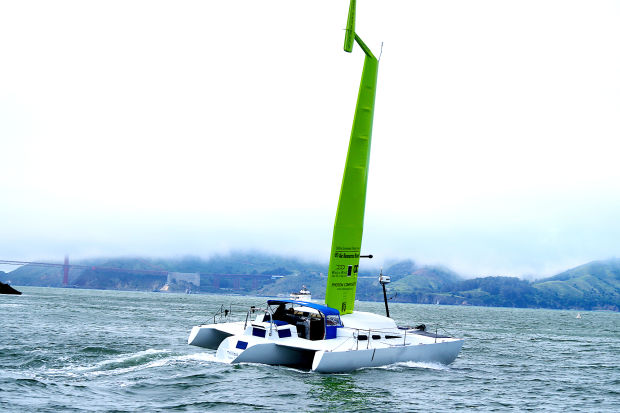 Jay owns a canvas shop in Napa and the were able to cut the lower panel to sit flush with the tri's existing deck. The were able to utilize Trilliza's existing mast step and only had to cut a hole through the deck to insert the spar. The wings tail simplifies s the process of sailing so much that a robot does the trimming. The robot controls only three moving parts: the elevator-like tab on the tail, the rudder, and the free-rotating wing itself.
It was by shear luck that Stan Honey caught wind of the project and introduced Jay to Richard, who was recently relocated just across the bay from Jay's Adventure Cat business at Pier 39. Jay had bee in talks with the the Navy in San Diego about an experimental wing they had designed. As it turns out Richards design was not only extremely cheaper but simpler in design.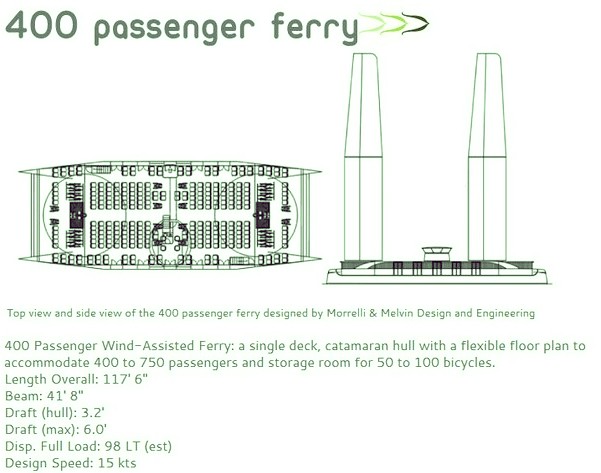 The concept for the winged ferry is something Jay and business partner Hans Korfin had in mind since the 80's , but it was the steep price in fuel cost's that re-energized the concept. With diesel prices reaching near $5.00 per gallon on the spot market, Jay's proposal to the Golden Gate Bridge District's Jim Swindler was fortuitous in timing. "The District burns through nearly 1,000,000 gallons of diesel per year running their ferries," Says Jay, " We presented them with a 32 page engineering feasibility study done by Pete Melvin of Morelli & Melvin which showed a 42% savings in fuel probability PLUS a very large drop in emissions. With that information they were enabled to apply for grants from the Air Resources Board, which enable the project to move forward.

PressureDrop spoke with Pete Melvin about some of the design minutiae regarding the wing assisted cat aka "Hybrid Ferry". Pete confirmed that "The wing will assist even on routes going to weather, so long as it not dead to wind, and even then, the profile of the wing presents much less drag than a conventional rig. The obvious benefit being a low angle of attack. The analysis shows substantial benefit on the low angle of attack" When asked if extreme breeze would be cause for concern, Pete indicated that the self feathering mode would nullify any excess wind resistance. If power is lost the wings can be shifted to a disengage mode the the wing would feather itself. As far as government approval, Pete expects 4-6 months for approval and 1-2 years to build the boats.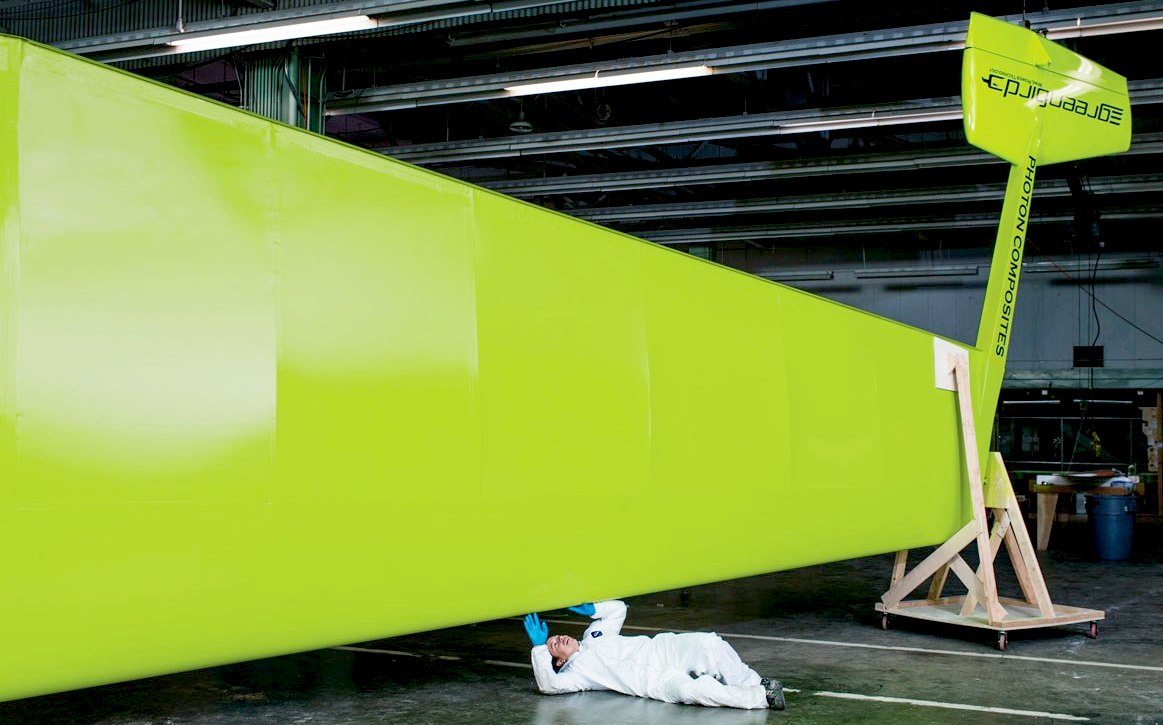 Wind+Wing Technologies has partnered with Photon Composites, pioneers in innovative computerized wing technology, to develop a demonstration vessel for ferry routes on the San Francisco Bay. The vessel is a 42-foot trimaran equipped with a computerized wing, specifically designed to harness wind power to significantly reduce fuel consumption and emissions. In January 2014, the demonstration vessel will begin test sailing five days a week, for three months, on the following ferry routes from the San Francisco Ferry Building to: Sausalito - Richmond - Treasure Island - Alameda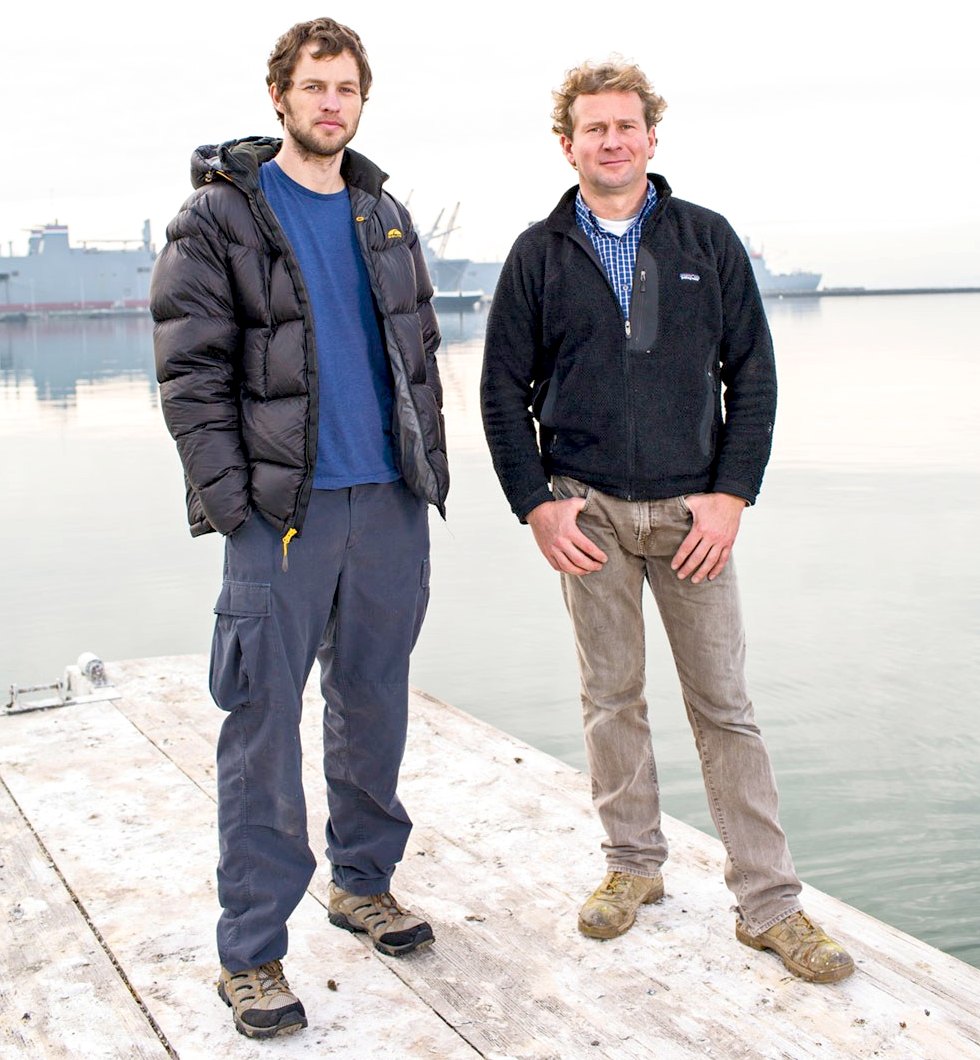 The demonstration period will track vessel reliability, speed, and fuel savings during a varied wind season, all while replicating a realistic ferry schedule. Data compiled during the demonstration will be forwarded for analysis to Dr. Timothy Lipman, Co-Director for the Transportation Sustainability Research Center at the University of California, Berkeley. The data will be presented in a final report, which will be made available to the public, and will document potential improvements in air quality and fuel cost savings from employing this technology on San Francisco Bay ferry vessels. This demonstration project is made possible by a grant from the Air Quality Improvement Program (AQIP) through the California Air Resources Board (CARB), with additional funding and grant administration by the Bay Area Air Quality Management District (BAAQMD), as well as Adventure Cat Sailing Charters and Photon Composites.
COOKE ASSOCIATES

Cooke Associates aims to achieve the technical characterisation of the existing wingsail and to solve the technical challenges of fitting it to a catamaran hull with full integration, control and manufacturing feasibility.

In 2001 a preliminary review and further study of wingsails was commissioned by Anne Toms. This was conducted by Alison Cooke, who managed the staff resources, using ex-employees of Walker Wingsail Systems plc (wingsail designers), Boatek (small wingsail designer), Plymouth Composite Construction (boat-builders), Ecocats Ltd (boat-builders), The Patent Office, academics and students at Cambridge University Engineering Department, and consultants.
Like most visionary technologies, wingsails have struggled to gain acceptance despite their superior performance. But there are now a number of firms working with the technology.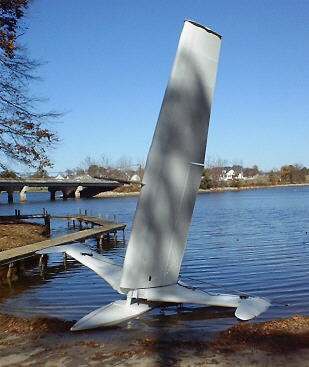 WIND ROCKET

The makers of the Windrocket (above) claimed: she is probably faster than any other production sailboat! In a good breeze, as fast as the fastest personal watercraft (i.e., Jet Skis, etc.). In other words, about a mile-a-minute.

"Our calculations indicate that the boat, in its standard configuration, should sail at about 2.5 times wind speed in winds from about 8 to 16 mph. Yellow Pages Endeavour (the current speed record boat) has sailed at slightly higher boatspeed/windspeed ratios. The speed potential of any sailboat depends on two ratios (the higher the better for both): Fh/R (maximum tolerable heeling force / resistance) and L/D (aerodynamic lift/drag).

These ratios are quite similar for the two boats. On one of YPE's record runs, their top speed was 52 knots or 60 miles per hour. (The actual record is an average, rather than top, speed.) So we believe we are justified in calling the Windrocket 16 the "Mile-a-Minute Sailboat". But of course, only more time in the water will tell for sure."

SUSTAINABLE CONTAINER SHIPS - This 50m concept vessel may be doubled and quadrupled without too much trouble. You'd need to up-scale by a factor of 8 to match the 400 meter ships that operate today to carry 960 standard containers. See our top ten list below. That is nowhere near the capacity of a heavy bunker fueled giant, but it is a formula for eventual 100% zero carbon transportation that is theoretically workable. We believe that such a system could eventually replace bunker fuels and eliminate the need for liquid fuels that may be potentially dangerous.
CARGO CONTENDERS A list of the top ten fossil fueled leaders that could benefit from solar and wind assistance. You may notice from the specification of these vessels that we are in the right ballpark for power to cargo ratio when comparing DWT to installed engine power:
| | | | | | |
| --- | --- | --- | --- | --- | --- |
| RANKED | SHIP NAME | No. BUILT | LOA | | KW/TON/DWT |
| - | - | - | - | - | - |
| 1. | | 5 | 399.9 | 23,756 | 0.379 (0.50hp) |
| 2. | | 5 | 399.9 | 21,413 | 0.316 (0.42hp) |
| 3. | | 3 | 400.0 | 21,237 | N/A |
| 4. | | 2 | 400.0 | 20,954 | 0.368 (0.49hp) |
| 5. | | 10 | 399.0 | 20,568 | 0.3 (0.4hp) |
| 6. | | 10 | 400.0 | 20,388 | N/A |
| 7. | | 1 | 399.0 | 20,182 | N/A |
| 8. | | 3 | 400.0 | 20,170 | 0.427 (0.57hp) |
| 9. | | 4 | 399.8 | 20,119 | N/A |
| 10. | | 5 | 400.0 | 19,870 | N/A |
| - | - | - | - | - | - |
| 00 (Proto) | | - | 50.0 | 6 | 0.37 (0.49hp) |
The concept of using wind power with conventional steam and diesel engines as a hybrid propulsion system for ships has been with us since the early paddle steamers. Before that the Romans used sails and slaves to row, so assisting the speed of a sailing ship with muscle power. With diesel being such a polluter, a return to sailing ships of a kind that is not dependent on human muscle is a good thing, where that would not be economical or environmentally friendly from the food consumed.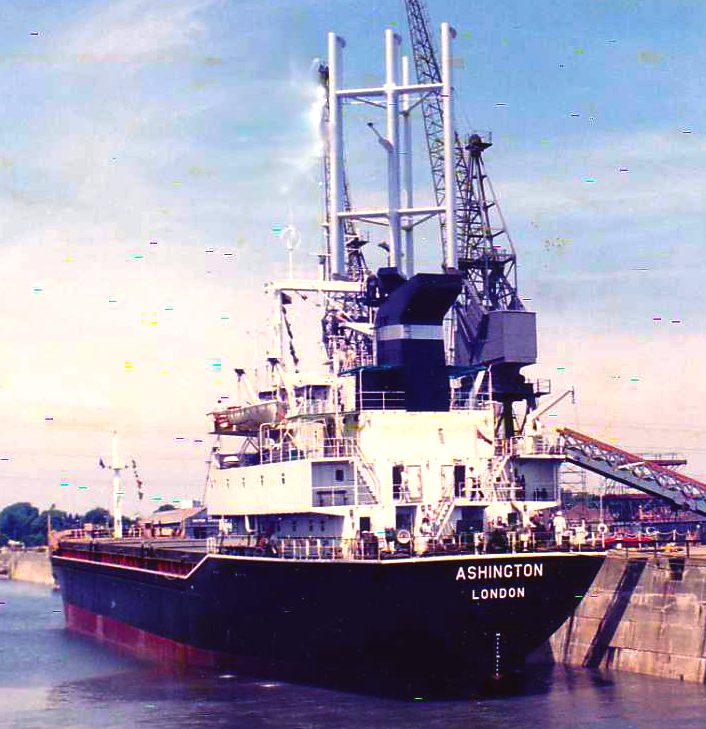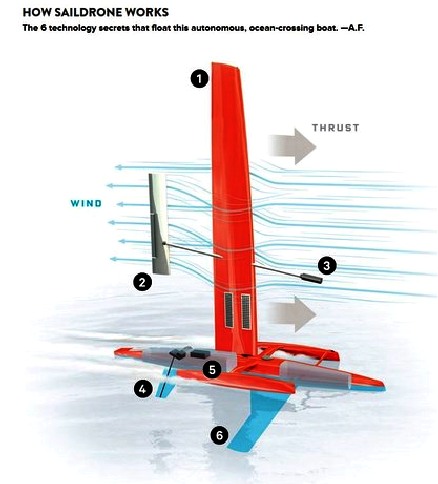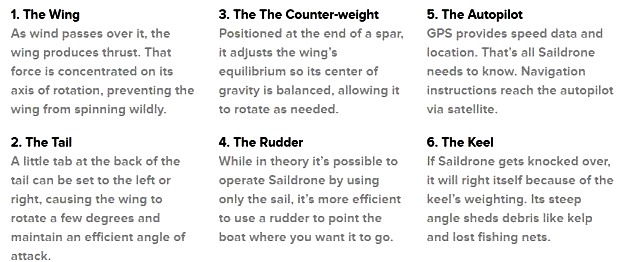 HONEY BADGER 2014 - The "Honey Badger" is the name of the Saildrone vessel that sailed from San Francisco to Hawaii autonomously in 2014.

This is the brainchild of Richard Jenkins who took residence in Alameda and teamed up with Google founders Sergi Brin and Larry Page to design a Kiteboat:

" It was interesting work, and he was introduced to a whole new scene, one where out-there engineering projects like the self-driving car and augmented-reality glasses were the stuff of everyday life. Suddenly his 126-mph accomplishment seemed pretty insignificant. "No one cares about land sailing," Jenkins thought, "but the first drone around the world?"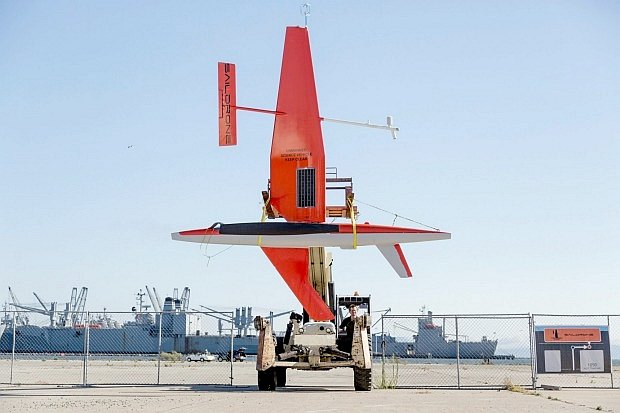 Jenkins realized that the wing he'd evolved for the Greenbird would be perfect on an oceangoing drone. Its tail simplified the process of sailing so much that even a robot could handle it. The bot would need only three moving parts: the elevator-like tab on the tail, the rudder, and the free-rotating wing itself. What's more, only two of those parts—the tail tab and the rudder—would need power. A few off-the-shelf solar panels would provide more than enough. Jenkins knew from long experience that the fewer parts there were, the fewer parts there were to break. His oceangoing drone needed to be single-minded, bulletproof, and absolutely spartan.

It happened that Owens was working in the same boatyard as Jenkins was, though on a different project: writing software and building watertight, salt-resistant, pressure-tested controllers for a submarine project. He too was daydreaming about building the first around-the-world drone. Jenkins, a boatbuilder, met Owens, a hacker, on the shop floor in April 2010, and they quickly realized the obvious: They should quit their jobs and join forces."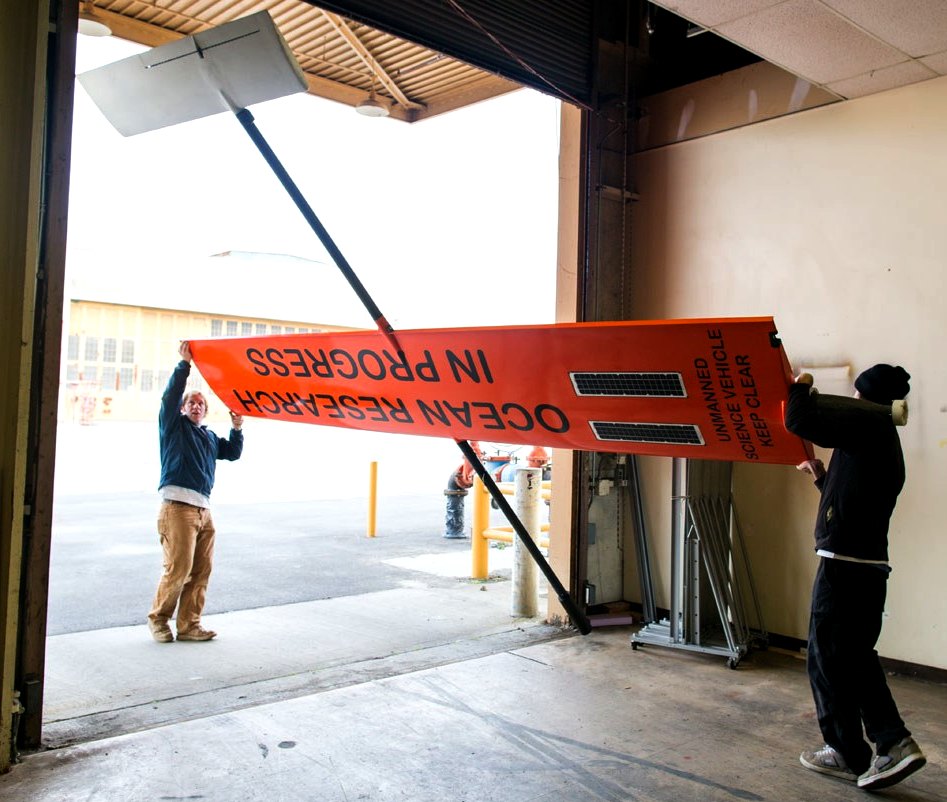 Jenkins and Owens are the engineering duo behind Saildrone, which in the words of their website is "a wind-powered autonomous surface vehicle." On October 1, the 19-foot craft was set loose in the San Francisco Bay with a simple command lodged in its electronic brain: Sail to Hawaii. For 2,248 nautical miles the boat did the rest. The path it chose happens to be identical to that of the annual Pacific Cup sailing race, and the fastest anyone has traversed this course is just over five days. The single-handed-sailing record is eight and a half days. As Jenkins and Owens look on, Saildrone is about to complete what might be called the first no-handed ocean sail: San Francisco to Hawaii in 34 days. It's not quick, but then again there is no one aboard to complain.
The journey has included a storm with gale-force winds followed by two weeks of doldrums. During the tempest, Saildrone was reporting speeds of up to 16 miles per hour and angles as extreme as 75 degrees, meaning it was heeled over and surfing down the backside of breaking waves—waves with enough power to snap it in two had they caught the boat in the wrong position. The doldrums were equally worrisome: With no one aboard to scrub the bottom, algae, seaweed, and barnacles might have overtaken Saildrone, transforming it into just another piece of flotsam.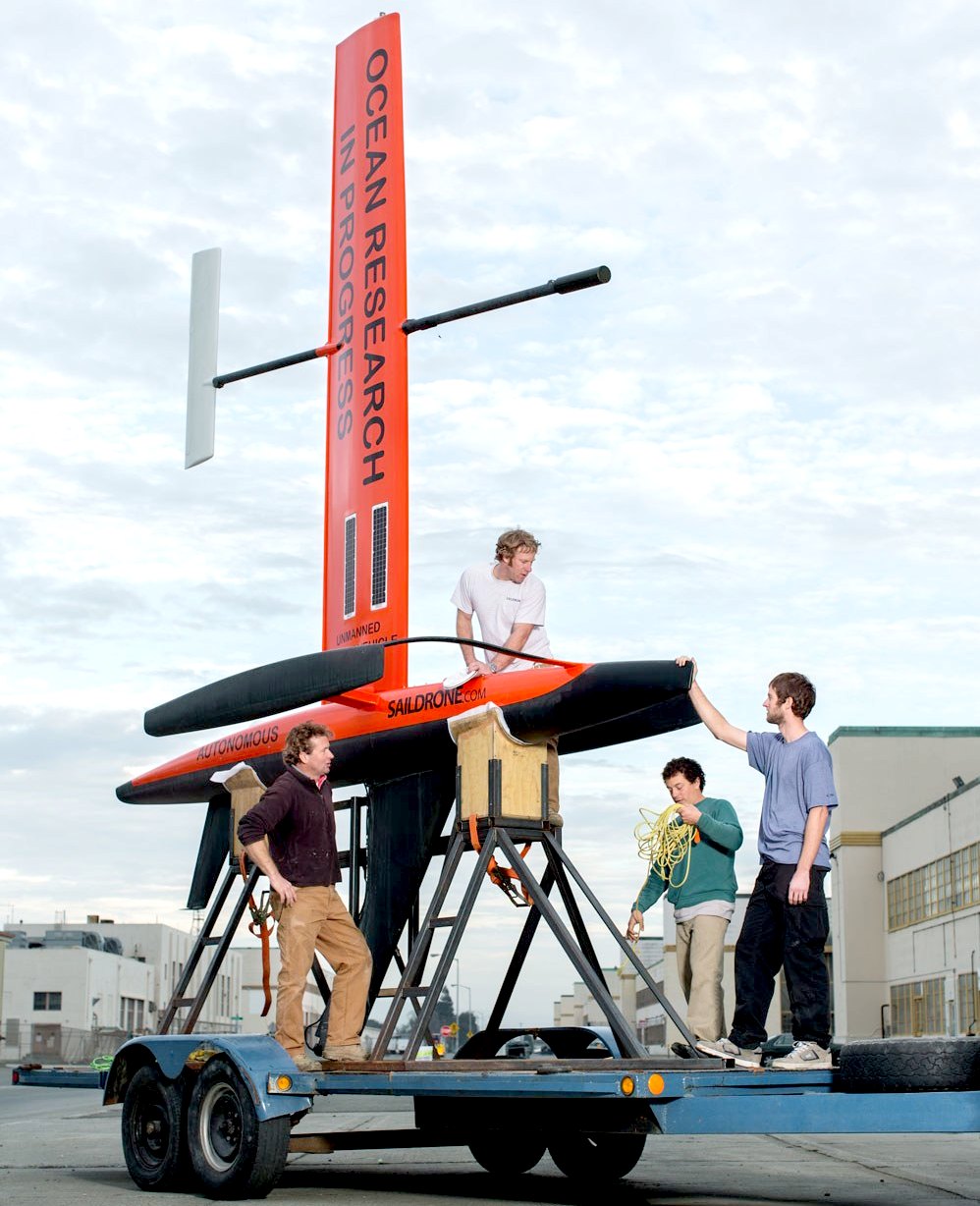 As the vessel sails into sight, it is noted that it's a streamliner - a narrow hull stabilized by two outriggers, one on each side, otherwise known as a trimaran. Its "sail" is a sail in name only; in reality it's a 20-foot-high, solid carbon-fiber wing. Extending from the back of this wing, halfway up the mast, is a tail - just like an airplane's. ("That's a little trick that I stole from the Wright brothers," Jenkins says.) Above the waterline the boat is painted safety orange and emblazoned with the words OCEAN RESEARCH IN PROGRESS in all caps. The hull is black with bottom paint, and near the bow is the name in a fancy serif: Honey Badger.
The Honey Badger is more than a sailboat and more than a robot, although it's both of those things. The Pacific crossing is really a test of a new type of sail that automatically keeps itself pointed into the wind, like a weather vane. Adjusting a little tab on the back of the tail—a task handled by the Honey Badger's autopilot—is enough to maintain the correct course and to angle the wing so it creates forward thrust. There's no need to employ ropes, winches, or even sailors. The mechanism is so simple it might really be best regarded as a plug-and-play power source. Like a windmill, it converts a ubiquitous natural resource into usable energy.
A - Z SAIL AND SOLAR ASSISTED BOATS & SHIPS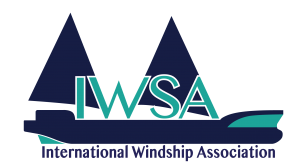 LINKS & REFERENCES
https://www.wired.com/2014/02/saildrone/#x
http://www.pressure-drop.us/forums/content.php?4206/
http://saildrone.com/
http://www.kemplon.com/wind-assisted-ship-propulsion-back-to-the-future/
http://wind-ship.org/en/grid-homepage/
TRANSFERABLE TECHNOLOGY - The design of the Climate Change Challenger might be adapted to Cargo, Container, Cruise and Ferry designs, without needing to radically alter port facilities. The designs above are not representative of adaptations of the concept, but serve to illustrate the thinking of other design houses.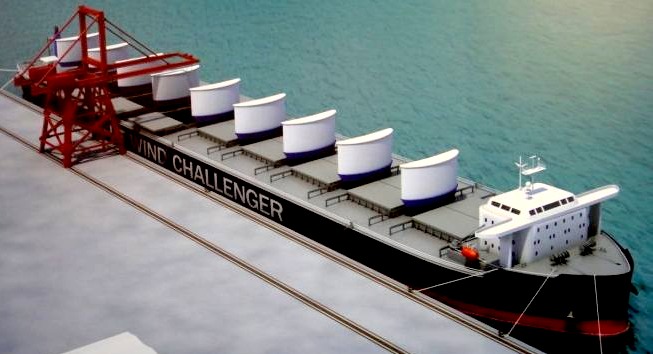 Please use our A-Z INDEX to navigate this site
AEGEAN - ADRIATIC SEA - ARCTIC OCEAN - ATLANTIC OCEAN - BALTIC SEA - BAY OF BENGAL - BERING SEA - CARIBBEAN SEA - CORAL SEA
EAST CHINA SEA - ENGLISH CHANNEL - GULF OF GUINEA - GULF OF MEXICO - INDIAN OCEAN - IONIAN - IRISH SEA - MEDITERRANEAN SEA
NORTH SEA - PACIFIC OCEAN - PERSIAN GULF - SEA OF JAPAN - SOUTH CHINA SEA - SOUTHERN OCEAN - TYRRHENIAN