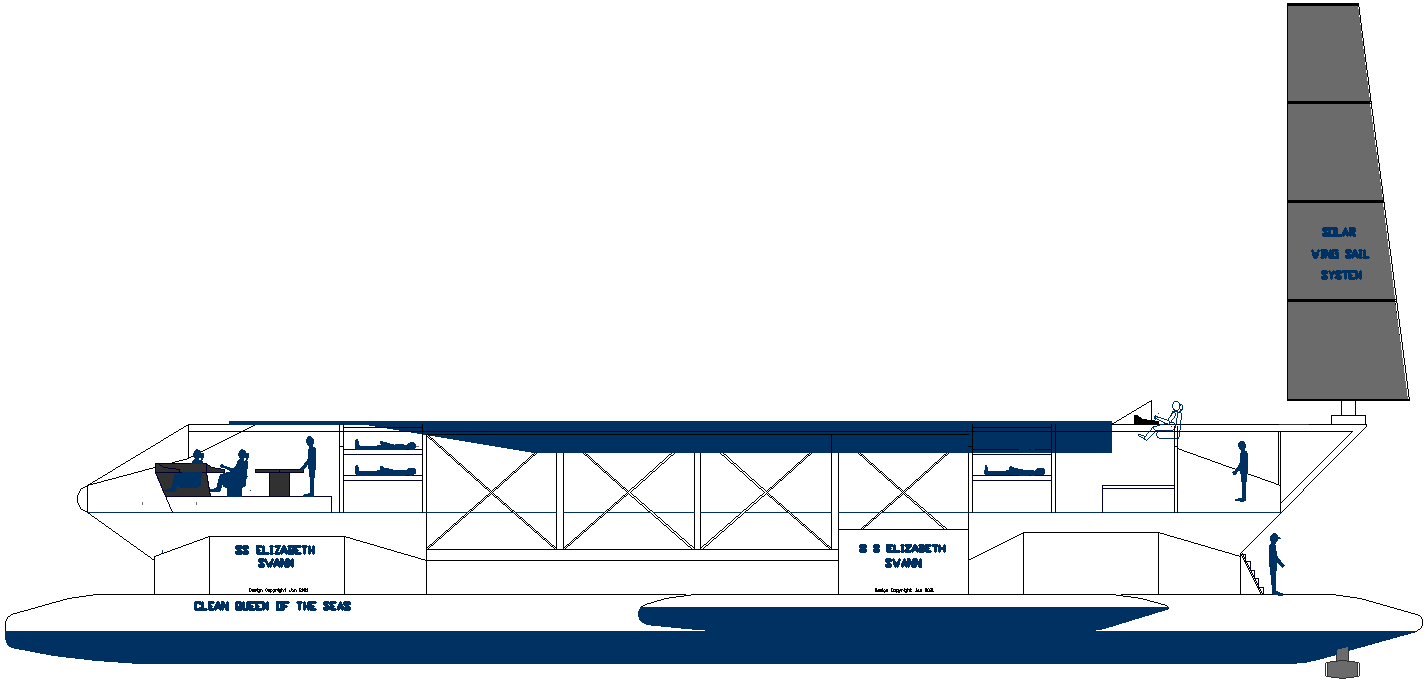 WING SAIL SYSTEM - The Elizabeth Swann is seen here with collapsible rigid wing sails in the raised position. Such a system could provide around 25-30% of the energy needed to propel the vessel at speeds exceeding 10 knots. The only way to find out is to try and compare, beginning with simulations, and finally putting out to sea, to put theory into practice. The alternative is rotary sails, that generate electricity that can be stored energy to iron out the lumps when harvesting energy from nature.
The concept of using wind and solar power together on ships has been within our grasp for many years, but we did not care to divest ourselves of the diesel oils that shipping lines have been burning tax free since bunker fuels took over from coal.
For some reason, sail and electric power advocates seem to treat each other as enemies. Especially those emanating from competitive sports. To the point of arguing unreasonably, their corner and almost refusing to consider that alternative technology could play a part in resolving the current dilemma. Being that of meeting the IMO's targets: a 40% reduction by 2030 against a 2008 baseline. This is set against a predicted increase in shipping, meaning that the 40% target is more like a 50% goal.
Hence, we advocate introducing carbon trading in the shipping world, as the Kyoto and Paris agreements have only made provision for developed countries offsetting against developing countries. Talk about myopic policies! New ideas are likely to come from SME's and not-for-profits, rather than entrenched consultants armed with computer simulations for tweaking of conventional thinking.
The IMO would need to move on this with uncharacteristic speed, where meetings to decide what to discuss at meetings, and then meetings to decide on what was decided at the earlier meetings, is hardly conducive to action. More a braking effect on development in the real world.
It could be argued that in the shipping world the developed countries are the ship owners and their experts, while developing countries would be the SME's starting with a clean sheet of paper. For they have no axe to grind. Especially, the not for profits, because there is no money motive, only advancement as the goal.
KEEPING TRACK OF MPG - Annual operational carbon intensity indicator (CII)

The proposals are that ships of 5,000 gross tonnage and above (the ships subject to the requirement for data collection system for fuel oil consumption of ships) must have determined their required annual operational carbon intensity indicator (CII). The CII determines the annual reduction factor needed to ensure continuous improvement of the ship's operational carbon intensity within a specific rating level. By this means, it should be possible to calculate how well the shipping industry is doing, and deal with offenders.
CARBON TRADING
With more that eighty percent 80% of goods being delivered by cargo vessels, shipping generates close to a billion tonnes of greenhouse gas every year. It's a serious problem. Currently, in the markets the price is around $16 a tonne, but that should be more like $30. Meaning that the carbon trading market in the marine world is between $16-30 billion dollars. That represent a lot of potential R&D, if there was such a thing. But the UN's IMO has not thought of that, nor the EU or G20. Why not? They appear to be petrified as to the thought of alternatives.
Such a development pot would drive innovation, provided that opportunities to test out ideas was made available to the more creative in society, to avoid a John Harrison situation, as with the Board of Longitude. There is no point giving the big players heaps of cash to resolve an issue they have failed to resolve. You need fresh talent.
In our view the first practical application of combined wind and solar power was with Solar Sailor, where sails were also solar panels that could be aimed to capture either wind energy or photovoltaic energy from the sun. But not both optimally at the same time, except in rare circumstances.
Arguably, the Elizabeth Swann is the next generation design, improving on the catamaran from 2000 to give a significantly larger solar panel area, and reasonably large sails, where the sails are arranged so as not to shade the solar wings and the wings track the sun independently of the sails.
The PlanetSolar was also a hefty catamaran design. Beefing up on solar panels, but not taking advantage of wind power.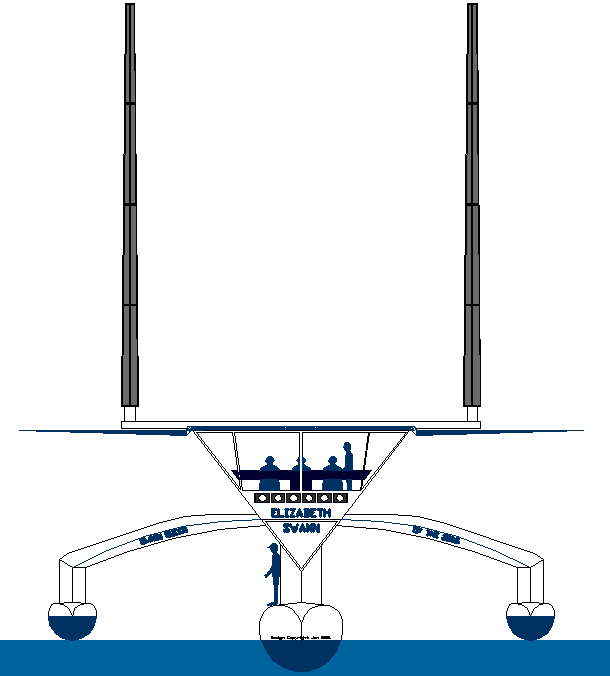 These tall sails can be collapsed and folded, inspired by Robert Dane's Solar Sailor from 2000. But what about collapsible wings with solar panels as part of the wing. Why is nobody chasing that dream?
The performance of a ship relying on sails alone will vary with the prevailing wind and therefore will not be effective much of the time, assuming that the sails will be operational approximately 15% of the time. Hence, the Swann concept relies mainly on incoming solar energy and pv panels as very large arrays. Nevertheless, using trade winds can boost route performance to make sails worthwhile, to the point where large rigid wings could power a cargo ship to reach an average of 10 knots, with assistance from another power source. But the same applies for solar powered ships, also nibbling away at beating the 10 knot target.
The Swann team are hoping to be able to evaluate the solar/sail concept alongside a rotary sail/solar concept, where it is envisaged that the sail hybrid may be quieter in operation, while the rotary sail version may be a better workboat, offering storage of energy that sails cannot provide.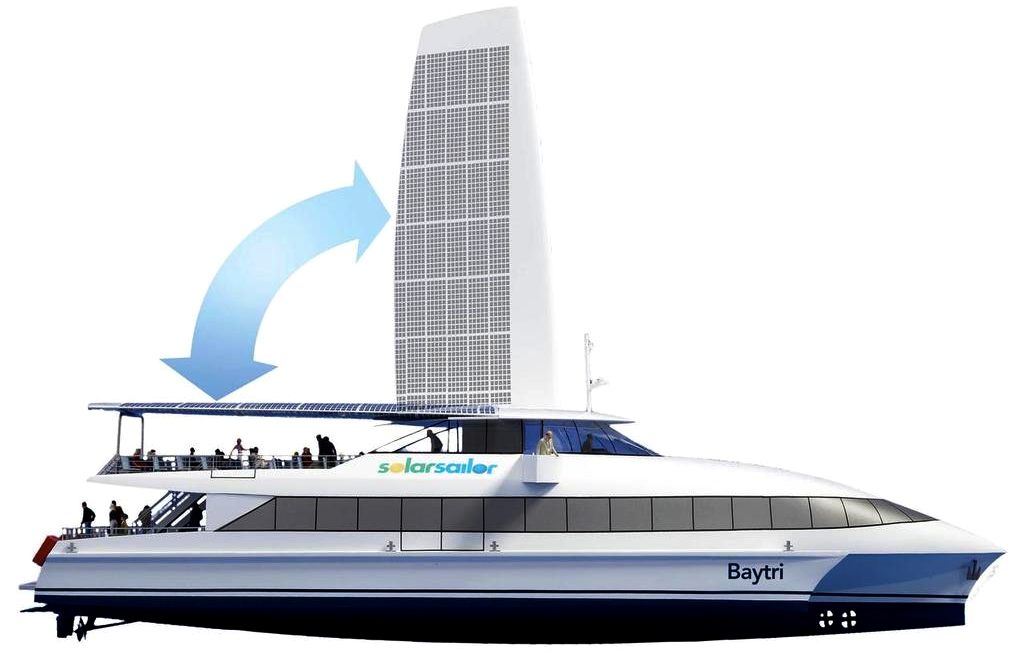 FERRY OR YACHT - A design from SolarSailor, where a large single wingsail is deployed, able to fold flat to capture the sun when conditions are calm.
CONTACTS

Cleaner Ocean Foundation
Solar House, BN27 1RF
United Kingdom
A - Z SAIL AND SOLAR ASSISTED BOATS & SHIPS
LINKS & REFERENCES
https://
TRANSFERABLE TECHNOLOGY - The design of the Climate Change Challenger might be adapted to Cargo, Container, Cruise and Ferry designs, without needing to radically alter port facilities. The designs above are not representative of adaptations of the concept, but serve to illustrate the thinking of other design houses.
Please use our A-Z INDEX to navigate this site
AEGEAN - ADRIATIC SEA - ARCTIC OCEAN - ATLANTIC OCEAN - BALTIC SEA - BAY OF BENGAL - BERING SEA - CARIBBEAN SEA - CORAL SEA
EAST CHINA SEA - ENGLISH CHANNEL - GULF OF GUINEA - GULF OF MEXICO - INDIAN OCEAN - IONIAN - IRISH SEA - MEDITERRANEAN SEA
NORTH SEA - PACIFIC OCEAN - PERSIAN GULF - SEA OF JAPAN - SOUTH CHINA SEA - SOUTHERN OCEAN - TYRRHENIAN