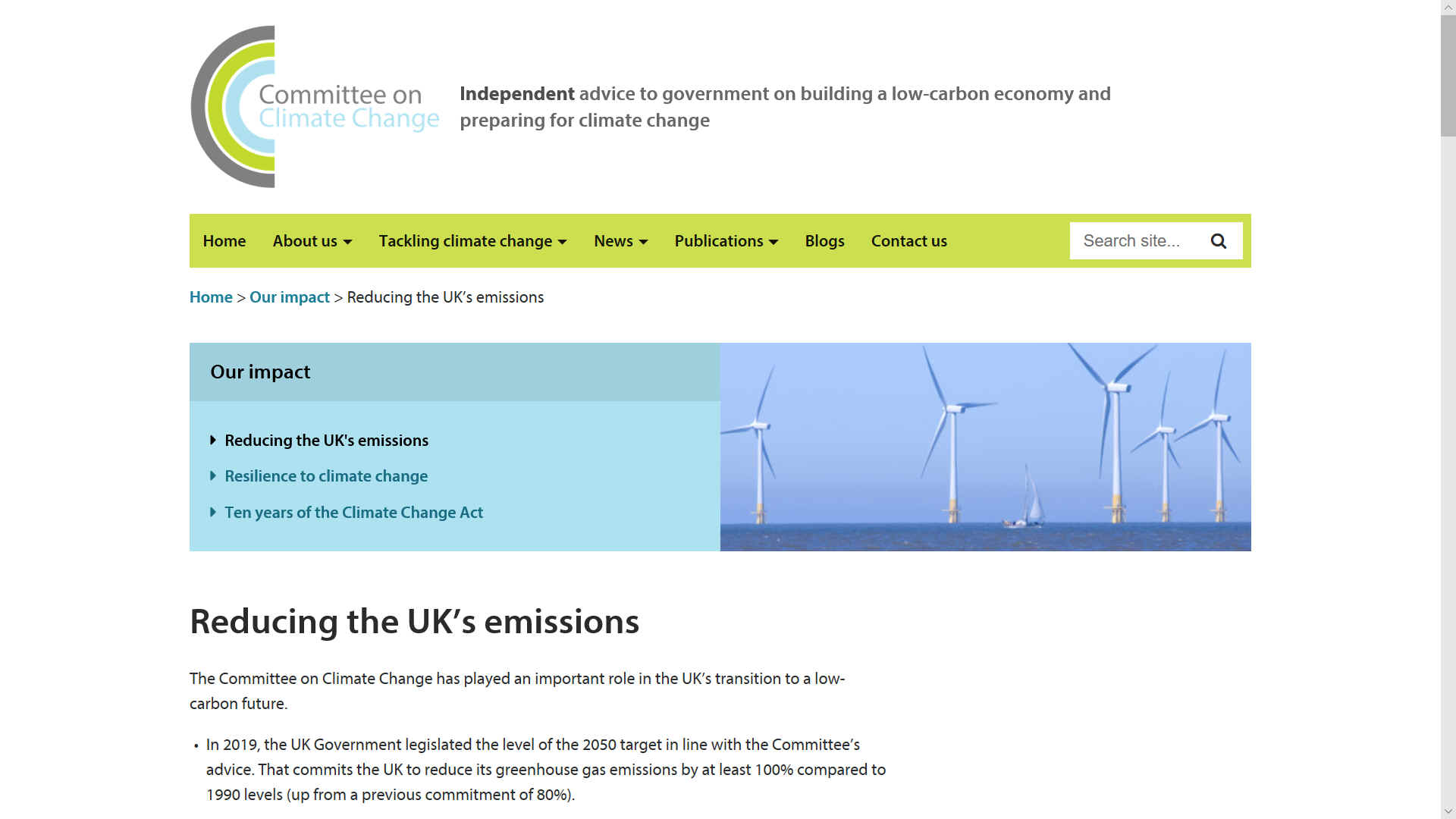 In the quest to reduce global warming, and yet still provide energy for the world to be able to live, we face a difficult situation, with difficult choices for those with wealth and collections of fossil fuelled luxury cars, mansions and yachts. For the rest of us it is simple, freely available, clean, renewable energy and zero carbon transport, combined with energy self-sufficient housing.
The Committee on Climate Change comprises a Chairman and eight independent members. It is jointly sponsored by the Department for Business, Energy and Industrial Strategy (BEIS), the Northern Ireland Executive, the Scottish Government and the Welsh Government

The Adaptation Sub-Committee (ASC), which is part of the CCC, was also established under the Climate Change Act 2008 to support the CCC in advising and reporting on progress in adaptation. Its work is led by a Chair, who also sits on the main Committee, and six expert members. It is jointly sponsored by the Department for Environment, Food and Rural Affairs (Defra), the Northern Ireland Executive, the Scottish Government and the Welsh Government.

The Chief Executive leads a secretariat of around 30 staff who provide analytical and corporate support to the Committee.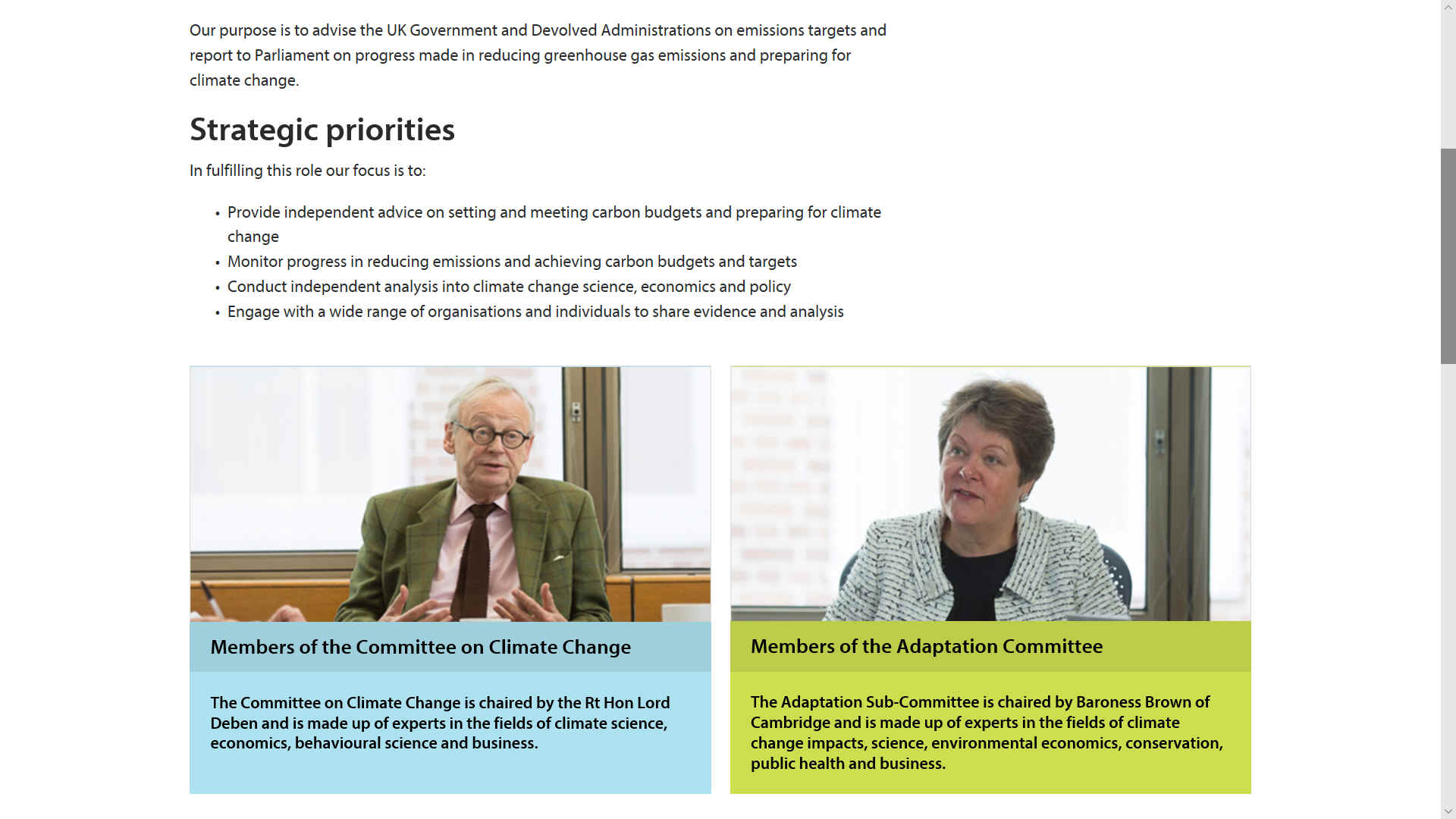 LORD DEBEN & BARONESS BROWN - The Committee on Climate Change's advice is directly reflected in UK-wide legislation and policy to reduce greenhouse gas emissions and prepare for the impacts of climate change. The Committee's recommendations have also helped to shape climate change and environmental legislation and policy in Scotland and Wales. The CCC is chaired by Rt Hon Lord Deben. The Adaptation Committee is chaired by Baroness Brown of Cambridge.
CLIMATE CHANGE COMMITTEE (UK) - POWER SECTOR

In 2008 the UK's Committee On Climate Change called for a focus on reducing emissions from the power sector as one of the top priorities in decarbonising the economy. This has been a major success area, with emissions now down 68% on 1990 levels.
Fundamental reform of the electricity market has taken place since the Climate Change Act 2008 was passed, in line with the CCC's recommendations. This includes the introduction of long-term contracts for the generation of low-carbon electricity and a shift to competitive approaches when allocating contracts, these have supported dramatic reductions in the cost of renewable power (for example, costs of contracted new-build offshore wind power has fallen by over 50% from 2015 to 2017.
The proportion of electricity generated from renewables has also increased from 12% in 2012 to 30% in 2017. Long-term contracts have allowed construction to begin on the first new nuclear power plant in a generation.
The introduction of a UK 'carbon price floor' has put a minimum price on emissions from the power sector. This has helped to drive the transition away from coal to lower-carbon sources of energy – in May 2019 the UK was powered for a two week period without burning coal.
No new coal-fired power stations have been built since the Climate Change Act was passed, in line with the CCC's recommendation that new coal plants should only be built if they include technology to capture carbon dioxide emissions, known as Carbon Capture and Storage.
The Government has supported the conversion of existing coal plants to use biomass (burning wood, plants, food waste and other biological matter), instead of investments in new dedicated biomass plants, in line with CCC advice in 2011. The Government has also tightened the sustainability limits for use of biomass in line with the Committee's advice to 200gCO2/kWh in 2020, moving towards 180gCO2/kWh in 2025, ensuring that bioenergy will become an increasingly clean source of fuel.
Funding of the 'Levy Control Framework', which sets a cap on Government subsidies to support renewable energy generation, was set in line with the CCC's advice at £7.9 bn in 2020/21. Funding for offshore wind and other emerging technologies has been extended to the mid-2020s helping to support investors in developing projects and cutting costs.
The Committee identified offshore wind as a strategic priority for the UK in its 2011 Renewable Energy Review with potential for significant cost reduction and to provide a major contribution to the UK's low-carbon future. Offshore wind is on track to provide over 10% of UK generation by 2020 with the UK having the largest installed capacity in a growing global market. Offshore wind costs for contracted new-build projects have plummeted close to the costs of new gas-fired generation.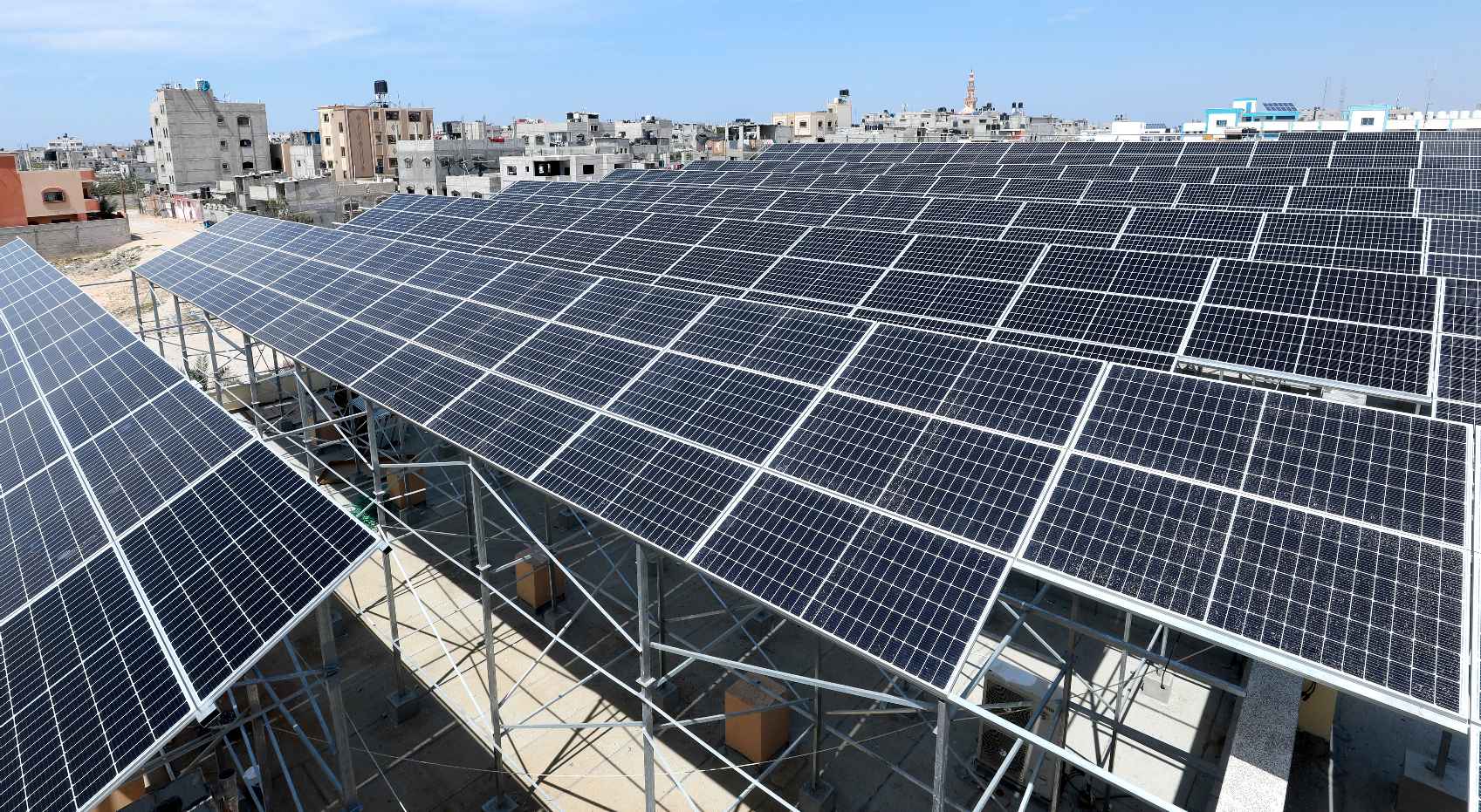 WHO JUNE 2019 - A newly installed solar power plant in the Gaza Strip, Occupied Palestinian Territory (OPT), will reduce Nasser Hospital's reliance on donated fuel and, by providing life-saving interventions, help build resilience. This is according to the World Health Organization (WHO).
TRANSPORT
The Committee identified electric vehicles (EVs) as a key part of the low-carbon economy in 2008. Since 2010, when EVs made up less than 0.01% of car sales, the Committee's central scenario has included EVs accounting for 60% of new car sales by 2030, leaving open the possibility of achieving 100% of new car sales by around 2035. At the end of 2017, sales were over 2% and rising rapidly.
The Government has announced that sales of new conventional cars will be phased out by 2040, and policy has followed CCC recommendations with upfront subsidies reducing the costs of purchasing electric vehicles and support for roll-out of improved vehicle charging infrastructure.
CCC analysis of logistics options to reduce emissions from HGVs has been reflected in the Government's Freight Carbon Review. The Committee drew attention to the gap between reported and real world emissions in a report in 2015. The issue subsequently became a topic of worldwide concern.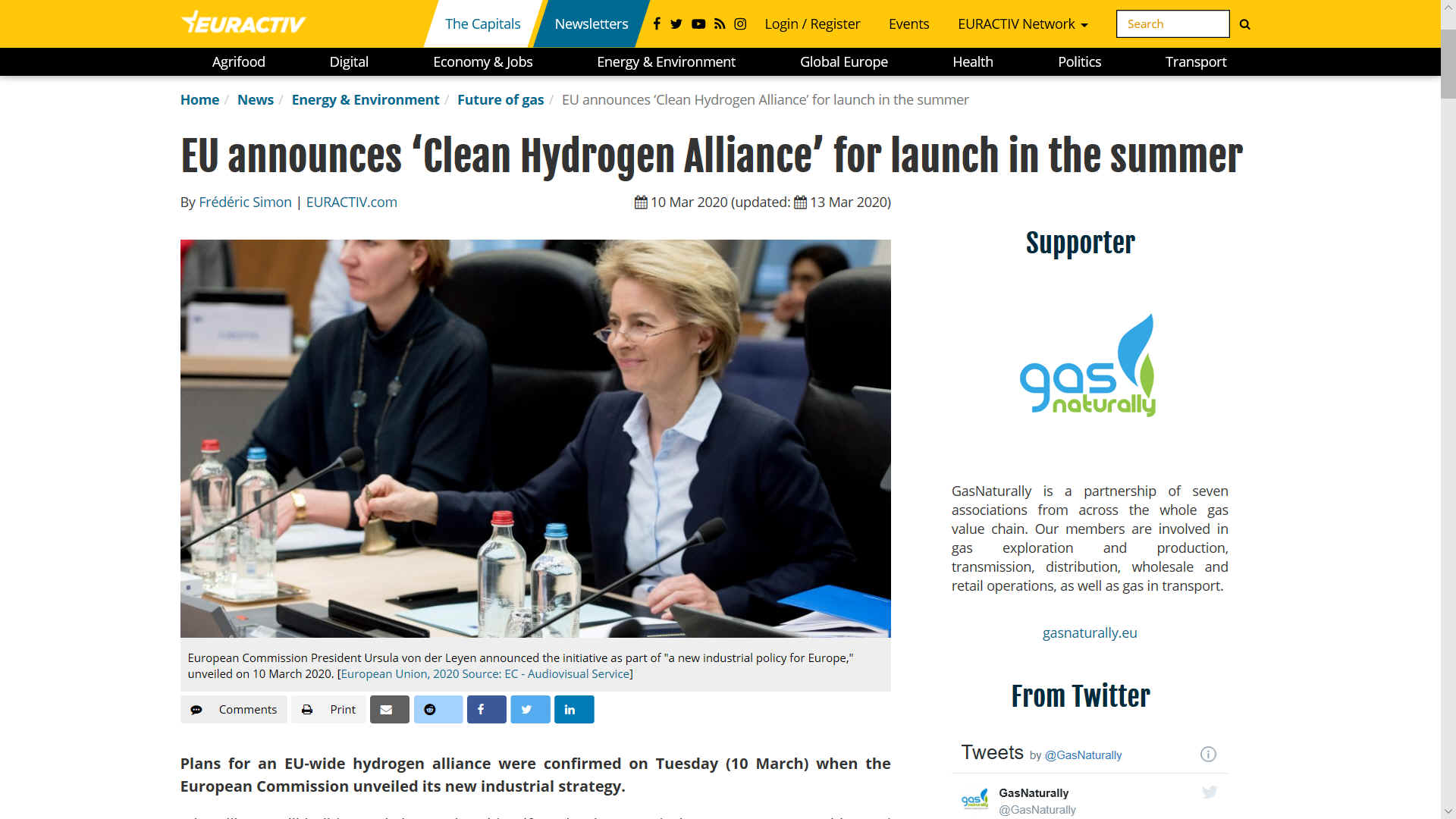 EU 2020 ISSUES - Europe's Critical Uncertainties revolve around EU cohesion, a changing energy mix and energy security concerns driven by commitments to the Climate Framework and EU decarbonisation policies. The main area of concern is the impact of a changing energy mix on existing market structures and on the reliability of energy infrastructure. Among security challenges are the ability to attract adequate investments and, for some countries, over-reliance on a single supplier or on a single fuel source. Russia's dominance as a supplier of natural gas to Europe remains a source of tension with some European countries as Moscow seeks to secure a greater share of the European market. Action Priorities remain consistent with last year's efforts to decarbonise and enhance the efficiency of energy systems.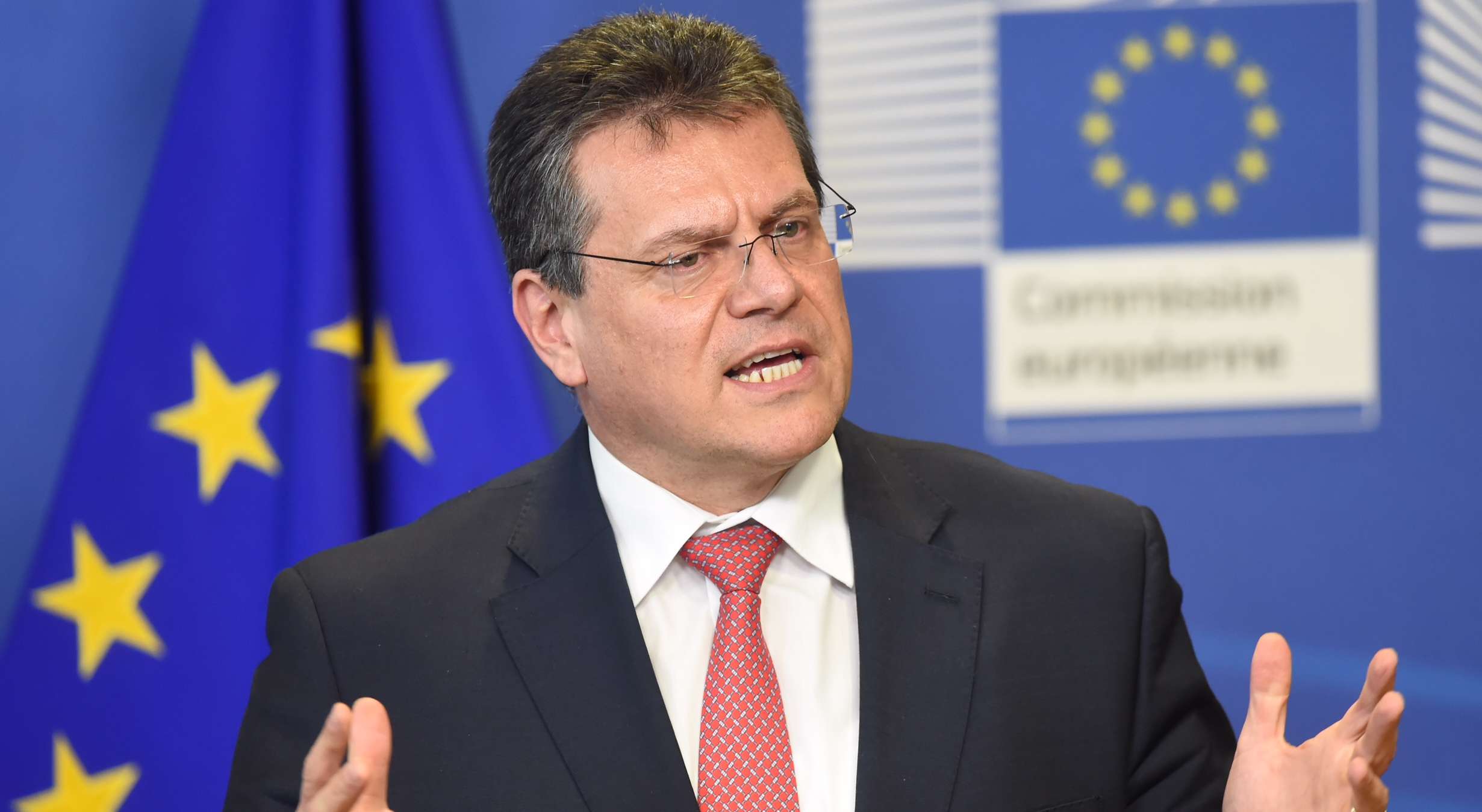 VP EUROPEAN COMMISSION - Maroš Šefčovic: "Europe is investing in a competitive and sustainable battery manufacturing sector. We want to provide a framework that includes secure access to raw materials, support for technological innovation and consistent rules on battery production. We envisage a strong battery industry that contributes to the circular economy and clean mobility."
The EU has woken up to the fact that batteries are a vital component in the smoothing of energy in the new age of renewables. Alongside such realisation, hydrogen looms as a prospective savior, that is also the target of investment, now that climate change is being given the attention it deserved 30 years ago. We say, better late than never.
CLIMATE CHANGE COP HISTORY
| | |
| --- | --- |
| 1995 COP 1, BERLIN, GERMANY | 2008 COP 14/CMP 4, POZNAN, POLAND |
| 1996 COP 2, GENEVA, SWITZERLAND | 2009 COP 15/CMP 5, COPENHAGEN, DENMARK |
| 1997 COP 3, KYOTO, JAPAN | 2010 COP 16/CMP 6, CANCUN, MEXICO |
| 1998 COP 4, BUENOS AIRES, ARGENTINA | 2011 COP 17/CMP 7, DURBAN, SOUTH AFRICA |
| 1999 COP 5, BONN, GERMANY | 2012 COP 18/CMP 8, DOHA, QATAR |
| 2000:COP 6, THE HAGUE, NETHERLANDS | 2013 COP 19/CMP 9, WARSAW, POLAND |
| 2001 COP 7, MARRAKECH, MOROCCO | 2014 COP 20/CMP 10, LIMA, PERU |
| 2002 COP 8, NEW DELHI, INDIA | 2015 COP 21/CMP 11, Paris, France |
| 2003 COP 9, MILAN, ITALY | 2016 COP 22/CMP 12/CMA 1, Marrakech, Morocco |
| 2004 COP 10, BUENOS AIRES, ARGENTINA | 2017 COP 23/CMP 13/CMA 2, Bonn, Germany |
| 2005 COP 11/CMP 1, MONTREAL, CANADA | 2018 COP 24/CMP 14/CMA, Katowice, Poland |
| 2006 COP 12/CMP 2, NAIROBI, KENYA | 2019 COP 25/CMP 15/CMA, Madrid, Spain |
| 2007 COP 13/CMP 3, BALI, INDONESIA | 2020 COP 26/CMP 16/CMA 3, Glasgow, Scotland |
CLIMATE CHANGE RISK ASSESSMENT 2022
The UK Government is required, under the 2008 Climate Change Act, to publish a climate change risk assessment (CCRA) every five years. The assessment sets out the risks and opportunities facing the UK from climate change.
The first risk assessment was published in 2012, and the second in 2017. The third is due in 2022. The CCRA provides the evidence base to inform Government-led national adaptation programmes in England, Scotland, Wales and Northern Ireland.
The Adaptation Committee of the Committee on Climate Change has a legal duty to advise Government on the UK Climate Change Risk Assessment (CCRA). The CCC prepared the second Climate Change Risk Assessment evidence report in 2016, and is now working on an updated evidence report, due to be published in summer 2021, which will inform the UK Government's third CCRA (known as CCRA3).
Updates will appear on these pages as the project progresses.
Call for external reviewers on the draft of the 2021 UK Climate Change Risk Assessment Evidence Report
This call is aimed at organisations and individuals that are interested in submitting review comments on the draft of the forthcoming UK Climate Change Risk Assessment Evidence Report. The Evidence Report consists of seven substantive chapters.
The chapters are:
Chapter 1 – Introduction: global and UK climate change
Chapter 2 – Methodology
Chapter 3 – Natural environment
Chapter 4 – Infrastructure
Chapter 5 – Human Health, Communities and Built Environment
Chapter 6 – Business and industry
Chapter 7 – International dimensions
The first draft of the report is being reviewed by Government stakeholders and a technical review panel in May 2020. A further review process will take place in September 2020 to allow for final comments on the draft report. This call is to allow any additional experts from the wider public, academia, private and charity sectors to put themselves forward as external reviewers for both phases of the review exercise.
Should you and/or your organisation be interested in commenting on one or more of the above chapters, please apply by writing to the Adaptation Committee detailing:
The area of expertise of the organisation or individual, and how this relates to the CCRA themes and content (max. 200 words).
The CCRA chapter(s) that the organisation or individual wishes to review and comment on.

The added value that the organisation or individual's comments will provide (max. 200 words)
The Adaptation Committee aims to accept applications from all organisations or individuals that submit a satisfactory rationale as above.
Should we receive a large number of applications, we will select about 30 applications that provide a good balance across the chapters. Upon receiving confirmation from the Adaptation Committee, the organisation or individual will be asked to sign a confidentiality agreement.
Please send your application letter as a PDF to:
Including the following subject line: "Application for CCRA call for comments", by 5pm on Friday 20th March.
Contributors and research projects
Over 200 people from more than 65 organisations are contributing to the third Climate Change Risk Assessment evidence report. A list of the organisations that are involved is available from the CCC on request.
The University of Exeter is leading a consortium of experts who are preparing the 'technical chapters' for the Evidence Report. The technical chapters cover the underlying analysis and assessment of the level of risk or opportunity across the natural environment, infrastructure, people, business and international dimensions. The chapters will also set out the latest understanding of current and future climate change in the UK, and the CCRA method.
Work on this part of the project is taking place between summer 2018 and winter 2020. The CCC will then produce its own synthesis report which summarises the technical chapters and provides the Committee's advice to Government on adaptation priorities for the next five years.
The CCC is also preparing six research projects to feed into the technical chapters, with funding from the UK Department for Environment, Food and Rural Affairs (Defra); the Devolved Administrations; the Natural Environment Research Council; the Economic and Social Research Council; and the Engineering and Physical Sciences Research Council. The projects include:
- Socioeconomic dimensions: led by Cambridge Econometrics
- Water availability projections: led by HR Wallingford
- Flooding projections: led by Paul Sayers Associates-
- Behaviour change: led by AECOM
- Interacting risks: led by WSP
- Thresholds in the natural environment: led by CEH
Final project documents will be published on this website as the projects are completed by early 2020.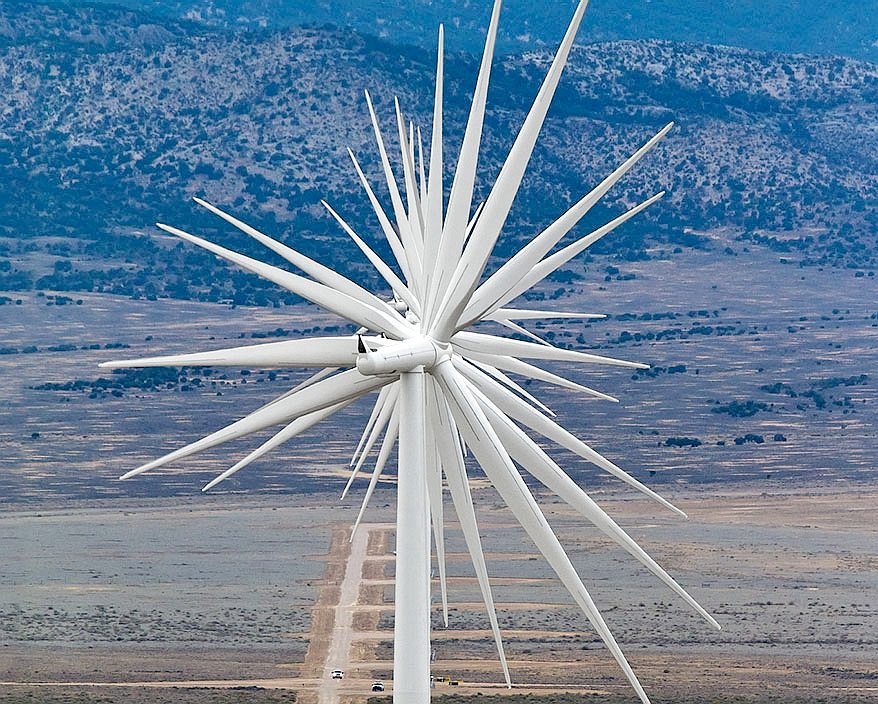 According to Power-Technology.com, a website that provides market and customer insights in this sector, they listed these power companies (according to the 2018 Forbes calculation of net market capitalization, assets, sales and profit) as the biggest utilities:
KEPCO Korean Electric Power Corporation
National Electric Grid & Central Electricity Authority (India)
National Energy Board (Canada)
National Grid plc (formerly Central Electricity Generating Board UK)
Scottish & Southern Energy
State Grid Corporation of China
TEPCO Tokyo Electric Power Company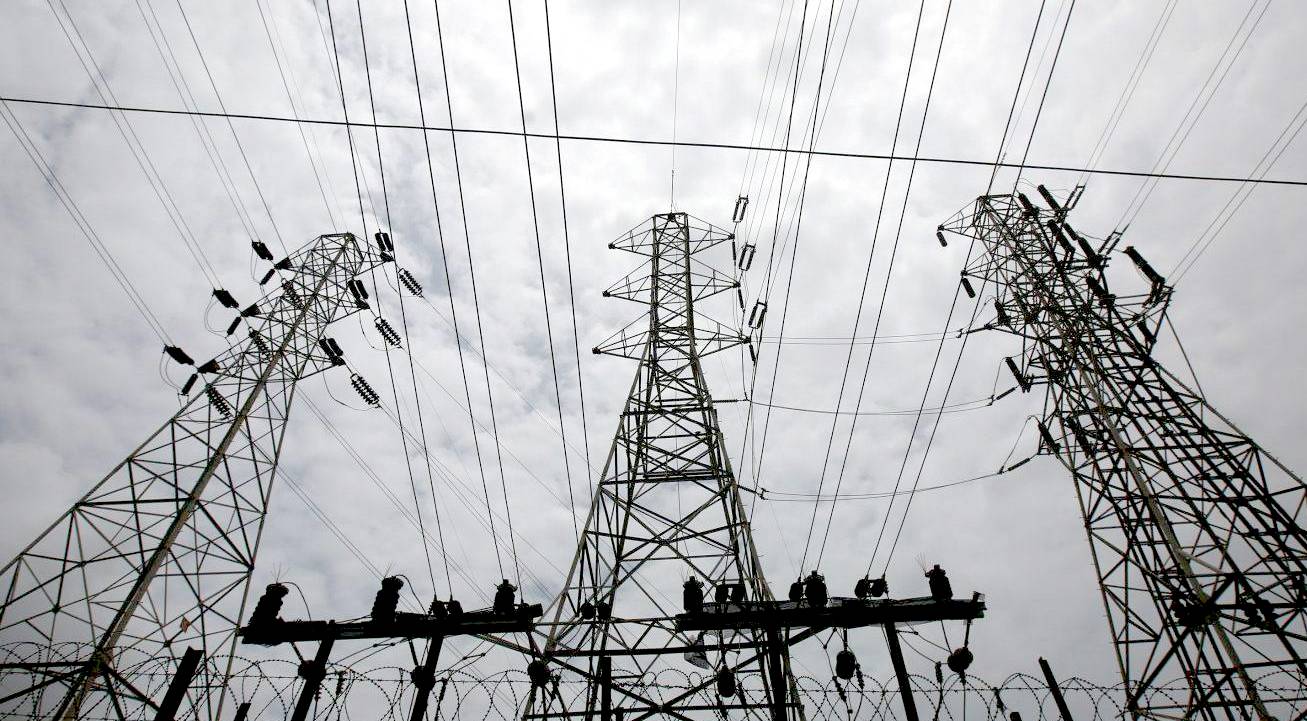 HIGH VOLTAGE - Every country uses high voltage cables to transmit electricity via a grid, mostly over ground using steel pylons, but also underground and undersea. The higher the voltage, the lower the transmission losses. Nevertheless, the length of cables and transformer efficiency, also play a part in designing an efficient system.
SIX STEPS TOWARD A COOLER PLANET
1. TRANSPORT: Phase out polluting vehicles. Governments aim to end the sale of new petrol, and diesel vehicles by 2040 but have no feasible infrastructure plan to support such ambition. Marine transport can be carbon neutral with smaller container ships that are solar and wind powered.
2. RENEWABLES: Renewable energy should replace carbon-based fuels (coal, oil and gas) in our electricity, heating and transport.
3. HOUSING: On site micro or macro generation is the best option, starting with new build homes that are zero carbon, or energy neutral. We must make it illegal for councils to grant planning permission to any new houses that are not compliant. Local authorities are to blame for kleptocratic decision making - making them climate criminals.
4. AGRICULTURE: We need trees to absorb carbon emissions from a growing population, flying, and to build affordable new homes. Reducing food waste and promoting less energy intensive eating habits such as no meat Mondays.
5. INDUSTRY: Factories should be aiming for solar heating and onsite renewable energy generation.
6. POLITICS: - National governing bodies need to adopt rules to eliminate administrative wastages, to include scaling down spending on war machines, increasing spend on educating the public and supporting sustainable social policies that mesh with other cultures. One way of pushing this agenda is total transparency in Governments and Courts as per United Nations SDG 16. This would tend to prevent corrupt politicians and civil servants from pursuing unlawful agendas.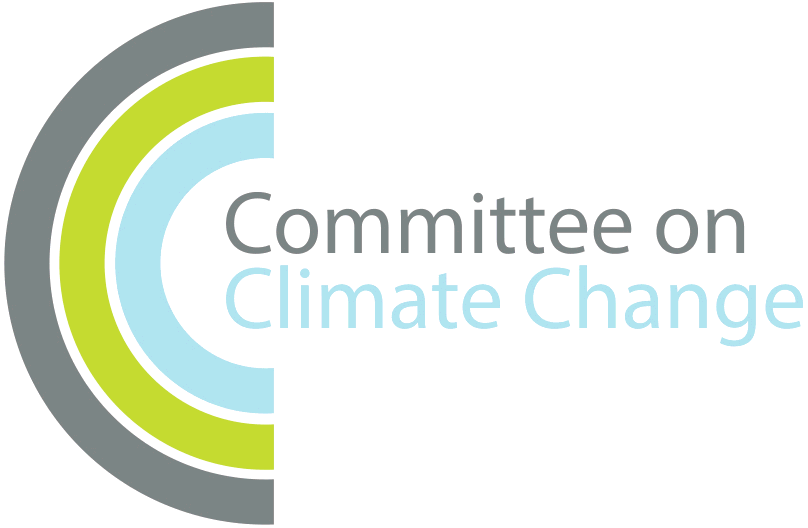 CCC CONTACTS
Committee on Climate Change
151 Buckingham Palace Road
London
SW1W 9SZ

Tel:
Fax: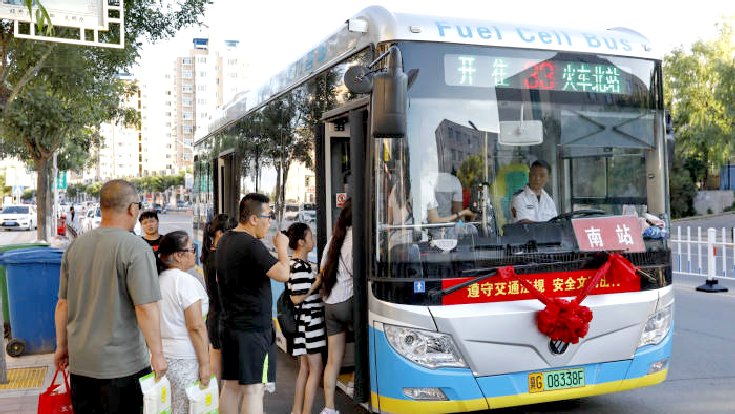 FINANCIAL TIMES JAN 2019 - Beijing has spent an estimated $58.8bn subsidising its electric car industry over the past decade, according to the US-based Center for Strategic and International Studies, creating the world's largest market for electric cars as well as a dominant position in batteries— surpassing Japan and South Korea. Subsidies have also helped propel Chinese solar makers into the ranks of the world's largest producers, overtaking competitors in the US and Europe.
Randy MacEwen, chief executive of Canada's Ballard Power, one of the world's largest fuel cell manufacturers, is quoted as saying: "If you look at what China did in solar, in wind and in battery electric vehicles the subsidy tap was opened and it brought a lot of capital and companies to these new markets, which resulted in China being the leader in all three of these segments," "We expect to see something similar with the fuel cell industry."
LINKS & REFERENCES
https://www.theccc.org.uk/