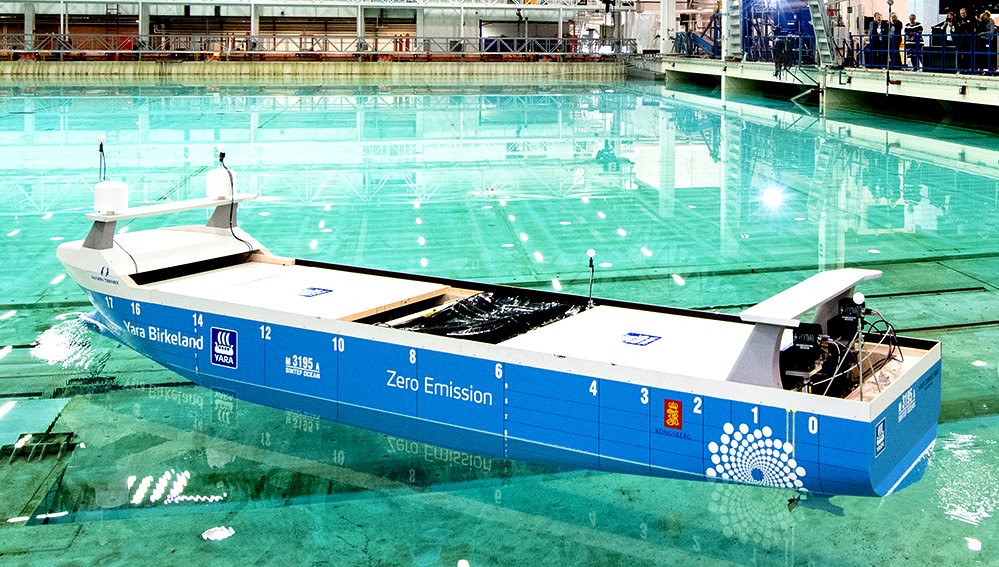 Named "Yara Birkeland" after Yara's founder, the famous scientist and innovator Kristian Birkeland, the vessel will be the world's first fully electric container feeder.

"With Yara Birkeland we move transport from road to sea and thereby reduce noise and dust, improve the safety of local roads, and reduce NOx and CO2 emissions" says Svein Tore Holsether, President and CEO of Yara.
Loading and discharging will be done automatically using electric cranes and equipment. The ship will not have ballast tanks, but will use the battery pack as permanent ballast. The ship will also be equipped with an automatic mooring system - berthing and unberthing will be done without human intervention, and will not require special implementations dock-side.
The Yara Birkeland is claimed to be the world's first fully electric and autonomous container ship, with zero emissions. With this vessel, Yara is estimated to reduce diesel-powered truck haulage by 40,000 journeys a year.
This new zero-emission vessel is said to be a game-changer for global maritime transport contributing to meet the UN sustainability goals.

"As a leading global fertilizer company with a mission to feed the world and protect the planet, investing in this zero emission vessel to transport our crop nutrition solutions fits our strategy well. We are proud to work with KONGSBERG to realize the world's first autonomous, all-electric vessel to enter commercial operation," says Svein Tore Holsether, President and CEO of Yara.
"Every day, more than 100 diesel truck journeys are needed to transport products from Yara's Porsgrunn plant to ports in Brevik and Larvik where we ship products to customers around the world. With this new autonomous battery-driven container vessel we move transport from road to sea and thereby reduce noise and dust emissions, improve the safety of local roads, and reduce NOx and CO2 emissions," says Holsether.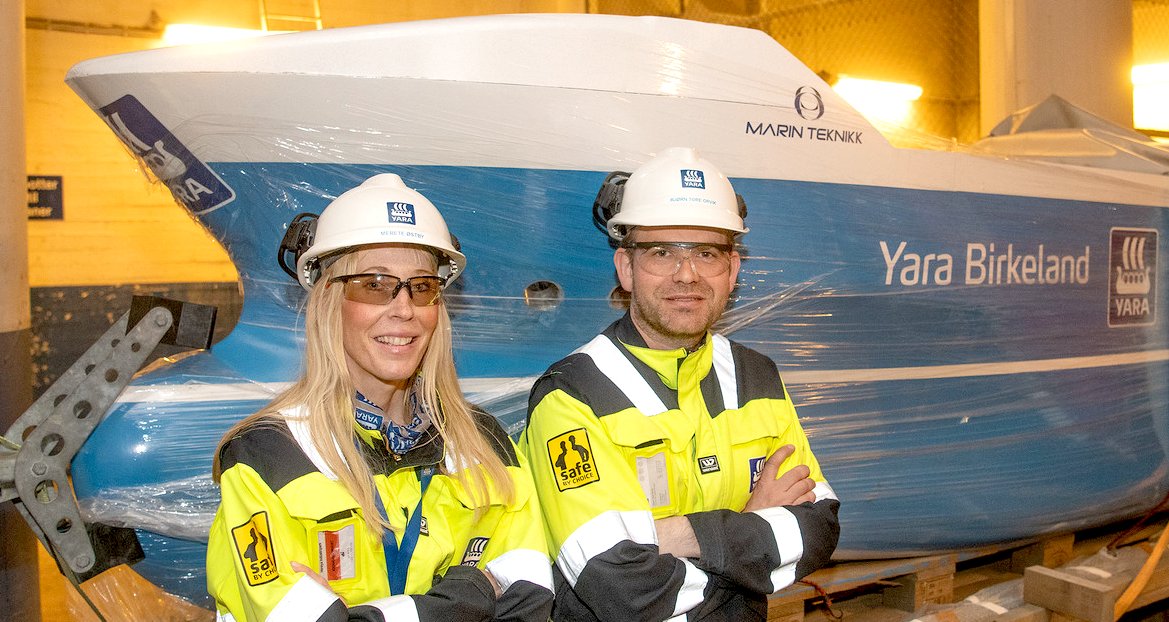 WILD IDEA - Merete Østby, responsible for the IT land solution, and project manager Bjørn Tore Orvik, in front of the model of Yara Birkeland.

"The Yara Birkeland project supports the strong Norwegian maritime cluster, as a zero-emission project. Yet for neighbours to the industrial park, it's probably just as important that the vessel replaces over 40,000 lorries which pollute the local environment with dust and noise, and present a safety risk," says the man behind the now world-renowned YARA Birkeland project, Bjørn Tore Orviki Yara.
He is not only project manager of the world's first commercial, autonomous, emission-free container vessel, but also the man behind the idea.

"It may have seemed to be a wild idea, but it's based on an earlier project, an ordinary feeder vessel for container freight between Herøya and Brevik/Larvik. I investigated whether it was possible to establish electrical operation, and then whether it could run itself," says Orvik.
He contacted the Kongsberg Group to hear their views of the idea, and after a few meetings, he brought the Kongsberg Group and Yara management together. Then the snowball started to pick up speed.
Milestones

2017 - Design finalised. Design done by Marin Teknikk, design MT 2007. Model towing tank testing. Testing at SINTEF Ocean in Trondheim Norway.
2018 - Delivering ship yard is decided to be Vard Brevik in Norway. The hull will be delivered by Vard Braila in Romania.
2019 - Testing of autonomous capability will be carried out.
2020 (initially planned 2019): final delivery of the vessel, launching of remote control mode operations and testing of autonomous capabilities

2022 (initially planned 2020): The vessel will be delivered from Vard Brevik, and will gradually move from manned operation to fully autonomous operation by 2022.
KONGSBERG is responsible for development and delivery of all key enabling technologies on Yara Birkeland, a 120 TEU container ship including the sensors and integration required for remote and autonomous operations, in addition to the electric drive, battery and propulsion control systems.

"By moving container transport from land to sea, Yara Birkeland is the start of a major contribution to fulfilling national and international environmental impact goals. The new concept is also a giant step forward towards increased seaborne transportation in general," says Geir Håøy, President and CEO of KONGSBERG

As a leading global maritime technology company, KONGSBERG's integrated control and monitoring systems are already capable of providing technology for remote and unmanned operations. Yara Birkeland will benefit from competence and technologies developed across KONGSBERG.
Yara Birkeland is ready for launch in 2020 at the earliest, shipping products from Yara's Porsgrunn production plant to Brevik and Larvik in Norway.
The situational awareness system will be comprised of multiple sensors. The traditional systems such as GPS, RADAR, AIS will be augmented with a set of proximity sensors, LIDAR and several regular and IR cameras. The communication capabilities will we based on maritime broadband radio, satellite communication and GSM connectivity.

In an attempt to minimize the quantity of rotating equipment and thus required maintenance this ship will not have ballast tanks and pumps but it will use its own battery pack as a permanent ballast.

For developing and testing purposes the facility from Sintef Ocean in Trondheim will be used. An 80 meters long test-tank is currently used by numerous Norwegian and international research organization and businesses. There the 6 m long scaled model of Yara Birkeland weighs 2.4 tonnes will undergo an extensive set of testing protocols. The tests are primarily aimed at developing the situational awareness and collision avoidance systems with high levels of safety integrity and fault tolerance.
DNV GL is expected to assist in the certification process and Norwegian maritime authorities will ensure the implementation of the relevant rules and regulations.
The autonomous container ship will demonstrate innovative maritime technologies to enable green shipping operations.

The zero-emission vessel will be equipped with an electric propulsion system powered by a battery pack with a capacity of up to 9MWh. The propulsion system will integrate two azimuth propeller pods and two tunnel thrusters. It will provide a service speed of 6k and maximum speed of 10k.

The ship will be monitored and controlled from three operation / control centres, which will handle emergency and exception handling, observation of conditions, operational monitoring and decision support.

The centres are also expected to manage the surveillance of the autonomous vessel and its surroundings, as well as various safety aspects.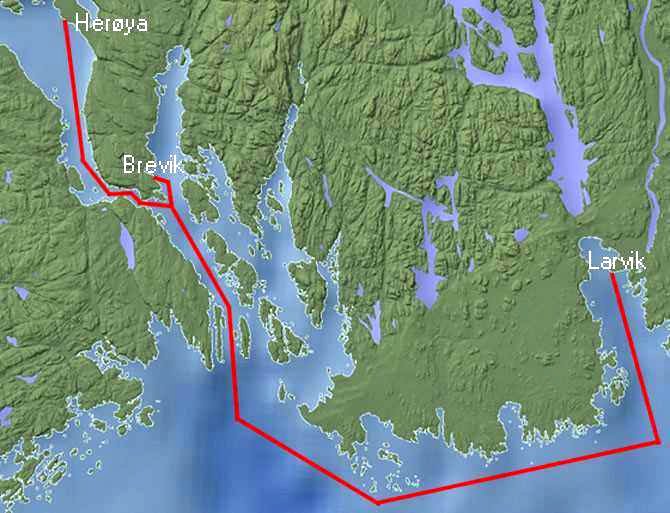 Yara Birkeland will be 80 metres (260 ft) long, with a beam of 14.8 metres (49 ft) and a depth of 12 metres (39 ft). It will have a draught of 6 metres (20 ft). It will be propelled by electric motors driving two azimuth pods and two tunnel thrusters. Batteries rated at 7.0-9.0 MWh will power the electric motors, giving it an energy optimal speed of 6 knots (11 km/h) and a maximum speed of 10 knots (19 km/h). It will have a capacity of 120 TEU. The Norwegian Government gave a grant of NOK133.6m towards the construction of the ship, about a third of the total cost, in September 2017.

Costing $25million, It will be designed by Marin Teknikk, with navigation equipment by Kongsberg Maritime. It will enter service in 2019, initially operating as a manned ship. Yara Birkeland will sail on two routes, between Herøya and Brevik (~7 nautical miles (13 km)) and between Herøya and Larvik (~30 nautical miles (56 km)), carrying chemicals and fertiliser. Remote operation will start sometime in 2019 and by 2020 it will be fully autonomous.


SPECIFICATIONS - Estimated facts & figures

These figures may change as the project progresses.

Main particulars
Length o.a.: 79,5 m
Length p.p.: 72,4 m
Width mld.: 14,8 m
Depth shelter deck: 10,8 m
Draught (full): 6 m
Draught (ballast): 3 m
Service speed: 6 knots
Max speed: 13 knots
Capacity
Cargo capacity: 120 TEU
Deadweight: 3 200 mt
Propulsion
Propulsion system: Electric
Propellers: 2 Azimuth pods
Thrusters: 2 Tunnel thruster
Battery pack: 7 – 9 MWh
Proximity sensors
Radar
Lidar
AIS
Camera
IR camera
Connectivity & Communication
Maritime Broadband Radio
Satellite Communications
GSM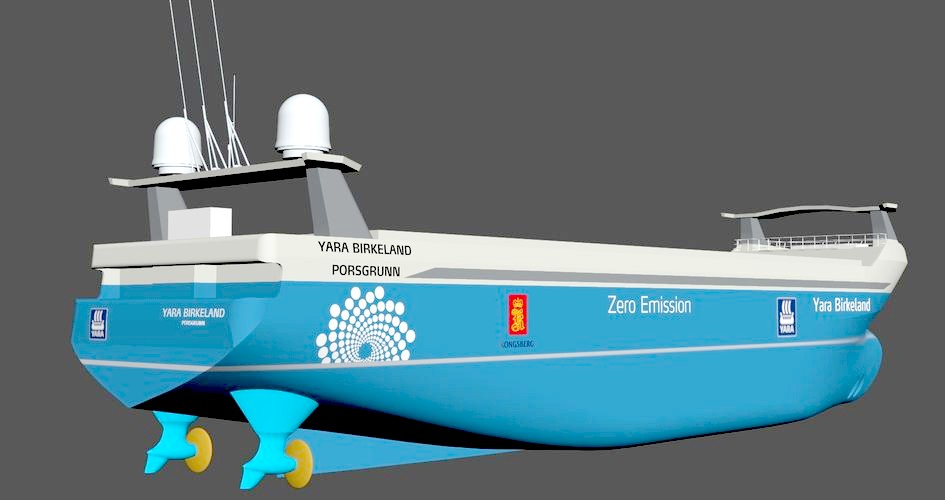 The autonomous ship will sail within 12 nautical miles from the coast, between 3 ports in southern Norway. The part of the area carrying most of the ship traffic is covered by the The Norwegian Coastal Administrations' VTS system at Brevik. The distances between the ports are: Herøya – Brevik (approx. 7 nm) and Herøya – Larvik (approx. 30 nm).
...
https://eng.heroya-industripark.no/latest-news/the-yara-birkeland-project-is-important-for-the-environment-replacing-40-000-lorries
https://www.ship-technology.com/projects/yara-birkeland-autonomous-container-vessel/
https://www.kongsberg.com/maritime/support/themes/autonomous-ship-project-key-facts-about-yara-birkeland/