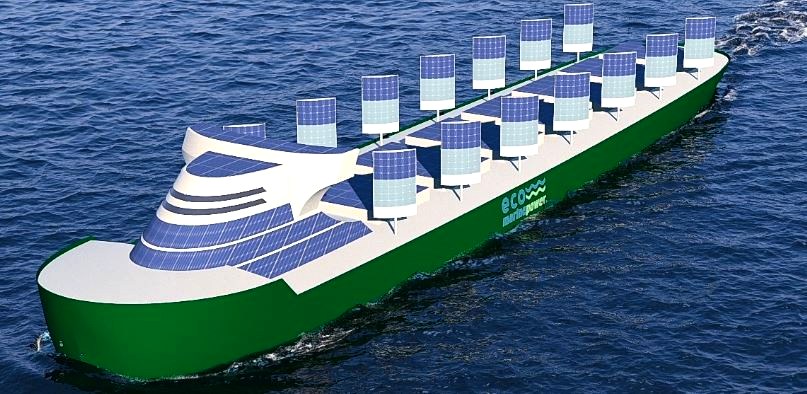 ECO MARINE POWER - An Aquarius Eco Ship could include up to 1 MWp of solar power and enough energy storage modules so that the ship would not need to use auxiliary diesel generators whilst in port.

Aquarius MRE (Marine Renewable Energy) is a solution developed by Eco Marine Power that combines sail power (using rigid sails) with solar power. This patented wind and solar solution is designed so that the practical limitations of using rigid sails and solar panels on ships are overcome.

A ship fitted with Aquarius MRE such as a passenger ferry, cruise ship, bulk carrier, survey vessel or tanker will be able to tap into the limitless power of the wind and sun.

These hybrid powered ships will use wind and solar power together as a source of energy and propulsion (along with the ship's main engines) in order to reduce harmful emissions and lower fuel consumption.

On a large ship, 1000 tonnes or more of bunker fuel could be saved annually by using Aquarius MRE and CO2 emissions reduced by approximately 3000 tonnes.

An on-board solar power array can either be mounted on the sails or on deck areas of the vessel (or both). The solar panel array(s) will in turn charge batteries or the power can be fed into the DC or AC power distribution system. The energy stored in the batteries could also be a useful source of emergency or back-up power. For a typical system, hybrid

At the centre of Aquarius MRE is a patented rigid sail technology called the EnergySail. This innovative device can incorporate a number of renewable energy technologies and can be installed on a wide variety of ships. The EnergySail can be used as a stand-alone device or as part of an array and is positioned automatically by a computer control system developed jointly by Eco Marine Power and KEI System Ltd of Osaka, Japan. This computer system is known as the EnergySail Automated Control System (ACS). In addition to control functions the EnergySail ACS will also incorporate a management interface and a data logging capability.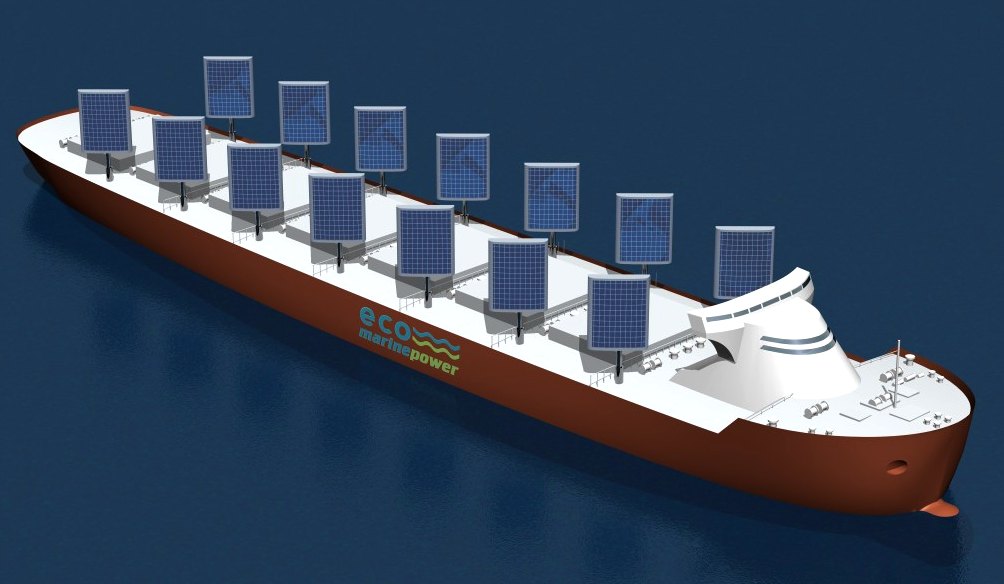 ABOUT THE COMPANY
Internationally focused marine technology company focused on innovative fuel and emissions reduction technologies for shipping. Technologies include the patented Aquarius MRE (Marine Renewable Energy) System, EnergySail (patent pending) and Aquarius Marine Solar Power.
With strategic partners Eco Marine Power (EMP) can also provide marine computer control systems, data loggers, flexible marine-grade solar panels, fuel flow meters & high quality batteries for ships and marine use.
These products & technologies are suitable for passenger ferries, cargo vessels, bulk carriers, cruise ships, coastguard vessels, car carriers, RoRo vessels, product tankers etc and for marine/offshore applications.
PRODUCTS & SOLUTIONS:
Aquarius MAS - Fuel Consumption Reporting, Data Logging, Emissions Calculations & Performance Monitoring
Aquarius MAS Compact - FOC. NOx, SOx & CO2 monitoring & logging.
Aquarius Marine Solar Power - Unique Solutions with Lightweight Solar Panels
Energy Storage & Battery Solutions for Shipping, Offshore and Marine Applications
System Design, Marine Renewable Energy Surveys and Consulting Services
Marine Computer & Automation Systems
Flexible Solar Panels for Ships & Marine Applications
Fuel Flow Meters for Ships
Marine Grade Installation Frames for Solar Panels
Aquarius MRE - Integrated Renewable
Energy System for Shipping EnergySail - Wind & Solar Power Device Shipping
エコマリンパワー(EMP)社は、化石燃料の消費量を減らし汚染を低減する、さまざまな船舶用の環境にやさしい動力と促進力ソリューションを設計および開発、促進する事に献身する革新的な技術系企業です。そのソリューションには、風力、ソーラー電力、ハイブリドマリンパワー(HMP)、そして風力ソーラーパワーを動力とする船舶設計があります。また、当社独自の船舶用再生可能エネルギー技術を使ったエコシップや、持続可能な環境にやさしい船舶コンセプトを開発しております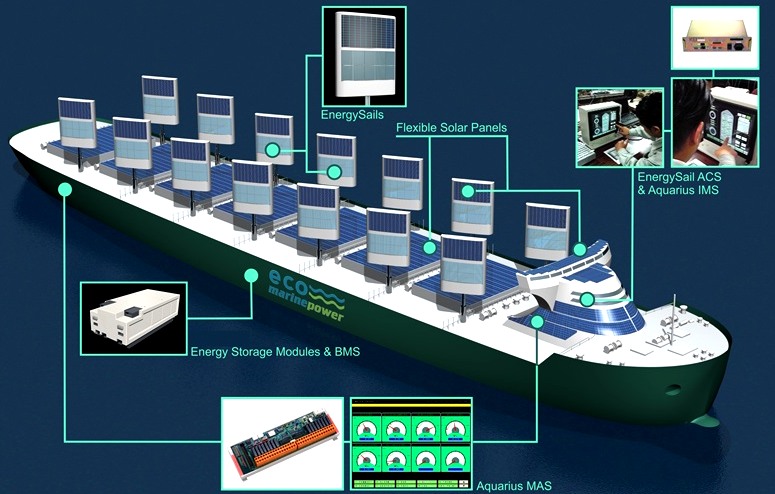 ECO MARINE POWER CONTACTS
Greg Atkinson (Chief Technology Officer)
Eco Marine Power Co., Ltd.
Aqua Hakata 5th Floor
5-3-8, Nakasu
Hakata-ku
Fukuoka, 810-0801
Japan.
1-chome, 220-53. Chojahara.
Onomichi, Hiroshima 722-02, Japan

6 Fukaehamamachi, Higashinada Ward
Kobe, Hyōgo 658-0023, Japan

1, Kanari Str
Piraeus, Greece

Phone:+81 92 287 9677
Fax: +81 92 287 9501
SAIL & SOLAR HISTORY
The concept of using wind and solar power together on ships is no longer science fiction, nor is it decades away. There are a number of interesting concepts under development. In our view the first practical application of combined wind and solar power was with Solar Sailor, where sails were also solar panels that could be aimed. Before this, in the 1980's several Japanese ships were fitted with rigid sails with the aim of reducing fuel consumption, driven largely by the oil crisis in the 1970's which resulted in oil shortages and the price of oil soaring. When the crisis passed and oil prices fell again, the viability of rigid sails in terms of cost was undermined.

Despite this ships such as the 'Shin Aitoku Maru' and 'Usuki Pioneer' were fitted with JAMDA (Japan Marine Machinery Development Association) rigid sails that reportedly proved rigid sails reduced fuel consumption by approximately 10-30%. The search continues for the best combined wind system.
https://www.seatrade-maritime.com/news/americas/new-coalition-to-push-for-zero-carbon-emission-shipping-by-2030/
https://www.j-l-a.com/press_releases/classnk-grants-aip-related-to-wind-challenger-project/
https://shipandbunker.com/news/world/148606-solar-and-wind-powered-cruise-ship-to-sail-in-2020
https://www.ecomarinepower.com/en/wind-and-solar-power-for-ships