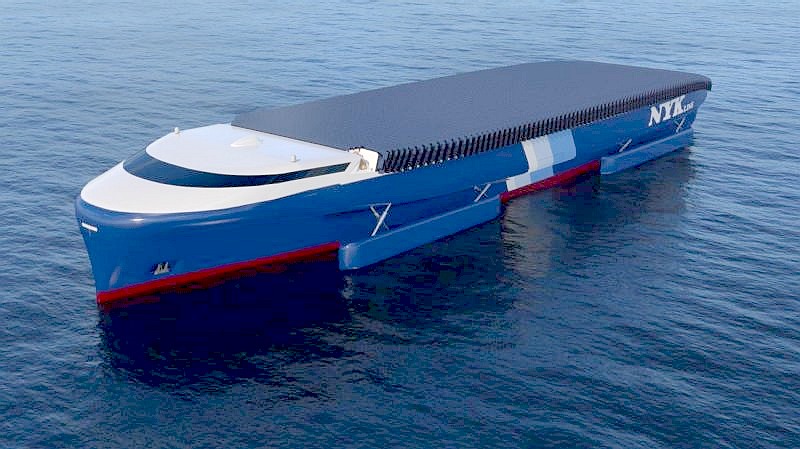 NYK has joined the Getting to Zero Coalition,* a partnership among the Global Maritime Forum, the Friends of Ocean action, and the World Economic Forum that builds on the Call to Action in Support of Decarbonization launched and signed by more than 70 leaders from across the maritime industry and financial institutions.
The Coalition is committed to getting commercially viable deep-sea zero-emission vessels powered by zero-emission fuels into operation by 2030 to realize the IMO's ambition to reduce GHG emissions,** thus accelerating maritime shipping's decarbonization.
In its medium-term management plan "Staying Ahead 2022 with Digitalization and Green" released in 2018, NYK announced the group's intent to integrate environmental, social, and governance (ESG) initiatives into management strategy to positively address the tough issues that challenge our society. In fact, NYK has positioned climate change as one of the company's most important issues, and is working to implement next-generation fuels such as LNG fuels to aid marine-fuel decarbonization. NYK aims to contribute to environmental preservation for maintaining a sustainable society.
GCAPTAIN NOVEMBER 15 2018 - NYK SUPER ECO SHIP 2050

NYK Unveils Zero-Emission Pure Car and Truck Carrier Concept.

Japanese shipping company NYK has unveiled plans for a zero-emission Pure Car and Truck Carrier (PCTC) that could help the group achieve its long-term decarbonization goals.

The conceptual design, which NYK calls the Super Eco Ship 2050, builds on its previous concept ship the NYK Super Eco Ship 2030, unveiled in 2009, but with an updated design that makes use of advances in technology over the last decade.

The NYK Super Eco Ship 2050 is designed as a 2050-model PCTC. According to NYK, the concept would only require 70% of the power needed to operate compared to a conventional PCTC thanks to an optimized hull to decrease water friction, reduced weight, and fuel cells for electric propulsion. Instead of fossil fuels, power for the ship would come from solar energy and hydrogen produced from renewable energy sources, all of which would lead to a reduction of CO2 by 100 percent, thereby resulting in a zero-emission vessel, NYK says.

Details of the concept ship's main features provided by NYK:

Hull

The weight of the hull is reduced by optimization through a dynamic, mathematical design that uses lightweight materials for the superstructure. In addition, computer-controlled devices, such as gyro stabilizers, are installed to provide active stability for the lightweight vessel hull.
An air-lubrication system effectively reduces the frictional resistance between the vessel's bottom and the seawater by means of bubbles generated by supplying air to the vessel's bottom. And automatic hull cleaning during port stays prevents any negative impact on vessel efficiency.
Finally, propulsion efficiency is increased by replacing conventional propellers with flapping foils that mimic the movements of dolphins.

Energy

The ship is powered by hydrogen fuel cells produced from renewable energy sources. Waste heat recovered from the fuel cells is also used. On long voyages, solar power can be utilized.

Maintenance

Maintenance is managed through use of digital twins, a technology that realizes physical conditions digitally and enables real-time analyses from land offices, accident prevention, and optimal maintenance.

Port and Cargo Handling

Optimization of route planning is no longer a ship-level activity. It will be done at port and on a fleet level, which will enable just-in-time arrival throughout the supply chain. Automatic mooring and efficient ship-to-ship cargo handling will minimize port stays. By Mike Schuler

SUSTAINABLE CONTAINER SHIPS - This 50m concept vessel may be doubled and quadrupled without too much trouble. You'd need to up-scale by a factor of 8 to match the 400 meter ships that operate today to carry 960 standard containers. See our top ten list below. That is nowhere near the capacity of a heavy bunker fueled giant, but it is a formula for eventual 100% zero carbon transportation that is theoretically workable. We believe that such a system could eventually replace bunker fuels and eliminate the need for liquid fuels that may be potentially dangerous.
CARGO CONTENDERS A list of the top ten fossil fueled leaders that could benefit from solar and wind assistance. You may notice from the specification of these vessels that we are in the right ballpark for power to cargo ratio when comparing DWT to installed engine power:
| | | | | | |
| --- | --- | --- | --- | --- | --- |
| RANKED | SHIP NAME | No. BUILT | LOA | | KW/TON/DWT |
| - | - | - | - | - | - |
| 1. | | 5 | 399.9 | 23,756 | 0.379 (0.50hp) |
| 2. | | 5 | 399.9 | 21,413 | 0.316 (0.42hp) |
| 3. | | 3 | 400.0 | 21,237 | N/A |
| 4. | | 2 | 400.0 | 20,954 | 0.368 (0.49hp) |
| 5. | | 10 | 399.0 | 20,568 | 0.3 (0.4hp) |
| 6. | | 10 | 400.0 | 20,388 | N/A |
| 7. | | 1 | 399.0 | 20,182 | N/A |
| 8. | | 3 | 400.0 | 20,170 | 0.427 (0.57hp) |
| 9. | | 4 | 399.8 | 20,119 | N/A |
| 10. | | 5 | 400.0 | 19,870 | N/A |
| - | - | - | - | - | - |
| 00 (Proto) | | - | 50.0 | 6 | 0.37 (0.49hp) |

ZERO CARBON RORO - This is a small roll-on roll-off ferry designed to carry 12 large vans, with passenger rooms below decks. She is a zero carbon design featuring twin wind generators that also add to thrust directly from the wind (like sails) and a full deck of solar panels that track the sun - including a battery store. The age of zero carbon shipping is dawning, with designs like this leading the way. Design Copyright © December 6 2019.
A - Z SAIL AND SOLAR ASSISTED BOATS & SHIPS

LINKS & REFERENCES
https://gcaptain.com/nyk-unveils-zero-emission-pure-car-and-truck-carrier-concept/
https://www.seatrade-maritime.com/asia/video-nyk-unveils-zero-emissions-car-carrier-concept-design
https://www.assafinaonline.com/maritime-news/assafina-news/shipping/video-nyk-unveils-zero-emissions-car-carrier-concept-design
https://www.globalmaritimeforum.org/getting-to-zero-coalition
https://www.nyk.com/english/news/2019/20191003_01.html
TRANSFERABLE TECHNOLOGY - The design of the Climate Change Challenger might be adapted to Cargo, Container, Cruise and Ferry designs, without needing to radically alter port facilities. The designs above are not representative of adaptations of the concept, but serve to illustrate the thinking of other design houses.
Please use our A-Z INDEX to navigate this site
AEGEAN - ADRIATIC SEA - ARCTIC OCEAN - ATLANTIC OCEAN - BALTIC SEA - BAY OF BENGAL - BERING SEA - CARIBBEAN SEA - CORAL SEA
EAST CHINA SEA - ENGLISH CHANNEL - GULF OF GUINEA - GULF OF MEXICO - INDIAN OCEAN - IONIAN - IRISH SEA - MEDITERRANEAN SEA
NORTH SEA - PACIFIC OCEAN - PERSIAN GULF - SEA OF JAPAN - SOUTH CHINA SEA - SOUTHERN OCEAN - TYRRHENIAN