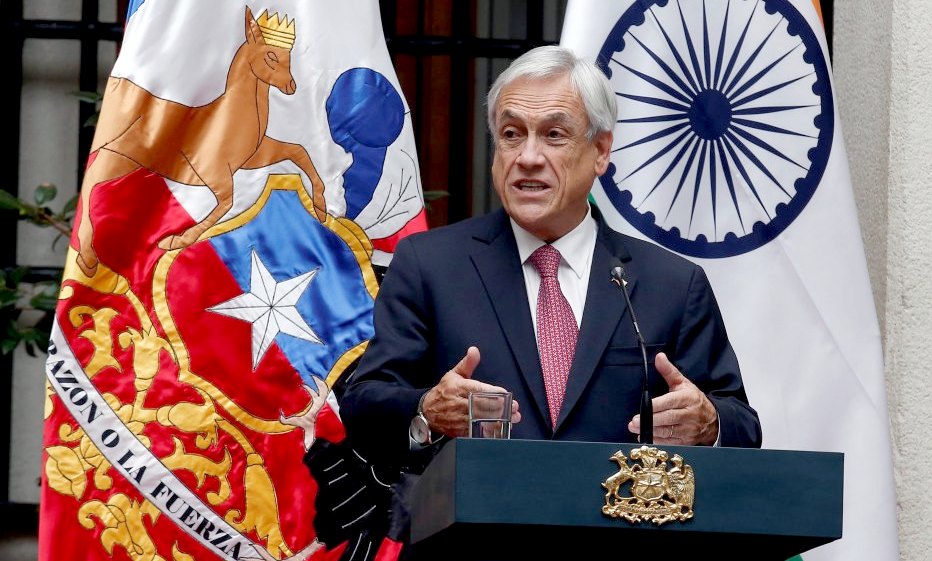 CLIMATE ACTION SUMMIT - Santiago in Chile is the venue for one of the most important Conferences of the Parties since the were begun by the United Nations in 1995.
On 8th October 2018, the Intergovernmental Panel on Climate Change (IPCC) released a vital report on the state of climate science. They warned that if the planet warmed by 1.5C there would be some devastating consequences, such as the loss of most coral reefs, and increased extreme weather such as heatwaves and floods. Yet the consequences of allowing 2C warming would be truly catastrophic. Given that the planet is currently heading for 3-4C warming, keeping to 1.5C requires a radical shift across across energy, land, industrial, urban and other systems to reduce emissions, unprecedented in history for its speed.
One after another World Leaders are now recognizing a state of climate emergency. There are still a few slow countries who are dragging their heels to empire build as much as they can at the expense of the lives of millions of animals (and ultimately humans), also putting their own economies at risk in a high stakes gamble to be last to the finishing line to maximize profits.
The United Kingdom has declared a state of Climate Emergency. This has prompted more than 200 local authorities to follow suite.
More than half the UK's principal local authorities have now declared a climate emergency, making it one of the fastest growing environmental movements in recent history, and the first country in the world to reach this landmark.

In the past eight months, 205 of the UK's 408 Principal Authorities (County, Unitary, Metropolitan, London Boroughs, District), with widespread support across political groups, have declared a climate emergency, committing them to take urgent action to reduce their carbon emissions at a local level. Many have set 2030 as a target date for going carbon zero, 20 years ahead of central government's 2050 target. The movement is growing exponentially, with 26 authorities declaring last week alone.

Twenty out of the 36 Metropolitan Councils have declared, and 14 out of 27 County Councils plus 21 out of the 33 London Boroughs as well as the Greater London Authority and the Mayor of London.

The declarations are spread geographically as well. England leads the declarations with 54% percentage declaring. Wales comes next with 41%, then Scotland with 31% and Northern Ireland with 18%.

The landmark 50% was reached a month after the Local Government Association declared a Climate Emergency at its Annual General Meeting in July and agreed to establish the Climate Emergency Network Special Interest Group, to support councils and lobby central Government.
CLIMATE EMERGENCY DECLARATIONS HISTORY
On 5 December 2016, the City of Darebin in Melbourne, Australia declared a climate emergency. In August 2017, Darebin decided upon a catalogue of actions in a "Darebin Climate Emergency Plan".

On 1 May 2019, the UK Parliament declared a climate emergency. The BBC reported that "dozens" of UK towns and cities had already done so, and that this was one of the demands put to the government by Extinction Rebellion.

On 10 July 2019, networks representing more than 7,000 higher and further education institutions from six continents announced that they are declaring a Climate Emergency, and agreed to undertake a three-point plan to address the crisis through their work with students.

Some statements were criticized for not including specific measures.
Countries and dependencies

United Kingdom (1 May 2019)
Jersey (2 May 2019)
Republic of Ireland (9 May 2019)
Isle of Man (10 May 2019 - Government, 18 June 2019 - Parliament)
Holy See (June 2019)
Canada (17 June 2019)
France (27 June 2019)
Austria (11 July 2019 - Federal Council, which is not authorized)
Argentina (17 July 2019)

Local administrations

In the United States: 29 towns, most notably New York City (26 June 2019), Hayward (15 January 2019), San Francisco and Chico (2 April 2019)

In Australia: Sydney (June 2019), Darebin (5 December 2016), Melbourne more than 17 towns (30 April 2019)

In Canada: 384 towns (May 2019)

In France: Mulhouse (9 May 2019) and Paris.

In Spain: Catalonia region (7 May 2019), Euskadi region, Canary Islands region and the cities of San Cristóbal de La Laguna, Seville, Castro Urdiales. Zaragoza, Salobreña, Lanzarote, El Rosario, Puerto de la Cruz, Sagunto and Zamora.

In Italy: 28 towns, among others the town of Acri (29 April 2019), the town of Milano, the Metropolitan City of Naples (May 2019) and the town of Lucca.

In Switzerland: the cantons of Basel-Stadt, Jura and Vaud and the cities of Liestal, Olten and Delemont

In Germany: 49 towns, among others Konstanz, Heidelberg, Kiel, Münster, Erlangen, Bochum, Aachen, Saarbrücken, Wiesbaden, Leverkusen, Marburg, Düsseldorf, Bonn, Cologne, Karlsruhe and Potsdam.

In New Zealand: Canterbury region, and the city of Nelson (16 May 2019); Auckland (11 June 2019); Wellington (20 June 2019)

In Netherlands the city of Amsterdam

In Austria: the towns and municipalities Michaelerberg-Pruggern (13 June 2019), Perchtoldsdorf (18 June 2019), Traiskirchen (24 June 2019), Steyregg (4 July 2019) and the state Vorarlberg (4 July 2019)
In Philippines the town of Bacolod
In Poland the cities of Warsaw and Kraków
DECLARATION PRE HISTORY

In 1979 the First World Climate Conference was organized by the World Meteorological Organization in collaboration with various partner organizations. The conference issued a declaration stating that: It is now urgently necessary for the nations of the world:
(a) To take full advantage of man's present knowledge of climate;
(b) To take steps to improve significantly that knowledge;
(c) To foresee and prevent potential man-made changes in climate that might be adverse to the well-being of humanity.
The conference led to creation of the first World Climate Programme to research climate change. In 1985, the Villach Conference produced a report warning that temperature rises in the first half of the 21st century would likely be "greater than any in human history'. The Tenth World Meteorological Congress in May 1987, highlighted global warming as "a major threat to sustainable development".

In June 1988, 300 scientists and policy-makers gathered in Toronto at the "World Conference on the Changing Atmosphere: Implications for Global Security". Their report used the word "crisis" in conjunction with anthropogenic global warming. From individual actions to the international community, the conference urged "specific actions to reduce the impending crisis", and declared in part: "Humanity is conducting an unintended, uncontrolled, globally pervasive experiment whose ultimate consequences could be second only to a global nuclear war... These changes represent a major threat to international security and are already having harmful consequences over many parts of the globe."

In May 1992, the UN Framework Convention on Climate Change was signed by 155 countries. Articles 4 and 5 of the Convention include specific commitments to systematic observation and research in support of its ultimate objective described as "…..stabilization of greenhouse-gas concentrations in the atmosphere at a level that would prevent dangerous anthropogenic interference with the climate system".

Following the Third Assessment Report of the IPCC in 2001 and the Johannesburg World Summit on Sustainable Development in 2002, international awareness rapidly increased for the need to develop and support national and international strategies "for reducing greenhouse gas emissions and adapting to unavoidable climate change."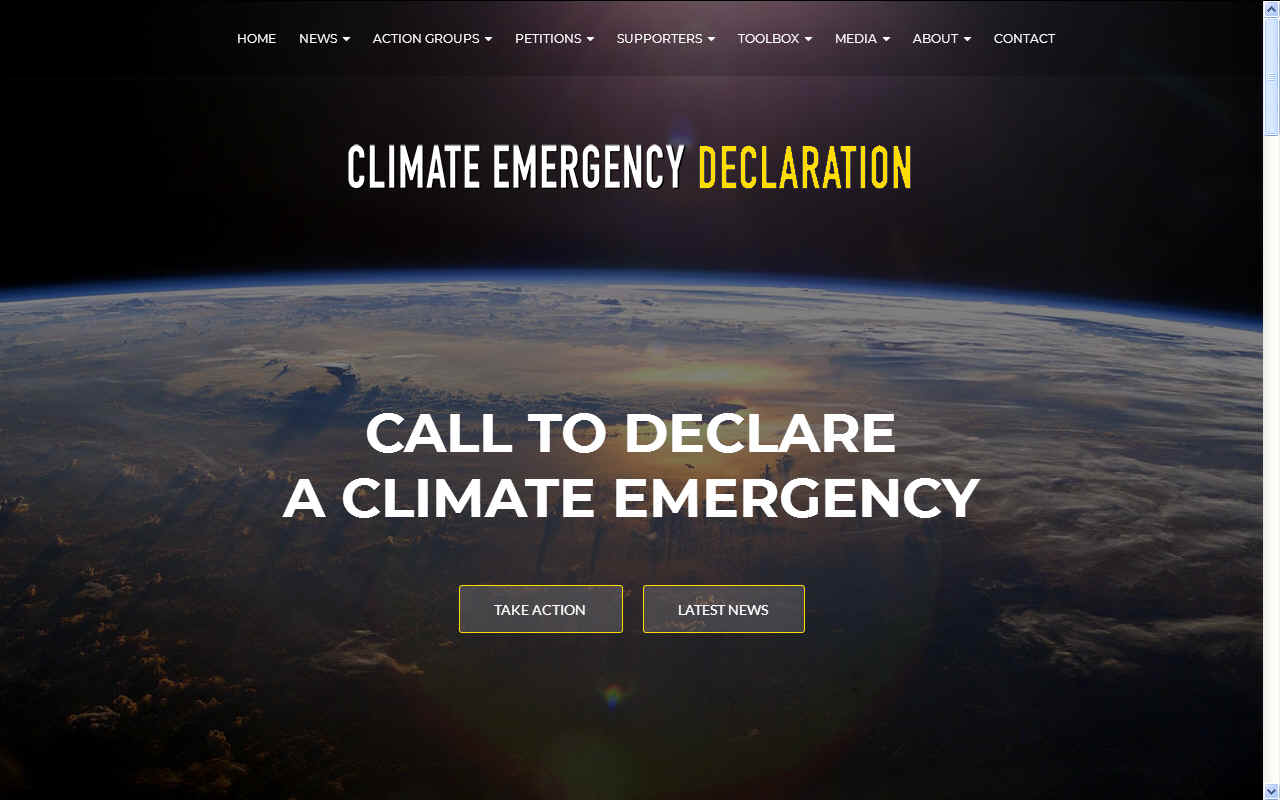 AL GORE - At a Nobel forum on how to solve climate issues in 2018, Nobel Peace Prize winner Al Gore (An Inconvenient Truth) said "the urgency of this problem cannot be overstated, nor can the need for continued dialogue about the solutions to the climate crisis." Scientists at Columbia University are concerned about the impact of the climate crisis on human rights and global land use. The New England Journal of Medicine is concerned about the impact of the crisis on health.
SIX IMPORTANT CHANGES TO COOL THE PLANET
1. TRANSPORT: Phase out polluting vehicles. Government aims to end the sale of new petrol, and diesel vehicles by 2040 but have no infrastructure plan to support such ambition. Marine transport can be carbon neutral.
2. RENEWABLES: Renewable energy should replace carbon-based fuels (coal, oil and gas) in our electricity, heating and transport. Conventional energy exploration companies should consider a phased transition to green alternatives.
3. HOUSING: On site micro or macro generation is the best option, starting with sustainable new homes built of renewable materials that lock carbon and are affordable. Offering planning rights free to encourage eco builds and cut out empire building councils who add significant costs and legal obstacles to hinder zero carbon progress.
4. AGRICULTURE: We need trees to absorb carbon emissions from a growing population, fossil fueled air travel, and to build new homes. We need to reduce food waste and promote less energy intensive eating habits such as no meat Mondays.
5. INDUSTRY: Factories should be aiming for solar heating and onsite renewable energy generation until the grid is all solar and wind powered.
6. POLITICS: - National governing bodies need to adopt policies to eliminate administrative wastages, to include scaling down spending on war machines, increase spend on educating the public and supporting sustainable social policies that mesh with other cultures. We need an end to local empire building kleptocrats.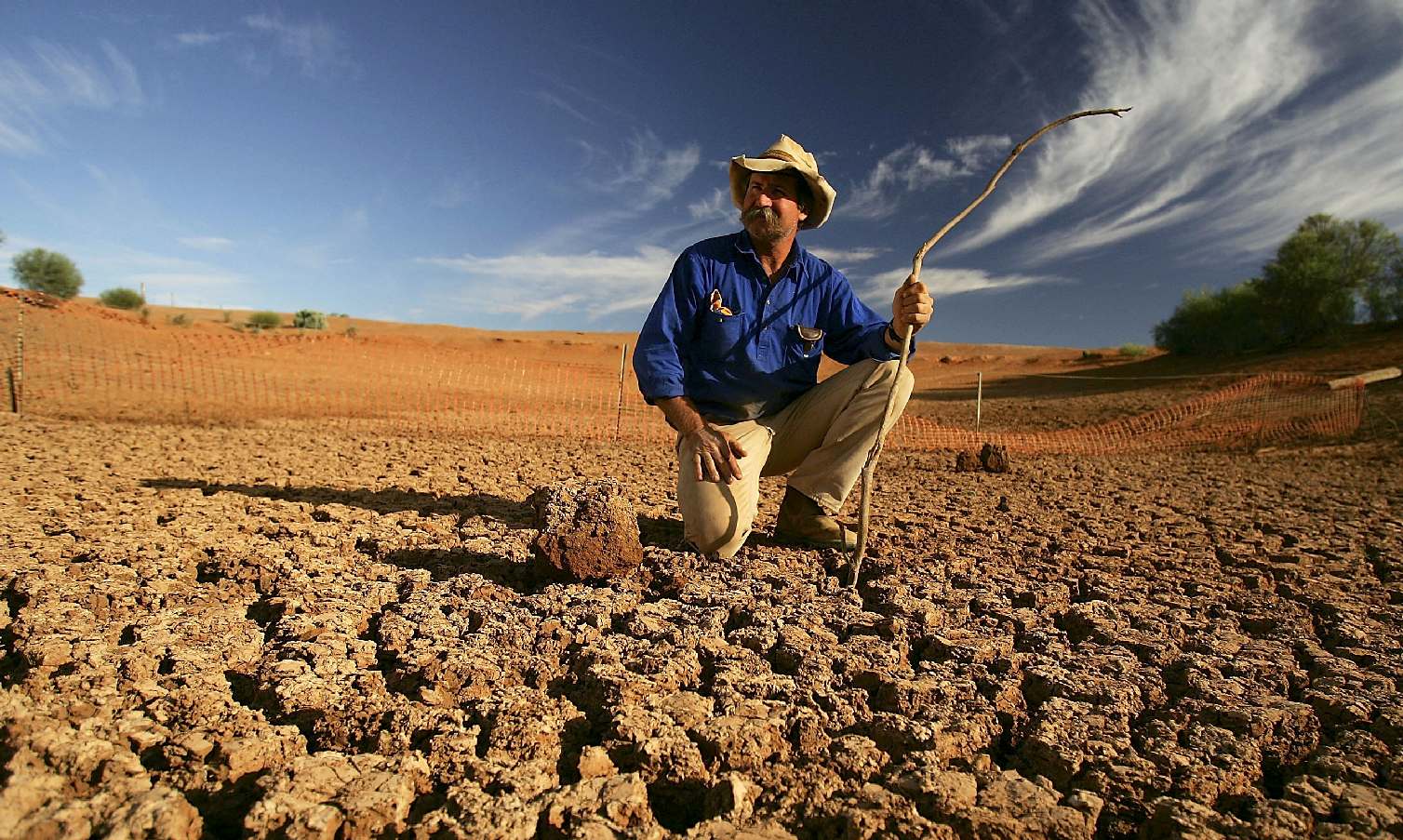 FORBES JULY 20 2019

What do places like Shropshire (United Kingdom), Hawkes Bay (New Zealand), Sydney (Australia), New York (USA), and Krakow (Poland) have in common?

They are just some of the 822 (and counting) cities, councils and jurisdictions worldwide to have declared a climate emergency. With record temperatures gripping Europe, widespread drought in South America, and ever-decreasing ice coverage in Greenland, the effects of climate change are being felt globally. As some nations drag their feet on enacting environmental policies or are slowed down by politics, some cities worldwide are taking matters in their own hands.

By declaring a climate emergency, cities are adopting more powers to help curb the effects of climate change. In New York, the city council has set new carbon reduction targets for its major buildings, Sydney have added climate considerations in any new policy or infrastructure decisions, while Shropshire Council, a rural district in the English Midlands, has committed to being carbon-neutral by 2030. In each case, these local governments have also used their declarations as a means to exert pressure on national decision-makers. There is no single definition of a climate emergency declaration, but many see it as a drive for carbon neutrality and a mandate for further political action.

France has declared #ClimateEmergency. This gained near zero attention.
Action surely matters more than words and so far the words have meant nothing.
But how can we hold politicians accountable to this if no one even knows an emergency has been declared?
https://t.co/YLEQmIv5zC

— Greta Thunberg (@GretaThunberg) July 3, 2019

Bristol councilor Carla Denyer, who helped her city pass one of the United Kingdom's first local climate emergency declarations in November 2018 explains: "We are acknowledging we are in an emergency situation. The national government needs to declare an emergency and put resources in place to enable councils to help reduce carbon emissions . It's the first step to radical action." Six months after Bristol made its initial declaration, the United Kingdom became the first country to announce a climate emergency and pledged to dedicate more resources towards mitigating climate change.

In many cases, smaller political structures and more power over local policy have enabled cities to make more ambitious goals for themselves than national governments. The town of Chico in California declared a climate emergency after witnessing the most destructive wildfire in state history. Chico has pledged to eliminate all greenhouse gas emissions by the year 2030 and intends to adopt many of the resolutions outlined in the Green New Deal. Rocked by a heatwave that sent temperatures soaring to 47 degrees, Paris is the latest major city to declare a climate emergency. With major emission reduction projects already in place in the French capital, the city council has expanded its environmental plans by announcing it will open a "climate academy" geared to educating the public about the risks of climate change.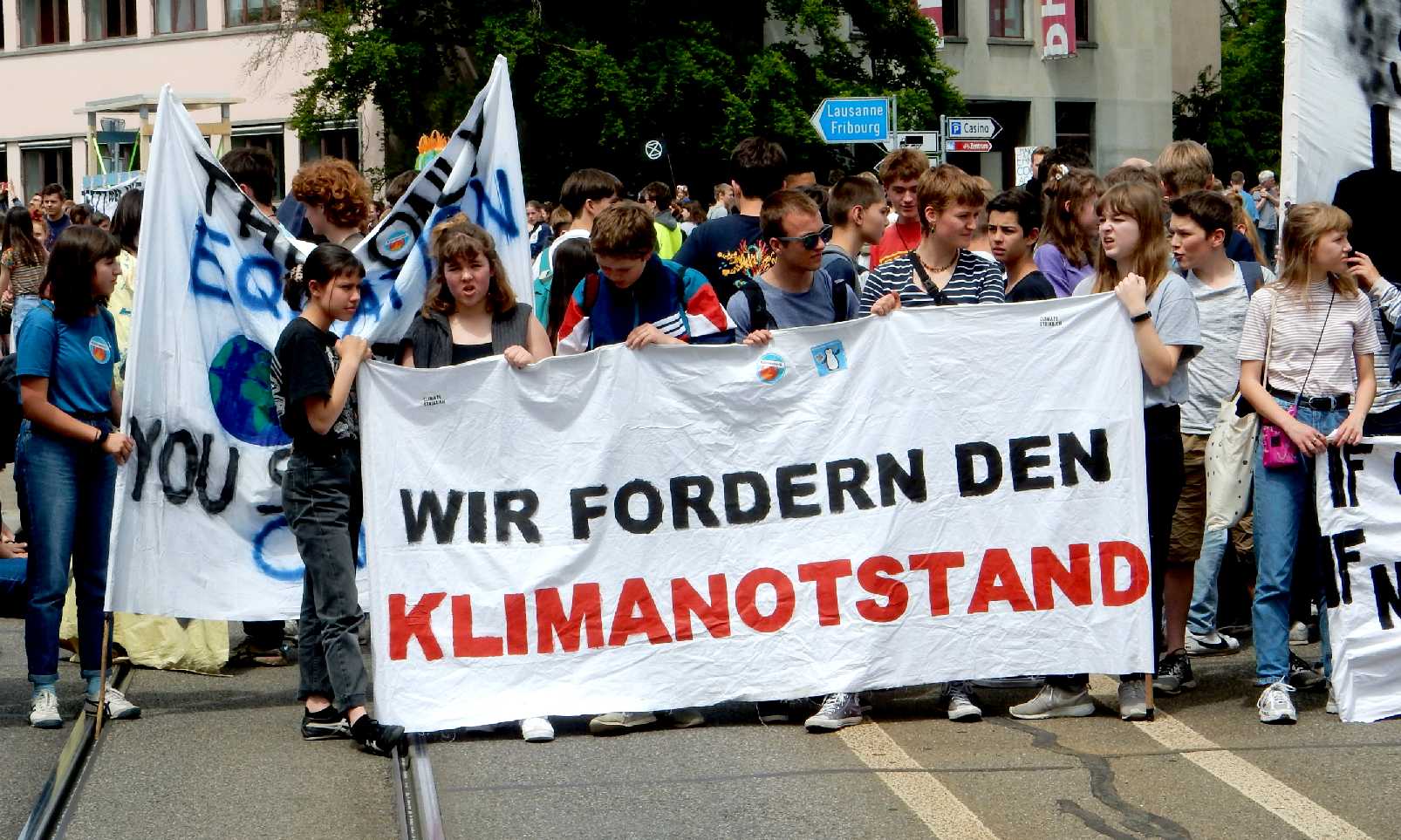 Deal Or No Deal

Despite a vast array of pledges and policy changes, many declarations have been made in a more symbolic way. Pope Francis recently declared a worldwide climate emergency and urged nations to do more to tackle the issue head-on. Meanwhile, the declaration made in Krakow was led by local environmental groups with the support of councilor members and was made in a bid to apply pressure on Poland's conservative government. Progressive lawmakers believe the government should increase budget allocations towards fighting climate change, while the ruling party advocate private businesses finding their own, for-profit solutions.

While hundreds of cities and regions are declaring climate emergencies and pledging various levels of commitments, who will be monitoring their progress? Answer: the citizens. With environmental watchdogs such as Greenpeace and the Intergovernmental Panel on Climate Change (IPCC) continually monitoring government policies, and demonstrations worldwide by movements such as Extinction Rebellion demanding more changes, the stage is set for more accountability from decision-makers.

A large proportion of declarations are made as a result of public pressure, with citizens intent of seeing action done to reduce carbon emissions and fight climate change. These declarations are part of a much larger movement that has been spurred by a younger generation that feels betrayed by the lack of action taken by governments worldwide. Climate change has been listed as one of the major concerns by younger generations, and they are determined to ensure that their future is not compromised by short-term decision-making. From 16-year-old Greta Thunberg's speech at the United Nations to mass mobilizations in capital cities around the globe, the threat of a climate crisis has pushed most governments towards making stronger environmental pledges.

The 822 jurisdictions who have declared a climate emergency thus far contain over 136 million people and those numbers are expected to rise as governments begin to recognize the real threat posed by climate change. An IPCC report dated from last year stressed that the world may only have until 2030 to limit climate change before it reaches a more dangerous level. With more opportunities behind a transition towards a low-carbon economy than ever before and time running out to implement it, cities declaring a climate emergency are helping to raise awareness and drive the changes needed to safeguard the planet. However, these declarations mean nothing without real, concrete action to support them. By James Ellsmoor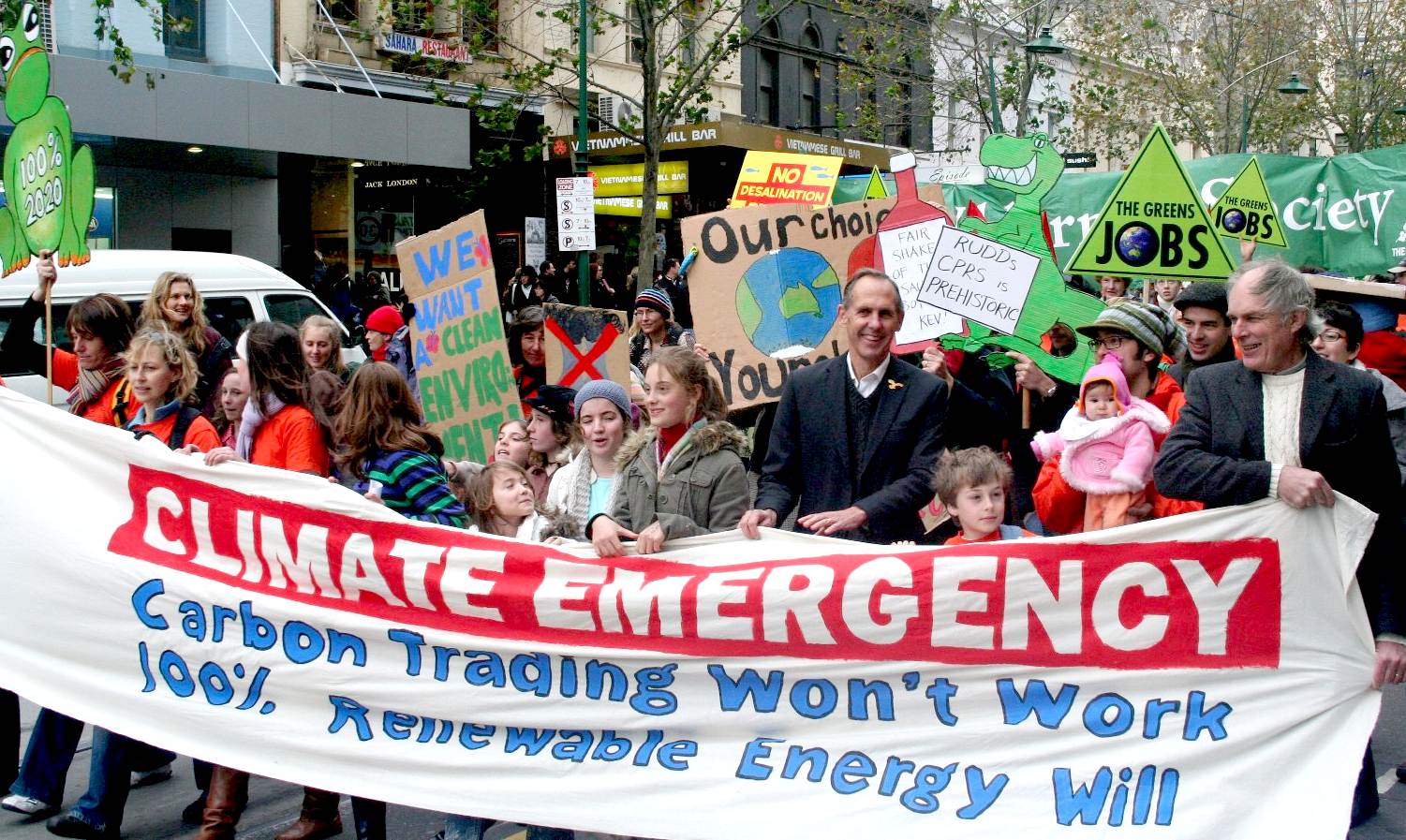 A list of some of the active climate emergency action and emergency advocacy groups around the world:
AUSTRALIA
• cedamia – Climate Emergency Declaration and Mobilisation in Action
• Council Action in the Climate Emergency (CACE)
• Over 50 Australian climate action groups support the Climate Emergency Declaration campaign, and some, such as Newcastle Climate Change Response, actively campaign for the declaration of a climate emergency.
• The Sustainable Living Festival in Melbourne had the climate emergency as its theme in 2017, and again in 2018 under the title 'Climate Crunch Time'.
• Breakthrough – National Centre for Climate Restoration has published a guide, series of reports and papers and organises conferences about the climate emergency.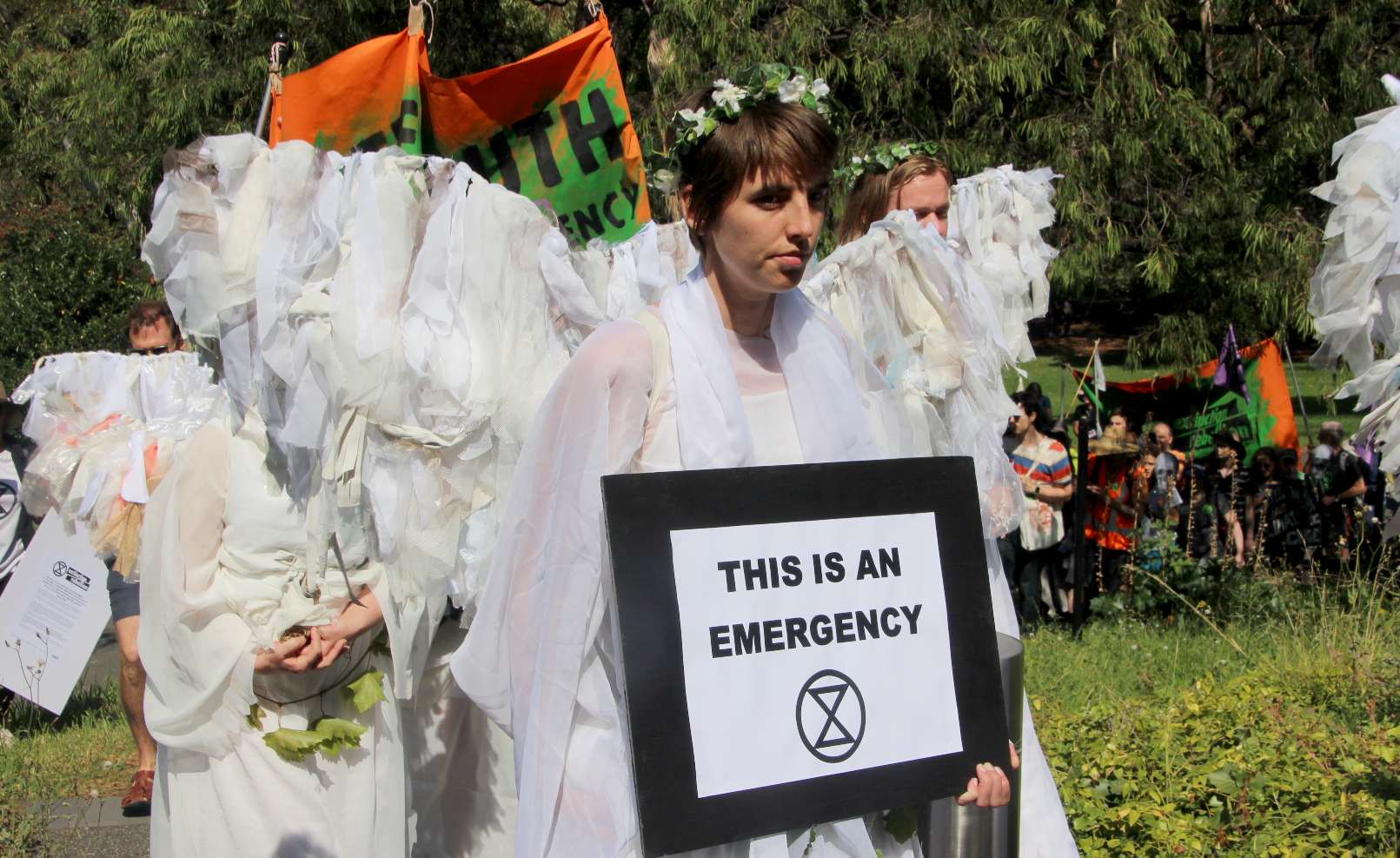 D DAY MELBOURNE - March 22, 2019 was Extinction Rebellion Declaration Day in Melbourne with people gathering in Treasury Gardens before marching on the Victorian State Government offices, then the Commonwealth Government offices in Treasury Place. The marchers had the solemnity of the Climate Guardian angels to amplify the message that we are in a climate crisis needing climate emergency action.

Declaration: OUR DEMANDS WE CALL ON THE AUSTRALIAN GOVERNMENT TO DECLARE A CLIMATE EMERGENCY AND INITIATE A TRANSITION TO ZERO EMISSIONS AND BEYOND AT A SCALE AND SPEED NEVER BEFORE SEEN IN PEACETIME § We demand that the Australian government and the media tell the truth about the climate emergency and honestly inform the public that we are facing a threat to human civilisation that imperils the life of most people on Earth. Our leaders have promoted the falsehood that climate change is not a serious or imminent threat to our survival. We are in a climate emergency and the population deserves to be informed. ¬¬¬¬¬¬ § The earth is already too hot.

It is reckless beyond imagining to continue making our planet hotter. We demand that all levels of government work to rapidly reduce greenhouse gases to zero by 2025. We must also commence the massive task of removing excess greenhouse gases already in the atmosphere until we restore a safe climate. Urgent action is not only required but achievable. We must move to an emergency footing to address this threat to our survival. § Our democracy has been corrupted by vested interests and our political representatives have failed to protect us. We demand that the emergency transition be directed by a Citizens' Assembly as we move towards a democracy fit for purpose. We need a national Citizens' Assembly to initiate, direct and oversee the implementation of those solutions that governments are clearly unwilling or unable to achieve without such assistance.
We hold the following to be true: This is our darkest hour. Humanity finds itself in a crisis unprecedented in its history. Unless this crisis is immediately addressed, it will result in the destruction of all that we love and hold dear: this land, its peoples, its ecosystems, and the very future of the human race. The science is clear: we are in the sixth mass extinction event and we will face catastrophe if we do not act now. Biodiversity is being annihilated around the world. Our seas are poisoned, acidic and rising. Flooding and desertification will render vast tracts of land uninhabitable and lead to mass migration.
The insect population of the planet is plummeting, threatening the very basis of our global ecosystem. The breakdown of our climate has begun. There will be more bushfires, unpredictable and destructive storms, increasing drought, and famine as food supplies and fresh water become scarce and unreliable. But this is not just a matter of adjusting to new difficulties. We are fast approaching the point of no return. Unless we act now everything around us will begin to die with terrifying swiftness and our species too may perish. Already millions of lives have been lost. Soon it will be billions if we do not act. Across Australia we are already seeing the onset of disaster. This summer we have been ravaged by fire and flood, our arable land killed by drought, and our rivers choked by rotting fish as we continue to mismanage our ecosystems. In an age where we are losing species to extinction at a rate far greater than normal, we have had our first mammalian extinction directly due to the climate emergency. The Bramble Cay Melomys has been sent to extinction by the unnatural flooding of its island home in northern Queensland.
Our culture of endless expansion and consumption killed this little life, but it is not too late to save ourselves. The ecological crises destroying this land of ours can no longer be ignored or denied by anyone who claims to have reason, conscience, or morality. In accordance with these values, with truth and with the weight of scientific evidence, we declare it is our duty to act on behalf of the security and well-being of our children, our communities, and the existence of life on earth. Australia's economy is founded upon the values of industrialisation and commercialisation of the natural world. It has dispossessed and impoverished the Indigenous people of this land and tragically degraded country that was cared for over tens of thousands of years.
No longer will this nation be one of destruction and genocide. We need to hear the ancient wisdom of the world's indigenous people, and treat our home with deep love and respect. The land is our mother. We cannot live without her and all the other species with which we share her. We, in alignment with our consciences and our reasoning, declare ourselves in rebellion against our government and those corporations that threaten our future until such time as our demands are met. Some of our political representatives openly deny that we are in a climate emergency. Many advocate change that is too gradual, ineffective or insufficient to the global crisis we are facing. We believe this is done in order to protect the profits of their political donors.
But we are not content to die because our leaders lack the wisdom and courage to do what needs to be done to ensure a safe climate future. The wilful complicity displayed by our government has shattered meaningful democracy and cast aside the common interest in favour of short-term gain and private profits. Like a termite colony undermining the structure of a house, consumer capitalism and the politicians it has bought will destroy the foundations of life on this planet. When politics has become corrupted by the powerful few it is our right as citizens to restore meaningful democracy. It is our right to protect the security of the land and its peoples where our governments have failed.
It is our sacred duty as people who believe in life and love to rebel. As much as we are powered by a knowledge of the imminence of complete desolation, we are strengthened by hope and the knowledge of what is possible. In Tasmania, after Lake Pedder was lost, protestors left behind the idea of politely asking power to change its mind, and used direct action to save the Franklin River from being dammed. Thousands of people from all over the world joined the Franklin River Blockade, and thousands were arrested. Prisons overflowed, but the campaign ended with the river being saved. The hand of power was forced, and all because of the far greater power of the people deploying direct action.
The same happened to the Terania forest in New South Wales in the 1970s. This will happen again in the Galilee Basin when the Adani mining licence is cancelled and all fossil fuel extraction is banned once and for all time. Do not think that we haven't tried everything else possible. This is our last resort. We hereby declare the bonds of the social contract, which the government has rendered invalid by their complete failure to protect us, to be null and void. We call upon every principled and peaceful citizen to rise with us. To be freed from oppression by the powerful few we will cast aside social divisions based upon race, ethnicity, class, sexuality, religion, and gender, and come together and fight for our lives. We will not allow corporate profiteers to dictate government decisions that place us and future generations in deadly peril.
This rebellion is for everyone, and it is international. We are a global movement. We stand with every other land rising with us, all over the world. Our near neighbours on Pacific Islands are already losing the land under their feet. We stand with and acknowledge the traditional owners of the land. Indigenous Australians have already faced the consequences of ecological and cultural destruction and the Traditional Owners' objections to mining on their lands have been repeatedly ignored or overridden. We say no more. We say enough! We will no longer stand idly by and witness the destruction of our only home by the greedy few. We are many. We will act. We will rise. We demand justice. We will protect ourselves. We will prevail. With love and rage Extinction Rebellion
CANADA
• In Canada, Group Mobilisation has been campaigning to get councils to declare a climate emergency since 2018.
UNITED KINGDOM
Climate Emergency UK monitors the 'Climate & Environmental Emergency' development in the United Kingdom at both local and national government level: www.climateemergency.uk
• Numerous Extinction Rebellion groups in the United Kingdom actively campaign for the declaration of a climate emergency.
• For the European election, there was an British initiative uniting Extinction Rebellion-inspired candidates in an alliance: www.climateemergencyindependents.co.uk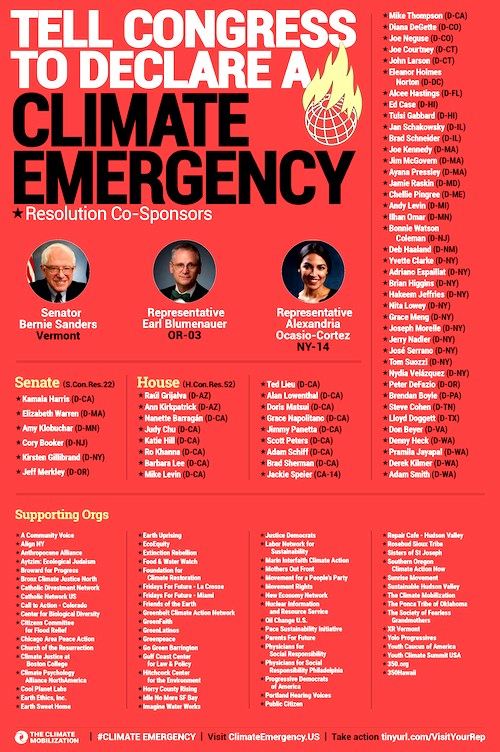 UNITED STATES
• Fact Sheet: National Declaration of Climate Emergency Resolution
S.Con.Res.22 (Senate) and H.Con.Res.52 (House)

Senator Bernie Sanders, Representative Earl Blumenauer, and Representative Alexandria Ocasio-Cortez are backing a National Climate Emergency Declaration resolution to put the U.S. Congress on record, naming the climate breakdown as a national emergency which demands an emergency response. An updated list of cosponsors is here.

The resolution calls for a mobilization in alignment with the core solution of The Climate Mobilization, an organization that has been fighting for a World War II-scale response to the climate emergency since 2014. If you or your organization want to sign on in support of this resolution, please visit ClimateEmergency.US.

The Congressional Declaration of Climate Emergency Concurrent Resolution:

Recognizes the ongoing impacts of climate breakdown in the U.S. and globally as a "climate emergency" that demands a "massive-scale mobilization" and cites our country's "proud history of collaborative, constructive, massive-scale Federal mobilizations of resources and labor in order to solve great challenges," including "the Apollo 11 Moon landing, Reconstruction, the New Deal, and World War II;"

Calls for a "national, social, industrial, and economic mobilization of the resources and labor of the United States at a massive scale to halt, reverse, mitigate, and prepare for the consequences of the climate emergency and to restore the climate for future generations;"

Recognizes the need for a "zero emissions economy" that "guarantees good jobs and union wages with quality benefits"

Recognizes the critical need for a "just and managed phase-out" of oil, gas, and coal in order to "keep fossil fuels in the ground;"

Recognizes that addressing the climate emergency will require massive levels of public engagement in order to develop an equitable and effective climate mobilization;

Explicitly does NOT call for granting expanded or emergency powers to the executive branch;

Points out that planetary heating, even below the 1.5 degree Celsius benchmark, is already having and will continue to have devastating, irreversible impacts on "public health, livelihoods, quality of life, food security, water supplies, human security, and economic growth" and will continue to exacerbate the accelerating biodiversity crisis, also known as the Sixth Mass Extinction;

Describes the $100 billion in annual costs to the U.S. economy from disasters and the exponential increase of climate-related disasters between 2014 and 2018;

Focuses on environmental and public health impacts to rural and urban communities in the U.S. and globally from climate-related disasters and disease, as well as from toxic pollution in the air, water, and soil;

Explains that the impacts of the climate emergency are being borne by historically marginalized communities in the U.S. and globally, a fact that demands a just transition, "rooted in principles of racial and socioeconomic equity, self-determination, and democracy;"

Highlights the judgment of national security experts that the climate emergency is a "threat multiplier" and a "top homeland security risk;"

States that "Tribal governments and communities, people of color, and labor unions must be equitably and actively engaged in the climate mobilization and prioritized" so that "workers in the United States, and the communities of those workers, are guaranteed a strong, viable economic future;"

Points to the over 990 local governments in 18 countries that have declared a Climate Emergency

Calls for intergovernmental collaboration between the federal government, local and state governments, and the international community

Calls for accountability for those who have deliberately delayed action on climate

https://www.ucsusa.org/global-warming/science-and-impacts/impacts/causes-of-sea-level-rise.html
https://docs.google.com/document/d/1iHq_u-v6zURIAzBpeBTLDYXziF9b9zm66vydoaM15Js/edit
https://www.forbes.com/sites/jamesellsmoor/2019/07/20/climate-emergency-declarations-how-cities-are-leading-the-charge/#1caa3bec4f14