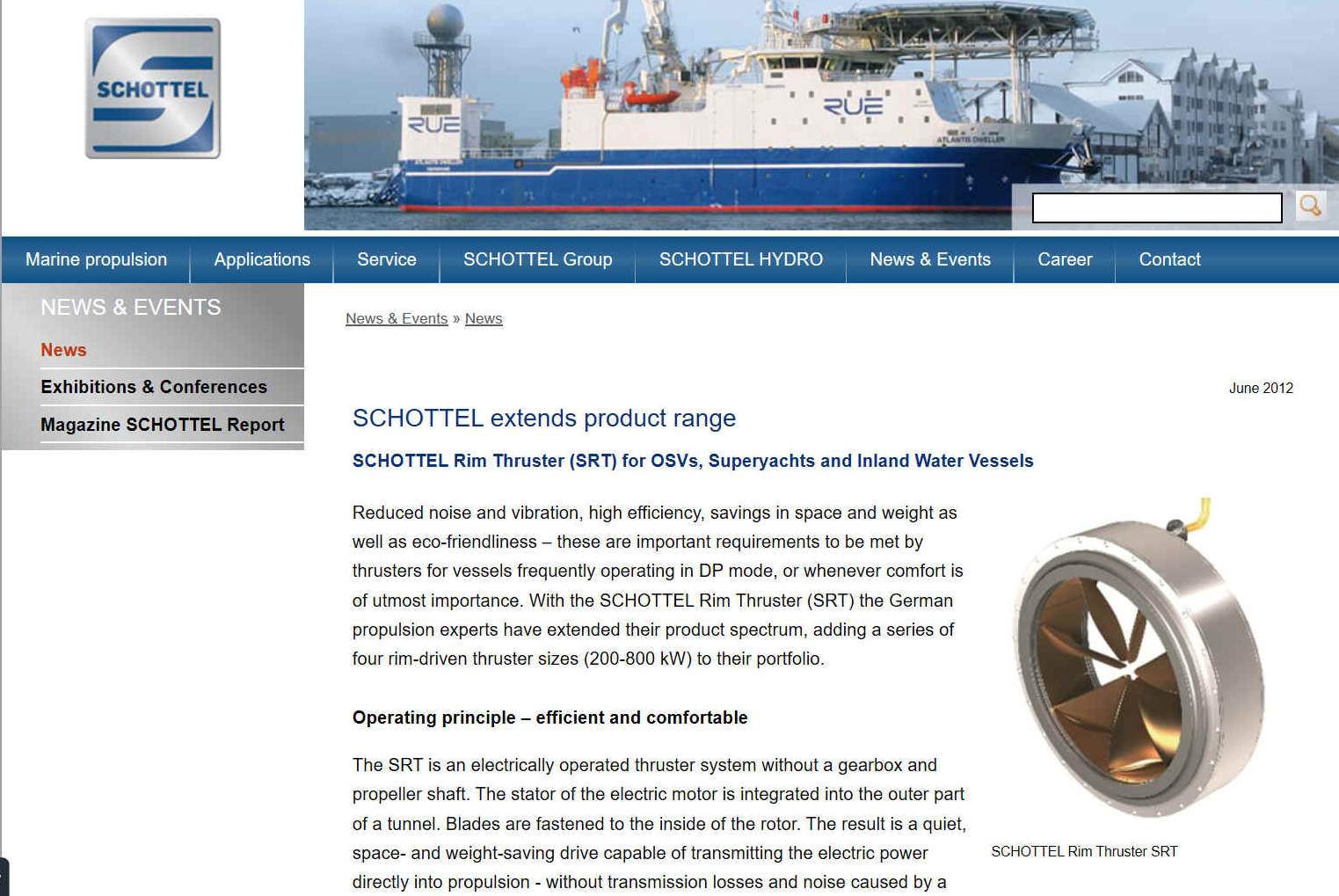 SCHOTTEL - The Rim Thruster (SRT) is an electrically operated thruster system without a gearbox and propeller shaft. The stator of the electric motor is integrated into the outer part of a tunnel. Blades are fastened to the inside of the rotor. The result is a quiet, space- and weight-saving drive capable of transmitting the electric power directly into propulsion - without transmission losses and noise caused by a gear box. The optimized hydrodynamic design with the blades inside leads to a considerable reduction of cavitation.

The design is robust and maintenance-friendly. The efficient electric motor is cooled by the surrounding water. The blades can easily be exchanged in case of damage . In addition to this, the water lubricated slide bearings are easily accessible for maintenance which reduces costs in the long term. The SCHOTTEL Rim Thruster SRT was available in 2013 worldwide through the SCHOTTEL distribution network and, in the sectors of inland waterways and luxury yachts, through Van der Velden Marine Systems. Advantages of the SCHOTTEL Rim Thruster in brief:
- High performance - Eco-friendly - Low noise - Low vibrations - Compact design - Water-lubricated bearings - Exchangeable blades - Exchangeable slide bearings. Contact: info@schottel.de

SCHOTTEL Rim Thruster (SRT) inner diameter sizes:

SRT 800mm 200kW
SRT 1000mm 315kW
SRT 1250mm 500kW


In the quest for more efficient marine propulsion, free flow propellers have been shrouded and ducted as impellors for jet drives, typically powered by diesel engines. The 'Kort' style shrouding with or without stator blades, improves static thrust by around 10%, whereas hydrojets or jet-pumps are only really useful for higher speed vehicles and remain expensive.
Then along came the electric motor for outboards. The designers soon dispensed with the motor where it would have been if it was a petrol engine above the transom, with a shaft to a bevel gear to drive the propeller. Instead they put the electric motor in a waterproof pod and the propeller on the end of the shaft directly, thus saving a few percent in gear losses.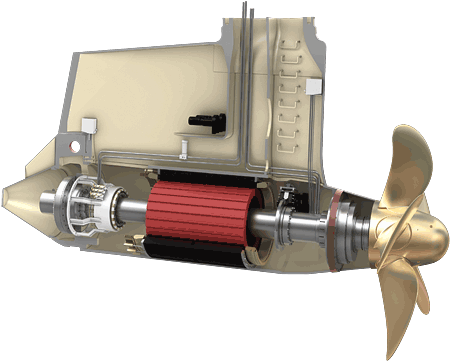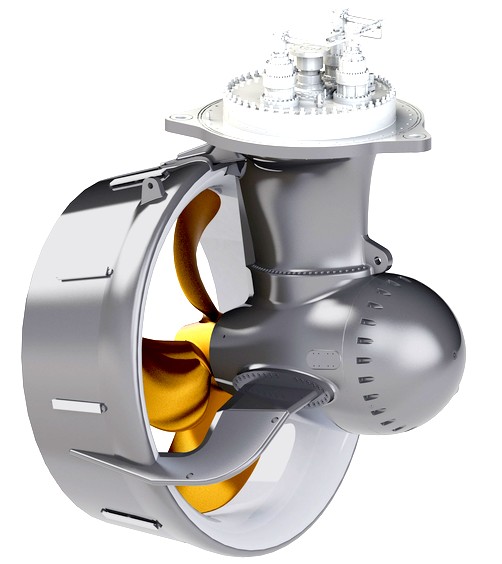 Small submarines and drones have been using thrusters for years now, as have large ships as through hull bow-thrusters. As climate change looms to sway politicians to consider zero carbon shipping, the logic of continuing to use classic designs for propellers, or rather propulsion, is questionable where ships will end up being electric, and more than likely powered by wind turbines and solar panels.
At this stage underwater pods with high efficiency are sure to take off. Indeed, the Cleaner Ocean Foundation are looking at what is on the market with a view to incorporating in designs for zero emission workboats and cargo ships of the future.
Some of the most promising designs do away with the conventional hub motor and shaft that drives a propeller, replacing that with a rim mounted motor, that is built into a (necessary) shroud in Kort fashion, meaning that the torque potential is also improved where direct drive is the order of the day, and the water flow is more linear. The next advance might see stator blades. At least, that is how we read it.
The fact is, there is still room for improvement. The IMO and G20 may want to put some money into such development.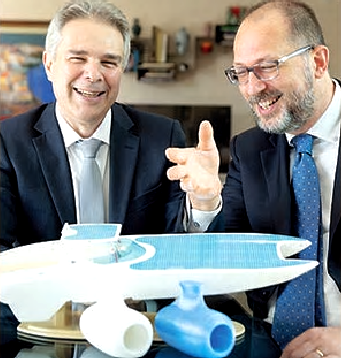 MEETING OF MINDS - The innovator and the professor. William Gobbo (left) with Professor Ernesto Benini
The DeepSpeed outboard electric water-jet engine has a power of 120 kW, or 160 hp. At 40 knots, a yield equal to that of a 260 hp propeller engine is estimated, with an expected efficiency of 83%. By moving the propulsion unit outside of the hull and by making the motor a rim-drive leaving the water stream uncluttered, do "you gain between 20 and 30% efficiency", according to the developers.
The most interesting comparison is that between the outboard jet and the propeller. At 20 knots, the former has a theoretical efficiency of 65%, against 52% of the propeller. But it is between 35 and 40 knots that the gap widens: the efficiency of the propeller decays, while that of the outboard water jet stabilizes, according to mathematical models, "above 80%".


PLUGBOATS 22 SEPTEMBER 2019 An Italian hydrojet to revolutionize electric boats?

DeepSpeed, an electric hydrojet engine used as an outboard rather than an inboard is causing a stir at the Genoa Boat show this week with its efficiency and speed results.
The concept came about because the price of replacing a V8 fossil fuel motor on a boat owned by DeepSpeed founder William Gobbo in 2007 got him thinking that there must be a better, cleaner solution to getting a boat through water.
He looked at electric motor options and saw they all had propellers which then got him to wondering why there wasn't anything like a jet engine as an option. After all, airplanes had ditched propellers for turbines decades ago. There must have been a reasons. Why was boating still stuck on propellers?
Assembled an international team of experts
Sr. Gobbo's expertise was actually in the banking and information management industry, not engineering, so he began to ask others who did know engineering and gathered a team around him that now includes experts in fluid dynamics, mechanics, electronics, computer science, design, communication and prototyping. They come from six countries and there there are 2 professors, 2 researchers, 11 engineers, 4 designers, an 1 F1 H2O powerboat pilot…and most importantly, one luminary.
The luminary is Professor Ernesto Benini of the University of Padua a leading international expert on fluid dynamics experts applied to aeronautical propulsion.

Gobbo went to see Benini in 2017, after committing almost a decade and considerable amounts of money to formulate and validate his theory and commission engineering drawings and plans.
"I knew I had something" he told Italian business daily Il Sole 24 Ore "but I needed scientific bases to support my intuition.

Potential was immediately apparent to the professor
Professor Benini immediately saw that the idea of positioning a water jet engine as an outboard overcame all of the limits of traditional water jet propulsion systems (whether gas powered or electric) which were all positioned inside the hull of the boat.
The biggest difference is that the inlet flow of water becomes dynamic. With jets inside the hull the flow is static, determined by the motor only, but with an outboard jet the water flowing through the jet as it moves through the water creates a dynamic flow: it increase with speed. In essence the faster the boat goes…the greater the flow…the faster the boat goes – and with increasing efficiency.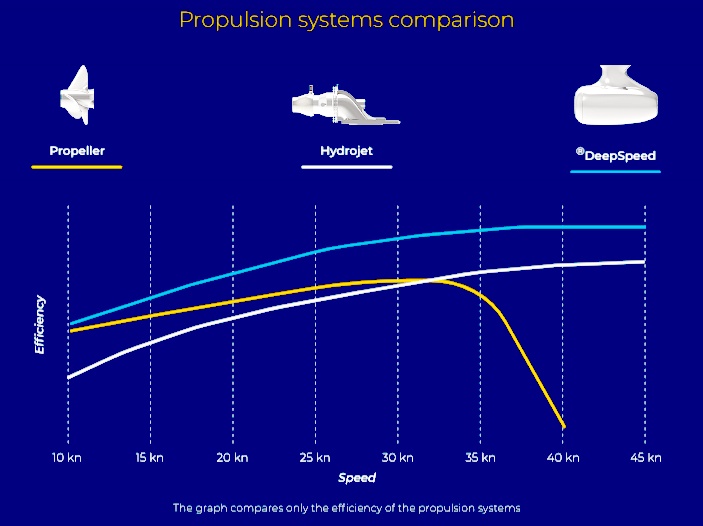 COMPARISONS - The difference in efficiency compared to a propeller is even more stark, as this chart shows.


"When I entered Professor Benini's office" recalls the entrepreneur "I found a professor of fluid dynamics with courteous and reserved ways. When I left I left a boy full of enthusiasm"
So much enthusiasm that Benini immediately joined the team, which resulted in increased interest from investors and Italy's scientific community as a whole.
In 2018 the DeepSpeed propulsion system achieved "Seal of Excellence" certification from the European Union's Horizon 2020 department, which is only given to 3 out of 1,000 applicants. This in turn has led to investments of almost €1.2M from various Italian and European science, technology and startup funds. They are in contention for a Horizon loan of €2M and DeepSpeed's facebook page has notification of a crowd funding effort, but no details have yet been posted.

Buzz at the Genoa Boat Show

Which brings us to this week, at the Genoa Boat Show, where Sr. Goddo and his team have been showing off their prototype to enthusiastic crowds. The model on display is the company's Number 10 prototype, and while it is very secretive about specifics of development, it seems safe to say there has been improvement every step of the way since 2007.

The advance of electric boating has always been marked by innovative thinking. Accumot and then Torqeedo put the electric motor under water, Candela has successfully pursued the potential of hydofoiling. And countless others are continually taking smaller, but equally important steps in every aspect of making electric boats go longer, faster and more efficiently.
Who knows, maybe a waterjet on the outside of a boat is another one of those 'let's start with a clean sheet of paper' ideas that will propel (pun intended) electric boating even more quickly into widespread adoption.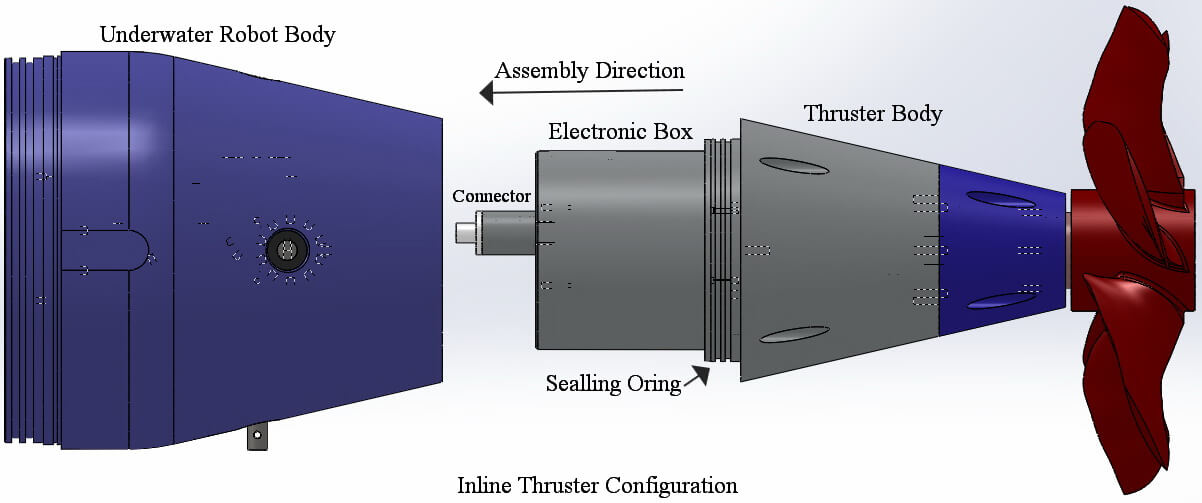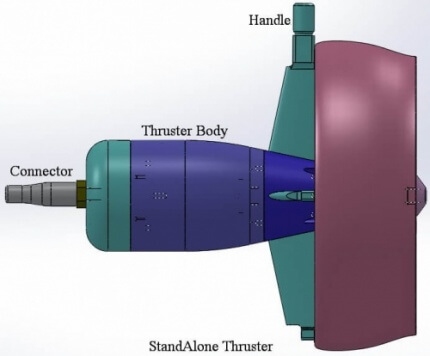 MAIN COMPONENTS OF A MODERN ELECTRIC THRUSTER:

1. Electric Motor: The electric motor is the main component of electric thrusters and drives the propeller. Modern underwater thrusters typically use brush-less Permanent Magnet Synchronous Motors (PMSMs). In most modern designs, frameless PMSM motors are used to reduce the weight and increase the thermal efficiency. This improves the power-to-weight ratio, but the penalty is higher assembly cost. Danish based Copenhagen Subsea produces electrical ring thrusters, where the power is applied on the perimeter, and the motor components are integrated with a duct.

2. Propeller: The propeller is the component which converts rotation to thrust. Selection of the right propeller has a considerable influence on the performance a thruster. Each application's hydrodynamic load line needs a matched propeller for maximum efficiency, but there is lack of standard off-the-shelf propeller variation on the market and therefore it is impossible to order the thruster with the best efficiency propeller. Some companies will design and develop custom propellers, but their prices are really high. Other companies try to offer many propellers as options and let the user select the best one using performance charts of their thrusters.

3. Gearbox or Direct drive: to match propeller torque with motor torque some manufacturers use a gearbox. Most of the time, to reduce the weight and volume of the thruster, the gears are assembled directly inside the thruster shell, which is used as the gearbox housing. In this way the weight is reduced, but repairs become difficult as the spare parts are hard to find. A better solution in modern designs which use PMSM motors, the ratio of motor torque to its diameter is so high that the motor can rotate the propeller without a gearbox. In direct drive underwater thrusters, the motors are typically heavier than those used in geared thrusters, but lack of a gearbox compensates for this. Direct drive thrusters have higher reliability, lower noise, and higher efficiency, but the prices are higher than geared thrusters at the the time of writing.

4. Motor driver and electronics: Brushless motors need some electronics to be commutated and control their speed. In early versions the drivers were unreliable and this led to user dissatisfaction when compared with highly reliable hydraulic thrusters. More recently developments in power electronic technology have made the motor driver more efficient and reliable, cheap and small, to be fitted directly to the end of the motor. In modern designs the motor controllers are able not only to control the propeller RPM, but also to control the thrust force in applications that need close control on their positioning.

5. Shafting and sealing: Keeping the propeller in the right place and making it reliable in case of impact with external items such as fish or fishing nets is one of the main concerns in all kinds of thrusters. Many failures have been reported due to this problem. Magnetic bearings require the propeller to be rotated on the outer shell surfaces using a layer of water as a lubricant, which may reduce the bearing life considerably in contaminated water. Some other manufacturers use tapered bearings and a multiple sealing system for redundancy. In this design if the main seal (usually a ceramic seal) fails, the others seals keep the motor safe and the thruster can continue operation.

6. Nozzles and Shells: Nozzles are used with heavy load, low-speed thrusters. Most ROVs have this type of hydrodynamic loads. In high-speed, light-load robots, such as AUVs, UUVs, usually the thrusters do not have a nozzle but may have a protective rim. Thruster shells improve hydrodynamic performance and must be resistant to seawater corrosion. There are two common version of shells; hard anodized aluminium and stainless steel grade 316. Steel is heavier, more expensive and more resilient. Aluminium is lighter and cheaper. Composites and plastics offer an alternative. Plastics for smaller units. Where the trend is for higher power jet type units as main drives for larger boats, the shell is also part of the motor.

7. Electrical connectors: Electrical connectors are important component of underwater thrusters. Fortunately, there is a wide range of reliable components available from third party suppliers.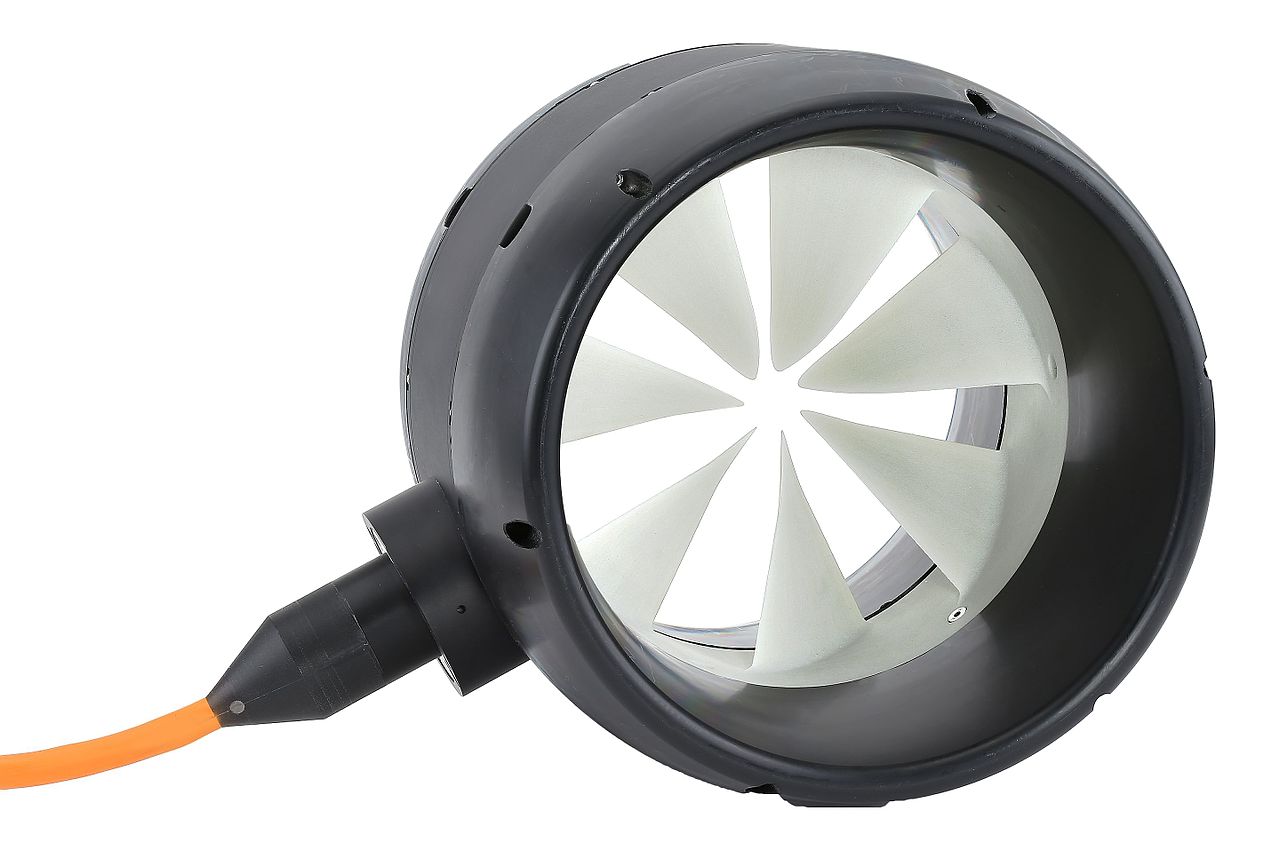 DECEMBER 12 2019 PLUGBOATS - Amazing new electric boat motor based on fish fins

At the Nautic Paris show this week a French start-up is showcasing a revolutionary new electric boat motor without revolutions – it has no propeller!
The FinX motor is one of the exhibitors in the booth of the AFBE (Electric Boat Association of France) at the show. "We replace the propeller with a membrane that ripples like a fish fin," CEO and Founder Harold Guillemin explained to the AFBE. "It's a technology that comes from industrial and medical pumps that we have licensed to the nautical field."
Electric boat motor inspired by nature
M. Guillemin is a 28 year old mechanical and and electrical engineer who has been convinced since his teen years that "the best way to preserve nature is to be inspired by it."
While working at AMS R&D on their Wavera membrane pump technology the thought occurred to him that since Wavera was based on the movement of a fish fin, wouldn't it make sense to use it to propel a boat?
Technology in use for industrial and medical
The membrane pump was originally designed to be used in industrial applications, but it has also been miniaturized by medical supplier Corwave for a cardiovascular pump that mimics the action of a patient's real heart.
Rather than try to explain how the FinX motor works, we've borrowed an animation from Corwave and a video from Wavera. The animation shows the basis of the design and the video shows how the fish fin actions works as a circular membrane.

Armed with his ambition and an exclusive license on 14 international patents, founder Guillemin has built a team of experts to optimize the FinX and get it ready for launch.
One of the advantages of FinX technology is its efficiency, comparable in some ways to the Deepspeed hydrojet motor being developed in Italy. The FinX is 20 to 30% more efficient than propellers.
More efficient, nothing to get tangled
Another advantage is that no propeller means more safety for swimmers (and fish) and nothing to get tangled or caught up in its working. A video on the FinX YouTube channel shows it in a tank of polluted water to demonstrate how things like algae, plastics and fishing line pass through it.

The company has been around less than a year, but has already had great reception not only at Nautic Paris but also at the Vivatech startup convention, St. Tropez Sustainable Mobility Summit and Monaco Solar and Energy Boat Challenge last July.

Two motors are available for pre-order on the FinX website now: the D70 for drones and other small watercraft (€199) and the D200 – a 2kW / 5hp motor with a pod-like configuration at €2990.
For future plans, M. Guillemin told the AFBE "In the second half of 2020, we would like to have available a higher power range that would be around 150 horsepower." He also said they would like to approach other engine manufacturers about licensing the FinX technology.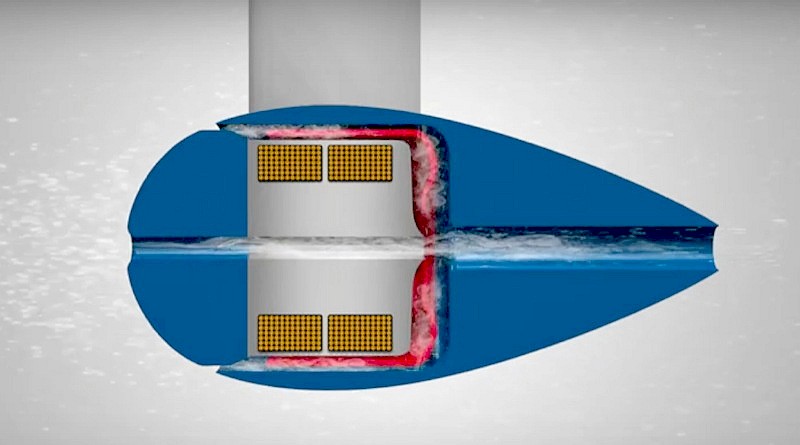 INTERESTING CONCEPT - Looks to us as if there is room for improvement in this design, where a 90 degree bend in any pipework absorbs power and may put a strain on the membrane at the turn. At least that is a common sense analysis. It still works though.
KEY DESIGN CONSIDERATIONS WHEN CHOOSING A THRUSTER
1. THRUST: The ultimate desired feature of a thruster is THRUST.
2. HOW MUCH THRUST: The size and mass of the vessel will determine how much THRUST is needed to move a vessel. Other key factors are hull efficiency. Hence, the drag of the vehicle must be known, or estimated as accurately as possible.

3. POWER LEVEL: Once the THRUST level is selected, the second issue is to find out how much POWER it will take to produce that thrust.

4. MECHANICAL POWER is simply the rate of TORQUE and a certain Shaft Rotation (RPM). HP=TORQUE x SPEED. Of course this depends on the efficiency of the design, motor efficiency and propeller efficiency.

5. ELECTRIC POWER: This means at least the same level of electric power will be required.
MOTOR SIZE: The Electrical Power is set by the Thruster. The size of the Motor will now depend how this Electrical Power is generated. Electrical POWER = Voltage x Current. This means that if the VOLTAGE is LOW, then the CURRENT must be HIGH.

SYSTEM VOLTAGE: Higher system voltages can make things easier. A higher Voltage will reduce the current levels and resistance losses in the wires. Low Voltages are 120-240VDC and High Voltages are 300-600VDC. By way of example, the BMW i3 uses a 400 volt battery and motor.

CURRENT CAPABILITY: It is possible to have low voltage, high power motors but these invariably require more space and weight. All Wiring must be larger and motors get bigger. Similarly, the electronics also get bigger to deal with transistors that can switch high currents at a high rate.

WEIGHT & SIZE: Weight and Size always provide benefits of efficiencies for the same power level. Reducing size and weight is an advantage/benefit which means a designer will typically need to decide on a tradeoff. If weight and size are paramount, it is best to plan on a high voltage power bus. However, with autonomous vehicles or submersibles running on Battery Banks, this is not always possible.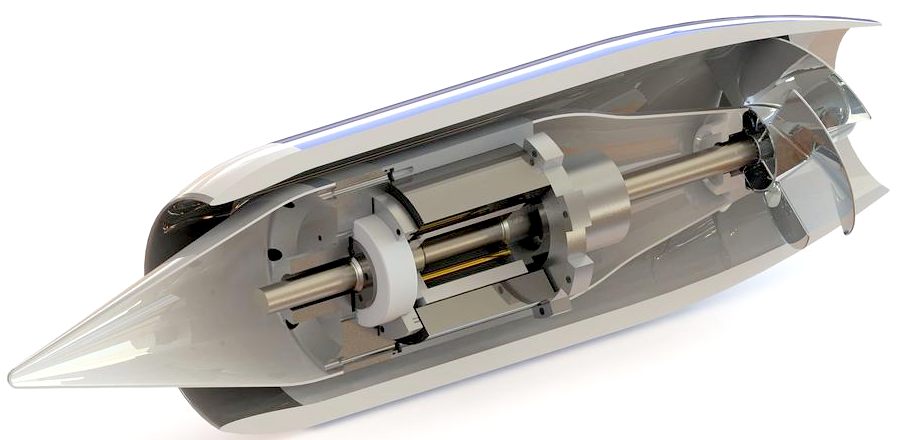 VOLTAGE VARIATIONS: Motors can be designed to work precisely at very efficient levels if all parameters remain the same. However, in MANY cases, the bus voltage can swing over a wide range. This is particularly troublesome at low voltages (ie. 100-150V) which naturally occurs in Battery systems.
Power at MAX or MIN Voltage: The designer has the option to require the MAX POWER level at MAX Voltage, or at MIN Voltage. If this power level is required at MINIMUM Voltage, this requires a motor with much more current capacity, which affects size & weight. If this is only required at MAX Voltage, this will require lower currents, which can reduce Motor and Electronics Size & Weight, but it will mean that the net output power (and thrust) will drop slowly as the voltage level reduces.

It is possible to select a mid point on Voltage, such as to produce a steady power band over part of the voltage swing and allow a graceful degradation of thrust below that level. For example, a system with a voltage swing of 120-180VDC may select to operate at Max Power at 150VDC. This will guarantee uniform performance at all voltages above 150VDC, but will drop performance from 150-120VDC.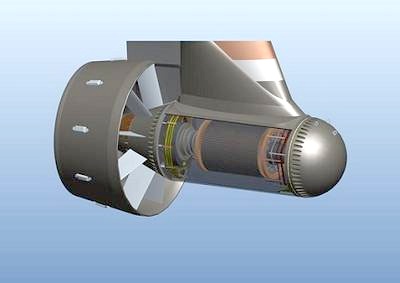 MARINE LINK MAY 2013

GE Debuts Breakthrough in Electrical Thruster Propulsion

In a move that could change the way the maritime industry views propulsion technology, GE's Power Conversion business increased its offshore systems portfolio with Inovelis, a podded thruster with unmatched fuel efficiency and overall performance.

Inovelis incorporates an electrically powered propeller with its motor housed within a steerable pod mounted beneath the hull of an offshore vessel. It incorporates all the assets of a podded thruster, including maneuverability, responsiveness and excellent fuel economy. Based on pump jet principles, it features fixed stator vanes and a nozzle that act together to guide the water flow across the impeller blades, substantially enhancing propulsion efficiency. Its compactness enables an even greater degree of integration between the hull and the propulsion unit, further influencing the ships' fuel economy and emissions.

Pump jet technology was originally used in submarines and is already used for high-speed surface vessels. Now GE is applying it to offshore platform support vessels (PSVs). The Inovelis solution has higher thrust capability than a more conventional propulsion system, as well as improved hydrodynamics, providing higher efficiency over a wider range of operations, in dynamic positioning (DP) and in transit, the manufacturer says. A traditional propulsion setup for a PSV has a large propeller with a nozzle, which has reduced performance when the speed of the ship increases.

Whereas a vessel with a traditional propulsion system has a propeller pushing on the water, a pump jet draws in water and then forcibly ejects it out through a nozzle. It is the marine equivalent of a jet engine, except that while jet engines are fixed, Inovelis can be pointed in any direction on a horizontal plane.

Inovelis is a system designed to best suit the performance and fuel efficiency needs of both modes of operation, transit and DP. Its PSV is driven by two 2.5-megawatt Inovelis pods, operating 30% of the time in transit at full speed.

Inovelis uses GE's innovative induction motor technology, which brings further reliability and helps reduce maintenance requirements. In fact, the pod has a "no man access" design, which helps reduce overall size and provides an additional differentiation from other designs.

GE already has received a number of orders all destined for large PSVs. The first is scheduled for delivery in the second quarter of this year, with ship commissioning around the end of the year.GE Power Conversion's product and system portfolio for offshore vessels includes power generation, electric propulsion, drilling systems, DP and ship automation systems.
https://www.ilsole24ore.com/art/deepspeed-l-idrogetto-elettrico-che-mandera-pensione-l-elica-AC9KCid
https://www.instructables.com/id/ROV-Thruster-105-Lbs-From-DT700-Brushless-Motor/