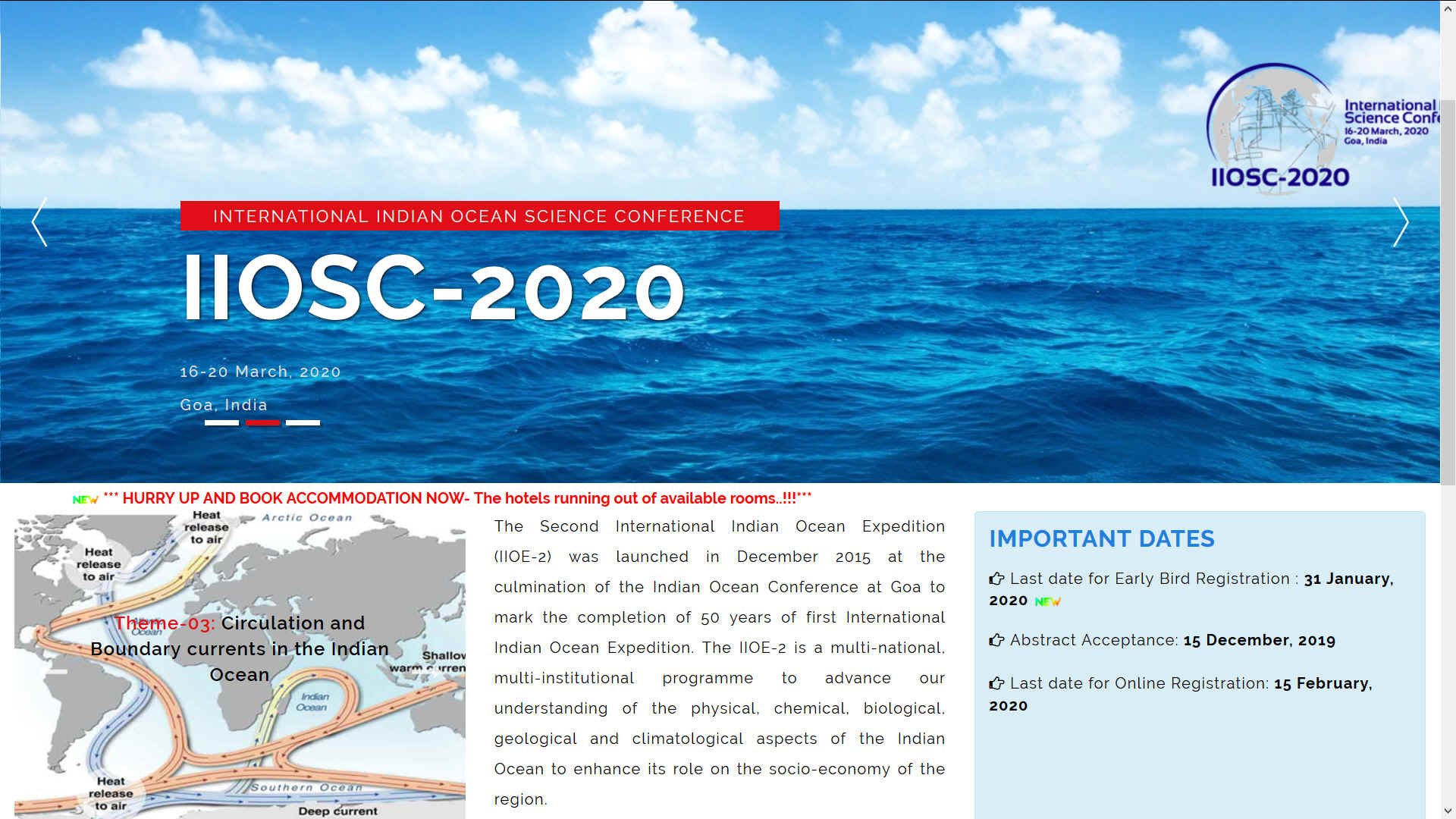 CLIMATE TARGETS & BIOMAGNIFICATION - Transition to zero carbon transport is likely to impact on the Indian Ocean, but too late to prevent further flooding and ocean acidification. As to plastic pollution, contamination of fish, and fisheries that is an area of huge concern as it affects food security and the livelihoods of fishermen.
International Indian Ocean Science Conference (IIOSC)-2020

The International Indian Ocean Science Conference 2020 (IIOSC-2020) sponsored by Ministry of Earth Sciences (MoES), Govt. of India, will be held during 16-20 March, 2020 at Goa India co-hosted by National Institute of Oceanography (NIO) Goa, National Centre for Polar Ocean Research (NCPOR) Goa, Goa University and Indian National Centre for Ocean Information Services (INCOIS) Hyderabad, India.
The conference aims at assessing the progress and scientific knowledge gained during the last 4 years of IIOE-2 (during 2016-2020). It is also an opportunity for scientists working on different facets of the Indian Ocean to present their ideas and discuss the outstanding issues, identify the knowledge gaps and plan a way forward to address such issues.

Scientists and colleagues who are interested in the Indian Ocean should make a note of this for their diaries, and perhaps bookmark the dates of the conference.
Impending visitor should note that they will need a pad and pencil to glean information from the official website, where you cannot cut and paste information as with other official websites. This may be viewed as contrary practice and a potential lack of transparency in relation to SDG 16 of the United Nations sustainability goals. This may be one reason why there is so little reporting of the event, let alone data dissemination, etc.
In our view the scientific community in particular should be open to sharing information with the world. We have found that most academics sign up to such ethics, but in practice make every effort to guard information and not make it available to the public.

Dates: 16-20 March, 2020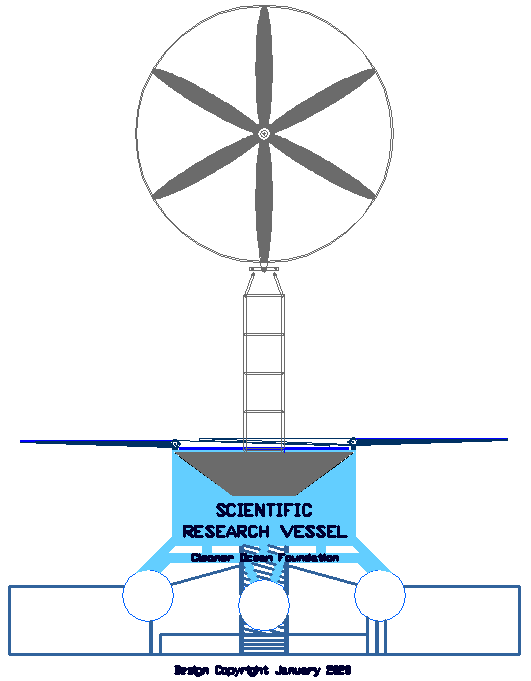 PERSISTENT SAMPLING - If you really want to know what is going on under the waves, you need something as powerful as this proposed autonomous, solar and wind powered machine.

THE INDIAN OCEAN BUBBLE 1961
The Special Committee on Oceanographic Research (SCOR) has endorsed an international cooperative program of oceanographic research and survey work in the Indian Ocean for the near future. 1961 is the year most often referred to. Although a number of features of the plans must necessarily be made on a high international executive level, it also seems desirable that oceanographers on a working level - who actually think they might be interested or involved in the work at sea - should exchange ideas and suggestions, and make tentative plans of just what they would like to try to do in the Indian Ocean. For this purpose, THE INDIAN OCEAN BUBBLE was been established, as an informal journal for exchanging views and ideas.
TSUNAMI PREPARATIONS
The Tsunami Ready is a community performance-based programme that promotes tsunami preparedness through active collaboration of public, community leaders, and national and local emergency management agencies. Indian Ocean Tsunami Information Centre (IOTIC) of IOC UNESCO introduced the Indian Ocean Tsunami Ready concept in the Indian Ocean Region. The programme is aimed at strengthening tsunami preparedness of coastal communities in the Indian Ocean Region.

In this regard, INCOIS is organizing a "UNESCO-IOC Tsunami Ready Workshop" for Disaster Management Offices of the Coastal States and Union Territories. The workshop is jointly organised by INCOIS, Integrated Coordination Group for Indian Ocean Tsunami Warning and Mitigation System (ICG/IOTWMS) and Indian Ocean Tsunami Information Centre (IOTIC) of UNESCO-IOC during 10-12 December 2019 at Indian National Centre for Ocean Information Services (INCOIS), Hyderabad.

On 10 December 2019, the workshop inaugurated by Dr. Sateesh Shenoi, Director, INCOIS. Dr. T. Srinivasa Kumar, Head of ICG/IOTWMS Secretariat and Mr. Ardito Kodijat, Head of IOTIC and Shri E. Pattabhi Rama Rao, Head of Tsunami and Storm Surge Early Warning Group, INCOIS were present. Around 25 disaster management officials from all coastal States/UTs are participating in the workshop. The workshop is expected to help the Disaster Management Agencies of the coastal states and UTs to understand the Tsunami Ready concept and the necessity to prepare the plans, maps & procedures required to implement the programme.

A National Board was constituted under the Chairmanship of Director, INCOIS with members drawn from Ministry of Earth Sciences (MoES), National Disaster Management Authority (NDMA), Ministry of Home Affairs (MHA), Odisha State in close collaboration with Odisha State Disaster Management Authority (OSDMA), Directorate of Disaster Management (DDM), Andaman & Nicobar Islands and INCOIS to supervise and monitor the implementation of Tsunami Ready Recognition programme in India. Based on the recommendations of the National Board, INCOIS has initiated capacity building programme to familiarize the Coastal States and UTs for implementation the Tsunami Ready Programme in India. Odisha implemented IOTR on pilot basis in 6 villages and tested during the IOWAVE18 Exercise. The National Board will visit these villages after this workshop, for verification as per the IOTR Guidelines.

Venue:
CSIR-National Institute of Oceanography (CSIR-NIO)
Dona Paula, Goa-403 004, India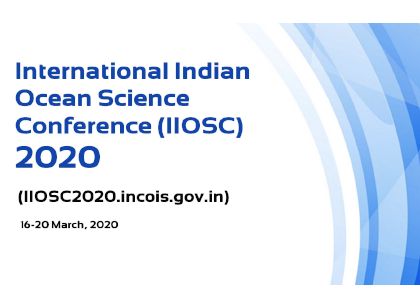 Contacts:
Tel: +91 (0) 832- 2450450
Fax: +91 (0) 832- 2450602

Website: https://iiosc2020.incois.gov.in/

Email: iiosc2020@nio.org
iiosc2020@incois.gov.in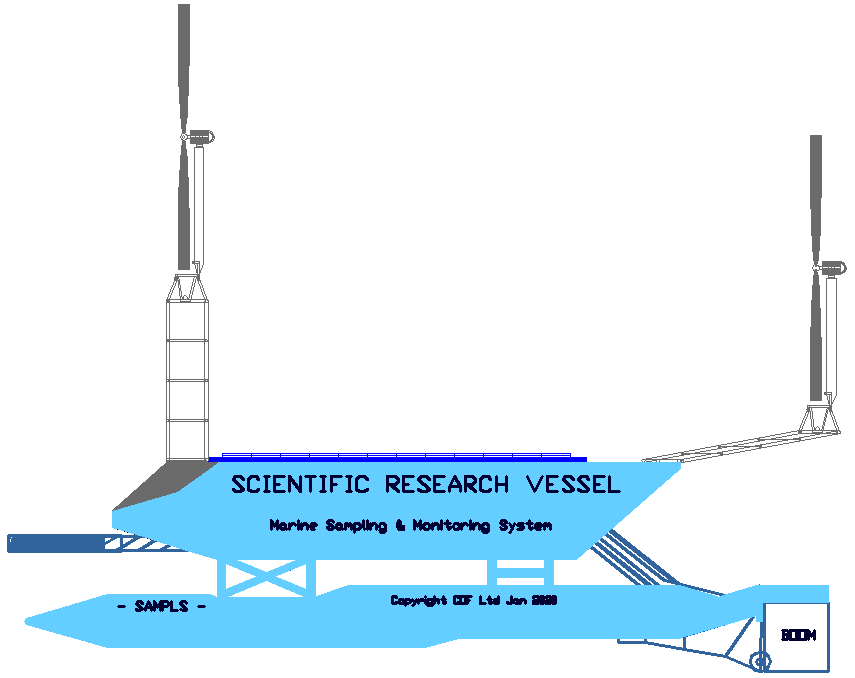 MARINE LITTER SAMPLING - And a bit more. With machines like this you can keep harbours clean, and know what is coming from where and when. Plastic can be recycled up to 90% into fresh plastic products, so creating a near circular economy. The fish will love it! But, please note that without funding, innovation such as this will never see the light of day. So get your wallets out, or stop carping on about it not knowing enough.