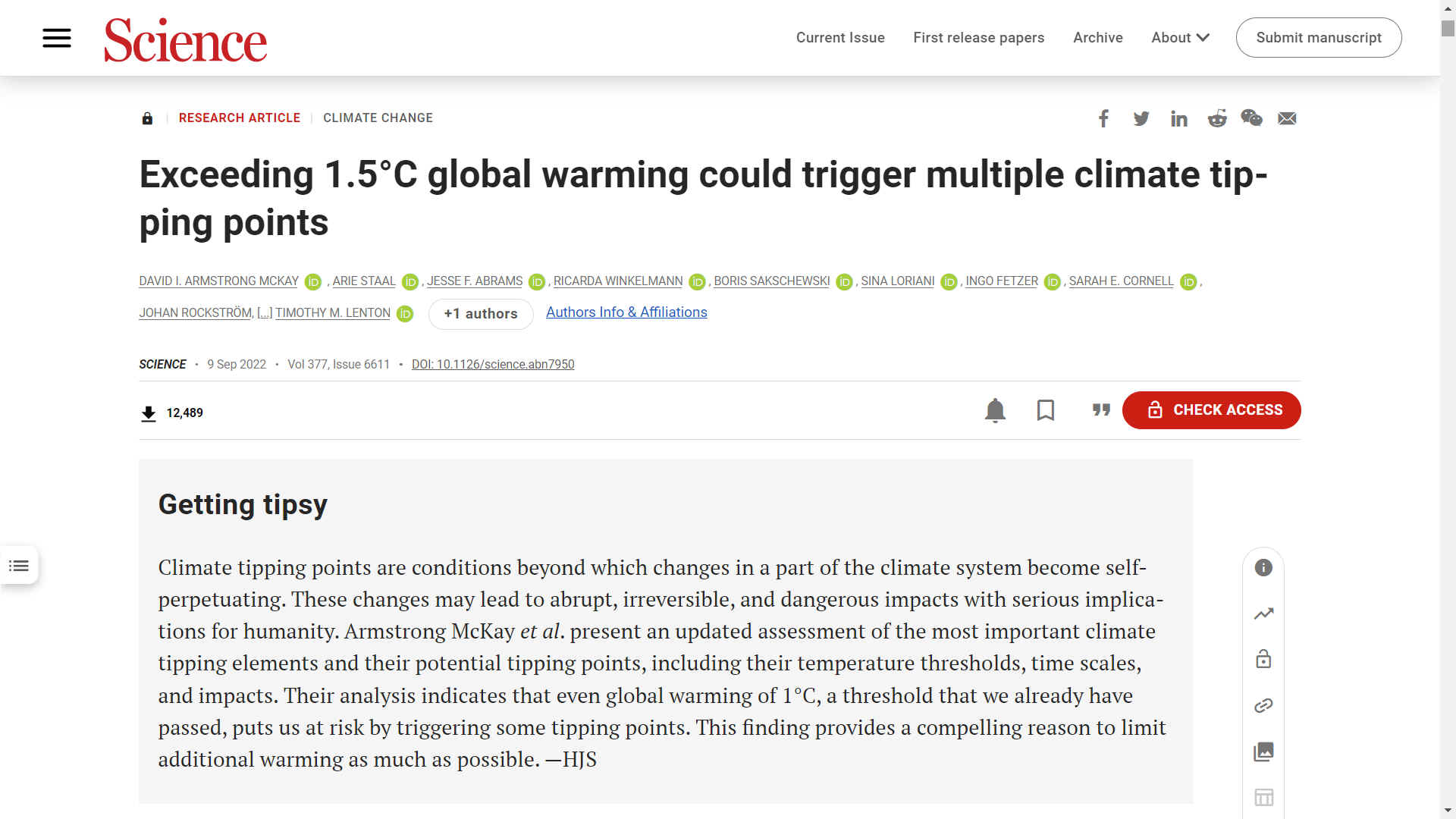 Climate tipping points are conditions beyond which changes in a part of the climate system become self-perpetuating. These changes may lead to abrupt, irreversible, and dangerous impacts with serious implications for humanity. Armstrong McKay et al. present an updated assessment of the most important climate tipping elements and their potential tipping points, including their temperature thresholds, time scales, and impacts. Their analysis indicates that even global warming of 1°C, a threshold that we already have passed, puts us at risk by triggering some tipping points. This finding provides a compelling reason to limit additional warming as much as possible. — HJS
MSN EURONEWS 16 SEPTEMBER 2022 - EARTH ON THE BRINK OF PASSING 'TIPPING POINTS' IF GLOBAL WARMING CONTINUES AT PRESENT RATE

From heatwaves to wildfires, droughts and then flooding, this Summer has seen major weather disasters right around the world - all exacerbated by climate change.

A new study has concluded that human emissions have already pushed the Earth over tipping points into danger zones. Passing these thresholds can lead to large, irreversible changes.

WHAT ARE CLIMATE TIPPING POINTS?

The research, carried out by scientists at the University of Exeter in the UK, shows that at least five dangerous "tipping points" for the planet are rapidly approaching.

These include the collapse of the Greenland and West Antarctic ice sheets, a sudden melting of the permafrost in northern regions, coral reefs dying off and the collapse of an important ocean current in the North Atlantic.

When change in that part of the system becomes self-sustaining, so it will keep on going even if warming was to actually start falling afterwards.

Dr Armstrong McKay

"What we mean by a climate tipping point is when some part of a climate system, for example, an ice sheet, an ocean current...when change in that part of the system becomes self-sustaining, so it will keep on going even if warming was to actually start falling afterwards," says Dr David Armstrong McKay, the study's lead author and climate-biosphere scientist at the University of Exeter.

The first study on the subject, published in 2008, identified nine potential climate tipping points. Since then, research into climate science has progressed significantly.

"We reassessed over 200 papers published since [2008], and we have come to the conclusion that at least five climate tipping points are already possible now, and four of those become likely beyond 1.5 degrees of warming," Dr Armstrong McKay adds.

PARIS AGREEMENT

Multiple climate tipping points could be triggered if global temperatures rise beyond 1.5C above pre-industrial levels, according to the research. Human emissions so far have already pushed the planet into a danger zone.

"We think this provides really strong scientific support for the more ambitious Paris Agreement aim of 1.5C because even though we can't rule out climate tipping points happening at that level, it would reduce the likelihood of hitting any more of them," explains Dr Armstrong McKay.

We think this provides really strong scientific support for the more ambitious Paris Agreement aim of 1.5C.

But the new analysis indicates that we may have already left 'safe' climate limits when temperature increases exceeded around 1C. Keeping global warming below 1.5C would significantly reduce the risk of reaching these dangerous tipping points in the near future.

To have a 50 per cent chance of doing this, global greenhouse gas emissions must be cut in half by 2030 and net-zero reached by 2050.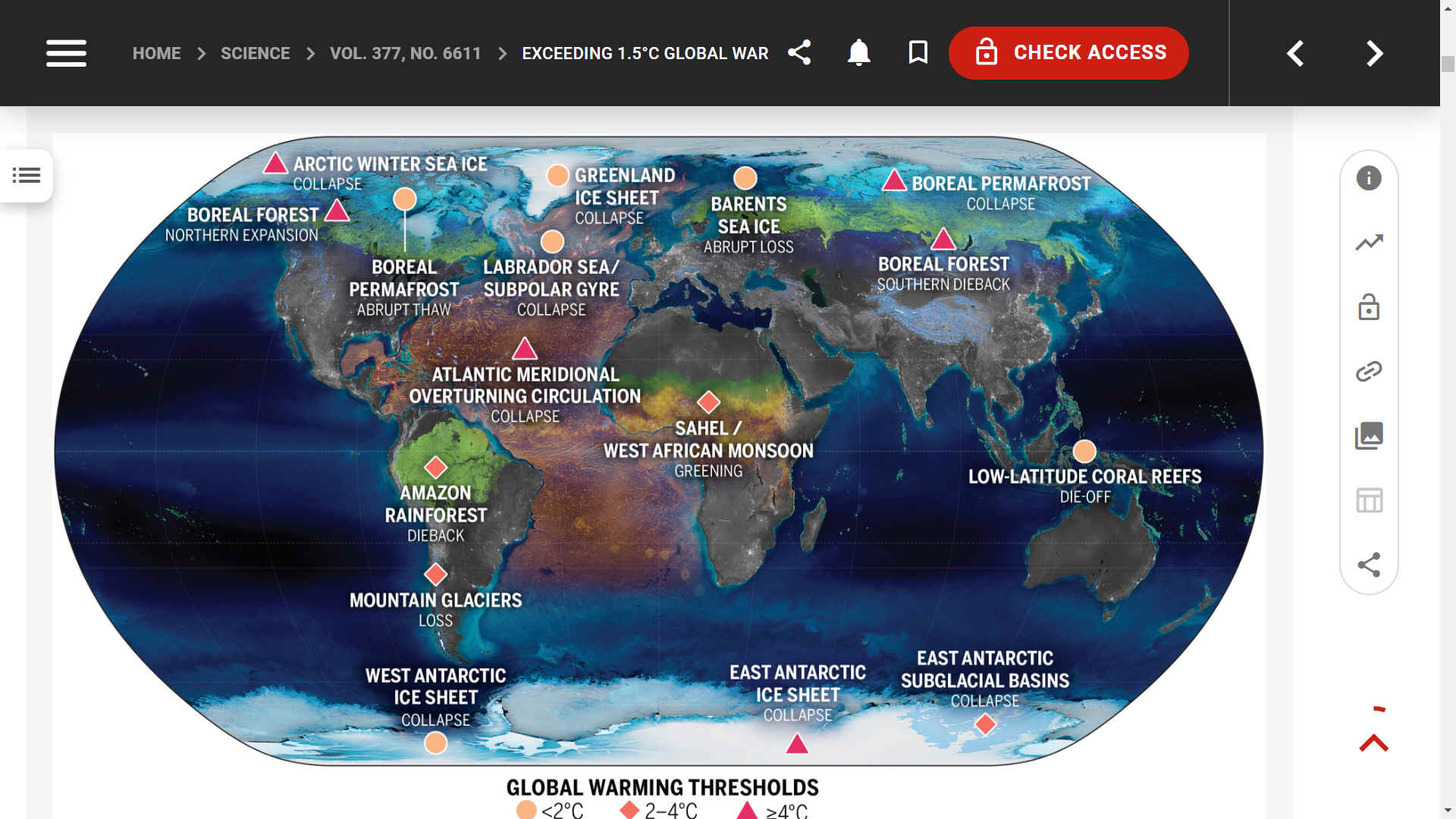 This superb map of the world's ice sink, reveals how close we are to the 'Tipping Point,' and no wonder alarm bells are ringing. We hear you loud and clear.
STRUCTURED ABSTRACT
INTRODUCTION
Climate tipping points (CTPs) are a source of growing scientific, policy, and public concern. They occur when change in large parts of the climate system - known as tipping elements - become self-perpetuating beyond a warming threshold. Triggering CTPs leads to significant, policy-relevant impacts, including substantial sea level rise from collapsing ice sheets, dieback of biodiverse biomes such as the Amazon rainforest or warm-water corals, and carbon release from thawing permafrost. Nine policy-relevant tipping elements and their CTPs were originally identified by Lenton et al. (2008). We carry out the first comprehensive reassessment of all suggested tipping elements, their CTPs, and the timescales and impacts of tipping. We also highlight steps to further improve understanding of CTPs, including an expert elicitation, a model intercomparison project, and early warning systems leveraging deep learning and remotely sensed data.
RATIONALE
Since the original identification of tipping elements there have been substantial advances in scientific understanding from paleoclimate, observational, and model-based studies. Additional tipping elements have been proposed (e.g., parts of the East Antarctic ice sheet) and the status of others (e.g., Arctic summer sea ice) has been questioned. Observations have revealed that parts of the West Antarctic ice sheet may have already passed a tipping point. Potential early warning signals of the Greenland ice sheet, Atlantic Meridional Overturning Circulation, and Amazon rainforest destabilization have been detected. Multiple abrupt shifts have been found in climate models. Recent work has suggested that up to 15 tipping elements are now active (Lenton et al., 2019). Hence it is timely to synthesize this new knowledge to provide a revised shortlist of potential tipping elements and their CTP thresholds.
RESULTS
We identify nine global "core" tipping elements which contribute substantially to Earth system functioning and seven regional "impact" tipping elements which contribute substantially to human welfare or have great value as unique features of the Earth system (see figure). Their estimated CTP thresholds have significant implications for climate policy: Current global warming of ~1.1°C above pre-industrial already lies within the lower end of five CTP uncertainty ranges. Six CTPs become likely (with a further four possible) within the Paris Agreement range of 1.5 to <2°C warming, including collapse of the Greenland and West Antarctic ice sheets, die-off of low-latitude coral reefs, and widespread abrupt permafrost thaw. An additional CTP becomes likely and another three possible at the ~2.6°C of warming expected under current policies.
CONCLUSION
Our assessment provides strong scientific evidence for urgent action to mitigate climate change. We show that even the Paris Agreement goal of limiting warming to well below 2°C and preferably 1.5°C is not safe as 1.5°C and above risks crossing multiple tipping points. Crossing these CTPs can generate positive feedbacks that increase the likelihood of crossing other CTPs. Currently the world is heading toward ~2 to 3°C of global warming; at best, if all net-zero pledges and nationally determined contributions are implemented it could reach just below 2°C. This would lower tipping point risks somewhat but would still be dangerous as it could trigger multiple climate tipping points.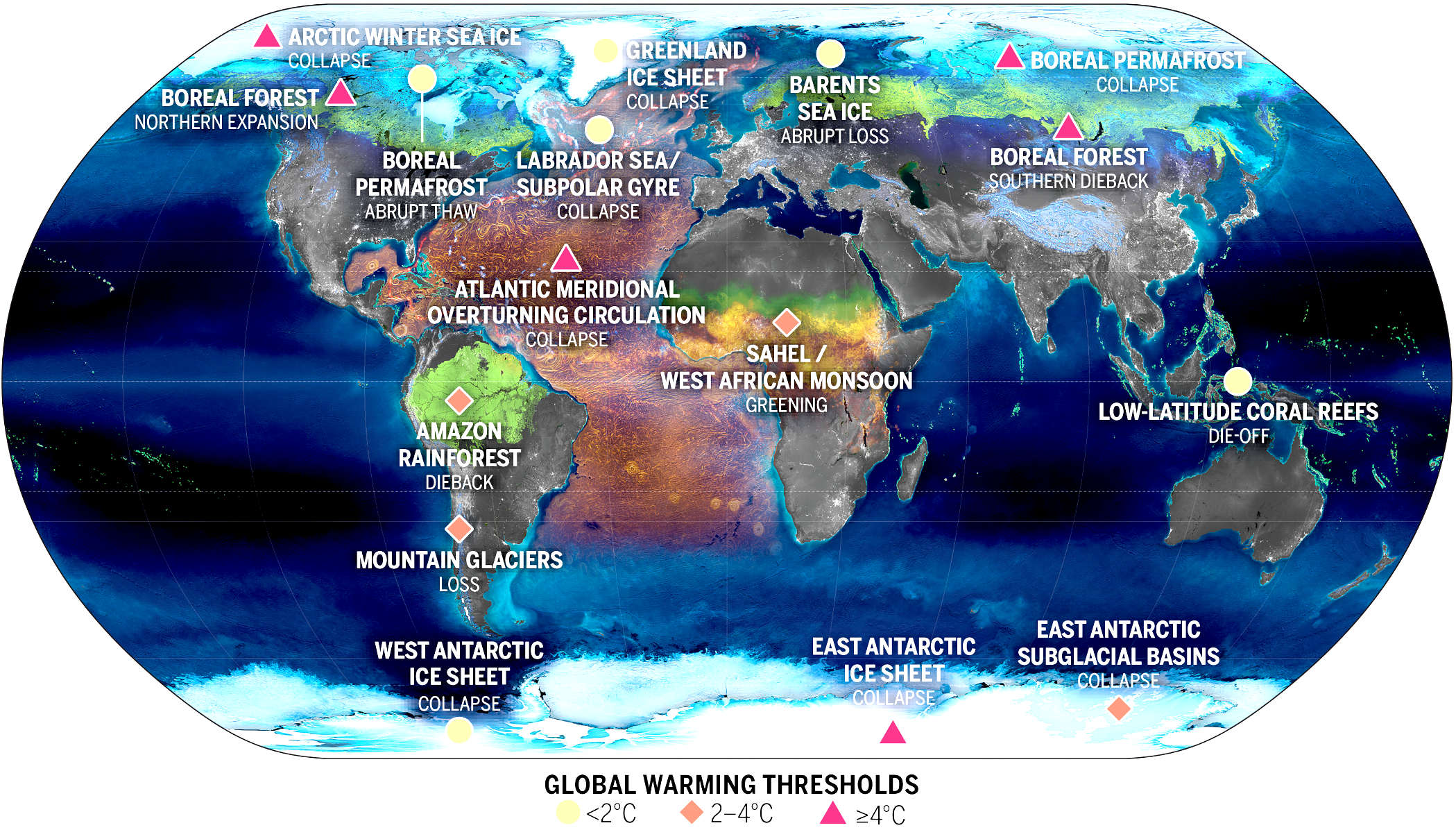 ISLAND NATIONS SINKING UNDER CLIMATE CHANGE FLOOD THREAT - A TO Z
1. Cabo Verde, Republic of
4. Ireland
7. Kiribati
8. Maldives
9. Marshall Islands, Republic of the
10. Micronesia, Federated States of
11. Palau
12. Sarichef Island
13. Seychelles
14. Solomon Islands
15. Tangier Island
17. Tuvalu
18. United Kingdom
SIX IMPORTANT CHANGES TO COOL THE PLANET
1. TRANSPORT: Phase out polluting vehicles. Government aims to end the sale of new petrol, and diesel vehicles by 2040 but have no infrastructure plan to support such ambition. Marine transport can be carbon neutral.
2. RENEWABLES: Renewable energy should replace carbon-based fuels (coal, oil and gas) in our electricity, heating and transport. Conventional energy exploration companies should consider a phased transition to green alternatives.
3. HOUSING: On site micro or macro generation is the best option, starting with sustainable new homes built of renewable materials that lock carbon and are affordable. Offering planning rights free to encourage eco builds and cut out empire building councils that add significant costs and legal obstacles to hinder progress.
4. AGRICULTURE: We need trees to absorb carbon emissions from a growing population, fossil fueled air travel, and to build new homes. We need to reduce food waste and promote less energy intensive eating habits such as no meat Mondays.
5. INDUSTRY: Factories should be aiming for solar heating and onsite renewable energy generation until the grid is all solar and wind powered.
6. POLITICS: - National governing bodies need to adopt policies to eliminate administrative wastages, to include scaling down spending on war machines, increase spend on educating the public and supporting sustainable social policies that mesh with other cultures. We need an end to local empire building kleptocrats.
LINKS & REFERENCE
https://www.msn.com/en-gb/money/technology/earth-on-the-brink-of-passing-climate-tipping-points-if-global-warming-continues-at-current-rate/ar-AA11TXYF
https://www.science.org/doi/10.1126/science.abn7950
Please use our A-Z INDEX to navigate this site or go HOME
EARTH | GROWTH | HYDROGEN | ELECTRICITY | OCEANS