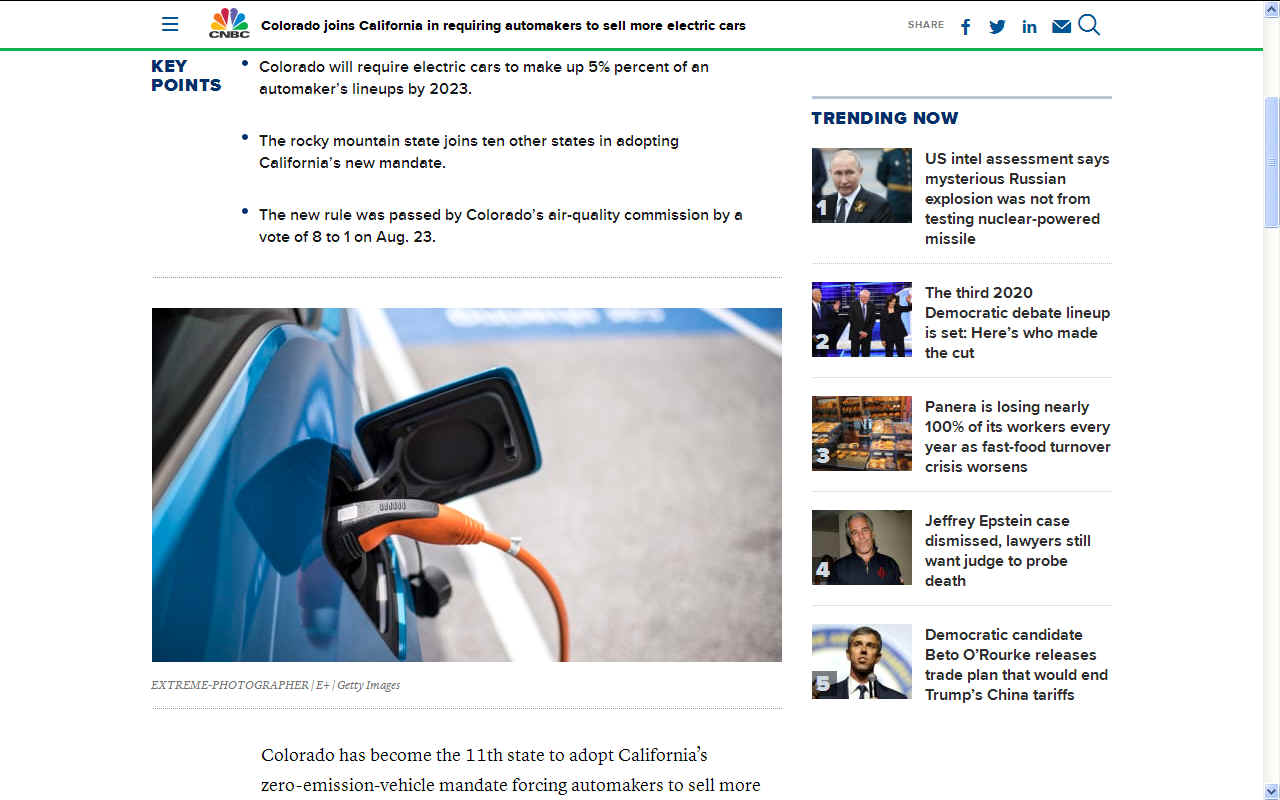 CNBC AUGUST 26 2019

Colorado joins California in requiring automakers to sell more electric cars.

Colorado has become the 11th state to adopt California's zero-emission-vehicle mandate forcing automakers to sell more electric cars in the state.

The new rule was passed by Colorado's air-quality commission by a vote of 8 to 1 on Aug. 23. It requires at least 5% of an automaker's new car lineup to be electric vehicles, or EVs, by 2023 and more than 6% by 2025.

"It's a modest proposal in the face of a critical threat. Where the federal government refuses to act, states must lead," Garry Kaufman, director of Colorado's Air Pollution Control Division, said in a statement.

The Colorado agreement, which echoes the one announced by California regulators, is tougher than the planned rollback of the Corporate Average Fuel Economy, or CAFE, standards the White House previously outlined.

Similar to California's zero-emission vehicle rules, automakers are granted some flexibility by receiving credits for the electric cars they sell before the new mandate is put into place. Companies can also buy credits from other automakers that outperform emissions targets.

The credit value of electric vehicles will depend on the vehicle's zero-emission range.

Colorado already has one of the highest rates of EV sales in the nation at 2.6% last year — twice the national average.

Under the state's new rules, automakers can include both plug-in hybrids and fully electric vehicles to meet the sales requirement. People shopping for a new car are not required to buy an EV or plug-in hybrid.

The state's new governor Jared Polis, has made environmental protection a cornerstone of his administration.

Polis first announced his intention to join California's zero emissions mandate after signing an executive order in January that called for a team to work on infrastructure for electric vehicles.

The funding for that came from the $68 million Colorado was awarded as part of the Volkswagen Dieselgate settlement and will help make the state's fleet electric, and switch to battery-electric transit buses.

By adopting the California regulations, Colorado also sets itself up to clash with President Donald Trump over his push to roll back emissions and fuel economy standards.

The other states that have adopted California's electric vehicle mandate include: Connecticut, Maine, Maryland, Massachusetts, New Jersey, New York, Oregon, Rhode Island and Vermont.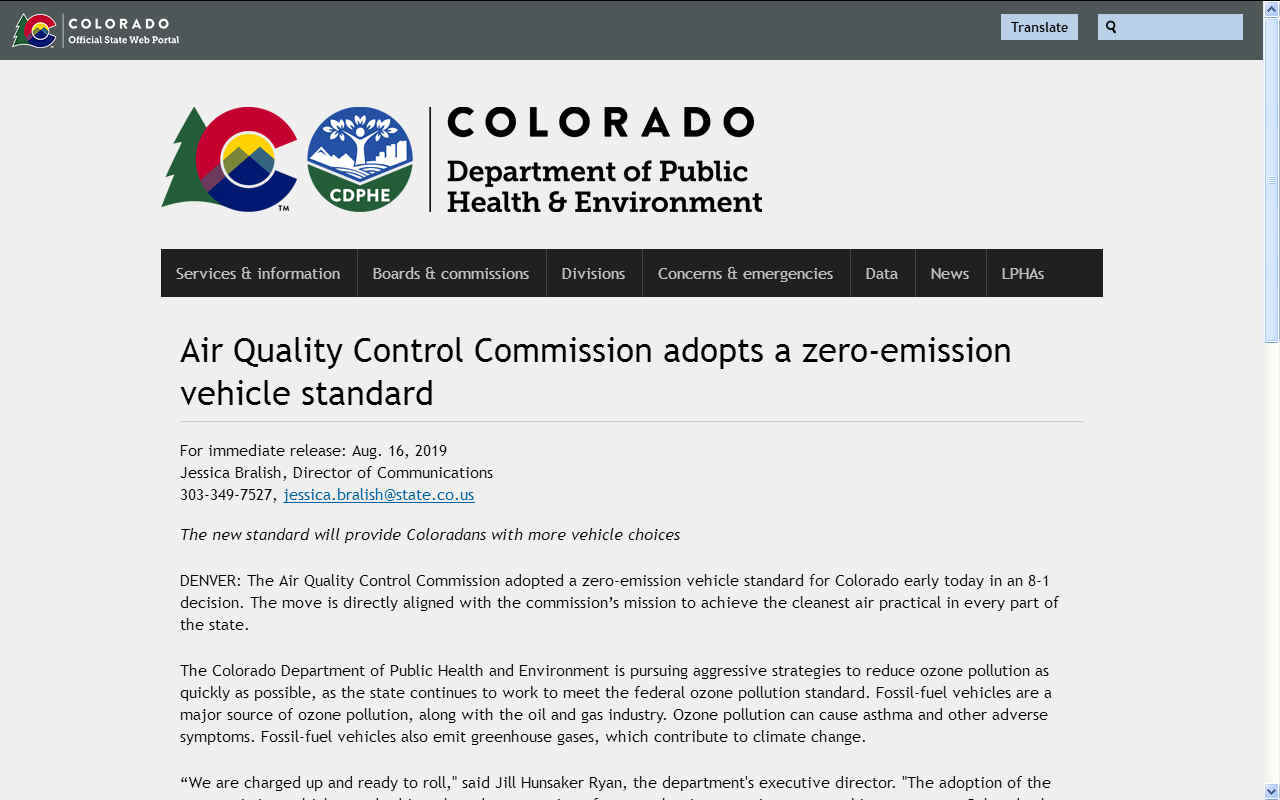 CLIMATE EMERGENCY

(1) temperature-related deaths and illnesses;

(2) air quality impacts;

(3) extreme weather events;

(4) numbers of vector-borne diseases;

(5) waterborne illnesses;

(6) food safety, nutrition, and distribution complications; and

(7) mental health and well-being concerns;

Whereas the consequences of climate change already disproportionately impact frontline communities and endanger populations made especially vulnerable by existing exposure to extreme weather events, such as children, the elderly, and individuals with pre-existing disabilities and health conditions.

US GRID - The above is a crude draft plan for a grid to service an all electric United States. America is a vast country with difficult mountainous terrain intermixed with barren areas. A basic grid like this would work in tandem with existing networks and densely populated areas to provide enough charging facilities to cater for an all electric society. Compare the US example with the UK example to see how a basic grid can be subdivided to increase the number of service stations.
SUSTAINABLE EV SERVICING - This concept EV forecourt offers between 7.68 - 15.36MWh of solar assisted energy storage with a capacity of between 48-96 battery cartridges on a continuous charge cycle. Five of these stations (76.8MW) could recharge (refuel) up to 10 trucks or cars a minute at peak times. Such a system would alleviate Range Anxiety and promote the take up of EVs.

During rush hour, up to 300* vehicles might be serviced in one hour if drivers don't dawdle, as in get out of their vehicles for any reason - there is no need using automated billing - but this would require registered users. The truck shown in these AutoCAD drawings is 3.55 wide x 3.5 high x 7.7M long (8 x 11.5 x 25 feet). This station could accommodate trucks 4.46M (14.77 feet) high as shown, or with a raised roof, almost any truck currently on the market - though longer thinner trucks are more fuel efficient.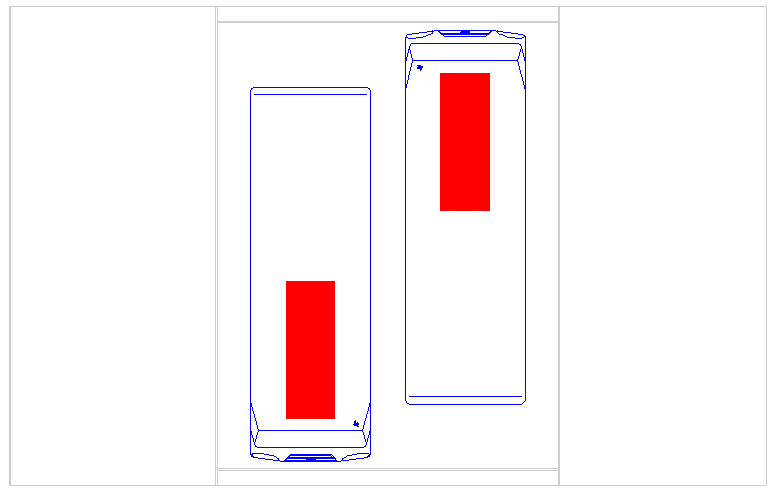 During an eight hour day 2,400 trucks might be serviced using five forecourts on the assumption that we start every morning with 96 x 5 = 480 slow charged cartridges from off-peak supplies. The same forecourt might be used to service fuel-cell cars powered by stabilized hydrogen. One size fits all with agreement as to a universal cartridge format. Agreement is perhaps the next stumbling block that may require directives from the G20.
* Fastest theoretical exchange cycle @ one minute per exchange with drivers/passengers staying in their vehicles at all times.
Colorado's Climate Leadership - Air Quality Control Commission adopts a zero-emission vehicle standard

Released: Aug. 16, 2019
Jessica Bralish, Director of Communications
303-349-7527, jessica.bralish@state.co.us

The new standard will provide Coloradans with more vehicle choices

DENVER: The Air Quality Control Commission adopted a zero-emission vehicle standard for Colorado early today in an 8-1 decision. The move is directly aligned with the commission's mission to achieve the cleanest air practical in every part of the state.

The Colorado Department of Public Health and Environment is pursuing aggressive strategies to reduce ozone pollution as quickly as possible, as the state continues to work to meet the federal ozone pollution standard. Fossil-fuel vehicles are a major source of ozone pollution, along with the oil and gas industry. Ozone pollution can cause asthma and other adverse symptoms. Fossil-fuel vehicles also emit greenhouse gases, which contribute to climate change.

"We are charged up and ready to roll," said Jill Hunsaker Ryan, the department's executive director. "The adoption of the zero-emission vehicle standard is a clear demonstration of our unrelenting commitment to making sure every Coloradan has clean air to breathe."

John Putnam, environmental programs director at the department, said, "We are committed to a state where Coloradans can zip up into the mountains in a zero-emitting vehicle and go for a hike without coughing and wheezing from ozone. It's what Coloradans rightfully expect and deserve. We've made a lot of progress on cleaning up our air over the past several years, but the standards are getting more stringent. We have to rise to the challenge."

The new zero-emission standard requires automakers to sell more than 5 percent zero-emission vehicles by 2023 and more than 6 percent zero-emission vehicles by 2025. The standard is based on a matrix of credits given for each electric vehicle sold, depending on the vehicle's zero-emission range.

The new requirement does not mandate consumers to purchase electric vehicles, but experts say it will result in manufacturers selling a wider range of models in Colorado, including SUVs and light trucks.

"The zero-emission standard does not compel anyone to buy an electric vehicle, said Garry Kaufman, director of the Air Pollution Control Division at the department. "It only requires manufacturers to increase ZEV sales from 2.6 percent to 6.23 percent. It's a modest proposal in the face of a critical threat. Where the federal government refuses to act, states must lead. Time is of the essence."

The Air Quality Control Commission prioritizes stakeholder engagement and public input.

The commission invited public comment at various hours of the day and evening, and also invited remote testimony by telephone to make it easier for those who could not travel to the Front Range. The commission's decision came after a robust public comment period, as well as significant written and oral testimony from parties providing information on all aspects of the standard.

"The commission was impressed by the overwhelming amount of public support for electric vehicles from urban and rural areas throughout the state," said Trisha Oeth, the department's director of environmental boards and commissions. "They noted that the public want these vehicles, want them more quickly, and want more choices."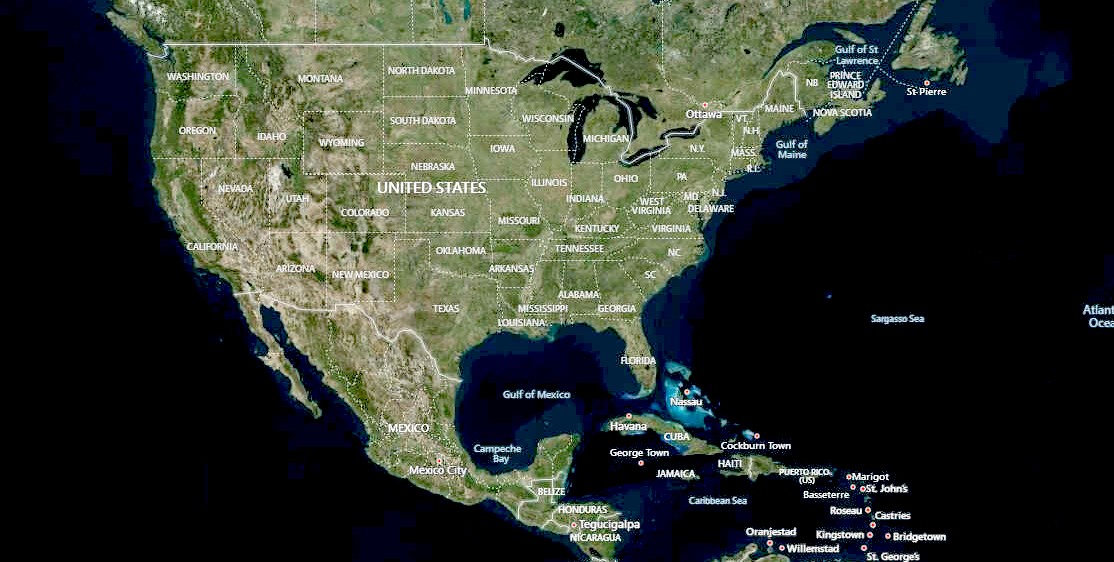 ...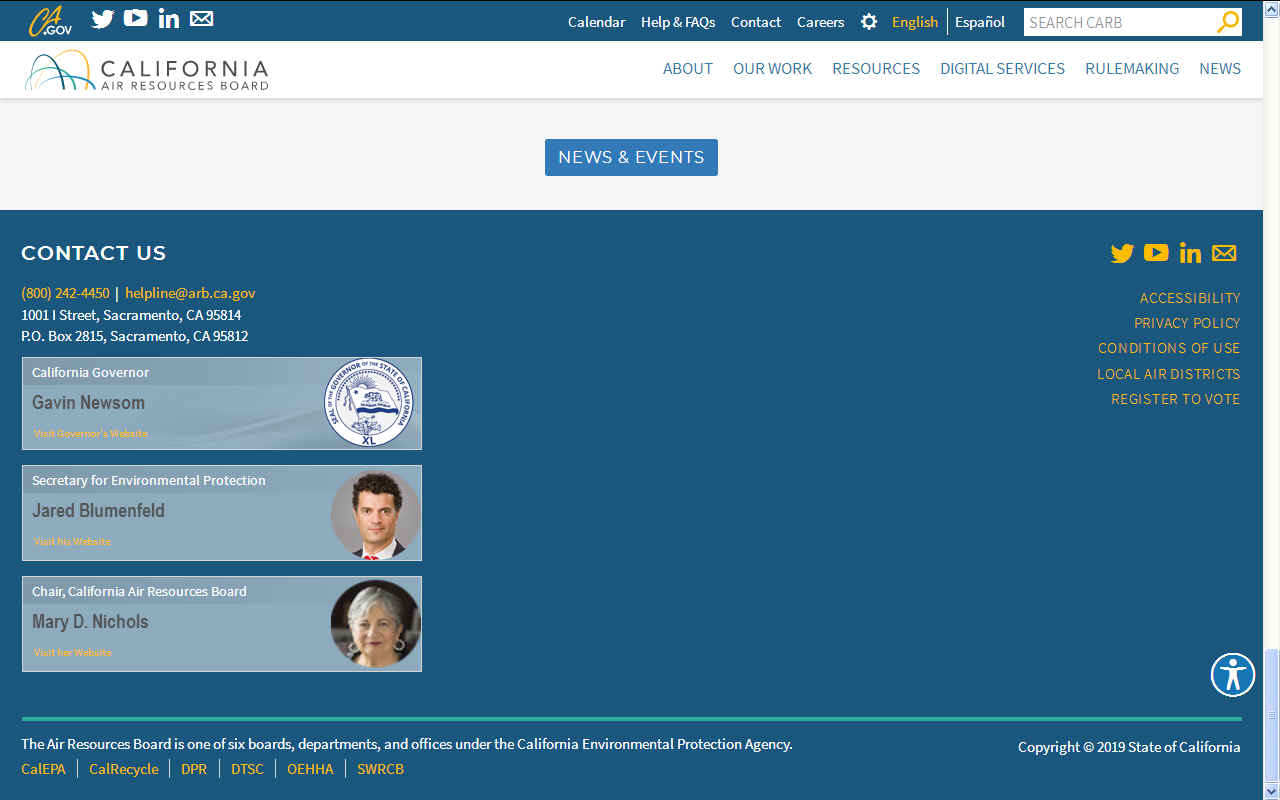 TRANSPORT OSTRICHES - Closed minds to alternatives will always take the easy way out, with potential longer term consequences. Hence, we have global warming. National politics is much the same as international politics in this regard.
CONTACT CCAC
Colorado Clean Air Commission

LINKS & REFERENCES
https://www.colorado.gov/pacific/cdphe/news/AQCC-ZEV
https://www.codot.gov/news/2019/april/transit-buses-in-colorado-get-cleaner-through-vw-settlement
https://www.colorado.gov/governor/sites/default/files/inline-files/b_2019-002_supporting_a_transition_to_zero_emissions_vehicles.pdf
https://www.cnbc.com/2019/08/26/colorado-joins-california-in-requiring-automakers-to-sell-more-evs.html